DESULTORY's farewell album "Through Aching Aeons" is about to be released worldwide in a couple of days, so I've asked Klas Morberg to reveal us all the details about their final masterpiece and about their deliberate departure.



Massive hails to you from the Ukraine! For some time there was no news from the DESULTORY camp, but totally unexpectedly you've just announced the release date and revealed the cover art for your new album "Through Aching Aeons". So it is going to be released 23rd of June and will capture 9 songs. Tell us more about these new songs, their musical directions and the creating process in general.
- The album consists of material that we have been working on slowly but surely for the last couple of years, for this album we wanted to evolve a bit from the "Counting Our Scars" album, we wanted to try to make the arrangements a bit more complex and we really worked on getting the songs to get their own identity.
Where did you record "Through Aching Aeons", in what line-up and who produced it?
- In Necromorbus Studio with Tore Stjerna as a producer.
Klas – guitar/vox, Håkan – guitar, Thomas – drums, Jojje – bass.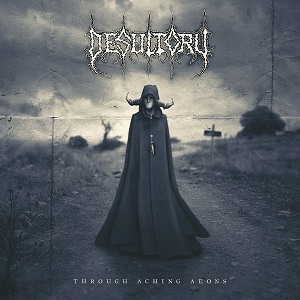 Who is responsible for such an eerie cover art? I suppose this cover art totally fits the lyrical content. Can you tell us briefly about the concept and lyrics behind your fifth album?
- Pierre-Alain Durand made the cover. We think it really fits and have a gloomy, dystopic vibe to it. The lyrics deal with stuff that goes around us is these times, and it does not look very promising so the lyrical message is quite dark, but it's written in an abstract way so that everyone can do their own interpretation.
Unfortunately along with all the great news about the upcoming new album we've been also told that DESULTORY will cease to exist as a band after its release. What motivated you to make this decision? Will any of the members continue to play music in other bands/projects after the so-called stop of DESULTORY?
- We have always taken our music really seriously and we now felt that we didn't have the motivation to go in 100% in the songwriting process again, so we decided that this was the best and most honest way to put DESULTORY to rest with this album, which we feel is one of our strongest ever.
Personally I was really happy and it was extremely great to see your comeback with "Counting Our Scars" in November 2010. It was definitely one of the highlight materials of the Death Metal genre in 2010! Who initiated to reform DESULTORY back then? What were the media's and fans' reactions about that album?
- The feedback on "Counting" was really good. We did already in 2007-2008 feel the urge to awaken DESULTORY so we started to write some stuff and play some gigs again, and finally the material turned out to be "Counting", which we felt became a good and honest comeback album.
Pulverised Records did a fantastic job with "Counting Our Scars" as well as with your first 2 records, which were re-mastered and re-issued again with your demo tracks as bonuses. Tell us a bit about your co-operation and how do they treat you. Are they going to release your final album as well?
- Yes Pulverised has been a great partner these last years, because we are not easy to work with as everything we do takes so long time. But they are really understanding and let us go in our pace and do not put any deadlines. The reissues were great and they helped us to preserve all our old demo-tracks, which was great. They will also release "Through Aching Aeons" both on CD and vinyl.
For the vinyl freaks "Into Eternity" and "Bitterness" were also re-released as gatefold ones by War Anthem Records. Will "Through Aching Aeons" be released on vinyl too? Do you collect vinyl records? If so, what were your latest vinyl investments?
- Yes, gatefold, both on black and also milky white vinyl. I do not collect, but both Thomas and Jojje do, they buy new vinyls all the time.
When DESULTORY broke up after the 3rd full-length Thomas, Håkan & you formed ZEBULON and continued to play "Swallow the Snake" style music there. You managed to release an EP and 2 albums through People Like You Records. How was the success with ZEBULON throughout its existence?
- We did not so much success when it comes to album sales or media attention, I think the albums were really good and was fun to play and record, but at the end we felt the urge to play death metal again and that led to the comeback with "Counting"...
Your bass player Johan also plays in UNANIMATED as guitarist. Their reformation in 2007 was a nice surprise, while their comeback album "In the Light of Darkness" in 2009 was undoubtedly a good gift for all the Death/Black metal maniacs worldwide. How do you like that record? Have you any news about them?
- Yeah that was a great album... I think they are working on new stuff as well, but I'm not sure what plans they have.
Stockholm is the cradle of the Swedish Death Metal movement with lots of remarkable pioneers of the genre itself. Please tell us in short about the atmosphere that reigned in the end of 80s, early 90s and the nowadays situation there.
- In the very beginning there was a quite limited amount of bands around, but suddenly it just exploded and there were bands everywhere, underground gigs every weekend, demos that you could buy on every gig. There were gigs with NIHILIST/ENTOMBED, DISMEMBER, UNLEASHED, THERION and tons of other not so known bands. It was a really cool period, especially now in retrospect when you realize the impact these early years have had on a complete genre.
Could you name us some of your favorite albums? And also which bands motivated/influenced you to start playing Death Metal and to create DESULTORY back in the time?
- My biggest influences when we started DESULTORY were DEATH, MORBID ANGEL and AUTOPSY as well as KREATOR and, of course, ENTOMBED. I also loved SEPULTURA in the beginning. Also CANDLEMASS was an inspiration. I still remember when MORBID ANGEL came to Stockholm in 1990 to play in Fagersta, but we couldn't go to the show as we had booked Sunlight studio to record our first demo!
All I can say that I really waiting for your 5th album "Through Aching Aeons" to be released. Until then, please finish this interview with your farewell wishes to all the Ukrainian DESULTORY fans and add your last thoughts.
- I really hope you guys like our final album… Thanx a lot for your support during all these years, it was great!