Lately this Canadian extreme Death/Grind quintet got an instant spin in my player, thus it was really about the right time to ask my questions from Yan Chamberland (drummer/cohesive force). The resulting answers became rather informative and flawless in my opinion! So get an utterly insight into the NERVOUS IMPULSE camp and welcome the masters of the pure insane Death/Grind fury!!!



Hello Yan, what are you up to these days? Did you already launch the process of creating riffs & songs for your third full-length album?
- Hi Kornel! The process is more than started, we are actually nailing new songs in order to enter back in studio in the next few months for another recording session to extend our splits' adventure for another round. For sure, we are planning a full-length album in 2019/2020 and we're still checking the labels' options we got on the table right now, but we are feeling no rush about this since this is so much fun to team up with all those bands so far.
NERVOUS IMPULSE's biography says that the band was formed by you in 2007 and you've selected the band members with one aim to create the most lethal aural weapon possible. I have to admit that plan was gloriously succeeded from the start, but please tell us a little about the beginnings and also introduce to us the actual members in details (jobs, hobbies, other musical projects).
- First of all, thanks for the kind words. I'm glad to see that we reached our goal for more than 10 years without losing our focus. The main point in NERVOUS, is that we are all fans of a lot of different "extreme" music styles and during the creative process everything just happens like a chemical reaction. You mix element "X" adding the substance "Y" then you got what's resulting in the end. We try to throw in some textures and elements from other scenes than just Grind or classic Death Metal and renew our songs' structures every time we get new ideas in process without compromising the integrity of our band's trajectory. In this exercise, personally, I also take the results so far as a success. It's all about energy and attitude while we are playing our instruments that makes the difference. We want to have some kind of kick down playing it and produce music that we want to hear as fans of the genre ourselves.
We had many line-up changes during the path, but I think we found the good recipe for a long time run here. Éric Fiset (vocals) is my long-time partner since the very beginning and got this unique sound and versatility we want to hear on our tracks. Félix Bourcier (bass) joined the band during the recording sessions of "Enough for Dementia" in 2008 and provides quite an energetic live act. Bruno Mercier (guitar) came at the right moment and gave the music a second breath by adding some new elements that ended up as the "Time to Panic" album. Not so long after the studio session marks the arrival of Francis Cousineau (guitar) at first to fulfill the second guitar during the live performances, but it soon became obvious that he was the missing link to make NERVOUS IMPULSE what it is to this day.
Francis and Bruno are evolving in another band, more Technical Death Metal oriented, called JOIN THE CONSPIRACY. Check it out!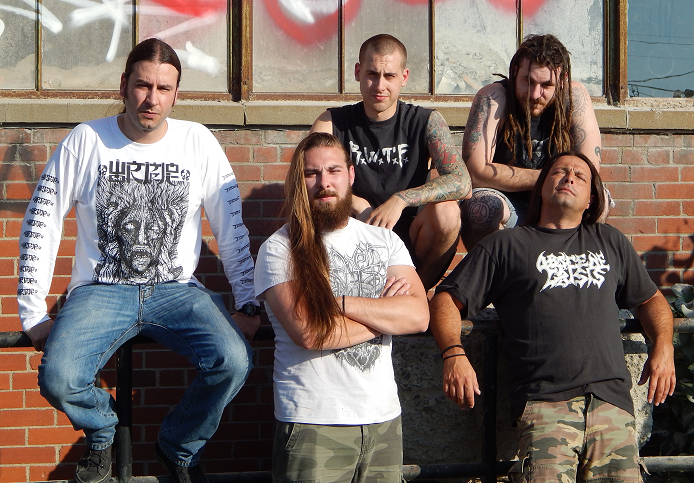 The band is very productive, especially if it goes to split releases. The past few months you've been part of 2 great splits. Both came out on Russian More Hate Productions in co-operation with Darknagar Records. What should we know about your ties with Alexander & MHP (as I suppose, all started around 2015 and with the re-releases of your first 2 full-length albums, right?) and how did you team up with all those sick underground acts? Any special stories behind these 2 split-projects? There's another split due shortly, right? The one with the Czech grinders of KANDAR. How many songs will be featured there and which label(s) will be going to materialize it?
- Exactly, we wanted to make ourselves a 10th Anniversary gift and expand our horizons by doing those splits with bands, which are my personal favorites, picks from the underground. It seems that this musical party tag team will be in for a longer ride than anticipated. We got RUBUFASO MUKUFO (Czech Republic), EPICRISE (Ukraine), MEAT CUTTING FLOOR (Russia), JAPANISCHE KAMPFHÖRSPIELE (Germany), BRUD (Ukraine) and KANDAR (Czech Republic) on board for this, for a total of 3 splits so far. What's interesting, is that every band connect and fit all together even if we all own our very unique and different style. All the bands got this bound without being clones of each other and are of great quality rather than being some awkward, bad sounding act to listen to amongst the others on the CDs, which is often the case in splits nowadays. The main essence remains the same and the records are flowing smoothly. This is a very important thing for me during the selection of the partners to team with. These split releases come from a very traditional way to proceed, since the late 80s in the Grindcore scene and are also a great opportunity for fans to discover new bands they would never heard of if it wouldn't be a multiple bands' album. They get more this way than the traditional EPs.
Having More Hate Productions backing up our every move on this helps a lot cutting the pressure on what's happening post production. Ironically, Alexander and I crossed paths when I opened a VK account to get in touch with Artem from BRUD, because I was searching to get their 1st album "Cannibal Cops". Some 5 years later, I put them both in contact and it turned out that I just finished the remaster of this CD and More Hate will release it as a reissue next year. I also discovered MEAT CUTTING FLOOR and get a closer relation with Eastern European/Russian fans which is, by the way, really important for me personally. All this leaded to the reissue of our self-released 1st album "Enough for Dementia" by More Hate, a split with KRAWORATH and KERANGKENK (basically our 2 promos being released as a split) and the reissue of our out of print 2nd album "Time to Panic", originally out on Blast Head Records. After a while, I presented these multiple split projects to Alexander and he instantly agreed to work with us and was more than happy to get the opportunity to finally release exclusive NERVOUS IMPULSE's tracks on his label.
Already knowing BRUD, MEAT CUTTING FLOOR and EPICRISE and having mutual respect for each other's music, we convinced to work on this exercise together. JAPANISCHE KAMPFHÖRSPIELE have been one of my favorite bands for a long time and we already worked on a compilation Christof (drummer) and I, so I reached him and one thing leading to another, we ended up splitting both bands together. He also did all the artwork and infographics for the 4-way. RUBUFASO MUKUFO also entered the planning a funny way. These guys are almost all from a very influential band for me in the Czech scene, called CEREBRAL TURBULENCY. I talked to Daniel (guitars) and they had a recording session still unreleased as a physical copy called "Violent Show", only available on bandcamp. So, 5 minutes later we were both like... "let's split"!!!! KANDAR appeared more surprisingly than the other bands. Topi (singer) and I got in touch for NERVOUS to get the rights to cover one of his PIGSTY songs (little spoiler here) and he got in contact with our previous efforts and offered to do a split with his newest band KANDAR. Awesome news for us again. Bizarre Leprous Productions along with More Hate Productions will be part of this. Our part of the effort is recorded since last summer, but it should be released by the end of 2018/beginning of 2019, since KANDAR will record a full-length before that on BLP. Some other of those "hot breads" with other surprisingly great bands are in the oven, but I can't talk of this right now, since it's not concluded yet. Stay tuned!
As far as I know you've been massively involved to make those productions sound the way they are. Do you record, mix and master other bands' stuff as well apart from the materials of NERVOUS IMPULSE?
- Since day 1, I was involved in producing NERVOUS IMPULSE's stuff and we started to record our own music with the "Time to Panic" album and it seemed to turn out well. Easy to explain, we record all our songs ourselves from now on. We recently geared up with a Focusrite Liquid Saffire 56 external soundcard, which contains 8 integrated pre-amps, the Reaper software, a computer only for recording purposes, plus some good mics of our own and the formula works perfectly and relieves the pressure of having studio hours stressing us like a meter on a taxi cab. As easy as it sounds, we record drums in Reaper, guitars, bass and vocals at my home, edit everything then pre-mix, fade in, fade out then give the package to a soundman to beef it up. Voilą! I had the chance to experiment on mastering with the splits and discovered that it's a thing that I feel comfortable with. I also helped, as a producer this time, Dmytro Bastanov (sound engineer) with the BRUD and MEAT CUTTING FLOOR recordings for their 4-way effort with us. Hugues Deslauriers (NERVOUS soundman) and myself had a hell of a challenge too. EPICRISE had 4 songs from a session then 3 others from 3 different studio runs available for the 3-way. We did our best to blend those songs together right from the already mixed and mastered files. Cool thing, because being external and not emotively involved like when we record NERVOUS stuff, gave me another vision of what's a recording session and the overall post production process. Like I said before, I remastered BRUD's 1st album, so let's see what's the future holds ahead for me. Who knows?
You play live really seldom and as I see you are mostly focusing to play in Canada. Why is it so? Don't you plan to tour around the globe in support of all those recent splits released?
- We never been a touring kind of band nor playing local acts every weekend like some bands are doing. For the touring aspect, Éric and I got mortgages, Felix recently became a family father and I got a daughter of my own, then Francis just got engaged last month, so we can all agree that "Pure Insane Death/Grind Fury" won't pay the bills and get any stability in our respective lives. On the other hand, we are open minded to play any well-organized event, even overseas, if the opportunity ever presents to us. Concerning the local shows here in Québec's region, we did 2 years running shows supporting our "Time to Panic" album, consistently here and there, but in a very selective way. Overexposure, in my opinion, has never been good and the fans tend to be bored after a while seeing the same bands repeatedly in a small timeframe. For example, we will be part of the Pukefest again this year, which is an event that we just can't resist. Luke (promoter) and his team, always get a jam-packed venue and the crowd is going nuts every time. This kind of formula is always a win/win type of show for both bands and promoters, but also for the people in there having an insured party every single time.
How looks the extreme underground scene of Montreal lately? Talk us a bit regarding its ups and downs, the newcomers and all those records we should definitely check out in short terms. What's your personal opinion about the latest releases of GORGUTS, CRYPTOPSY and KATAKLYSM? The latter one produced excellent stuff in the period from 1992 to 1996. What's your view on this? Me personally, I've really enjoyed their past materials with the insane vocals of Sylvain Houde. Also, please pick out your favorite records from these Canadian monsters of Death Metal.
- That may surprise you a little, but I'm kind of disconnected of what's up and new in the local scene. It seems that my musical taste in terms of Death Metal are stuck in the 90s or so. I lately find myself more interested in the European Grindcore scene, Powerviolence and HxCx, which have nice textures that are surprising me musically. Every band we've splitted with so far are a big part of it, but also bands such as MINCING FURY AND GUTTURAL CLAMOUR OF QUEER DECAY, ANÜS, SPINELESS FUCKERS, SHEEVA YOGA, GOOLAGOON, SKODA 120 and FIEND are running in my daily playlist as well.
It's a fact that Québec's scene has always provided intense and quality music. Earlier, you mentioned CRYPTOPSY, GORGUTS and KATAKLYSM. It's for sure that "Blasphemy Made Flesh", "None So Vile", "Considered Dead", "The Erosion of Sanity" and from "The Mystical Gate of Reincarnation" to "Temple of Knowledge" (don't think it's necessary to name who own each albums) will always be cult classics, but it's amazing to see that, even after 20+ years of existence, those bands are still feeding the fans with good albums one after another. I got great respect for those artists and understand that some of them had to merge their styles to something different than their "early years" to accomplish themselves as musicians.
Your drumming is ultra-crazy, complex and as groovy and fast as possible. So, the question arises, who were your influences at the start (when did you begin to play drums, by the way) and who are those drummers who still impress you with their skills nowadays? What gear (drums, cymbals, pedals, electronics) you are about to use live, in the studio or at rehearsals?
- Ha ha ha! Thanks again if you appreciate the effort. I received my first drumkit for my 15th birthday and I'm now 36 so do the math. When I first started making noises with sticks, that's really what it sounded like, my personal heroes were for sure: Mick Harris (NAPALM DEATH), Michael Smith (SUFFOCATION) and Florent Mounier (CRYPTOPSY). Damn I wanted to play like those guys! At this point, I got so many influences from many styles that it would take a dictionary to write down every name.
My gear is relatively simple and is composed of a Pearl Masters series RetroSpec with deep shells (10"x08", 12"x09", 14"x14", 16"x16", 22"x18") and a Pearl Free Floating Black Steel Snare (14"x3,5"). The cymbals are mostly Sabian HHXtreme series; 2 crashes (one bright and the other darker), 1 O-Zone crash, Hi-Hat, china, ride, Zil-Bel and 2 splashes. Founded the best suitable gear ever years ago in these DW 5002TD3 Turbo Chain-Drive Double Pedal. I also use an Alesis DM5 trigger module, but only for the recordings, because it's a cleaner sound and easier to handle while tracking so no need of this at the rehearsals or live performances.
The first time I've got in touch with the music of NERVOUS IMPULSE was due to the Quebec Extreme Metal Sampler 2016 that was given to me by its initiator, i.e. Steven Henry. As I know you played earlier along with Steven and Eric in EMPATHY DENIED. What's up with that band? Also tell me your impressions towards Steven's past formations, like NEURAXIS, IDIOPATHETICS or URBAN ALIENS.
- Éric and I have known Steven for a long time now. We started EMPATHY DENIED and put efforts in this band for a couple of years and those were great. It helped us to push the envelope on what we really wanted to do and find where we headed in music, then it's finally leaded us to NERVOUS IMPULSE a couple of months later after we left that band. I think the new line-up is preparing a comeback right now and we surely wish them the best of luck with this project. NEURAXIS' "Imagery" is one of my favorite Steven's effort, still spinning this album regularly.
At the end, please transform all the leftover nervous impulses of yours to the minds of the extreme metal readers of Encomium. The space is yours!
- Thanks for this Kornel, your support is much appreciated. To the fans, just know that you are welcome to visit us and say hello on whatever the platform you prefer. Feel free to drop us a line and ask any questions you may have in mind. Cheers from the NERVOUS IMPULSE's crew.