Ladies and gentlemen from the invincible dimensions of the thrash metal universe please welcome Atrophy! Drummer Tim Kelly was super nice and answered all my questions in details. So read it carefully, go forth on your metal path and have fun during the following in-depth conversation!



Hello Tim! Let's start the interview with Atrophy's reunion in the year of 2015. What was the true catalyst and motivation for all of you to reunite your forces and start playing the beloved thrash metal again?
- Well I've never stopped playing after Atrophy broke up. Just played in some local bands. In 2015 I received a call from a fan who wanted to know why Atrophy didn't have a Facebook page. I told him because the band was not active and I was not a Facebook kind of guy. He told me that we have a lot of fans out there that would love to see pictures and hear from the band members. He asked me if he could create the page and I said sure. Within a few months he was up to 5,000 likes and started getting contacted from promoters, asking if the band was back together. He told them no and that it was just a tribute page. After receiving more phone calls he asked me if I would ever be interested in doing a show with Atrophy. I told him it would be impossible since I didn't know where Brian (singer) even lived. He then asked me if everyone else would do it, would I? I said sure, I've always loved playing those songs. That was all he needed to hear. After that conversation he was all over it. He contacted every band member and even found Brian in Arkansas. Chris and Rick decided not to do it, so we had to find two new guitarists (they both had work obligations). We were asked to play the Maryland Death Festival with Testament, Nuclear Assault, Demolition Hammer and many more great bands. So we decided to do it.
Your first live show was in Los Angeles on the 23rd of April, 2016 at "Long Live the Loud" in the line-up of three original members (Brian – vocals, James – bass and you on drums) plus Rich Olsen and Casper Garret as the missing duet of guitarists. How do you remember that special show? What was the fans' reaction about your reunion?
- We set up a show in Los Angeles with Exciter and played a fun show there. There was a line around the building when we arrived, thanks to Exciter and Warbringer also playing. We sold a ton of shirts and had a great response from the crowd so that really excited us. The Maryland show was amazing, the promoter treated us awesome and we played for a great crowd. It was really a lot of fun. They must have had 40 or 50 bands playing that weekend at different locations. We played the Edison lot with Testament and Nuclear Assault. I remember when we arrived in site they had 4 trailers for the headliners. I was like, "Oh that would be cool to get one of those" and the promoter was like "you do have one". I was like holy shit, how nice is that?
After that you had two big festival appearances, namely MDF in 2016 and Keep It True in 2017. I am sure those ones pumped you up pretty well to crave for more live shows, am I right? At the latter one Bobby Stein replaced Rich Olsen. What was wrong with Rich?
- As I mentioned those two shows were really cool and they definitely got the fire going in us. As far as Rich goes, he was an old friend from the late 80's and played in a band called Treachery. We had always done shows together locally back in the day. He was the first person I thought of when we were looking for a guitarist. I called him and told him about the reunion and he said he was in. What I didn't know was that he and James did not get along well. Unfortunately, the chemistry was not right. We eventually had to let him go. It really had nothing to do with his playing. He is a very good guitarist.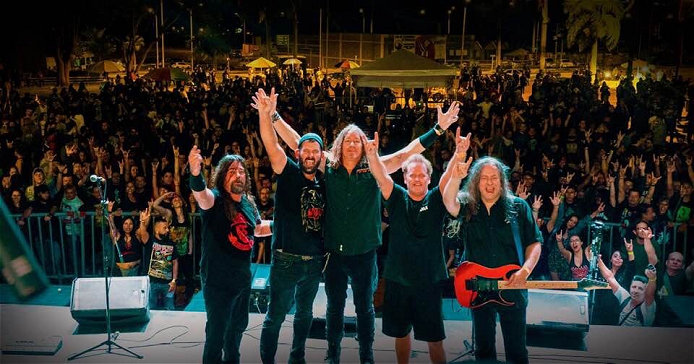 You've started to work on the long anticipated 3rd album of Atrophy since the reunion. So I definitely have to ask did you already finish recording it? How many songs will be included there plus when should we expect its release? I do really hope that the musical direction of the new stuff will be kind of continuation to "Socialized Hate" and "Violent by Nature" albums, will it be so?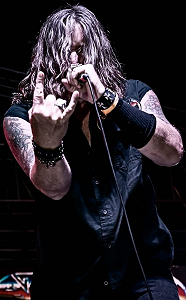 - As far as the new stuff, we are always writing. Since we have completely new guitarists it can be difficult to have the same exact Atrophy sound. But we are definitely working on it and with Brian and myself as original Atrophy members I think it will sound like Atrophy plus. We have a lot of new songs and ideas, but we have changed members quite a bit during this reunion so there have been set backs. We are going to stay in the same vein as old Atrophy. We are going into the studio with Ken Mary of Flotsam and Jetsam and Fifth Angel. Meeting with him next week.
Unfortunately, James Gulotta left Atrophy for a while and was replaced by Scott Heller. Why James decided to leave the band after 4 years of hard work (since the reunion)? What should we know about Scott?
- James is no longer with the band and unfortunately I can't really go into the reasons. It would not be fair to him to not be able to respond. James was a huge part of the original Atrophy and if not for him and his writing skills and great riffs we would not have made such an impact. Just look at the writing credits on the old songs and you will see his name all over those albums. He was one of the main reasons I joined up with these guys. I will say that chemistry and 100% dedication is needed to write and play these songs night after night. Without that dedication to practice with each other 3 to 4 days a week it just won't work. At this point we are wanting a band that gets along like brothers, and we can look forward to traveling together on these tours and festivals. Sometimes we travel a long way just to play one show for an hour and a half set. With all that time together in hotels and airports, you need to have that great friendship or it can fall apart very easily.
There was a replacement on the post of the second guitarist as well. Casper Garret departed from Atrophy in 2018 and was replaced by Denny Seefieldt in 2019. Why so many changes occur in the band?
- Casper Garrett was and is a close friend of mine. I played in a band called Parasite with him for over 7 years. He is a great guitarist and just loves to jam. I knew he could play all these Atrophy songs so I asked him to do this with us. Unfortunately, after the China tour, he was in a horrific car accident and was recovering for a while. He is very generous and nice guy, we were practicing at his house for the first three years of this reunion. Denny is a hell of a guitarist and a great guy. Very low key and easy to get along with. Like I said at this point chemistry and dedication to the band is everything.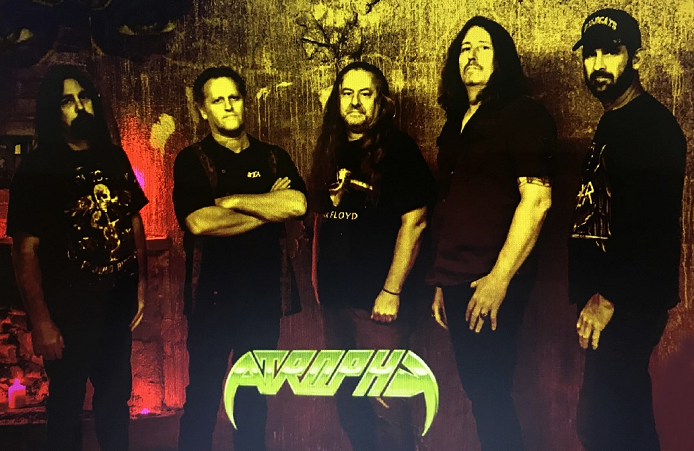 Your back catalogue of releases was occasionally re-visited by underground labels, thus we faced quite a lot of re-releases, let's say beginning from 2006 at least. Recently even your cultic demo "Chemical Dependency" from 1987 has been re-visited and re-issued twice (courtesy of Floga Records in 2016 and Vic Records in 2019). So for the first time the diehard thrash metal maniacs could hold in their hands this super rare gem in formats of LP and CD. How do you feel about it? And what is the response from the fans and media on the "Chemical Dependency" re-issues so far?
- As far as all the re-issues we really didn't have much to do with any of it. We do not own the rights to our own music (mistakes we made signing record deals). We knew these deals were bad, but really had no choice at the time. It was supposed to be a six album deal that turned into two when the whole Seattle grunge craze started. Roadrunner just let us go and we lost Chris Lykins and then Brian left and it just felt like we were a local band again. That's when I called it quits along with James. But yea as far as the re-issues it's all good. It just helps get the word out that things are happening again. Most fans just want a new album so that is what we are going to do. Whether it is a full album or an EP just to get a little label reaction, we'll see. But guaranteed something will be out soon!
Since 2016 you've managed to play quite a lot of shows. That is definitely awesome! Nevertheless, please tell us your impressions from the latter one, which was at Eje Rock Festival in Pereira (Colombia)? How was your journey back and forth as well as your stay there? Oh, and how do you felt about the headliner position at that festival on the 18th of August, 2019?
- The show we just played in Pereira Colombia was amazing. Headlining a festival with 4 to 6000 people was mind blowing. The fans there were so into it. It was packed with people at 1:00 in the afternoon. I was at backstage and took a little walk to the side of the stage and people were running over to get pictures with us all. It was surreal. They were so passionate and grateful for us to go all the way there to play one show. We couldn't have been happier to do it. We made a lot of great friends over there and are looking forward to going back soon. The festival was top notch from stage to equipment, lights and everything. They treated us incredibly. Thank you Leo and Carlos!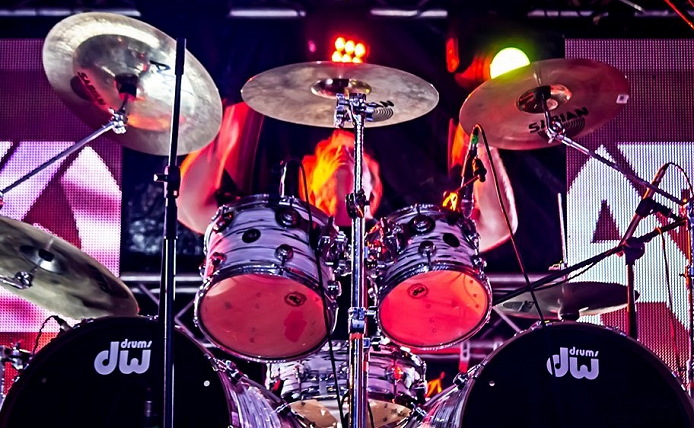 Except the release of the new Atrophy album (which will be the biggest highlight for the thrash metal community) what other plans do you have in your mind? A European tour maybe?
- Yes I can't wait to get some of this new material out. We just want to do it right and not rush and get a cheesy recording. Since we are doing it ourselves as far as paying for it, we want to do it right. We are currently planning a European tour in mid-March of 2020. Hopefully it all works out well. After the Colombia show we have been contacted about numerous other festivals, so hopefully we will be out playing more and more. With the age of the internet we have a lot more fans than we had back in the old days. Most younger than our albums so it will be great to get out there and play these songs live for them. I just love it.
How the metal life in Tucson, Arizona looks like these days? Do you play there often? Are there any decent newcomer thrash metal bands there?
- Metal in Tucson is kind of tough. There are a couple cool bars in town that dedicate themselves to metal, but the turnout can be weak. I don't know what it is, but it can be hard to get people to come out to see a metal show.
Thank you very much for the interview. In the end, please send your greetings to the Ukrainian Atrophy fans.
- To the Ukrainian fans, thank you for the support and we hope we can come play for you and show you just how much fun we have doing this. One thing I can say about Atrophy is we love fans of metal and love to meet and speak with every one of them. I usually go hang out with the crowd during and after the shows, after all that's where the party is! Thrash on always and get ready for Atrophy's 3rd release.