ABIGORUM
"Exaltatus Mechanism" CD 2019
(Satanath Records/Death Portal Studio)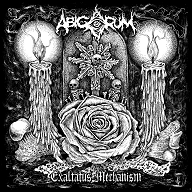 Abigorum was formerly known as a one-man project, incited by Aleksey "Satanath" Korolyov in April of 2012. For the early materials he managed to record all the instruments on his own, but since 26th of January, 2019 he was joined by two musicians from Germany, namely Tino "Fluch" Thiele on guitar/vocals and Sandra "Pesthexe" Batsch on bass. As a fruit of this international cooperation the band's debut full-length album "Exaltatus Mechanism" sees the dark of the day on 14th of June, 2019. Satanath's role on this record has changed a bit too, since here he plays exclusively on drums and responsible for the keyboard parts. The over 45 minutes long CD consists of nine ambient-like black/doom metal pieces, where the slowly crawling tempos are decisive. The lyrics are written and sung in German language, except the song called "Über Dich", where an English verse is also presented. The whole material radiates some kind of fairly evil yet dark mood that has a lot to do, in my opinion, with the bloodthirsty screams and spooky voices of Tino. As you might have understood, the biggest emphasis in this material was put on getting the obscurest vibes possible, which the trio achieved at the highest level. So welcome to the post-apocalyptic nightmare of Abigorum!!!
ABISME
"As Fear Falls In" CD-R 2020
(Self-released)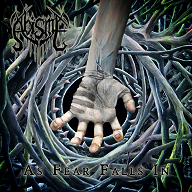 Abisme is a four-piece death/black metal cohort out of Spain. It was formed in Barcelona in 2017 and "As Fear Falls in" is their 6-song debut release. On this record Abisme was combined by the creative forces of Anna (guitar/vocals), Joan (guitar/vocals), Uri (bass) and Víctor Gato (Drums). Their songs were strongly influenced by the Scandinavian melodic death metal & black metal movement, thus get ready to sink into a rather spooky mixture of the given genres including hints to such magnificent hordes as At The Gates, Dissection, Necrophobic, Carnage or Arch Enemy. We have plenty of remarkable yet well-known elements there, which were cleverly twisted by the modern vibe of the 21st century. To me it would be pretty reasonable to add the "post" prefix to their style, because how they sound, how they structure their riffs and compositions, how the drummer plays and how the vocal parts were arranged are all about a "post" kind of attitude and approach in general. Don't get me wrong, the material featured there is simply outstanding, it just breathes with modern patterns. Besides the 5 ordinary tracks one would also find a special one called "The Struggle" there. This is the last song of the CD, which was solely played on piano. A deep and expressive instrumental piece that led me to draw a parallel to Dissection's "No Dreams Breed in Breathless Sleep", not music-wise rather because the atmosphere it gives as a whole to the album as a closing track. Well, eagerly looking forward to the next Abisme stuff, until then feel free to order this circa 40 minutes long debut album at the links below!!!
ALERTA
"Tú Decides El Final" CD-R 2019
(Blood Fire Death)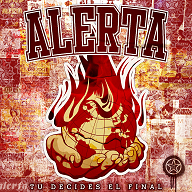 Alerta is a diehard hardcore quintet hailing from the Durangaldea region that is located in the Basque Country, Spain. The band was formed in 1997 and "Tú Decides El Final" is their 5th full-length album to date. The fresh CD embraces 7 songs with circa 29 minutes playing time. Most of them captures some sort of relentless dynamism plus the mandatory dose of guitar melodies and singalongs. It has the groove, it has the punch, the kind of into your face attitude. So I believe their songs live will definitely move the masses. The sound production is also killer. It is massive, but still comes in a crystal clear manner, if you understand what I mean. All in all, have to admit I really enjoyed their kind of hardcore meets punk and metal music. It's electrifying and thus pretty good for charging up the energetic levels of the listener. The only track, which differs somehow from the rest is the closing cut, named as "Ene Lagun Galduak". It appeared to be very soft for me. Nevertheless, it features guest vocals by their friend, Iban Gorriti, who's also responsible for writing the song called "Do It Yourself!". By the way, the line-up of Alerta on this recording is as follows: Jabi (voice), Sesi (guitar), Beny (guitar), Txitxi (bass) and Kantero (drums). The info sheet recommends Alerta for fans of Habeas Corpus, Soziedad Alkoholika, Hatebreed, Earth Crisis, Walls of Jericho & Madball. Well, so be it!!!
ANMASKER
"How Much Is Your Mask?" CD 2019
(Alone Records)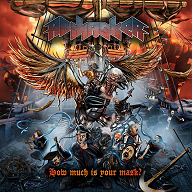 "How Much Is Your Mask?" is the debut full-length album by the Zaporizhia-based thrash metal trio called Anmasker. Its career started in 2016, though prior to that it was functioning as Unmasker, at least for four years. The album consists of eight well-written and -arranged thrash metal hymns that are about to shake your body and mind respectively. The three-piece unit – Andrii Kachanov (lead vocals/bass), Serhii Bielikov (guitars/backing vocals) & Olexandr Hubko (drums/backing vocals) – is fully aware of how to make their tunes memorable and crushing at once. They've managed to combine a lot of killer grooves, dynamics, solos and vocal parts in their stuff. Their lyrics are meaningful as well, which is a cool thing. Musically there is a rather balanced twist between the European and the US bands of the 80s. To me it's a flawless debut CD that comes with the beloved old school bang your head feeling plus a great sound production provided by Anton Vorozhtsov. The nearly 39 minutes long album is definitely a good start, so I am already in wait for their next material. The CD pairs with an awesome 16-page booklet, which was tastefully designed. Enough said. Thrash till death!!!
APPALLING TESTIMONY
"Feed To Survive" CD 2019
(Pathologically Explicit Recordings)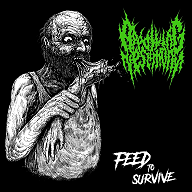 Appalling Testimony is the freshest division of the ultra-brutal death metal community of Ukraine. It was founded in Kyiv in March of 2018 by current and past members of such well- and at some point unfortunately less-known bands as Zoofagus, Ideologies Embodied, Intoxicated, Ezophagothomia, Repulsive Dissection, Zombies Eat My Neighbours, Necropsy Defecation, Metastasis, etc. "Feed to Survive" is their first demo that consists of 5 tracks in total and lasts nearly 13 minutes. It was recorded in the following line-up: Vitaly Drozdov (vocals), Yura Kowalchuk (guitars), Stanislav Shkatov (bass) and Alexey Rudkovskiy (drums). Let me tell you at once that the achieved sound production is totally sick, kind of bulldozer-like and as a whole it reminded me very much Ezophagothomia. If I skip the horror film-based intro and outro, which by the way were aptly chosen, we have 3 songs of their own. These cuts were conceived in the best traditions of the US slam/brutal death metal scene. So, you'll get a creepy mix of the sickest possible guitar hooks, drum chops, bass lines and death grunts over there. Moreover, each of them features a guest vocalist too, so you can hear the utmost growls of Evgeniy "Corvus" (Encephalotomy) in "Overthrow to Decapitate", John Lecher (Splattered Cadaver) in "Embalmed in the Name of Science" and Alex (Voracity) in "Sequestered and Rotten Alive". This killer piece of CD comes with an awesome looking 6-panel booklet and the maximally fitting front cover by Rudi Yanto of Gorgingsuicide Art. Nice start sickos!!!
ARALLU
"En Olam" CD 2019
(Satanath Records/Exhumed Records)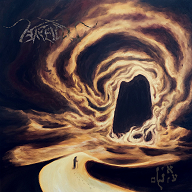 Oh my gosh, this band was formed in 1997, but seemingly stuck in the deepest depths of the underworld, as to my surprise I've just discovered them and their really exciting music. The quintet is from Israel and it propagates Mesopotamian black/thrash metal. "En Olam" is their 7th long play and it includes 10 spells to be spread over the chosen ones. While listening to their particular musical alloy, which is maximally enjoyable, I could draw for myself a few stylistic similarities with such pioneers of the above mentioned sub-genre as Absu, Melechesh, Orphaned Land and Salem. In my opinion, Arallu is about to join this prestigious list of famous bands in very short time, because their over 38 minutes long repertory deserves it and has to be espied by others as well. Ultra catchy guitar melodies, harsh vocals, sophisticated drum parts added by the special Mesopotamian atmosphere and lyrical content are the magical ingredients you can surely expect to perceive during an Arallu ritual. This fantastic album was released in three different physical formats: CD, digipak CD and 12" vinyl. Now it is your turn to choose! Myself after listening multiple times to this stuff have to definitely unearth their previous materials too!!! Preferred songs are: "The Center of the Unknown", "Devil's Child", "Prophet's Path" and "Trial by Slaves".
AUTOMB
"Chaosophy" CD 2020
(Witching Hour Productions)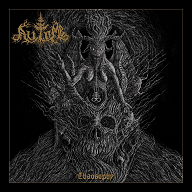 Let me gladly report you that Pittsburgh's souls of black are back and ready to infest your subconsciousness with their second aural disaster, the ably titled "Chaosophy". The proud successor to the band's highly acclaimed debut album "Esoterica" has been divided to 9 chapters and likewise its predecessor it is exceptionally about the unfolding of the most eerie forms of death, chaos and destruction. The unchanged triumvirate, i.e. Danielle Evans (lead vocals, bass, keys), Serge Streltsov (guitars, keys, backing vocals) and Scott Fuller (session drums), has proven once again their capability of creating top notch black metal songs. They combine the speed, the melodies and the aggression with miraculous songwriting skills, similarly as we used to hear and explore on the records of Dissection, Marduk, Belphegor and Behemoth. The new material is definitely much gloomier and more mature plus less death metal influenced in comparison to the songs of "Esoterica". What else? Well, the over 41 minutes long stuff sounds great and proportional, so production-wise you're going to be pleased and that's for sure! And now as they are bond with the legendary Polish label Witching Hour Productions, I foresee a huge breakthrough and a mandatory European tour as well! The astounding front cover was designed by Nestor Avalos and besides the regular CD version (8-panel digipak) you can also get "Chaosophy" on vinyl (limited 12" in two colors). My fave tracks are: "Transmigration Omega", "Chaosophy", "Selbstgott" and "Trishula".
BAD VICTIM
"Síra A Chlad" CD 2019
(Self-released)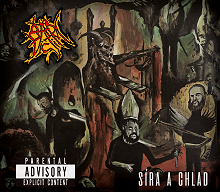 This is my first acquaintance with Bad Victim, but let me tell you at once it is a long time functioning combo. It was established in 2000 and prior to this recent stuff they've managed to release three more materials, namely "Blindness 254/506" (2005), "Strepina" (2007) and "Epicentrum" (2014). They are from the Czech Republic and play some sort of groovy thrash/death metal with a sinister touch. "Síra a Chlad" is their fourth release. It has 10 pieces and lasts 36 minutes. The recording line-up was as follows: Miland (vocals), Eda (guitar), Laca (bass & backing vocals) and Tympán (drums). The quartet masterfully mixes the sounds of the 90s together with the elements of the 21st century. Personally to me their songs most of the time sounded like a well-balanced mixture between Slayer, Behemoth and Machine Head. Moreover, you can find there tons of intriguing ingredients, like tribal drum patterns, modern riff-structures, ominous intros/samples, catchy guitar melodies, hammer blasts, variegated vocal parts, etc. All this pairs with a crystal clear sound production and a "Reign in Blood" alike cover art. The self-released digipak CD comes with a 16-page booklet and a flawless design. Tasty release so to say. Thus let's keep our eyes and ears wide open for their next album!!!
BARBARIAN SWORDS
"Totemic Anal Turbofucker" CD-R 2019
(Third-I-Rex/Fair Warning/Blood Fire Death)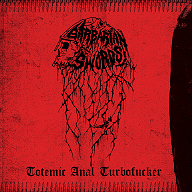 The Catalan black/doom metal hooligans (although the "doom" prefix not so appropriate anymore I assume) strike back with their 3rd album, which musically is definitely faster, more evil and scornful than for example their 2 songs found on the "Tetrarchia Ex Bestia" split CD. The new release radiates from pure blasphemous attitude and gathers 8 songs in total. The nearly 25 minutes long material has been maximally filled with misanthropy, hatred and crushing black metal attacks. It storms hellishly well in the vein of such majestic blackened satanic hordes as Impaled Nazarene, Marduk, Urgehal, Carpathian Forest, Bestial Warlust, Funeral Mist, Craft or Bestial Mockery for instance. By the way, their song titles simply speak for themselves and for the lyrical content you're gonna find there, so I am going to list them here and leave them for your consideration: "Dios Te Salve", "How to Destroy Christianism", "Fleshy Battering Ram", "Be the War", "Jesus the Pederast", "Pig Crap Shitty Christ", "Cerebros Destruidos (Eskorbuto)" and "Totemic Anal Turbofucker". Very sick stuff that has to be heard again and again. The line-up of Barbarian Swords on this record is: Von Päx (vocals), Steamroller (guitar), Voice of Noise (guitar), Panzer (bass) and Joe Beltza (drums). To cut it short, order this sacrilegious piece of nihilistic art right now!!!
ÁÀÒÞØÊÀ
"Ðàñêîë" CD 2020
(Witching Hour Productions)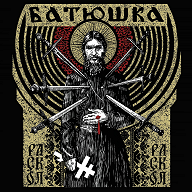 "Ðàñêîë" is the newest 5-song EP of Áàòþøêà led by vocalist Áàðôîëîìåé aka Bartlomiej Krysiuk. In the recordings all the 8 members participated. Music-wise we get an upgraded formula of the previous materials, though with a different perspective. During the over 30 minutes long EP you can expect a pretty atmospheric, almost meditation-like black metal alloy that lyrically was inspired by the eastern orthodox cultures. By the way, the title of the EP itself in an allegoric way also refers to the split that took place in 2018, while its lyrical part is based on personal interpretations of the texts found in the "Sticherarion" book that is still used by the old believers of all confessions. The five "Èðìîñ" liturgies connect rather well into each other displaying a somber, monastic sounding coherent monolith. I am sure this kind of monolithic vibe would sound even more effective at a live performance, especially if it will be paired with the appropriate visuals. Maciej Szupica was in charge for the graphic concepts as well as the cover art. Needless to mention, he did an astonishing yet meticulously detailed work on all the illustrations. This release is available to purchase in digital form, classic jewel case CD, limited digipak CD and cassette versions plus will be available on limited vinyl versions shortly too. A must for all the diehard Áàòþøêà fans worldwide!!!
BESTIAL INVASION
"Monomania" CD 2019
(Nocturnus Records)
"Monomania" is the third long play album and also the best what Bestial Invasion released so far. I clearly remember my first acquaintance with the band was around the release of their debut 2-song demo called "Silent Wonders". At the time, I felt they aren't ready to impress a single metal soul, because of their supersonic copycat attitude. Fortunately, since that time a few new members joined the fold and their music became more mature, more technical and even more professional, plus finally really great ideas started to appear in their repertory. Still we are far from talking about the uniqueness or originality of Bestial Invasion's music, however what they did on "Monomania" and how they did it has to be treated positively. This release is a very good example of their progression and will to play and create some sort of extraordinary musical alloy with the vibe of 90s heavy, thrash and death metal classics. Needless to say, the album's 8 tracks are full of catchy riff orgies, marvelous solos, sophisticated bass patterns and juicy drumming. The conception behind their compositions is rather weird, but it works and quite enjoyable. If I had to mention, which band names popped up during the 36 and a half minutes long album, I would definitely list you these names: Forbidden, King Diamond, Agent Steel, Watchtower, Nevermore and last but not least Atheist. From the latter one the quintet performs the "Retribution" song in a slightly modified and updated version. Impressive job! My absolute favorite track is "The Angel of the West Window", it has been so well influenced by King Diamond & Forbidden, especially vocals-wise. The album features a few special musicians as well, like Kelly Shaefer (Atheist) and Doug Piercy (Blind Illusion) with guest solos in "Memories. The Architect of the Universe" and the drummer of hundreds of bands, no other than Andrey Ischenko. Enough said, listen to it and buy the physical copy!!!
BESTIALORD
"Black Mass Wedding" CD 2019
(GrimmDistribution)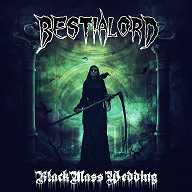 Here comes the second full-length CD by Wichita-located necromancers – Bestialord. Their line-up didn't change since their debut record "Law of the Burning", so you can hear the sounds of horror and occult transferred by the same evil souls, namely Mark Anderson (guitar/vocals), Rob Harris (bass) and Chris Johnson (drums). The ominous trio continues to spread their special kind of sonic nightmare upon the masses. The eight album tracks are full of very exciting spells converted into the most hideous chants, groovy yet twisted riffs, tricky bass lines, unmerciful beats of doom and last but not least unearthly solos. It is sounding magnificent, heavy, twisted, deadly and it is definitely old-school like. If you ask me, the music found on "Black Mass Wedding" can be described as a doom metal version of Morbid Angel's first classics. During the circa 41-minute long stuff you are going to headbang in a non-stop mode. It is a very well-written album that first and foremost I would like to advise for fans of Morbid Angel, Acheron, Incantation, Evil Incarnate, Obituary and Nocturnus. Get it, death/doom metal at its best!!! My fave cuts are: "Coven of the Dead", "Magna Mater" and "Writhe with Serpents".
BLACK CULT
"Nekropola" CD 2020
(GrimmDistribution/InsArt Records)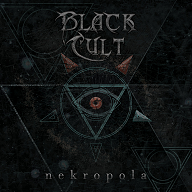 The third and most mature album of Croatia's Black Cult is finally here. "Nekropola" consists of eight avant-garde-like black metal songs with over forty minutes of playing time. Its members are Morbid (vocals), Insanus (drums, guitars in studio), Lesovik (bass) and Azaghal (guitars live). The recording trio did an awesome job with all the cuts of "Nekropola". On the one hand, there's a definite Scandinavian touch almost everywhere, which on the other hand was masterfully mixed-up by the elements of abstract and progressive. I would roughly say that in most of the cases it sounds like a cross between Emperor and Coroner, except for the Hibernum cover. Their lyrics were written in both English and Croatian languages. By the way, the use of the latter one adds some extra vibe to the already ice-cold repertoire. "Nekropola" is very technical, profound and unique. So the ones who are constantly in search of new and weird solutions to be applied to the black metal genre will maximally enjoy this album and that's damn sure!!!
BLEEDSKIN
"Blood Reign" CD 2020
(Self-released)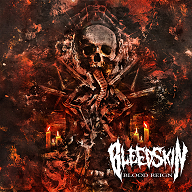 BleedSkin is an up-and-coming death metal horde from Belgium. It was established in 2016. Their first stuff "The Rotten One" was a 5-song EP released in 2018. Now they've returned with their forceful debut full-length record called "Blood Reign". It consists of eleven pieces and lasts circa 39 minutes. The quintet – Anouk Debecq (vocals), Céline Mazay (rhythm guitars), Benjamin Lefèvre (lead guitars), Rémy Adam (bass) & Julien Vanhees (drums) – delivers a destroying alloy between the old-school and the modern interpretations of death metal. Have to admit they're handling their instruments on a rather good level. Their compositions are really well-crafted and technically fair as well. This kind of music should truly rip the face off of the listener, especially during a live performance. I found there a lot of intriguing ideas, even if musically the band is heavily influenced by Cannibal Corpse and Dying Fetus. Nevertheless, I think it's a decent debut album, which the majority of the death metal fans will praise from the first listen. Oh, and let me tell you in addition that the bloodthirsty growls of Anouk will make some of the male grumblers become flushed. In a word, keep checking back for BleedSkin from time to time as they might surprise you even more!!! Preferred songs are: "Eternal Hatred", "Perversion of Mankind" and "Chaos Theory".
CONCEIVED BY HATE
"Putrid Realms Of The Occult" CD 2020
(Satanath Records/Morbid Skull Records)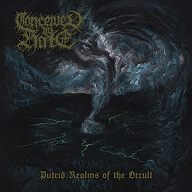 Every four years they return to contaminate the humankind with the aural plague known as old-school death metal. This new record, their third full-length already, has a way more Swedish guitar sound and darker vibe as its predecessors. Moreover, it was also strongly influenced by doom metal bands of the most obscure origins. Somehow inevitably – Asphyx, Hypocrisy, Dissection, Grave, Cancer, Autopsy – these names popped up in my mind during the over forty minutes stuff. Let me tell you in short, "Putrid Realms of the Occult" is another great album by Conceived by Hate, which should not be treated as something unique or innovative at all, it's just a record that has definitely good and listenable music and was created in respect to the pioneers of the doom & death metal genres. There are nine crushing songs in total, which were recorded by the duo: Morbid (guitars, bass, vocals) & I.N. (drums), except for the acoustic piece "Cipreses Fúnebres" (it was recorded by C.A.). Killer back to the 90s death metal savagery!!! My preferred tracks are: "Drowned in Tomb Mold", "Into Cemetery Fog" and "Cabalistic Utter Obscurity".
DEEMTEE
"Flawed Synchronization With Reality" CD 2019
(GrimmDistribution/Suprachaotic Records)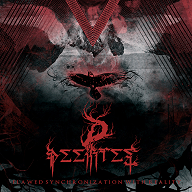 Deemtee (DMT is an intense naturally-occurring psychedelic that's also found endogenously in the human body) is a Spanish avant-garde one-man project initiated by Óscar Martín Diez-Canseco aka NHT (vocals, guitars, bass, drums & synths) in 2015 and "Flawed Synchronization with Reality" is the debut material of this super weird musical oneness. The seven songs of the CD were conceived under the effects of THC, thus don't expect the resulting ideas to be typical at all. Furthermore, NHT defines his music as psychedelic freeform black metal, which is a very apt definition taking into account the large presence of elements coming from depressive suicidal black metal, psychedelic rock, doom metal, progressive death metal and even mathcore. The variety of musical patterns is simply vast there. By the words of NHT it is a music, which explores the unreal, parallel worlds, the psyche, dreams and the limits of universe and time. Indeed, his arrangements sound deeply abstract, futuristic and unique. Moreover, I could easily imagine one or another fragment from the current album as a soundtrack for an alien-motivated sci-fi movie, e.g. the track called "Mirror of Confusion" would be the perfect choice, in my honest opinion. To cut it short, it's rather innovative and experimental, something you should listen to first!!! To cut it short, it's rather innovative and way experimental, if you ask me, it's something you have to listen to a couple of times to understand and get the real idea of its creator!!!
DEHYDRATED
"...And Death Shall Have No Dominion" CD 2019
(Immortal Souls Productions)
My first encounter with this cult Slovakian death metal band was around the release of their debut album "Ideas" (1997). At that time, it was issued on cassettes by Metal Age Productions. Since the foundation of the band in 1991 only Brano Jurák (guitar) left there. In 2015 he managed to add three new musicians, namely Janek Bezový (bass), Pepe Bencík (guitar), Drahoš "Dragon" Gabriš (vocals) and a year later Roman "Elevo" Laššo (drums) joined in to complete the band. In this lineup they've recorded their comeback album "Resurrection" (2017) and the actual 2-song EP. The EP starts with the title track "...And Death Shall Have No Dominion". It was built upon a few plain, but really groove-oriented riffs, which do their thing and return us back to the golden 90s. Yeah, we have a deal with true old-school death metal here and that's for sure! The second song is "Cold and Bleeding". It begins with a super catchy riff that slowly transforms into even more melody-filled guitar patterns. The overall effect is a little bit Swedish-like, despite the here and there added bulldozing blasts of Elevo and killer guest vocals of Kam Lee. However, what I liked the most about it definitely goes for its dynamic consistency. Pure awesomeness in a word! It's a pity that the EP is just eleven and half minutes long, but is damn good as a teaser before the next Dehydrated album's release!!!
DEMENTOR
"Blasphemy Madness" CD 2019
(Self-released)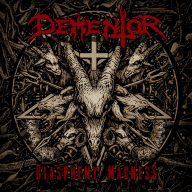 Finally, the number one Slovak death metal machine known as Dementor brings out some new stuff! It's actually a 3-song EP and kind of teaser before the band's upcoming 8th full-length album. Musically, the eleven minutes long CD continues the well-established path of the "Damned" material. However, there's a definite growth of melodies and grooves in the repertory of "Blasphemy Madness". It is still about brutal death metal in general, but the trio – Rasto (vocals/guitar), Ondrej (bass) & Lorenzo (drums) – seems to open new doors for the next album to come. The CD starts with "Magic of Death", a pure Dementor hymn. It includes all the beloved ingredients, like the deep sullen vocals, the twisted guitar riffs, the concreting bass parts and last but not least the fast and furious drum patterns. It follows the title track, which is another brutal piece of art. It storms pretty well until the middle of the composition, where the atmospheric guitar harmonies take over the sheer brutality for a couple of seconds (very good and diverse addition if you ask me) to end it afterwards the same way as it was started. "In Guild with Deamon" closes the CD. It is the grooviest and most melodic song of the EP. The booklet features all the lyrics plus an awesome mega satanic cover artwork too! Let me also remind you that this release was strictly limited to 100 copies, so better hurry up to get your copy in time! A must for all the Dementor fans worldwide!!!
DESCEND INTO DESPAIR
"Opium" CD 2020
(Funere)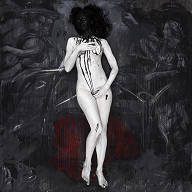 "Opium" is the third long play by Descend into Despair from Romania. The introspective doom metal septet is currently residing in Cluj-Napoca. Their new stuff consists of three ultra-lengthy songs, i.e. "ensh[r]ine", "antumbra" and "dis[re]member". The almost hour long album has become quite ethereal, on my opinion this kind of vibe was mainly dictated by the use of the keyboard instruments. On the other hand, musically it has a relaxing radiation with a positive tone, unlike the majority of funeral doom dealers, whose music is exclusively about darkness, loneliness and desperation. Don't get me wrong, there's a lot of sad moments there and the lyrics aren't about the bright sides of life as well, but their kind of doom metal not too funeral-like if you ask me. Nevertheless, the members of Descend into Despair are knowing very well how to compose ecstatic soundscapes with the incorporation of deep emotions. They fuse together pretty much everything, thus with each new listen one can find out more and more details there, which make their music great, artistic and indefatigable. The overall sound production comes in a well-balanced monumental way that's a pleasure to listen to!!! The CD itself is accompanied by a cozy 6-panel digipak that was limited to 300 copies. So order this doom classic before it will be too late!!!
DIES IRAE
"Ethereal" CD 2019
(GrimmDistribution/Exhumed Records)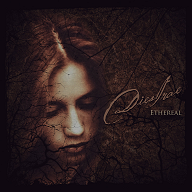 The following is a re-release of Dies Irae's first full-length album "Etherial" (1998). The Mexican post metal band was formed in 1994 and it disbanded in 2002, but since 2009 it is active again. On their first album the quartet – Dah (vocals/guitar), Eduardo Gómez (lead guitar), Carlos Orozco (bass) and Luis Martínez (drums) – tried to combine the Gothenburg-style melodic death metal along with experimental, fusion and jazz-like patterns. The resulting alloy is truly variegated and full of emotional passages. Maybe due to the latter one their music is too soft to be called extreme at all, its base is definitely death metal, but there are so many elements coming from classic music, gothic rock, doom metal as well as from the above listed styles that those stylistic borders get really blurred there. It's even technical at some point, so in my opinion the 10 album tracks plus the 2 additional bonuses (all songs were fully remastered, by the way) will give you a good reflection about the band's past work. Not sure, if the new generation of metal heads will be interested by this material, but for diehard fans of Dies Irae it's a must to have this re-release in their collection!!!
DIES IRAE
"Naive" CD 2019
(GrimmDistribution/Exhumed Records)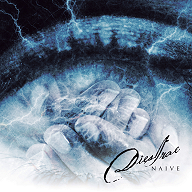 Thanks to the joint work of GrimmDistribution and Exhumed Records the second full-length album of the Mexican four-piece band known as Dies Irae has been recently re-released as well. "Naive" includes 9 tracks, which dig even deeper into the spheres of the Swedish melodic death metal. Back then the Mexicans were heavily influenced by the early materials of Dark Tranquillity and In Flames. As a fact, "Naive" originally was released in 2001 via Oz Productions. This material is more straightforward and has less experimental solutions than its predecessor. Apropos, it was recorded at Fredman Studio in Gothenburg (Sweden) and was produced/mixed by Fredrik Nordström. The recording line-up was the same as for "Etherial", but me personally, like the songs of "Naive" better. The only thing I still couldn't figure out regarding Dies Irae's music, why the quartet choose to play the Swedish kind of melodic death metal, if it is something the Swedes do better! Despite this little thing, "Naive" is a very good album with great tunes and good sound. This re-release features a live bonus on the song called "Parallel Universe 1" that displays the technical abilities of the band members at a live show. Very good example, so to say, it even includes a tasty drum solo in the middle of it. The CD lasts over 70 minutes and comes with a fully redesigned artwork!
DONARHALL
"Helvegr" CD 2019
(Symbol Of Domination/Black Metal Propaganda Deutschland)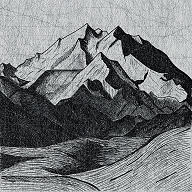 Donarhall is a fully instrumental black metal one-man project from Lower Saxony (Germany). It was invoked to life by mastermind Eugen Kohl aka Gnev in 2016. Besides the current project he is also involved in Crypt Witch, Death Carrier, Hexengrab, Necrochaos, Nihilisticon, Sinister Downfall and Urschmerz. Busy as hell musician, as you can see! "Helvegr" is the fifth long play of Donarhall. It counts 8 songs in total with a 47-minute playing time. Musically, it is very atmospheric, kind of relaxed black metal that has elements of funeral doom metal as well. Really enjoyable stuff that to my mind was assumed to have the effect of background music, because while listening to it you can freely do whatever you want, it definitely won't interfere with any of your tasks. In short, what you are going to perceive and feel during the songs of "Helvegr" can be described as pure meditation and freedom of senses! The vibes are very deep there! It is something like when the nature comes to you in different beautiful forms or let's say soundscapes, while you are sitting in the chair and let the sounds of "Helvegr" penetrate your mind. I wholeheartedly recommend to listen to this marvelous masterpiece for fans of any kind of metal music!!!
DRIFT OF GENES
"Frozen Soil" CD 2018
(Pathologically Explicit Recordings)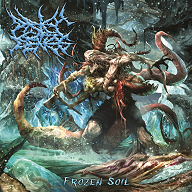 Drift of Genes was brought to life by Viacheslav "Spasm" Platonov in the year of 2008. It is formerly from Debal'tseve (Donetsk region), but recently Viacheslav dwells in Kharkov. He is the sole creator of both the music and the lyrics too. Moreover, he recorded all the guitar, bass and vocal parts for "Frozen Soil". By the way, it is his fourth full-length CD already. Drum parts were recorded by the talented Dmitry Kim, who's active in a huge number of bands & projects as well, let me mention for you just a few ones here: Balance Interruption, Goatpsalm, Hexenmeister, Human Nihility, Morton, Posthumous Blasphemer, Unholyath. "Frozen Soil" consists of 10 compositions and lasts 32 minutes. To be honest, the music itself isn't too captivating. It is played and performed on a professional level, but somehow the album lacks of "real" songs. Most of the time it is about brutal death metal with slam-like elements, but one can find a couple of really tricky guitar melodies there too. The growls are rather monotonous to me. I mean Viacheslav did a way better job on the Human Nihility records. It's a good material and I am also sure that most of the brutal death metal fans will like the songs of "Frozen Soil". I've listened to this CD a few times, I've tried to memorize it, but I can't really come up with any favorite tunes. It seems this stuff is definitely not my cup of tea. Anyway, feel free to check the musical arsenal of Drift of Genes at bandcamp. Oh, wait a second, there's still a thing I liked a lot and it goes to the fabulous cover artwork of Pedro Sena (Lordigan). Total awesomeness so to say!!!
ECLIPSE OF THE SUN
"Brave Never World" CD 2020
(Satanath Records/More Hate Productions)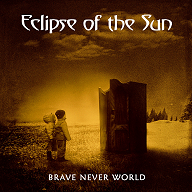 Hungary's Eclipse of the Sun returns with its second full-length titled as "Brave Never World". The eight compositions the quartet is about to present us there are all about the usual motifs of gothic doom and melodic death metal with a slight addition of keyboards. Really nothing special if you ask me. Of course, atmosphere-wise it's sad and even funeral-like at times, but despite the well-balanced sound production I found their music very much lacking of good ideas and melodies. Unfortunately, the over 49 minutes long album went pretty boring for me. Their musical approach is definitely not my cup of tea. So let's pass it exclusively to the fans of the band and also let's hope they can come up with more variety in the future. This album was crafted by the following members: Dániel Szöllõsi (vocals, guitar, synth programming), Gergõ Kovács (guitar), György Kantár (bass), Dávid Antal (drums) and the tracklist is as follows: "Pillars of Creation", "Things Called Life", "Brave Never World", "Not a Symbol", "Home", "World Without Words", "Death of Pan", "Era of Sun".
EDUCATED SCUM
"Corrupt" CD 2019
(GrimmDistribution/More Hate Productions)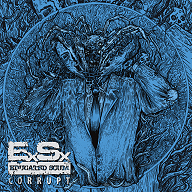 Educated Scum is a Moscow-located extreme metal combo initiated in the year of 2000. "Corrupt" is their second full-length album up to now. It consists of 10 pieces, which blend different styles altogether. Despite the often used blasting drum parts, this band isn't about the pure form of grindcore or death metal, because there's a lot of influences coming from hardcore, groove metal and especially thrash metal. So it's not strange that the name of Sepultura many times appeared in my mind during their half an hour long CD. Elements of modern, like deathcore and metalcore are also widely presented there. Generally speaking, the tracks found on "Corrupt" are not about uniqueness and that's for sure. However, it was arranged in professional way. The sound is OK too. Well, if someone would ask what impressed me the most there? I would definitely say the masterfully executed solos. Those ones are really worth to listen to! Other than that there was nothing else found of my interest. I believe this stuff was exclusively done for the diehard fans of Educated Scum!!!
EVADNE
"Dethroned Of Our Souls" CD 2019
(Funere)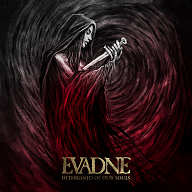 "Dethroned of Our Souls" is a wondrous 8-track compilation CD by the Spanish melodic doom/death brigade: Evadne. The over an hour long disc starts with the three remixed and remastered songs of "Dethroned of Light" EP (2014), though in a reverse order: "Bleak Remembrance", "Awaiting", "The Wanderer". The newly captured sound production is way juicier and empyrean. The fourth track is a cover version on Officium Triste's "Like Atlas". Absolutely flawless reinterpretation and that's for sure! It is followed by "Colossal" that was re-recorded live at PKO Studios in 2018. This newer version became very epic as a whole, kind of astonishing piece full of deep emotional passages. The last three tracks – "At the Edge of the Cliff", "The Autumn of the Withered Roses" and "Bleak Rememberance" – are taken from the band's debut demo "In the Bitterness of Our Souls" (2004). They come the original untouched way, thus one can reconnect with the past and enjoy their raw sounds. The vinyl-style CD and the 12-page booklet have been placed in a fantastic digibook, which was limited to 300 copies. Oh and yes, this release also got a killer cover art by Vladimir Prokofiev. Simply a must to have for all the diehard fans of Evadne!!!
EVOKEN
"Hypnagogia" CD 2019
(Funere/Kattran Records)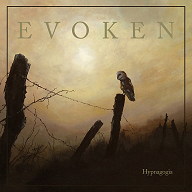 My first encounter with Evoken's music was in the year of their "Embrace the Emptiness" debut album. That record has been my big favorite ever since. And if I may say so, fortunately their music hasn't changed much over the years, which I think in a completely positive sense here. They remained equally loyal to their music and style. Evoken's sixth full-length album "Hypnagogia" was officially out in 2018 through Canada's Profound Lore Records. The current digipak CD is the re-release of that monstrous masterpiece by the covenant of two labels: Funere and Kattran Records. It was limited to 400 copies and is for sale in CIS countries only. The eight-track album faithfully to its predecessors accompanies the listeners onto another enchanting and hypnotic journey, this time for over an hour. The musical landscapes are reasonably relaxed and as usual they've been fairly overthought, interwoven with deep emotions, while the pace remains as slow as possible. Their type of funeral doom/death metal is definitely soaked by the euphoria of death itself. The literally true approach, otherwise it cannot be! The burial assembly of "Hypnagogia" was as follows: John Paradiso (vocals/guitars), Chris Molinari (guitars), David Wagner (bass), Don Zaros (keyboards) and Vince Verkay (drums). From the masters of doom & death to the rest!!!