OBLITERATE
"The Feelings" CD 2000
(Erebos Productions)
Slovak band OBLITERATE was founded in 1992. After numerous demo and 7" releases the five obliterators managed to record their first full-length album. "The Feelings" features 11 tracks of technically played and well-produced grindcore. I would say everything's done precisely there but still I missed one important thing from their whole stuff. And it's the originality. OBLITERATE suffers a definite lack of originality. Their compositions were executed under the influence of NAPALM DEATH's classic "Harmony Corruption" album. And what is more, the vocalist growls the same way as Barney spiced up with a little dose of John Tardy. The only remarkable song, which shows some potential in my opinion, is "Indian Holocaust". You can hear there some very eccentric vocal parts plus a good groovy riff-basis. Fans of NAPALM DEATH will definitely enjoy this 35 minutes long Death/Grind assault.
OCEANS OF SADNESS
"For We Are" CD 2001
(The LSP-Company)
In the embodiment of OCEANS OF SADNESS you can greet a rather promising Belgian 6-piece band. Musically they deal with different elements extracted from Black/Death/Doom/Gothic styles, though after having heard their 11-song material I can definitely compare them with one band, namely CHILDREN OF BODOM. Really close the atmosphere there, to be fair. Nevertheless, "For we are" enlighten me some new perspectives of OCEANS OF SADNESS, which are characteristic only for them. These things basically lay in the innovative keyboard passages that give a symphonic touch to their songs as well as in the all-time changing vocal parts. So to say these are their honestly deserved marks. You can also add a fantastic sound quality to all this. Songs as "The Apocalypse", "When We Became One" and "Oceans of Sadness", to name a few, just impressed me with their meditative sorrowful atmosphere. In a word, the ones who like Death Metal influenced by classical music must get their hands on this CD!
ONANIZER
"Ansikte Mot Ansikte" MC 2000
(DAC Productions)
This tape features 25 songs in 38 minutes approximately. I guess you know what to expect... Yeah, grindcore! ONANIZER's style can be described as a strange mix of weird musical and unmusical elements injected in the shape of chaotic grindcore. This funny mixture of brutality is full of modern & original ideas that can keep your mind open as far as the album lasts. Note that the vocals are really sick and disgusting! You must check this crazy material before it's too late!
ORIGIN
"Origin" CD 2000
(Relapse Records)

The unearthly entity known as ORIGIN managed to unleash upon us their ultra brutal and relentless self-titled debut album. There are 9 bone-crushing, gut-ripping, cranium-tormenting Death/Grind tunes executed with a magnificent precision. The five death-executors are Mark Manning (vocals), Paul Ryan (guitars/vocals), Jeremy Turner (guitars/vocals), Doug Williams (bass) and John Longsreth (drums). At once I should take a comment on the inhuman drumming of John who made the drum parts of this album unbelievably extraordinary. It seems like this guy has 6 hands and 4 feet or so as the patterns he did would better fit to an octopus drummer. It's just amazing to listen to such a masterful drummer. The guitarists are maximally skilled as well as they brought an awesome dose of staccato-like riffs and exploding dynamism to the approx. 30 minutes long butchery. And then you have to imagine a homicidal vocal triumvirate of utter brutality plus add a top sound production and expect the unexpected from this killer band. If you wish to destroy your mind or just want to amuse the neighbors then buy ORIGIN immediately and experience how devastating their Death/Grind is.
OUTER ORGASM
"Mush" MC '97
(DAC Productions)
The debut album of OUTER ORGASM displays a fine level of raw grinding Noisecore. The duo, namely Sergej "Iris" Jhirikhin (guitar/vocals/bass on track 18) and Shurik "Dunja" Gladun (drums/bass), composed 23 chaotic songs in nearly 46 minutes. Production-wise it is an average material, though the sound is good enough, especially the distorted bass lines were extremely well executed. There are some really cool tracks in their repertory, from which I like the two BASIN covers most of all. Yet I can admit these guys have a cool sense of humor as well. Noisecore freaks should hurry up and order this piece of sickness before it's too late!
PAGANIZER

"Deadbanger" CD '99
(Psychic Scream Entertainment)
The bio says PAGANIZER plays supreme northern Thrash Attack. And yes, this definition is quite enough to describe their music. The 4 pagan breeds are Diener (4 string of devastation), Jocke (invocator of thunder), Dea (6 string of mayhem) and Rogga (bestial screams). There are 10 songs of melodic Thrash Metal influenced by the mighty Heavy Metal monsters, namely IRON MAIDEN. The title track and "Heads of the Hydra" are such great compositions that they could be on a MAIDEN album as well. The band uses some keyboard parts as well to make their stuff more varied and atmospheric. To all this you should add a flawless sound quality. I warmly advise you, die-hard metal-heads, to take your hands on "Deadbanger"! Preferred tracks: "Branded by Evil" and "Into the Catacombs".
PANGGILAN PULAU PUAKA II

"Compilation" CD '99
(Psychic Scream Entertainment)
Here we have a fantastic compilation CD that covers 10 bands mainly from Malaysia, Indonesia and Singapore. The bands are MANDATORY (Intense Death Metal at its best), DOXOMEDON (Swedish type of Death/Black), ADAPTOR (Old-school Death Metal), NARSAMUM (Technical Death/Thrash), RADICAL CORPSE (Industrial Metal), ONE BARCHIEL (Atmospheric Avant-garde Black Metal), TRAUMA (Brutal Death Metal), SENSELESS (Catchy Thrash Metal), TANDUS (Heavy Metal) and KOFFIN KANSER (Experimental Hardcore). Most of all, I get impressed by the music & talent of MANDATORY and NARSAMUM, though I can assure you there's a lot of cool bands there. Check it out and be convinced of it!
PANGGILAN PULAU PUAKA III
"Vol. 1" CD 2000
(Psychic Scream Entertainment)

The great series of PANGGILAN PULAU PUAKA compilation continues triumphant. It represents 14 bands in almost 56 minutes. There are a lot of exotic Metal acts from Malaysia, Indonesia, Philippines, Thailand, Singapore and Japan as well as great acts from Italy, Portugal and Sweden. The participants are the following: HERRIOT (Melodic Death Metal), MALEVOLENCE (Extreme Death Metal), CORPORATION OF BLEEDING (Brutal Death), KAMBING (Raw Black), HERETIC ANGEL (Modern Death Metal), PAGANIZER (Death/Thrash), IMPIETY (Merciless Black), GRINBUTTO (Grind terrorists), BLODSRIT (Slow Black Metal), TERROR SQUAD (Supreme Thrash), MURDER CORPORATION (Great Brutal Death band), RITUAL ORCHESTRA (Fast Black Metal), MANDATORY (Spiritual Death Metal) and MIND SNARE (Death Metal). Regarding the packaging I should say it's excellent. In the booklet you'll find logos, photos, brief stories and contact addresses about each of the bands. A fine compilation so to say!
PARRICIDE
"Illtreat" CD 2001
(Surgical Diathesis Records)
Storming with an incredible amount of energy Poland's PARRICIDE is about to offer you 12 brand new songs plus an extremely well-executed cover of CANNIBAL CORPSE's "Hammer Smashed Face" on their over 39 minutes long second album. You'll get acquainted with how annihilating can be a band working with maximum intensity & total dedication to the Death Metal style. The actual line-up of PARRICIDE is: Tadeusz Jankowski (bass/vocals), Piotr Sabaranski (guitar), Albert Kraczkowski (guitar) and Tomasz Luc (drums). Putting complex yet dynamic riffs, pulsating bass tunes, varied vocals ranging from growls to screams and insane drumming altogether they managed to come up with an outstanding album. The overall sound is quite fat and tough so to say. Even if the band has been strongly influenced musically by the aforementioned CANNIBAL CORPSE and BROKEN HOPE for example, I should say they are on the right way to create their own face since songs such as "Like the God" and "Step of Evolution" are definitely speak for this. Well, if you want to experience some extreme brutality plus an individual version of "Hammer Smashed Face" then "Illtreat" will be your best choice. Go and get it right away!
PATHOLOGY STENCH
"Accion Mutante" CD 2000
(Shindy Productions)

The second full-length of this Slovakian brutal horde contains 10 ass-kicking Death Metal tracks. The band went through some potential changes as for their music. Now they play an unordinary kind of brutal Death Metal with lots of unique ingredients instead of the US-influenced Death Metal stuff they worked on their debut album with. The pathologic quartet - Báro (vocals), Lumír (guitars), Kuco (bass) and Vlado (drums) - blasts with an incredible intensity all the way. I would say their musical progression is more than evident. The pace has increased two or yet three times. Due to this technical improvement the band frequently uses hyper-grind drum parts and ultra fast yet complex guitar riffs. The rhythm-section became very strong and worked out there. Regarding the vocals I can say they mainly remained in the vein of their "Gluttony" album, i.e. deep guttural way of growling, though I noticed more refrain-like operations here. They've recorded this album in Exponent studio again, though you can expect a fat and tough sound production. If it's still not enough for you then I can add that there's an interactive part on the CD as well. It features the video clip to "Accion Mutante" song plus biography, lyrics, photo gallery and other useful information about the band. Order their near forty minutes long brutality right now!
PHANTASMA
"Jahve" CD '99
(Immortal Souls Productions)
This is the debut CD of the Slovakian anti-christian Death Metal brigade PHANTASMA. Very mature and quality Death Metal stuff is what these 5 satanic souls have created on "Jahve". The souls are as follows: Andy Duc (vocals/guitar), Richard Dermek (bass/backing vocals), Rudolf Kurilla (guitar), Rastislav Fabian (keyboards) and Radovan Timko (drums). On the one hand, "Jahve" could be defined as a complex material, mainly due to the artful guitar riffs and solos, while, on the other hand, it's a rather pompous material, because of the meditative acoustic guitar parts and mysterious keyboard passages. The majority of songs hides some rather progressive elements too, but these riddle ingredients appear us just after the 2nd or 3rd listening. So to say it's an innovative Death Metal band. Preferred tracks: "Eternal Horizon", "Disease Called Religion" and "Noctis (Instr.)".
PHANTASMAGORY
"Odd Sounds" MC '99
(Moon Records)
With this 2nd album PHANTASMAGORY placed their high-tech Death Metal music to another incredible level. I would say, musically it's far matured and sophisticated as their debut album "Phantasmagoria". "Odd Sounds" opens new dimensions for both progressive and atmospheric kind of Death Metal. It contains 7 extremely well executed songs, which are all excellent in my opinion. Believe me, there's no vacancy in their songs. Everything is done with minds and what's more thoroughly. I love every inch of their music; especially the skilful inclusions of sci-fi based keyboard effects. Also, I should take a mention about the remarkable sound production and thoughtful lyrics. No doubt, PHANTASMAGORY deserves to be known worldwide, because they know how to create flawless songs! This album was also released in 2000 by The Flaming Arts (Belarus label) on both CD and MC formats as well.
PICHISMO / UNHOLY GRAVE
"Split" MC 2000
(DAC Productions)
Another great 2-way split release from DAC Productions! Side A contains 14 songs of the Ukrainian/Lithuanian Esperantocore maniacs - PICHISMO. I am sure you want to get a more detailed characteristic about their music. Well, you should imagine a Crust/Punk motivated Grindcore stuff with lots of noisy elements and lyrics in Esperanto and Volapük. The first 9 songs are taken from their demos '97 and '98, while the rest of songs are live tracks recorded back in '96 on the "10th Anniversary of Chernobyl" festival. Cool stuff! Oh man, Side B is about 15 songs of total madness with the Japanese Grindcore heroes UNHOLY GRAVE. Their line-up combines from the psychotic powers of Takaho - vocals, Kajisa - drums, Tadashi - guitars and Ume - bass. Do you like sick vocals, crazy drumming and intense guitar riffs? If so, then go ahead and order this split right now!
POSTMORTEM
"The Call Of The Sea" CD 2001
(More Hate Production)

Hey, what the hell is it? Powerful Death Metal from Estonia! Great! This is the first Estonian band I am listening to and at once they impressed me with the professional & intense songs they've managed to create. On this album the members are Dmitry Potekhin (bass), Alexander Kobzar (lead guitar), Sergei Shelepov (guitar/vocals) and Denis Shelepov (drums, keyboards). They mainly operate with brutal things, though there are lots of acoustic inclusions and melodic parts in their compositions as in songs like "Blowing Waves" and "Raise Your Sword" to name a few. The overall sound production kicks ass, especially I like the guitar sound. It rips the flesh off. Well, there are 12 songs in general (two of them are covers). "Into the Convent" from KING DIAMOND's "The Eye" album, which they transformed into their own Death Metal style having left some parts as in the original version. Good job guys! And finally you can get acquainted with LED ZEPPELIN's cover "The Ocean". Again trying to be nearly as good as possible to the original version. As for me these guys are proved their musical talents!
PRIMAL DAWN
"Primal Dawn" MCD 2000
(No Salvation)
This self-released debut 4-track MCD contains a full speed ahead Death Metal material of the Dublin-based PRIMAL DAWN. The members behind this infernal creation are Pat Kennedy (guitar), Neil Sweeney (drums), Eric Fletcher (bass) and John McGhee (vocals). I should say their compositions are rather well constructed and have a great sound quality. The music itself reminded me a bit the Florida-type Death Metal, though PRIMAL DAWN experiments with other things as well. I can name here the thrash-motivated opening track "Absorbing the Lies" and the folk-influenced "Blood of the Land" for example. The latter one just amazed me with its great melodies and fantastic soloing work. Keep on creating such songs guys! On the other hand, songs like "Let them Die" and "Pull the Trigger" are about a more brutal attitude with some really deep-tuned growling vocals and killer guitar riffs. The overall stuff lasts over 14 minutes and comes with a decent packaging. So hurry up and get this Irish Death Metal assault directly from PRIMAL DAWN!
PROMONTORY

"The Hill Of Hope" CD '98
(Leviathan Records)
This Russian quartet presents us 7 songs of sorrowful Doom Metal in their nearly 38 minutes long stuff. I found their material too boring in general, but the soloing work is remarkable. If you think you can listen to another copy of MY DYING BRIDE, ANATHEMA or TIAMAT then this album is definitely for you. Nothing special to be honest! Plain guitar riffs combined with primitive drum parts plus added with insipid growling and here and there clear vocals. The only positive thing, as for me, was noticed in their booklet. They used a few great pictures of Bosch to decorate their layout with.
PROPHET
"Broken Promise" MCD 2001
(Self-released)
This is PROPHET's second MCD to date (after being released 3 demos and an MCD between the 1997-2000 period). Slow, hypnotizing Doom Metal is what this Finnish 3-piece band offers you in their 4-song repertory. The almost plain-riff-structured songs sound rather melodious and polished in their instrumentation. And what's more they got even a massive atmospheric touch, due to the fantastic harmonies of solos. The vocal parts are mainly come in crystal clear way, though there's some well-hidden deep growls here and there as well. Regarding the sound quality I should say it is flawless. In my opinion, this kind of music can be easily used to relax. Now to enlighten a bit their lyrical side I will give you the song names, which are speak for themselves I suppose. Here they are: "I Don't Believe In Love", "Are We Through?", "I Kiss And Let You Die" and "Broken Promise". So if you got interested in obtaining this circa 21 minutes long stuff (by the way it was released as a digipack), then please feel free to contact PROPHET!
RAIN FELL WITHIN
"Believe" CD '99

(Dark Symphonies)
I think that with this outstanding album RAIN FELL WITHIN placed an unbeaten classic on the table of Doom Metal music. The band stands for a majestic combination of Doom/Death riffs and enchanting female vocals in their "Believe" album. It includes 5 melodic mostly mid-paced tunes executed in a rather thorough and professional way. I should say it's amazing how skilled they are, especially the female singer Dawn who's responsible for the beautiful keyboard parts as well. The guitarists, Kevin (all guitars on this recording) and Owen, composed a bunch of better and better harmonies and tuneful riffs to make the album as colorful as possible. The rhythm section's work - Tim (drums) and Charles (fretted & fretless bass) - is also remarkable. If you crave to hear a perfect interpretation of sorrowful and pompous elements embedded in the Doom/Death style then don't hesitate to get a pen and order this circa 38 minutes album!
REACTOR
"Industry" MC 2000
(Terroraiser Productions)
Here we have a professionally executed DeathCore stuff by the Ukrainian REACTOR. Its members are the following: S. Nemirovsky - drums, V. Zorin - guitars, A. Lartsin - bass/backing vocals and S. Sainchuk - vocals. The sound is killer and if I draw a parallel between them and DEICIDE (especially it goes to the vocal parts) you'll know what to expect. Musically "Industry" combines brutal, into your face riffing and yet some groovy links as the band was strongly influenced by the modern hardcore heroes as well. You'll get 16 well-structured songs from which I would stress only the strangest ones. These weird songs are "The Dream" (duet vocalizing with a female, totally insane one) and two-pieced "Anarchy in Ukraine". In the latter case we have a deal with the riffs of SEX PISTOLS. To all this I can add that the band uses two languages on "Industry", English and Ukrainian, of course. If you like experimental music, that's it!
RITUAL ORCHESTRA / BLODSRIT
"Storm Of Immolation" CD 2000
(Psychic Scream Entertainment)

This split release contains 2 Black Metal bands. Indonesian RITUAL ORCHESTRA opens it with 4 long raw Black Metal tracks. These songs were done by Deus Iblyssiah (guitars), Throne of the Moon (vocals/bass) and Wine of Satan (drums). The entire material sounds very chaotic and reminded me the Norwegian-type of bands, especially IMMORTAL (vocals are quite close to Abbath-like screeches, for instance) and SATYRICON. Guitars come in sharp as a blade way and lyrics are filled with satanic conception. That's what RITUAL ORCHESTRA is all about. Band contact: Sandy c/o RITUAL ORCHESTRA, Jl. Tlogo Indah St V 21A, RT 04/01 - Tlogo - Mas, Malang, 65144 East Java, Indonesia. Swedish one-man band BLODSRIT follows the Black Metal manifestation with 6 songs into the BURZUM-like way. Nazgul (all instruments) is behind this cruel & dark creation of Black art. The stuff has a mid-paced orientation and a so-called depression, which fills up almost all the songs. Interesting thing that Rogga of PAGANIZER took place on 2 tracks with his great drumming. Fans of BURZUM must check this stuff out! The blood and glory of Satan is the essence of BLODSRIT!
ROSSOMAHAAR
"Imperium Tenebrarum" CD '99
(More Hate Production)
ROSSOMAHAAR is definitely one of the most promising Russian Black Metal acts these days. Its musicianship builds up from Lazar (vocals, guitars, keyboards), Ixxaander (guitars, screams), Kniaz' (bass) and Sigizmund (drums). Musically they are about to mix pompous yet majestic keyboard passages into the traditional fundaments of raw & fast Death/Black Metal. Although they managed to restore the supreme mood of classical music there as well as to add a massive presence of thrashy parts. The merciless sound production just helps them to reach it with maximum success. You can expect seven songs presented in the most awesome & brutal attitude there. Their repertory even gets an innovative character sometimes, for example in songs as "The Spectral Prophecy", "The Forlorn Existence of Soul Divine" and "Portals of Chaos (The Final Transmigration)". In the latter case we have an extraordinary cover version of METALLICA's instrumental song from the "Ride The Lighting" album, but with an involvement of lyrics and great vocal parts, of course. So to say it's a flawless material that should be checked by all the Death/Black fans on this damn globe.
SCAB / EXHUME LABORATORY / M.W.P.E.
"Three Ways To Stay Robot" MC '97
(DAC Productions)
Here we have an awesome 3-way split release! The Japanese SCAB opens the tape with aggressive Noisecore material, called "166 songs". It had done by Dekei (vocals, bass) and his helpful drum machine. I think it's a killer output! EXHUME LABORATORY continues the assault with 4 noisy here and there cosmic-influenced tracks. There's really no place for melodies in these four exhumed songs. And then finally comes M.W.P.E. whose brand of extreme/industrial noise mixture "Bloody Guts and Pneumatic Heart" can surely blow your mind away. The latter 2 bands are from Ukraine. This split is recommended only for die-hard noise fans!
SCARIOT
"Deathforlorn" CD 2000
(Demolition Records)

This Norwegian five-piece formation mixes the old good Thrash/Heavy Metal riffs along with the nowadays popular keyboard-filled Black/Death/Hardcore stuff. There are really too much of characteristic things were extracted from the aforementioned styles. I wouldn't say it's not original, but when it goes to the overall determination of SCARIOT's style I have to say it's too hard to do. So maybe it's easier to call their music as many-sided Metal. Furthermore they like to operate with a very wide range of vocals. I mean they use a few types of clear male & female vocals plus the usual Death growls and Black screams. After all said I have to conclude these Norwegians like to experiment with different styles and feelings. Indeed they like! And what's more they are rather skilled musicians, especially the guitarists' work amazed me. The soloing is just fantastic believe me! From their 8-track repertory I would pick up, first of all, the intense "Remains of Dreams" tune that was overloaded with a bunch of better and better solos. Then I want to note the second song, namely "Sister", which features some reminiscent parts of KING DIAMOND's "The Eye" album and a quite thoughtful song-structure. Well, it's time to present you the band-members as well. Here they are Daniel Olaisen (lead guitar), Anders Kobro (drums), Hugo Isaksen (guitar), Bonna Svendsen (bass) and Ronni Thorsen (vocals).
SEPTICEMIA
"Hopeless Age" CD 2000
(Self-released)
Basically operating with the Death/Thrash kind of riffing SEPTICEMIA created a killer 12-song album that hides lots of interesting moments for fans of extreme music. On this record the line-up is: Mario Staffa (vocals/guitar), Doris Bauer (bass), Peter Knall (guitar), Siegmund Gratz (drums). "Hopeless Age" displays a musically mature band with a quite strong sound production. If I would compare their music to others than I would definitely name the following ones: SIX FEET UNDER, SEPULTURA, OBITUARY and KRABATHOR. Though you shouldn't take it seriously, as far as I just wanted to draw you some parallels. To the contrary, SEPTICEMIA has an own face and potential to create an own kind of music. I am really into their brutal thrashy Death Metal repertory. Vocal-wise they managed to embrace a big variety in their compositions being used the usual ultra deep growls along with some eccentric black-type screeches. There's also a bunch of remarkable melodies there as well as some humorous riffs, especially at the end of the last song, ha-ha... Preferred tracks are "Distress of the Night", "Coming of Chaos" and "The Arrival". Anyone interested in this circa 50 minutes long stuff should get in touch with the band.
SIEGED MIND
"Lost Life In Evidence" MC 2000
(Oupiric Productions)
There's no doubt; SIEGED MIND is the Russian prototype of DEATH. The quartet - Oleg (vocals/bass), Michael (guitar), Cooper (guitar) & Andy (drums) - is mainly influenced by DEATH's early materials, circa 1987-1990 era, though some motives are definitely reminded me Chuck & Co.'s later masterpieces. "Lost Life in Evidence" combines 7 songs full of melodious solos, complex drumming and technical riff solutions. To all this you can add a well-performed coverversion of DEATH's "Leprosy" song too. I guess it props up entirely the deep respect of this Tula-based band to DEATH. The only difference between these bands is in the vocal-style, which is more close to the well-known Martin van Drunen style here. The sound production is OK. So you can take a probe with SIEGED MIND if you prefer the early works of DEATH.
SPARROW MUTANT
"Expansion Of Light" MC 2000
(Metal Force Records)
This stuff was reviewed in the previous issue, but then as a demo. Now, "Expansion of Light" saw the day of light as a pro-done tape with full-color cover. It contains 5 tracks in the vein of old-school Thrash-influenced Death/Grind. I like a lot those catchy guitar riffs, grinding blast beats and splendid solos injected to the overall production of this release. For those who like intense drumming and dynamic mid-paced guitar riffing this material is more than recommended! Preferred tracks: "Interdeath" and "Look Out!".
STONEHENGE
"Scum Brigade" CD 2001
(More Hate Production)
Just imagine a well-balanced mix of Thrash & Heavy Metal plus add some historical lyrics and extreme black screams there and you'll get "Scum Brigade". A fantastic album that features 8 unbelievably constructed songs in nearly 42 minutes. These 5 guys - Sergei "Lazar" (guitar), Pavel "Bush" (guitar), Alex Duke (vocals), Ruslan "Kniaz" (bass) and Dmitriy 'DM (drums) - are really capable of creating memorable tunes with maximum quality & dedication to the medieval times. I like their historical attitude a lot! Musically "Scum Brigade" can be compared with the materials of RUNNING WILD, though it's just my own opinion. Fans of ultra melodic Heavy/Thrash Metal are encouraged to take their hands on this flawless masterpiece. Cool stuff, no doubt! Preferred tracks: "Alexander the Great", "Wolverian Pride" and "Warmen". Let's experience some medieval feeling together with STONEHENGE!
STRATUZ
"Spirit Seduction" CD 2001
(The LSP-Company)
STRATUZ is the first Venezuelan band I've ever heard. To be honest it was a big pleasure for me to listen to such an exotic band. STRATUZ combines from the forces of Franklin Berroteran (vocals, keyboards), Facundo Coral (lead guitar & acoustic guitar), Carlos Martini (lead guitar), Leonardo Rangel (bass) and Rafael Ramirez (drums & percussion). "Spirit Seduction" lasts nearly 40 minutes and gathers 11 atmospheric yet brutal Death Metal tunes. Musically they operate with a lot of strange instruments (for example harp) and special effects that makes their music outstanding and at the same time distinguishable from the endless piles of insipid bands. I can assure you about 100% satisfaction over their entire repertory. Practically every song has to offer something new & memorable. I would say their music has a flowing character. It's like a motion picture that makes you thinking and imagining all the way. Sometimes even it gets a mystical character due to the great use of keyboards and weird melodies. In a word, it's a superb creation of an open-minded band. I can wholeheartedly recommend it to anyone who's into unordinary Death Metal materials. It simply rules! Check it immediately!
SUFFOCATE
"Lust For Heaven" CD 2000
(Erebos Productions)
Slovakian Deathcore-brigade SUFFOCATE strikes back with their 2nd CD. It's their most mature and rather up to date material so far. The 5 insane members decided to make some drastic experiments regarding their well-tested but hackneyed Death/Grind style. Therefore they've injected to it a big dose of old-school elements from Hardcore to Crossover and got an indescribably fresh yet ultra modern stuff. Believe me, it's something outstanding! All the 11 songs have that special refrain-like shouting reminiscent of the old-school Hardcore bands. Furthermore they even transformed them into another specific level. This level deals with brutal growls and hoarse-type of choruses. The song-structures are also not the usual ones. I mean they operate with sophisticated guitar riffs, artful bass parts and quite intense drumming all the way. They're so complex that it's really hard to memorize 'em at once, just after multiple listening. To all this you should imagine a fat yet crystal clear sound production. This stuff simply rules! Preferred tracks: "Shit is All..." and "No More!". Enough said, you better check it out!
SURRENDER OF DIVINITY
"Oriental Hell Rhythmics" CD 2000
(Psychic Scream Entertainment)
This hellish opus was recorded by 4 Siamese blasphemers, namely Ekaluxx (vocals), Wha Thayakorn (guitars), Paritat (drums) and Avaejee (bass). Their 6-song material sounds like a war against all that is holy. It mixes rasping screeches, hacksaw-like guitar sound along with dynamic yet fast drumming and roaring bass lines. Sometimes the unholy guitar riffs turn into melodious parts and here and there I found some really old-school thrash-influenced riffs as well. The production is good, despite of the weak sound of drums, which longing for more loud & powerful interpretation in my view. Yet it is a decent release that lasts more than 58 minutes! Crushing Black Metal at its best. To contact them pen your blood to SURRENDER OF DIVINITY!
TALES OF DARKNORD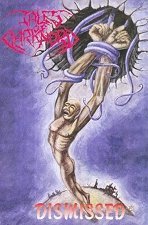 "Dismissed" MC '99
(R.I.P. Productions)
The latest TALES OF DARKNORD album contains 7 powerful Death/Thrash songs in a quite melodic way. Looks like these three serial killers - Alex Kantemirov (guitars), Anton Shirl (bass, vocals) and John Kuznetsoff (drums) - going to a more thrash-influenced melodic kind of Death Metal with every album. Well as for me that's great! On the one hand, you can dive into melodic riff-oriented songs like "Nonsense" and "Nothing More Except Circulation". On the other hand, there are songs like "Dismissed", "Dirge" and "Really Rich Grave", which stand for massive guitar riffing with some grinding drum parts. To all this you can add the roaring sound of bass guitar and deep growling vocals of Shirl. By the way, in some places his voice reminded me Steve Tucker's vocals, though musically there's also some parts reminiscent of MORBID ANGEL there. The overall production is good and the soloing of Mr. Grikot (guest guitarist) just remarkable. At the end, you'll find a bonus track called "Call from Heaven" that is something special in their repertory, it's sure. Just imagine a BLIND GUARDIAN-like clear vocal style with great solos and a lot of acoustic guitar parts combined together and you'll get it! It was also released on CD by Alex's own label called More Hate Production. Note that the CD doesn't contain the bonus track.
TANGORODREAM
"In The Name Of Ancient Faith" MC 2001
(Metal Force Records)
"In the Name of Ancient Faith" was executed by Melkor Doom Nocturno (all instruments, vocals) & Alv'e (female vocals) and delivers us 12 songs into heathen Black Metal. Really grim material with fast & destructive parts, to be honest, especially if one takes into account the merciless screams of Melkor. He also likes to operate with deep death growls and twin vocals too. Unfortunately, TANGORODREAM's music is full of modern Black Metal elements, e.g. wide-ranging use of keyboards, drum-machine and female vocals. If I would compare them to anybody I would give you the following definition. Just imagine a mix between DIMMU BORGIR & DARK FUNERAL plus spice it up with harmonies of medieval & folk music and you'll get the formula for TANGORODREAM. Decent stuff, but the drum-machine could be really annoying sometimes.
TESSARACT
"Groundless Translethargical Groaning From..." MC 2000
(Bloodhead Production)
This MC presents us TESSARACT's first demo recorded back in 1992 but revealed only in 2000. There are 7 songs into the old primitive kind of Death Metal style. Back then the band featured Frost (vocals), George (guitar), Adolf (guitar/bass) and Lars (drums). Musically they mixed mid-paced guitar riffs along with the characteristic trademarks of Florida Death Metal. The sound quality is pretty OK, but what surprised me the most goes out to the varied vocal parts there. It was great to hear such a colorful interpretation of deep growls and screams there. The guys even imitated John Tardy's unique vocal-style as well. The guest growls of Patrick Gravestone (then SUPPURATION, now member of NOKTURNAL MORTUM) are also worth of mentioning. So if you would like to get acquainted with one of the first Ukrainian Death Metal demos then take your pen and order this cult stuff!
TESSARACT
"End Of Depression" MC 2000
(DAC Productions)
Since this stuff was reviewed in the previous issue I will cut it short now. TESSARACT plays Swedish type of Death Metal in their 12-song repertory, which was influenced by the albums of DISMEMBER and GRAVE in general. So you can expect powerful, intense and brutal Death Metal the way it was supposed to be. The tape comes with excellent full color glossy cover, lyrics, photo and additional information. You'll find there a cool cover version of DISMEMBER's "Bleed For Me" song as well. If you think it's not enough for you then read it again.
THE DILLINGER ESCAPE PLAN
"Calculating Infinity" CD '99

(Relapse Records)
I should say "Calculating Infinity" is one of the most innovative materials I ever heard! This band simply drives me mad. Their ultra fierce and weirdly constructed songs will definitely make your brains explode. The five-man unit managed to develop a rather extreme and complex approach for their extraordinary music. They combine the elements of Hardcore/Death/Grind/Jazz/Fusion/etc. styles in their 11-track masterpiece. But they do it so masterfully that I can't even try to compare them to anybody else. It's just outstanding in the way it is! You won't believe your ears how bizarre and thoughtful interpretations can be within the borders of the aforementioned styles. Progressive, brutal, relentless and at the same time very aggressive music waiting you there. If you want to experience some unique and unusual harmonies than go ahead and order this circa 38 minutes long masterpiece. Expect the unexpected!
THE FALLEN
"The Tones In Which We Speak" CD 2000
(Self-released)
THE FALLEN plays a brutal kind of Death/Thrash Metal in their 10-song album. The 4 members - Mike Granat (guitar & lead vocals), Mark Venier (guitar & vocals), Bryan Klinger (bass & vocals) and Henry Higgs (drums & vulgarities) - are about to crash your chest with their ultra dynamic yet in your face material. The guitarists mainly deal with broken-type of riffs, which were spiced up with a definite hardcore attitude. The bass lines have been distorted quite enough, so they come in a special I would say nuclear way. As for the drumming I can say it's extremely precise and full of complex breaks and changes. To achieve a maximum power and brutality during their songs the band involves an awful amount of vocal parts there. It helped 'em to create this brand of Death/Thrash stuff really annihilating! Recommendable for all the brutal fans worldwide! Get this killer CD or be killed!
THE GREAT KAT
"Guitar Goddess" CD '96

(TPR Music)
In fact this is a very old stuff I'll cut it short. "Guitar Goddess" features 4 extraordinary Classical/Metal tracks in 8 minutes. This material follows the cool Thrash-oriented path of "Worship Me or Die!" and "Beethoven on Speed" albums in general, though new or I would say weird approaches have been also revealed there. I mean the increase of speed, aggression, fierceness and brutality there. Besides the classical cover versions of Rossini's famous "The Barber of Seville" and Sarasate's gypsy violin waltz "Zigeunerweisen" there are 2 powerful Speed/Thrash songs as well, namely "Dominatrix" and "Feast of the Dead". There's really no time to relax during these hyper-fast and brainwashing songs. All in all if you prefer to listen to both Classical and Metal music then the chance is yours to experience them altogether under one unique name: THE GREAT KAT! Get this piece of Classical/Metal art right now from TPR Music!
THE GREAT KAT
"Rossini's Rape" CD 2000
(TPR Music)

The goddess of cyber-speed virtuosity & aggression - The Great Kat - has finally returned! The new ultra short (6:26) masterpiece includes 4 brilliant Classical/Speed Metal tunes accomplished in a revolutionary way. The line-up remained the same as on "Bloody Vivaldi" album '98, i.e. the genius Great Kat (violins, viola, guitars, conducts, vocals & screams), Jeff Ingegno (bass) and Lionel Cordew (drums). Rossini's "William Tell Overture" opens the CD. It comes in a hyper-fast interpretation and has been executed by a symphony orchestra (for which the mighty speed guitar goddess is responsible, of course) and the band itself. Your ears will definitely start to bleed by the insane violin-parts and galloping guitar riffs performed there. It follows the awesomely titled "Sodomize" song that shows a blistering mix of psychotic guitar parts, crazy screams, explicit lyrical content and the gruesomely sounding tympani and gong effects. In a word you'll get abused, raped and sodomized in seconds by its infernal sounds. The third track, namely "Castration", displays a quite sadomasochistic attitude along with 3 classical Baroque-style harpsichords, arpeggiated guitar madness and extra-violent vocals. The info-sheet defined its atmosphere very well, it says: "J.S. Bach meets Marquis De Sade!". And finally we have the demonic version of Bazzini's "The Round of the Goblins" interpreted by classical piano, killer violin & guitar techniques plus the band itself. A colossal tune so to say! If you would like to experience an over-brutalized version of classical masterpieces and yet listen to some wild Speed/Thrash assaults then order this CD immediately! Believe me it will be a good choice! Long live THE GREAT KAT!
THE GRIMOIRE OF EXALTED DEEDS #4

"Together As One" CD 2000
(Grimoire Productions)
As you might know Grimoire is a division of Metal Age Productions. So you can expect a professional compilation CD. Indeed the assortment is rather good. You can listen to such bands as MALEVOLENCE, COMA VOID, ENS COGITANS, CRYOGENIC, CORE, ERYTROSY, TONKA, ASSISTING SORROW, CRYPTIC REVELATION, SERENITY, EVOLUTION FAIL, DEFINITION, GORBALROG, DERANGED, DEEDS OF FLESH, ETHODIUS, DISGORGE and PROTEST there. I think that with these 18 songs in circa 80 minutes you'll get a great insight into the Slovakian as well as into the world's underground scene. Musically this CD gathers a wide range of styles from Ambient through Death & Thrash Metal to Grindcore. The packaging has a fair design.
THE GRIMOIRE OF EXALTED DEEDS #5
"End Of The Way" CD 2000
(Grimoire Productions)
Here's the latest Grimoire compilation CD with 22 songs and 80 minutes playing time. It features more brutal stuff this time. Here's the list of participants: THALARION, HYPNOS, MORGAIN, BRALALALALA, ATMOSFEAR, ART OF FEAR, NEW YORK AGAINST THE BELZEBU, REQUIEM LAUS, M.A.C. OF MAD, DARK MORDOR, SACRIST, ODD, NO LONGER MORTAL, SERENADE, ATTICK DEMONS, SHIT FOR BRAINS, ANTAGONY, F.O.B., PROTEST and INIQUITY. Most of all, I liked to listen to the tracks of F.O.B., HYPNOS and INIQUITY, though the rest of bands are also worthy to check out. If you want to experience some great tunes and get a brief information about each band than go ahead and order a copy of it from Grimoire Productions!
THERIOS
"Therios" CD 2000
(Hollenden Records)
THERIOS displays a psychotic mix of grind & noise core in their 9-song repertory. It's insane, disgusting and full of noisy electronic madness. If you like over distorted bass lines, chaotic guitar riffs and extreme drumming spiced up with an incredible dose of crazy screams and everything that goes to the category called "abnormal", then it's definitely an album of your dream (or maybe nightmare). To enlighten a bit THERIOS' lyrical conception here's some song names for you: "Cortex Implant", "Cathode Socialization", "Information Substitution", "Cellular Infection" and "Cerebral Implosion". Well, I guess you got a good description what awaits you on this nearly 43 minutes long release. Freaks of noise core hurry up and get your own copy of this CD by sending $10 to THERIOS/Hollenden Records!
TODAY IS THE DAY

"Live Till You Die" CD 2000
(Relapse Records)
TODAY IS THE DAY has returned with a killer 15-song album! This time Steve Austin & Co. brought us a collection of live performances from the band's extensive catalogue and some rare studio tracks. Their live assaults are so crazy and vivid that I can't even explain you what I felt exactly during them. It was like an extreme flow of emotions or just the transfusion of energy. I don't really know, but I am sure that their music would be a perfect tool for a thorough psychotherapy. Regarding the studio tracks, which are cover-versions of BAD COMPANY, THE BEATLES and CHRIS ISAACK songs, I have to say all of them were adapted successfully for the usual TODAY IS THE DAY repertory. In a word, if you want to kill your nerves effectively then go ahead and buy this 34 minutes long psychocore madness. You've been warned!
TOTAL FUCKING DESTRUCTION
"Same" CD 2000
(DAC Productions)
This CD contains a compilation of the first 2 T.F.D. demos. There are 22 songs in circa 33 minutes. Post-apocalyptic grind cult is what they offer you there. Their music is damn crazy and insane. I would say unbelievably abnormal! It's full of noise, punk and yet crossover elements that can crush your mind in a few seconds. Of course, all these sick ingredients were precisely mixed into the bases of grind core style. And what's more, the entire material has a quite tolerable sounding quality and killer lyrical content. So don't waste your time anymore and order this piece of total fucking art right now!
TWISTED TOWER DIRE
"The Curse Of Twisted Tower" CD '99
(Miskatonic Foundation)
Well, this band stands for pure Heavy Metal in their 8-track debut album. Combining from the metallic forces of Tony Taylor (vocals), Scott Waldrop (guitar), Dave Boyd (guitar), Jim Murad (bass) and Marc Stauffer (drums) this band created an outstanding Heavy Metal album. Musically they cultivate the traditional way of Heavy Metal and that's great, believe me. Moreover they successfully reached the so-called special atmosphere of the 80s in their songs. Nowadays a lot of bands trying to bring back that mood, but only the most possessed ones can reveal it again. From TWISTED TOWER DIRE you can expect just flawless songs, because they play from their hearts! Songs like "Hail Dark Rider" and the title track just amazed me with their great guitar harmonies and well-constructed vocal parts. If you like such old masters of Heavy Metal as IRON MAIDEN, MANOWAR or MERCYFUL FATE then you'll be definitely pleased by T.T.D.'s repertory too.
UNVEILED / TRAUMA
"Split" CD 2000
(Psychic Scream Entertainment)
Malaysian UNVEILED starts the CD with 4 mid-paced Death Metal songs. Its members are Feisal (vocals), Yusmira (drums), Jake (guitars) and Obit (bass). The production is more or less OK, though I felt the guitar parts too loud all the way. Music-wise it features a mix of dynamic guitar riffing, low distorted bass tunes, energetic deep growls (I like 'em a lot!) and a bit chaotic drumming. And what's more, there are some very cool cannibalistic yet horror-like intros as well. Preferred track: "Corpuscle Ritual Carnage". Indonesian TRAUMA continues the massacre. This 5-man squad includes Donny Arief on drums, Wilman Taufiq & Heila Tanisan on guitars, Patrick Athena on bass and Nino Aspiranta on vocals. They perform 5 brutal songs in a quite powerful Death Metal interpretation that most of all reminded me the masterpieces of the Swedish GRAVE! Their songs are totally filled up with the so-called impulsive force of Swedish Death Metal. Well-constructed guitar parts, catchy drumming, extremely deep growls (here and there spiced with screaming ones), brutal bass sound and all this supported by a great sounding quality. Fantastic Death Metal dynamism! Preferred tracks: "Vomit Rivers of Blood" and "Impulse to Create".
UPPERCUT
"Shroud Shifter" MCD 2001
(G.U.C.)
UPPERCUT was founded in October 1997 by Olaf (drums) and Daniela (vocals). Later on Nico (guitars/vocals) and Henrik (bass) joined them. After lots of gigs and a successful demo called "First Strike" the four-piece decided to unleash upon us their new masterpiece, the oddly titled "Shroud Shifter". It contains 8 ass-kicking Thrash/Death tunes in the traditional German way. I hope you know what this means? First of all, it means a straightforward type of riffing and guitar-centric song-structures. It was also great to notice that the band recorded this brilliant 28 minutes stuff in the studio of WASTELAND guitarist Stephan Kern. I can even comment on some similarities between the two bands, though musically those parallels do not reflect badly on the overall production. UPPERCUT just makes everything the right way! It is what we call decent and real Thrash Metal material with a good musicianship. That's it! Fans of brutal yet Death-influenced Thrash Metal will be 100% content with "Shroud Shifter". Oh, I almost forget to mention the gruesome vocal parts emerging straight from the throats of Daniela and Nico. They simply rule, especially when they scream together. Preferred tracks: "Nature's Blood", "Burning Air" and "Follow the Call". The price for this killer MCD is $10 including postage.
URGEHAL
"Atomkinder" CD 2001
(Flesh For Beast Records)
Norwegian URGEHAL cultivates the straightforward-type of Black Metal in their 3rd album to date. It was also great to notice that the trio - Mr. T.L. Messiah (rhythm guitar), Trondr Nefas (lead guitar, bass, vocals) and Uruz (drums) - keeps their stuff sounding in the old-school Black Metal way. It means you'll bump into its rawest form that enables you to enjoy fast and brutal drum attacks along with chainsaw-like guitar riffs and rasping vocal parts. There are 7 songs in total. The 5 own tracks have been accomplished mainly in a storming way, but as an exception there's a song called "Through the Grace of Hell", which hides a lot of slow yet grimy guitar parts. Another interesting thing goes out to the soloing-work. It somehow differs from the majority of Black Metal bands as here we have them in a quite melodic and thoughtful way. Then we have 2 cover versions there. The first is "Ripping Corpse" from KREATOR, while the second one is "Antichrist" from SEPULTURA. Both tracks got a superb interpretation there. Moreover, they don't feared to add some blasting drum parts and intensity there. Excellent work guys! Keep it in this way as it is the way Norwegian Black Metal was supposed to be! The CD lasts over 28 minutes and comes with an awesome-looking booklet.
VAE SOLIS
"The Blazing Shadows Beyond Eternity" MC 2000
(Metal Force Records)
This tape combines from two first demos of VAE SOLIS, namely "My Fire Is Eternal" (1998) and "Trilogy Of Unlight" (1999). Then the band's line-up was the following: Dmitriy Crysun (drums), Evgeniy Doronin (guitar), Alexandr Glavniy (guitar), Serge Tolmachev (keyboards), Vladislav Shahin (vocals) and Nikolay Kolesnik (bass). Musically they stand for the mix of storming Black Metal and majestic-like keyboard tunes. Their 7-song repertory displays a quite good level and hides a bunch of great ideas. Sound-wise the material is varying as it contains two different recordings. Despite of this I found their stuff enjoyable. Preferred tracks are "Into Silent Void" and "A Great End".
VALE OF TEARS
"The Curse" MC '99
(Self-released)
Despite that this album was professionally done (both music and cover design-wise) I do not found any new ideas on it. VALE OF TEARS offers nothing in my opinion on this 6-song album. OK, they know how to handle their instruments, but nothing more. Compositionally this album is so lame and weak that when the last song comes to an end I don't have much desire to hear it again. Though, fans of slowly keyboard-filled Death/Doom Metal can check this album if they need a Hungarian band to fill in their collection!
WIZZARD
"Black Heavy Metal" CD 2001
(Gutter Records)
Wow, what a fantastic masterpiece reached my ears by WIZZARD's latest and yet 4th output. The aptly titled "Black Heavy Metal" album contains 9 songs of pure Heavy Metal music, which amazed me at once. It's something I always wanted to hear from a Heavy Metal band of today's scene. Keeping the ancient spirit and honest attitude of old Metal masters like JUDAS PRIEST, MERCYFUL FATE or RUNNING WILD, the four musicians of WIZZARD developed their own and really powerful 21st century Heavy Metal style. The so-called Black Heavy Metal style, as they like to use. In the rows of WIZZARD you can find four incredibly high-skilled talents: Teemu Kautonen (lead & backing vocals), Daniel "Front" Reib (lead & rhythm guitars; bass), John Blöchinger (rhythm guitars) and Cy (drums). Let's see their songs in details. The title track opens the album, which is in my opinion their hymn to all the die-hard Metal fans! Really impressive one with great refrain. "Maleficium 1590" follows it with a strong JUDAS PRIEST influence as for its drum parts (I guess it's just kind of deep respect to them), but overall it's another catchy piece of Metal art with dark medieval lyrics about witches' persecution. Then comes "The Tell-Tale Heart" (based on Edgar Allan Poe's short story). A very dynamic tune with lots of fantastic riffs & melodies. It has been influenced by the priests again but this time guitar-wise. Straight from the heart comes the next song - "Red Eyes in the Night", which is my favorite one. The vocal parts are just excellent there! The fourth song, "Soul of a Devil", tells about the laws of Metal and displays a bunch of well-constructed solos. Then "Under the Eastern Sun" travels you to the bloody battlefields of a land, where no more battles were won. It really sounds so fascinating. The seventh song is rolling well by its galloping rhythms and tells the story of an unlucky day, i.e. "Friday the Thirteenth" that caused death for lots of Templars back then in the early XIVth century. It continues with "54 Stakes", which musically keeps the same line and lyrically uncovers the hypocrisy of Christian church and Holy inquisition in general. And at the end, we have "The Grandmaster's Curse". It completes the short story (maybe Trilogy) about the Templars along with two previous songs. It's the most keyboard-filled song anyway. Monumental keyboard parts, slow groovy guitar riffs with breaks and precise drumming what characterizes this masterful tune. The overall sound production is strong and just flawless in my view. I think this album should praise everyone in the Metal scene, it doesn't matter if you're a Thrash, Death or Heavy Metal fan. You will like it definitely, 'cause it rules. As they sung in their title track: "We are traditional but unique". And that's true, no doubt!
XENOMORPH
"Acardiacus" CD 2000
(Teutonic Existence Records)
This album combines from the first two demos of XENOMORPH, namely "Carnificated Dreams" (1994) and "Passion Dance" (1995). At once, I should point out that these 10 songs sound quite fresh & impressive yet after 6-7 years. These demos were recorded with the following members: Peter Spies (death-breath), Coert Zwart (guitar), Remco Kreft (guitar), Ciro Palma (drums) and Dennis van Driel (bass). We are talking about the purest form of Dutch Death Metal here! I like a lot their technical, intense and thrash-influenced attitude. It traveled me back to the years when Death Metal had its renaissance! Unfortunately it lasted only circa 45 minutes. Well, if you want to experience some well-played old-school Death Metal than you're definitely need to check this decent stuff.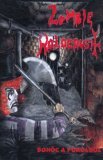 ZOMBIE HOLOCAUST
"Bohóc A Pokolból" MC 2000
(Self-released)
The perverse masters of brutality have successfully returned with their newest 12-song stuff. On this record their line-up features the following blasphemers: Zsolt Ormándy (growls), Valentin Noszov (guitar), Barny (guitar), Gábor Õri (bass) and Hubert Sági (drums). Since their MC '98 the band progressed a lot and nowadays they are more into the brutal kind of Death Metal with unholy, gore yet funny lyrics. The topics are really different, for example there are lyrics about Scream (of course, the movie), Spanish Inquisition, insane doctors, double satisfaction, Death Metal, stage-diving, etc. The music itself has a similar variety as well as they like to mix slow, fast, catchy, brutal and yet melodic parts during their compositions. Note that the lyrics are in Hungarian language. Recommended for Death/Grind/Gore freaks!