FLESHGORE
"Godless" MCD 2018
(Independent)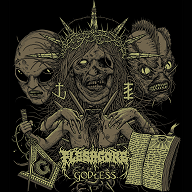 I have to say I was pretty focused to listen to the new FLESHGORE stuff, since its predecessor "Denial of the Scriptures" (2016) was simply flawless and in my humble opinion it is still the band's best material to date. The new "Godless" EP features 3 brand new songs plus 2 previously unreleased cover versions. Unfortunately, the new songs did not meet my expectations. First of all, because FLESHGORE's own style seemed to finally emerge in the songs of "Denial of the Scriptures", which I was very happy about, but unfortunately they did not continue to do it here. The new tracks are good and enough technical, but I definitely feel the lack of great ideas, grooves and hooks there. Honestly I've enjoyed only the riff-structures of "Godless", though not entirely, yet that song has some potential, what I cannot say about "Forgiveness" (which generally is a late MORBID ANGEL plagiarism) and "Lord of the Swine" (where they've hit the worst collection of uninteresting riffs). Sorry, but these two seems rather faceless to me, despite the good sound quality. Recently the trio has undergone a minor change, thus Ed Litvyakov (of DATURA), whose name should sound familiar to the extreme and brutal Death/Grind freaks worldwide, occupied the throne behind the drum kit and did an excellent job, as usual. He played drums on the brand new ones, while his colleague Lev Kurgansky (of EZOPHAGOTHOMIA) crushed the skins in the cover songs: "Immortal Rites" from MORBID ANGEL and "Despoilment of Rotting Flesh" from INTERNAL BLEEDING. Both classics got an awesome interpretation! Besides the aforementioned drummers, longtime member Igor Lystopad makes sure to torn the sickest guitar chords apart and Ruslan Drozd is the one, who is responsible for the low-frequencies and guttural pressures. The 5-track compact disc has been packed into a tasty digipak with a pure-evil-motivated cover artwork designed by Recrean Azaza!
LAVA INVOCATOR
"Mörk" CD 2017
(Satanath Records/More Hate Productions)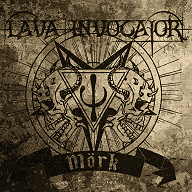 MORIBUNDO
"Raíz Amarga" CD 2017
(Satanath Records/More Hate Productions)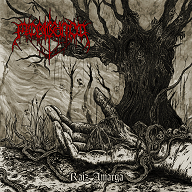 This Spanish Doom/Death Metal brigade was formed in 2014 and this is their debut release. The four lengthy tracks of "Raíz Amarga" were created by Evilead (all instruments), Luis Miguel Merino (vocals) and Mortvs Vyrr (lyrics). Their 36 minutes long material was pretty decently composed and arranged in the best traditions and canons of the aforesaid genres. If I had to cut it short, I would say that a well-thought combination of despair and grief radiates all over in their songs. You know, this overall feel of sadness is extremely unavoidable for the true interpretation of a style such as Doom Metal. The beautiful piano, violin & acoustic guitar passages of Evilead make sure to dose the tunes the right way. The balance of these elements, by the way, was just incredibly well used in the first two songs, "Vida" and "Antitesis". Regarding the vocal parts I have to emphasize the deep growling manner of Luis, which adds an additional volume and massiveness to the repertory of "Raíz Amarga". The musical landscapes they touch are quite relaxing and abstract at some point, the way they should really be. But on the other hand, we have some fast blast beats there too, which fragmentally appear in the last two tracks: "Suicidio Ilustrado" and "Luz (Ciego Color)". It was a little bit odd to notice them there, albeit they were definitely nicely incorporated into. If you want to listen to a precisely armored Doom/Death Metal album, then I definitely recommend you to check this debut disc of MORIBUNDO!!!
MOULDERED
"Chronology Of A Rotten Mind" CD 2017
(Satanath Records/More Hate Productions/Butcher Entertainment)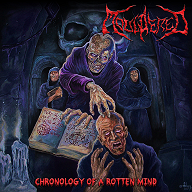 Are you into slamming Death Metal? Well, I really hope so, 'cause the following nearly 21 minutes long material has an adequate portion of slam and groove elements incorporated. And to my surprise this fine gore-filled kickshaw comes from Colombia. 2013 marks the birth of this 5-piece Death Metal horde and before this actual release the band managed to record a 3-song demo in 2016. Those demo tracks were successfully adapted and featured on "Chronology of a Rotten Mind" plus expanded with 5 newer tunes. At first sight their songs sound pretty much like a slowed down CANNIBAL CORPSE stuff, but with more groove and DYING FETUS-like slam parts. But after a few listens one can easily notice we have something more going on there. Just listen to those tricky bass lines for example. Really masterful execution and all the guitar solos are also worth ones to listen to. Then we have a bunch of ultra heavy razing-like riffs accompanied by extremely sick growls. MOULDERED's debut album is all the way about the old-school times and interpretation of Death Metal. You won't find there any widely and/or commonly used modern garbage elements of the 21st century. It's definitely about gloominess not fanciness. So watch out! The overall sound production is fat and massive the way it should be. Really recommended stuff, moreover it comes with the right cover artwork! This CD was released by a cooperation of 3 underground labels, thus you have multiple options to order it.
NECROPSY DEFECATION
"Promo" CD-R 2017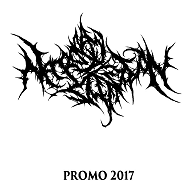 Another worthy brutal act emerged from the lands of Ukraine. This trio propagates non-stop bulldozer-like Brutal Death Metal in the slamming way! Massive juicy riffs, precise drumming and sick growls are the ingredients of NECROPSY DEFECATION. Their line-up on this 3-track promo was: Arthur Denyshchyk (vocals), Bogdan Girchuk (guitars, bass) & Eduard Litvyakov (drums). The latter musician is known damn-well from DATURA. His skills and endurance during the long blasting drum parts are simply masterful! Just listen to the opening track called "Condemned to death through anal tortures". It storms brutally and unstoppably until the end of the song! The sonic massacre continues likewise in their 2nd tune, called "Flesh gore pieces on ritual cannibalistic altars", which partly reminded me the beloved DEVOURMENT style, especially in the middle of the track, where the slowdowns and nailing double-basses occur. The promo ends with "Feasting of the unborn womb essence". That one is about heavy and bulldozing guitar parts laid upon technically over brutalized drumming with gloriously decomposed grunts and a few pig snorts. I would say it's a really good start, thus eagerly looking forward to the continuation and hopefully next time they will gladden us with a full-length release! The promo sounds superbly, so fans of brutal music will definitely appraise it!
NERVOUS IMPULSE
"10th Anniversary Promo" 3" CD-R 2017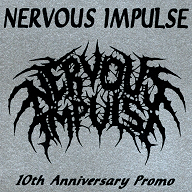 This is a 3-track and 6 minutes long blast from the sickest Montréal-based quintet – NERVOUS IMPULSE! These guys just put together some of the most brutal and craziest shit ever done in the Death/Grind genre! Canada was always famous by their super original and kind of insane bands, so here we have another good example to prove that Canadians are musically sick to the maximum, of course, in the most positive sense of the words! So the following 3 short cuts were placed onto this promo to celebrate the band's 10th anniversary and to show how should sound something really sick and brutal Death/Grind stuff at the speed of light! The first track, "Mouth Breather", was taken from the 4-way split with JAPANISCHE KAMPFHÖRSPIELE, MEAT CUTTING FLOOR & BRUD. This one is about some serious non-stop gravity-blasting hell and unearthly vocal parts reminiscent pretty much to Sylvain Houde's manner, but even further developed. Early CRYPTOPSY/KATAKLYSM madness so to say, but with nervous insanity and awesome precision! It has also a slamming-like ultra dynamical part that will shake your bones in a perfect way. Definitely my favorite track! It follows "Air Burst", a short massacre-like sonic lunacy that was extracted from the 3-way split with RUBUFASO MUKUFO & EPICRISE. That one is way too sick, but with damn good grooves at the end of it! The last piece of the promo displays a little bit calmer, if I can say it so at all, song-structuring and pace in total, but again with bulldozer-like drum parts and very sly riffs. It is called "Act Your Age" and comes from the split with KANDAR. After listening to this promo perpetually 10 times in a row I maximally crave to listen to more NERVOUS IMPULSE in the future and eagerly waiting their 3rd long play to be released! Warmly recommended stuff!!!
NERVOUS IMPULSE/MEAT CUTTING FLOOR/JAPANISCHE KAMPFHÖRSPIELE/BRUD
"Grind Cuts" CD 2018
(More Hate Productions/Darknagar Records)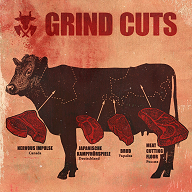 Hereby I would report you that the split season of 2018 has been successfully started. The given split represents an ultimate aural bashing of thy ears by four rather extreme gangs extracted from the sickest depths of the underground. Firstly, Canada's unmatched Death/Grind stormtroopers unleash their portion of groove-dependent brutality upon us. "Mouth Breather" is such an awesome tune and it kills from the start till the end. It blends a totally mind-blowing mix of orgiastic riffs, hysterical screams/growls and super-fast drumming with often-used gravity blasts. "The Beer Demon" continues without giving you a single chance to survive. After being torn to shreds in its first half, the pace of guitar riffs slowly turns down and the song ends in quite a strange or let's say chaotic manner. The third piece is "Circling the Drain", which most of the time is about the crazy techniques, but features a few really cool stop-and-go riffs too. Hammering the brains out well plus ending by a riff-massif reminiscent to DEVOURMENT. Slamming at its best! "Allergic to All Cities" follows it. That song-title is just awesome the same way as the musical parts of it. If you want madness, you'll get it! Their repertoire ends with the bulldozer-like tunes of "More Hate" and as I suppose this is their kind of dedication towards the Russian label itself. Frenetic song, no doubt! And the party goes on with five real short cuts presented by Russia's MEAT CUTTING FLOOR. The quartet pays attention to have as many grooves and fun-oriented flicks as possible, whilst proudly wandering in the valleys of Gore & Grind. Fans of COCK AND BALL TORTURE are warmly encouraged to listen to their part of the split. Position three on this CD was conquered by JAPANISCHE KAMPFHÖRSPIELE. Germany's unrepeatable writers of combat radio dramas have victoriously returned with 6 freshly-recorded versions of some of their best old-school classics. Their method of integrating elements of Thrash Metal, Death Metal and Punk into Grindcore seems really effective. Especially if one does it such professionally as they do! The flow and destructive combination of energy and dynamism during their songs are vital and at the same time lethal as well. At some parts I've had felt the definite influence of the MACABRE/SEPULTURA pair. Freaking awesome stuff to be honest, which worth every penny! Do you ever had the chance to listen to Ukraine's BRUD? Well, the recently reunited grind-perverts demonstrate their newest and best songs to date. The seven gore-infested pieces are all about to smash your face as fast as they can. From catchy grooves to ultra-deep pig snorts you can find almost everything there. The palette is quite variegated so to say and it is always hard to come up with something outstanding within this genre, but these Ukrainians know how to put together the most preferable parts. The 23 compositions of this 4-way split and the fair number of cyclical plays proved me easily about the success of this collaboration.
NOCRUL/SKULLTHRONE
"Khorne/Demo III" CD 2017
(Neverheard Distro)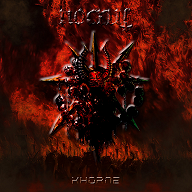 NORDLAND
"European Paganism" CD 2017
(Satanath Records/More Hate Productions)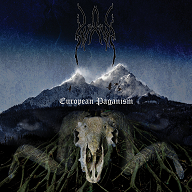 NORDWITCH
"Mørk Profeti" CD 2016
(Satanath Records/Darzamadicus Records)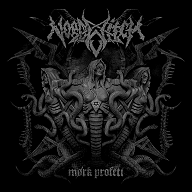 This Ukrainian band was formed in 2015 from the ashes of CRYSTAL NIGHT. Musically the quintet follows what they initiated with their previous band, though excluding the presence of the keyboard player and thus giving less space for that instrument too. They've decided to change their image maximally, be it regarding the lyrics or the visuals. So it was time to swap the band's name respectively. NORDWITCH represents a way darker musical approach than it was used to back in the CRYSTAL NIGHT days. As their debut album's title suggests the band deepens into the Nordic mythology and not lyrics-wise only, but music-wise as well. The 8 well-composed piece of "Mørk Profeti" displays some kind of twist between the musical heritages of DIMMU BORGIR and ARCH ENEMY. The first one comes mainly when we have a deal with guitar riffs and grandiose arrangements, while the second band's name pops-up in almost all the vocal parts of the 38 minutes and 19 seconds long CD. It is kind of very well stolen Angela Gossow-like manner, if you ask me. The informative musical part on "Mørk Profeti" was supplied by lead guitarist Maksym Vityuk, who's a really skilled and talented 6-string shredder. The rest of the musicians are used to have a backing role most of the times. The band was even lazy to record the drums live, so you can taste some programmed drum-patterns on the album, which in fact sound pretty good, but still they aren't live at all. We'll see if they try to fix that deficiency on their second album. Fans of Melodic Black/Death Metal should take a try with. By the way, Japanese Spiritual Beast has re-released the album in 2017 with one bonus track titled "Darknet Storm".