FEED THEM DEATH
"No Solution/Dissolution" CD 2018
(GrimmDistribution/Exalted Woe)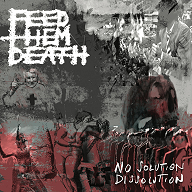 Crushing full speed ahead death/grindcore is what waiting you on Feed Them Death's debut full-length material. Void (all instruments & vocals) the sole composer of the twelve-chapter assault labeled as "No Solution/Dissolution" has a very strict vision towards how his repertory should be built up and sound. Thus he managed to come maximally close to the 90s attitude and to record his songs with that kind of exceptional mood. The 25 and half minutes long CD turned out to be purely devastating! It is uncompromising and extreme to the core! The album features a few guest vocalists like Argento (Spite Extreme Wing D.M., ex-Antropofagus), Christian Montagna (ex-Traitor, ex-Cast Thy Eyes, Bune) and Deimos (Will'o'Wisp). All of them did a great job by adding a merciless dose of brutality there. There are no intros, no outros, no solos! This stuff is about the pure fucking brutality of death metal & grindcore. A must for fans of Terrorizer, Brutal Truth, Napalm Death, Phobia, Nasum and Misery Index. If you claim to be a diehard old school death/grind fan, then go straight ahead and order this piece of extreme art right away! The solution is simple and it's called Feed Them Death!!!
FLYING
"Seeding Pain" CD 2019
(Nocturnus Records)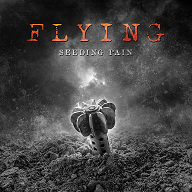 After a long pause, the Kyiv-based melodic death metal quartet finally returns with a few new songs. The 4-track EP starts with a short instrumental piece called "Beggin' for Attention" that combines some really tuneful acoustic guitar parts along with a nice guitar solo by the band's longtime guitar player Max Nabokov. It follows "On the 8th Day". Quite groove-oriented composition it is, I would say, with catchy vocal parts and precisely structured guitar riffs & melodies. Then comes the title track "Seeding Pain" that further increases the level of melodies to an almost heavy metal-like vibe. It also features guest vocals by Vlad Shahin (Mournful Gust) and Eugene Pylypenko. The EP's last song is "Obey and Trust". Another well-built cut to which a video clip was aptly arranged. This video comes as the multimedia part of the disc together with the digital versions of the cover artwork and a band photo. In fact, this song was premiered in 2017 to announce Flying's return. Nevertheless, the new songs are very reminiscent music-wise to Arch Enemy. Moreover, I found rather similar the growls of Victor Ozolin (the only constant member from the beginnings) to Johan Liiva's well-established manner. Besides the already mentioned Victor and Max the band was reinforced by Mike Poggione (Monstrosity) on bass and Alexander Kasiarum (Three Eyes of the Void) on drums. Both new members added their best there, so you can expect the rhythm section to be a flawless one. By the way, the digibook edition comes with a bonus sticker and a poster. If you claim to be a diehard fan of the band then definitely order this more than 15 minutes long EP!!!
FORBIDDEN RITES
"Pantheon Arcanum" CD 2018
(GrimmDistribution)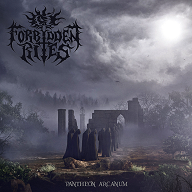 Fairly blackened melodic death metal is what you are going to hear during the listen of Forbidden Rites' debut release. Its four members are located in Mexico and Cyprus, however the music they perform is totally based on the heritage of the Scandinavians. So let me mention just a few from their fundamental influences hereby: Necrophobic, Sacramentum, Mörk Gryning, Dissection, Old Man's Child, Vinterland, Dawn, Gates of Ishtar, Unanimated, Misericordia, A Canorous Quintet, Naglfar. The phonic production on "Pantheon Arcanum" is of an excellent quality, pretty polished so to say with razor blade guitars that cut through the drums flawlessly. The 9 tracks storm rather well, while displaying the classic Nordic black/death metal atmosphere as triumphant as possible. Their lyrical content is about secret societies and ancestral occult knowledge that are also in perfect match with the cover illustration. Thus the arcane feeling is more than guaranteed there. So, if you are in desperate search for a decent melodic black/death stuff lately then feel free to check the music of Forbidden Rites!!!
FROM THE VASTLAND
"Daevayasna" CD 2018
(Satanath Records/The Eastern Front)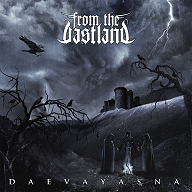 From the Vastland is a black metal unit spawned by Sina (vocals/guitars) in 2010. Formerly it was based in Tehran (Iran), but later on Sina relocated to Oslo (Norway) and started to work with guest musicians over there. The booklet says Tjalve plays on bass and Spektre fills in the post of the drummer. "Daevayasna" is the fifth full-length album in the row. It includes seven straightforward black metal pieces with a special oriental touch. The 47-minute long material is influenced by the Persian history and mythology. So content-wise you will bump into ancient, epic stories about good and evil, i.e. Zoroastrianism. The overall material sounds very raw and savage, the way the early 90s Norwegian black metal hordes were used to sound. You can literally feel the boreal coldness coming out of the speakers. Also no need to say, the blast beats were executed in a storm-like manner, on the highest possible speeds Spektre could afford to play. To all this, you should add the bloodthirsty screams of Sina and the grim and frostbitten sounds of his guitar parts. Terrific sonic devastation is featured there and that's for sure!!!
ÃÅÒÜÌÀÍ
"Ñòèñêàþ÷è Çóáè" CD 2019
(Nocturnus Records)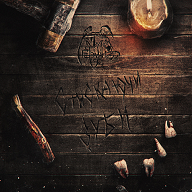 The only member behind this folkish black metal project is Cerberus aka Oleksii Bondarenko who is also involved in Demonium and Echalon. It is located in Kherson (Ukraine) and was formed in 2006. The newest and actually fourth full-length album of Oleksii consists of eight musical chapters with a total length around 47 and a half minutes. The lyrics are, of course, in Ukrainian language and based on or used from the classic literature of Ukraine. So besides the three own lyrics of Oleksii you will find there five that were taken from such well-known poets/writers as Vasyl Simonenko, Taras Shevchenko and Lesya Ukrainka. The music itself is pretty soft, kind of highly melodic if you ask me and it also radiates calmness all the way. So, I won't say it has anything to do with black metal, except some harsh vocal parts, the whole stuff sounds rather like folk metal or heavy metal with elements of folklore. Nowadays, it became a real trend on the territory of Ukraine to form bands that propagate extreme forms of patriotism and the ideology of ultranationalism. Despite these facts, it's a decent material both music- and sound-wise. You can order the plain but still nice digibook version at any of the links below.
GLOOMY GRIM
"Obscure Metamorphosis" CD 2018
(GrimmDistribution/Murdher Records)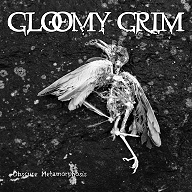 The latest EP of the Finnish horror metal dealers encompasses four blood-soaked pieces with circa 14 minutes of playing time. The recording musicians were as follows: Agathon (voice & keyboards), Micko Hell (guitars), Nukklear Tormentörr (bass) and Agitator (drums). Musically the Suomi horde plays black metal a la Dimmu Borgir, Hecate Enthroned and Cradle of Filth. However, with darker approach and more ripping sound production. So unlike the before mentioned bands Gloomy Grim is of the underground sort with big accent on the raw solutions within their musical repertory. Their songs are mainly about mid-tempos with ethereal keyboard hooks that at times are getting a militant-like marching vibe. The lyrical content is enough variegated as well, it touches death, hypocrisy, misanthropy, Lucifer and metempsychosis. For better transparency I am leaving you the song titles here: "Crawling Saviour", "Stars Above Me", "The Lord of Light", "Impressive Physical Sight". I am sure this EP was meant to be an appetizer, so let's wait for the arrival of their 7th long play!!!
HEKATA
"Ruin" CD 2018
(Satanath Records/More Hate Productions/Hecatombe Records)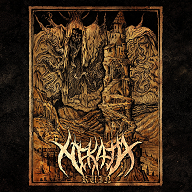 Hekata from Russia was formed in 2015 and "Ruin" is their first full-length album, which comprises of six well-crafted death metal songs. Of course, the music they play has other ingredients as well, like elements of hardcore, crust, sludge and even black metal. The quartet properly knows how to combine the ultra-heavy grooves with catchy melodies and angry vocal parts. By the way, the latter ones when they are about the growls I would describe as some kind of balanced mixture between the vocalizing manners of Jan-Chris de Koeijer (Gorefest) and Adam Buszko (Hate). Their material spins exactly 25 and a half minutes, one would say it is too short for a long play, but believe me it's more than enough and pretty delightsome content-wise. The sound production on "Ruin" is as massive and destructive as possible. The band used to define their style as north west terror blast, but I would rather call it as marching, bulldozer-like, mid-tempo death metal brutality at its best! It is a very decent release that I would warmly suggest to all the fans of extreme metal music, especially to the ones who maximally admire the stuff of Gorefest and Illdisposed!!!
HELEVORN
"Aamamata" CD-R 2019
(BadMoodMan Music/Blood Fire Death)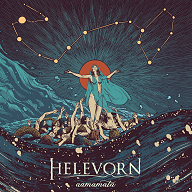 This is my first acquaintance with this masterful doom metal sextet from Palma de Mallorca (Spain). "Aamamata" is their fourth full-length album. It embraces nine long lasting pieces in over 57 minutes. The fact they are coming from the Mediterranean shores adds a lot of speciality both to their music and to their lyrical content likewise. If I had to describe Helevorn's repertory in three words, those would be "relaxed", "beautiful" and "conscious" ones. Their tunes flow pretty well, kind of pleasure to listen to every moment of it. The whole material radiates and propagates calmness in its most efficient form. We have a deal with a maximally well-thought-out musical alloy, where small details play big role too. The sound production on "Aamamata" is quite huge, breathtaking and polished to the core. During their songs you can caught yourself thinking and meditating about the waves of the sea, the gothic landmarks and the overlooks of the Bay of Palma. In addition to all that you can hear the enchanting female vocals of Heike Langhans from Draconian showing up in the eight's composition – "The Path to Puya". The album ends with "La Sibil·la", which is a fantastic adaption of a medieval Catalan song originally written around the 10th century. Definitely magic happens there! By the way, the excellent cover art was designed by Gonzalo Aeneas and it depicts Sibyl, the prophetess of ancient Greece, singing about death for those who drown trying to cross the Mediterranean Sea. Fans of doom and gothic metal are warmly encouraged to invest into this great masterpiece!!!
HIRANYA
"Breathe Out" CD-R 2019
(Rock-CD Records)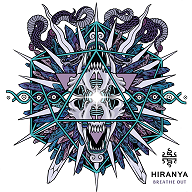 The metalcore youth of Madrid attacks hard for the second time. The quintet named as Hiranya was formed in 2015 and as a logical continuation to their debut release "Breathe In" (2016) here comes the new opus "Breathe Out". You will find there 10 superbly produced songs. Each of those piece will give you an extra dose of groove-oriented, melody-spiced, breakdown-filled experience that pairs the extremity of death metal along with the beauty of avant-gardism. What caught me the most is the variety of the voices and vocal parts of Sara Bowen, which sometime is in a rather big contrast with the music, but mean it in a maximally positive way. She is capable of doing really amazing things with her vocal organs. The instrumentalists of Hiranya are quite up to date too and are way professional throughout the circa 39 minutes long disc. What they play is most likely the music of the current generation of metal fans, especially the teenagers will agree with this, I assume. The super variegated stuff was engineered and mixed by Carlos Santos at Sadman Studios in Madrid, Spain and mastered by Jens Bogren at Fascination Street Studios in Orebro, Sweden. It is truly so colorful that from progressive rock to modern deathcore you can find almost everything there and in between as well. Soft and brutal at the same time! Odd I know, but if you'll imagine the afterwards mentioned list of ingredients put all together in a cauldron you will just get the right formula for the music of Hiranya. So the ingredients are as follows: Arch Enemy, Soilwork, Killswitch Engage, As I Lay Dying, In Flames, Jinjer, Parkway Drive, Machine Head, Aborted, Decapitated, Kataklysm, Dream Theater and so on, there's way too many to mention. But what matters is that their repertory was enjoyable, so make sure to listen to the songs of "Breathe Out"!!!
HUMANITY ZERO
"Proselytism" CD 2018
(Satanath Records/More Hate Productions)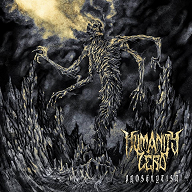 The 5th studio album by this Greek duo allows us to enter into the most fearful depths of the Lovecraftian world of horror. The creepy lyrical content was also properly supported by circa 54 minutes of profound musical vision. Their stuff is mainly slow and very dark with a decent portion of breathtaking moments that will definitely cause goosebumps for the listener to appear. HUMANITY ZERO started as a death metal band, but with each next release their music turned out to be more into doom metal. On this record the band is: Kydoimos (vocals) and Dimon's Night (all instruments). Two guest musicians were also involved there, so you can hear the relaxed female speech of Marialena Trikoglou in "Thou Shalt Emerge" and the classy solos of Vaggelis-Vee Kapa in "Celebrating the Opener of the Way" & "Dark Angel of the Four Wings". Kydoimos has a really deep vocalizing manner, his growls are rather tough and roaring. Dimon's Night, whom you might also know from such bands as Inhibitions, Horrorgraphy, Feeble and Misanthropy Apotheosis to name a few, did an excellent job on "Proselytism". He has the right taste and vision when it goes to composing, thus his orchestrations and arrangements became really huge and masterful. If you are in adoration of doom/death metal with sinister atmospheres, then definitely give a listen to "Proselytism"!
INDESIDERIUM
"Of Twilight And Evenfall..." CD 2018
(Satanath Records)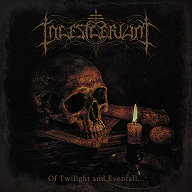 The 2nd long play by the pretending to be evil duo from Los Angeles, California propagates a typical, very plain kind of US black metal alloy. The riffs and the melody chains are rather simple there. Thus the overall information squeezed into the 7 songs is close to neglecting. For some parts I've noticed the influence of Absu, which is OK, but the lack of good songs and originality makes their stuff sound totally monotonous and grey. Then we have those annoying drums, which were programmed properly, but the selected samples sound so horrible to me. The duet – Atrum Lorde (all guitars, bass & vocals) and Mattias (all battery & keys) – says they play crushing United States black metal, well it is not crushing at all. It's plain and melodic, but that's all! In three tracks we can witness the guest solos by Hell Messiah from Gravehill, he did a good job. The booklet was designed in a minimalistic way, albeit it looks decent and tasteful. "Of Twilight and Evenfall..." lasts nearly 40 and a half minutes and hides a special tune at the end of it, which in fact is a cover version of Swedish Dawn's lengthy song called "The Knell and the World". It was arranged and interpreted quite well. So if you are into the US type of black metal, but also like Scandinavian hordes as Lord Belial, Dawn, Gorgoroth and Satyricon, then go ahead and order Indesiderium's second album!!!
INVOCATION OF DEATH
"Into The Labyrinth Of Chaos" CD 2018
(GrimmDistribution/Morbid Skull Records)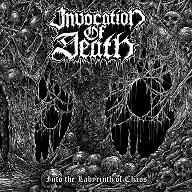 The story of the San Salvador based death metal unit starts in 2008 under the name of Antares Death that was changed to Invocation of Death in 2017. "Into the Labyrinth of Chaos" is their debut release. It has 7 deadly cuts composed in the very best traditions of the 90s death metal movement. So what you are going to hear there is definitely about the old-fashioned approach and spirit of the given genre. In addition to that, all the tracks were executed with passion, total dedication and deep respect to the ones who have been influential on them. For example, such well-known giants of death as Grave, Dismember, Entombed, Bolt Thrower, Gorefest and Morgoth are amongst their influences and that's for sure. The achieved sound production is also close to the Swedish one, of course, their guitars aren't as distorted, on the contrary, they are more detailed I would say. The four musicians – Iosif (vocals/drums), C.M. (bass of doom), J.P. (guitar) & Morbid Miasma (chaotic chords) – recorded an exceptionally good material that fans of the old-school will warmly welcome. Let's hope they will return with an even bigger album soon, but until then, grab the opportunity to order their debut CD, which is available in cassette format too!!! Long live the death metal!!!
JUDASWIEGE/MORIBUNDO/SÖNAMBULA/BARBARIAN SWORDS
"Tetrarchia Ex Bestia" CD 2019
(Negre Plany/Blood Fire Death)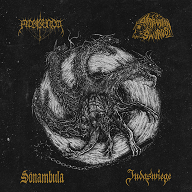 This 4-way split is another great example of how strong and divers the Spanish underground metal scene is. Judaswiege starts the split with four bloodthirsty black metal pieces. Both their sound and the manner of their songs reminded me the late 80s. It's pretty raw and noisy, but still all the instruments can be heard properly during their quarter of an hour playtime. Pure devastating black metal it is with very strong thrash metal influences. Moribundo continues the sonic massacre in a totally different musical dimension. The trio represents us three tracks of their special atmospheric doom/death metal alloy, which builds upon rather massive yet sludgy guitar riffs supported by awesomely executed death grumbles and insane screams. They also don't fear of the use of fast blast beats during their repertory to spice up the doomy vibe. In fact, their third track entitled as "Sufres" is a cover of Napalm Death's "You Suffer". Of course, it was totally re-arranged for let's say a lengthy doom version, so instead of one second you will get 31 seconds. Sönambula is the next band to spread their rolling kind of death metal. The trio sounds almost Swedish-like, especially if we took into account the amount of distortion used for the guitars. Heavy, bulldozing music they play that is surely about to crush some weak souls worldwide. At the end, we have two slow songs from Barbarian Swords. The quintet performs sort of post-apocalyptic doom/black metal with elements of sludge. Their two tracks are conceptual and tell the story of revenge that ends with the obliteration of our planet and the entire universe. Spooky music for sure! The CD lasts 59 minutes in total and comes with an awesome cover artwork of César Valladares that maximally fits the split idea.
MALLEPHYR
"Womb Of Worms" CD 2018
(Satanath Records/Murderous Music Production)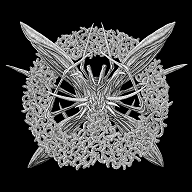 The marching Dimmu Borgir- and Hate-like riffs & drum patterns start the song called "The Temple of Nothingness" out of Mallephyr's latest record "Womb of Worms", which is their second full-length album to date. The Czech black/death metal quartet was shaped in the year of 2013. It consists of the following demonic forces: Opat (vocals/guitars), Adam (guitars), Sinneral (bass) and Tom (drums). They follow the blackened paths of the above mentioned bands plus, of course, the name of Behemoth should be also mentioned here as one of their biggest musical influences. Their repertory is monumental, mechanized and full of rhythmic bass drum solutions. Lyrics-wise we have a powerful mixture of anti-religious, misanthropic and nihilistic thoughts. That kind of lyrical approach unfolds well in the seven pieces of "Womb of Worms". There's almost everything about the inner hatred towards the human kind. The musicians are pretty skilled, thus during the 38-minute long CD you will be able to perceive a very professionally sounding material. Destructive yet explosive black/death metal it is, so only the chosen ones should try and adapt to their texts and sonic visions!!! Assailing of the holy is more than guaranteed!!!
MARCHE FUNÈBRE
"Death Wish Woman" CD 2018
(GrimmDistribution/Cimmerian Shade Recordings)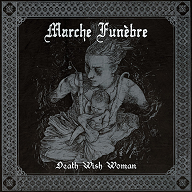 This four track EP marks the 10-year existence of the Belgian doom/death metal quintet. It lasts 29 minutes and besides the three own compositions it also includes an especial cover on Paradise Lost's steady classic "As I Die". The lyrics of "Broken Wings", "Death Wish Woman" & "A Departing Guest" are entirely based on the novel "The Broken Wings" by renowned Lebanese writer Kahlil Gibran. The music itself was built upon rather tasty guitar melodies that mostly tend to the slow, sludgy, heavyweight riffs (1st and 3rd tracks), but they also can turn into crazy galloping ones like in the case of the title track and thanks to that those parts reminded me very much Immortal. The ultra-deep growls and the fairly pitched screams have been precisely dosed throughout their repertory, but somehow the Nevermore-like clean vocals I found totally unfit and weird in their songs. By the way, hats off to the rhythm section, they've done an awesome collaboration there. I have to mention the superb artwork of Axel Norman too as it was very carefully and thoroughly created to fit the lyrical content. As a whole this EP rules supreme!!!
MONTES INSANIA
"Fikcia Erao" CD 2018
(Symbol Of Domination/More Hate Productions)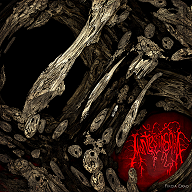 "Fikcia Erao" is the third full-length album of the Russian avant-garde post black metal unit. Its creative force is A.T. (all instruments, lyrics, vocals), who is about to present us seven chapters of a really odd musical alloy. In my opinion, the overall material is quite strangely structured, it has a huge number of parts, especially it goes to the chaotic keyboard lines that most of the time don't fit to the other motives and thus creating the feel of a big mess. This strict cacophony lasts 42 minutes in total. In order to disturb the listener's ears and mind even more the lyrical content was written in Esperanto. Weird approach, isn't it? Well, I will honestly say, for me it was super hard to listen to this CD from start to end. It was mostly irritating my inner senses. The only track I felt relaxed about is the instrumental one called "Interludo". It has an awesome ambient-like vibe that was not killed even by the short blast beats in the middle of it. The majority of the tracks also includes the spooky female voice of Lesta. The mixing was executed in a proper way, but I would definitely advice to change the plastic sound of the drum samples for any future releases. Fans of avant-garde and experimental black metal should try to digest "Fikcia Erao", others just make sure to stay away as it can harm your nervous system!!!
MOURNFUL CONGREGATION
"The Book Of Kings" CD 2018
(Funere/Solitude Productions)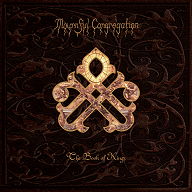 For the obsessed doom metal fanatics, the name of Mournful Congregation should sound deadly familiar. The Adelaide-located quartet from Australia was established in 1993 and they have an extensive audio arsenal to mesmerize their dedicated listeners with. "The Book of Kings" is the 4th full-length material by them, originally out in 2011, but now re-issued in a superb digipak version. The four lengthy pieces were arranged and enchanted in the best traditions of the genre we all know as funeral doom metal. I have to say that the nearly 77 minutes long album doesn't sound boring at all, on the contrary, it has the right vibe, it flows really smoothly and guides us into an ever changing cycle of emotional passages. The music this four-piece creates is simply wondrous, artistic and ultra-melodious. If you ask me, the most extreme side of their music is lying in the deep deathlike growls of Damon Good, which add the perfect funeral-like flavor to their songs. In case, you missed to buy this extraordinary stuff earlier, now the opportunity is yours to get it in a special edition with a 16-page booklet and a bonus sticker. Also don't forget to visit the band's latest album called "The Incubus of Karma" (2018)! The purest essence of doom metal is 100% guaranteed!!!
NECROCHAMBER
"Ceremonies For The Dead" CD 2019
(Mythos Occultus)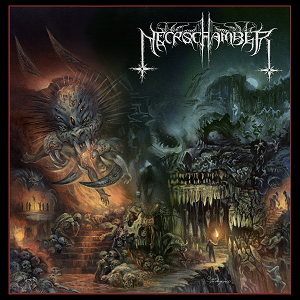 The history of Necrochamber begins in the distant past, more precisely in the year of 1998. However, "Ceremonies for the Dead" is their only release up to now, for which the recordings have started in 2012 and were completed in 2018. The recording line-up was Nocturnal Overlord (vocals, guitars, bass, synths) and Wotan (drums). These occult underground musicians with a definite sense of ease and routine have recorded 10 blackened anthems for their debut album. And what's more, all these compositions were armored by the best traditions of the black metal genre. After a short sinister-like intro called as "Death's Salvation" the demonic duo demonstrates us nine pieces filled by the wickedest black metal alloy possible. The entire material reflects some kind of mesmerizing, but still necrotic, atmosphere during its circa 38-minute playing time. If I had to describe in short what I felt when I listened to their songs for the first time, I would mention these thoughts of mine right away: dedicated to the style, extremely obscure and maximally obsessed. No doubt, here we have a deal with the purest form of the musical creations that comes from the deepest depths of a place we all know as underground! This release was also supported by almost everything possible to make it a very successful one. I mean it was mixed and mastered by Dan Swanö at Unisound Studios AB, the cover art was painted by Joe Petagno and the logo was designed by Christophe Szpajdel. And these mentions are by far not complete, so all I can advise right now is to pay attention to this monster of an album. Warmly recommended black metal stuff and the disappointment is simply excluded!!! Get it immediately or be damned forever!!! Preferred tracks are: "Lord of the Deceased", "A Ceremony for the Dead", "Lunar Hallucinations" and "Return of the Ancient Ones".
NECROSPELL
"Awakening Of Tyrants" CD 2018
(GrimmDistribution/Murdher Records)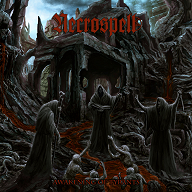 The majority of the material recorded for this CD was put in a time capsule about 23 years ago, thus when you are going to listen to the songs of the "Awakening of Tyrants" you will definitely return to the golden age of death metal, i.e. to the middle of the 90s. The album features 8 songs in total with nearly 30 minutes of playing time. You can find there the tracks from Necrospell's cult and only demo "As Darkness Falls" (1995) plus a song, which is the title track itself, taken from Valgrind's demo "Through the Mists of Vigrid" (1996) and "Necronomicon Gate" that is a newer composition I suppose. So the aforementioned content was finally recorded in a rather enjoyable quality and materialized onto CDs in 2018. The actual members of Necrospell are: Nuclearchgoat (vocals), Ferenc N. (guitar), Andrea G. (guitar), Jason (bass) and Attilio HC (drums). I have to say these Italians managed to revive their old stuff in a very glorious way. Their songs include the fire and the rage in an honest interpretation that pretty much lacks from the repertoire of the modern extreme metal bands nowadays. Besides the mentioned honest attitude of the musicians, there's a big amount of catchy melodies, solos and twisted guitar riffs there, which will make your mind and soul feel happy and satisfied I am sure. Of course, Necrospell was very much influenced by the classics of thrash metal as well and that fact adds even more charisma to their music. It's a highly recommended album and a must to own for all the old school death and thrash metal maniacs worldwide!!!
NERVOUS IMPULSE/ANÜS/UNSU
"Daily Grind" CD 2019
(More Hate Productions)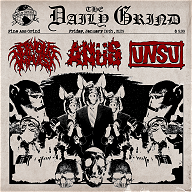 The mandatory portion of your daily grind has just been served! As you may quickly notice from both the headline and the cover artwork it is a split release packed with 19 short cuts and is divided between three teams that perhaps will guide you into the craziest domains of grindcore. Nervous Impulse starts the sonic bash and shows you six ways of the most immense groove-twisted death/grind conglomerate. The Canadian brigade always try to inject fresh ideas or totally unexpected vocal hysterics into their already sick musical alloy, which allows them to progress without limits and to open doors that weren't opened before. I would call their ever-expanding style as free-flowing open-minded grindcore with the all available armory of death metal. It's technical, it's brutal, it's fast, it's catchy, but most of all, it's furious! The songs they perform are: "Deer fly", "Singer aka asshole", "Pump your brakes", "Fuck everything", "Vivre et laisser vivre" and "HIV positive". The latter one is an improved, punchy cover version of Whorecore's song taken from these Israelis' debut release "Protection" (2006). The further 6 pieces will display you the newest stuff from Anüs, these Swedes are also known as the creators of the best gore seller of the past years called "The constipation conspiracy". Compared to their debut release the gore unit evolved quite drastically I would say and I mean it both music- and production-wise. Top quality gore grind awaits you there filled with some of the blackest humor ever, ha-ha... Just look at those song titles: "Black cock down (Skateboard edition)", "Tangore", "Analní kolík je rešení. Problém vyrešen!", "St. Anus", "Grind Anale" and "Assylum". Let me don't mention those few super fitting intros used there, because they are just simply mind melting, ahaha... Fun to the core!!! So this happens when good jokes meet good grinding music! You will bump into high-speed blasts, lovely pig snorts, energizing guitar riffs and lots of funtastic things! Straightforward grinders of Unsu from France continue the infiltration with seven more hits. Their songs sound totally orthodox-like and that's damn cool. The scrapy vocals, the fast pace of the drums, the distorted bass lines and the ripping guitar riffs are all about to complete the perfect formula. I have to admit they've succeeded in reaching that! And that formula has an appropriate motto as well, which in their case would be: "Keep it simple and as fast as possible". Fans of fastcore will also dig it I am sure! Their track list is as follows: "Steamroller", "I choose", "I count to ten", "The demise", "The wrong place at the wrong time", "Feed the dragon" & "Never fed enough". This fine ass CD lasts over 34 minutes and can be ordered directly from the bands or from More Hate Productions through the links below!!!
NORDLAND
"The Dead Stones" CD 2018
(Satanath Records/More Hate Productions)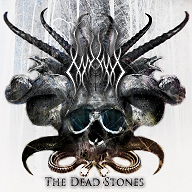 The newest yet fifth album of Nordland has arrived as planned. It continues triumphantly the musical path of its predecessor "European Paganism". Thus what you are going to find on the almost one-hour long disc is about the purest form of the northern black metal in the best possible traditions. The nine compositions will guide you into the coldest and grimmest atmospheres of the so-called genre. The guitar sound is razor sharp and piercing well, the bass lines are throbbing massively too, the drum parts are reasonably balanced and are always in harmony with the given riff, while the screaming vocals are full of hatred and constantly blow the ice-cold wind to the listener's ears. Vorh is a pretty experienced musician, he focuses more on the proper mood, tempos and arrangements rather than to blast out the fastest beats possible. Of course, you can bump into a few insane blasts there, but still the main emphasis is on the right ambience there. I would even conclude that you can easily relax to the soundscapes of "The Dead Stones". It will give you a similar effect like walking in the forest or climbing the mountains. Fans of Satyricon, Immortal, Enslaved or Marduk will definitely like the music of Nordland, so go ahead and order this essential material!