The following is an up to date interview with guitarist/mastermind, Štefan Tokár, of the Slovakian Death Metal combo BRUTE. If you like Death Metal to be technical, melodic and brutal at the same time then go and check their releases right away!!!



First of all, let me congratulate you with the vinyl release of "Henchmen". It had a very special & strictly limited run, why was it so?
- Greetings. Thank you for your congratulation and for your interest. If we are talking about a vinyl release, the costs are higher. That is why the LP release was strictly limited by demand. The initiative has come from our publisher Juraj from Slovak Metal Army (currently Immortal Souls Productions).
Your new label is Slovak Metal Army. They're a pretty young label, but totally dedicated to the underground and its spheres. Tell us more about your cooperation with SMA. When did you meet Juraj Harín of ISP/SMA for the first time?
- With Juraj we are really good friends. Thanks to this, BRUTE has perfect possibilities within the Slovakian scene. We know each other for two years. We've planned to release "Henchmen" album in Indonesia, but instead of that our final decision was SMA. Now it turned out to be the right decision.
The drum parts for your 2 latest albums were recorded by session drummer, Jirka Zajíc of AHUMADO GRANUJO, HEAVING EARTH, INGROWING, etc. He is from Czech Republic. Is it so hard to find a good drummer in Slovakia?
- Lack of top quality drummers, especially in the east part of Slovakia. It requires sustainability and will to play. Jirka helped us a lot to show what does it mean underground.
BRUTE was established in 1998 and naturally it had a couple of member changes through the years. Please introduce to us the current line-up of the band. Also let us know if any of the members have active bands or ongoing projects.
- Currently the longest band member (6 years), except me, is the bass player Radoslav. He is also helping out other bands like ALMA PERSONA, ORTOMEN and OBLITERATE. He had started to play in an actually inactive band called EXTINCTOR. With our singer Dominik we are also collaborating in our side project PAIN PURIFICATION. Boris as a second guitarist joined us last year. He is also active in the band DISCONSOLATE. Also, we have finally found drummer Marek. Our new singer Dominik has joined us a few months ago. The drummer and the singer had never performed neither played in Death Metal band before.
You play live quite a lot, however as I noticed those performances are limited territorially to Slovakia and Czech Republic. Why? Where could we see/catch BRUTE playing live in the very near future? In September you will celebrate the 20th anniversary of the band with a special show. What will you prepare for that particular show setlist-wise? I mean, will you dig into the past and excavate some tunes from your very first demo?
- Due to the line-up changes, our current live shows ratio has decreased. Finally, we have a live performing drummer, a new singer and a second guitarist. Lately we have been focusing on practicing in the rehearsal room. Also our work overload and the distances are allowing us to perform within Czech Republic and Slovakia. Currently we have concerts planned in Slovakia, especially the mentioned 20th anniversary. The playlist for that gig is mainly about the "Henchmen" album, but it will include songs from the first two albums too. We are not playing from the demo records live, because of the band-member changes. Unreleased demos and songs picked from all 3 albums will be located on a very special CD released for the anniversary show.
Musically you are pretty influenced by the American school of Death Metal. How do you see this? Please list us your favorite Death Metal bands of all time.
- Mostly people are comparing us pretty much to the European and the American Death Metal mix of the 90s, but in parallel also with the technical and brutal USDM and the European melodic DM. Well, I am making music on my own. I am mainly influenced by band like SUFFOCATION, MONSTROSITY, DEATH, DEICIDE, MORBID ANGEL, CANNIBAL CORPSE, CARCASS, SINISTER, DYING FETUS, DEEDS OF FLESH, DISGORGE, PYAEMIA, DISAVOWED, SEVERED SAVIOR, INVERACITY and so on. My younger colleagues are interested in bands like MARDUK, ABORTED, VOMITORY.
What kind of jobs/hobbies have the members of BRUTE? How many times per week do you rehearse? You are living in different towns of Slovakia far from each other. Where the band's main rehearsal room is located then?
- I am a welder and the only one married for almost 24 years. I have two kids. My son is 21 and my daughter is 14 years old. I am finishing my house and have BRUTE for 20 years. This is my life and there is no more time for hobbies. All of us are employed. Actually the drummer and the singer are engineers (ha-ha). For now, we have our rehearsal room in Michalovce, where the drummer has his drum kit. All band members are fully focused on BRUTE and that is why I like them as my own family. BRUTE is family.
Who is the main songwriter in the band? Do you compose songs together or separately? Who writes the lyrics and what topics are you usually touch in your texts?
- For now, I am composing the whole production on my own. After that, we are mastering it in the rehearsal room. I am sending materials to the colleagues and then the rehearsal takes place. It works.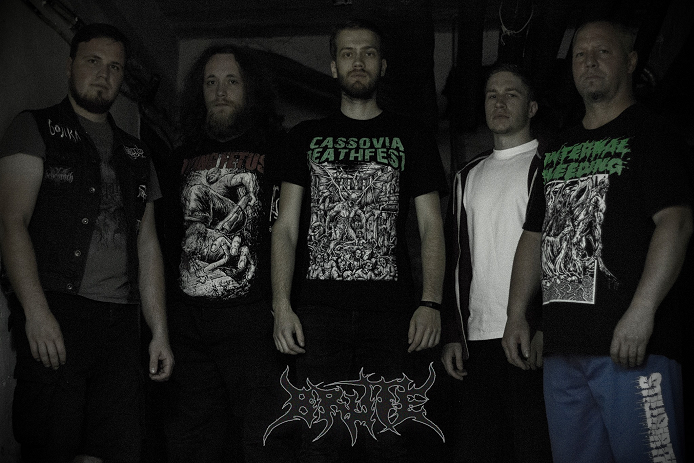 Slovakia has a bunch of top-quality Death Metal bands. Which ones would you recommend to our readers? Name us please your personal favorites too.
- We are a small country. There are not many bands, but in our local circles there are good qualities. Some of them are playing often, some of them not that often. They are all playing own DM style: MORTALLY INFECTED, PERVERSITY, INFER, TYPHOID, MORDUM, KILLCHAIN. Those bands are comparable with the world top bands. Once again, I would like to underline, every band has its own signature of Death Metal. On top of that, there is also a couple of new promising bands.
At the end, please spread all the lattermost news from the camp of BRUTE. Final sophisticated thoughts are yours.
- On 01.09.2018 we will have a special gig in Ružomberok for our 20th anniversary. Bands invited from around the world are INFECTED CHAOS (AT), CARNAL TOMB (DE), INTEGRAL (IT), WORLD END MAN (JP), ASILENT (SG), FEEL A CURSE (SK) and SUBURBAN TERRORIST (SK). Every fan in parallel with his ticket will get a rare CD for free. The CD will contain all three unreleased demos, plus in addition, two songs from all three albums and one song from the upcoming fourth album. The initiative comes from our publisher Immortal Souls Productions on the front with Juraj Harín.