Welcome the king of fire himself, i.e. Ashmedi of MELECHESH, he has spoken in short about the band's recent tours, progress of the new album and his living experiences in different countries amongst other interesting things. So dive in and be ready to foresee what the emissary of the Anunnaki had to say hereabout!!!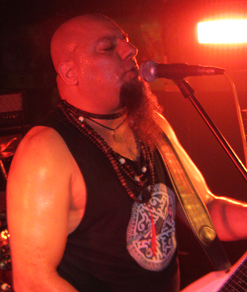 Hi Ashmedi! You've recently finished a 2-week summer tour with BELPHEGOR. How did you like it personally? Which place(s) kept your attention the most, be it due to the fans or simply because of the sightseeing of the given city? Tell us your impressions.
- Well, the tour was good, we were not sure what to expect as after all it is not really a touring season. Well, we have toured the same cities countless times, so yeah what matters is the show and how the crowd react. But it also has to do with weather. When I was in that last tour for example, went hanging out in London and Rome. One gig was in Switzerland; it was a very picturesque village on the mountain looked like post card heh.
"Enki" was out in 2015, so it is reasonable to ask you regarding the new MELECHESH stuff. How many songs you've prepared for it yet and when can we expect the new material to be unleashed? Lyrically what will be the new album's direction?
- Making albums is not quite easy, it is very psychological. I write pretty much everything, so that takes times. And the endless touring, which in a way steals from writing time, aside the festivals in the last three years we did around 7 tours. Lyrics will be according to the MELECHESH world and themes. From Sumerian, Mesopotamian mythos to occult and the human cosmic connection.
After one and half year of production the epic graphic novel titled as "Emissary of the Anunnaki: The Tale of the Fire King" finally sees the light of the day. How was it to see yourself as a drawn character and protagonist of the novel itself? Can you tell us in brief about the comic book and its interactive part?
- Well, MELECHESH is my work, I create it. The comic book graphic novel is opposite; I am the subject. A company thought of doing this, I said OK. I kept an eye on it, gave some tips, but it is their work. It basically a high quality comic book, with both soft carton and hard book cover versions. It has a sort of biography of me and how I started the band, then blends with the fantastical aspects of our lyrical themes mixed with a novel or story line written by the comic book company crew. It is now officially out, but the hard release announcements are in the next few weeks.
Recently Vic Records from the Netherlands reissued your debut album "As Jerusalem Burns... Al'Intisar" including the remastered versions of your demo (1995) and 7" EP (1996) as bonus materials. How it feels to have it available again? The cover art was rearranged, massively modified and repainted as well. Could you please comment about this?
- We own the rights to this album and it is always getting out of print. Some people wanted it, so Vic Records contacted us. I gave them a limited license. Yes, a friend of mine repainted the cover as oil on wood, so we used this version as something extra. Night of the Vinyl Dead Records did the LP, but it is sold out, so Vic might also do the LP again.
Great to see the return of Moloch, I mean tour-wise as a live musician too. He did a great job during the summer tour. Why was he away from touring and replaced by different session guitar players? I assume, he is still a permanent member of MELECHESH, right?
- Moloch is a friend and family member, he is a professor of political science and philosophy in Norway, where he is married and has a kid (I am the god father of his son), he is not active in MELECHESH, but will contribute a solo or riff when possible. We were in search for a live session guy, so he was free, we said why not, it is a summer tour and it's short, it worked out.
Since 2016 you are endorsed by ESP V series guitars, more precisely by E-II V-II STD models. How do you like these guitars? What are the advantages of them compared to the Fernandes and Jackson guitars you've been using earlier?
- Look a Ferrari and Lamborghini are both amazing cars. E-II V by ESP is insanely good guitar like the Jackson KV2T. All high-end, top of the line wood, craftsmanship, sound.
You've just finished laying down guest vocals for one song to the upcoming ROTTING CHRIST album in Athens. Great news for sure! How many times you've been to Greece? Can you share with us some of the most memorable moments of yours being there and visiting your mates in ROTTING CHRIST? Which Greek metal bands are your most beloved ones?
- ROTTING CHRIST are good friends, we did a 5 week USA tour together in the past. Sakis sang on "Enki", he suggested me to do Arabic singing on their upcoming album. I wrote the lyrics and flew to Athens. Fotis ex-SEPTIC FLESH drummer picked from airport, Sakis met us at a restaurant, we all had dinner. Next day I went to ROTTING CHRIST studio and laid the vocals. Always a pleasure.
These days you are living in Germany. How's the life there compared to the Netherlands and to your hometown Jerusalem? Why did you move from the Netherlands? Do you often visit Jerusalem? How's the situation on the metal front there?
- I was shuttling between Germany and Jerusalem a lot. I'm a Dutch citizen and have good memories of there, but it was less fitting to my lifestyle, which I found Germany more fitting among other countries. Jerusalem is great, great weather very cosmopolitan, there is a rock and metal scene obviously.
Since "The Epigenesis" (2010) album you are in alliance with Nuclear Blast Records. They are definitely one of the biggest metal labels actually. How do they treat MELECHESH and what kind of deal you've signed with them (I mean for how many albums)?
- After the last tour I went to the Nuclear Blast office to discuss new album. I told them how it seems to be going, we talked things over, looked at the budget, etc. All seems good.
Please finish the interview by revealing us the forthcoming plans of MELECHESH. Last secret words are yours.
- I am composing. I have a lot of songs on guitar by now. Need to sort them out and begin making preproduction demos. Best regards and see you all on the road again.