Czech Republic has a very big variety of extreme metal bands and that is for sure. I would recommend now to read an interview with SOLFERNUS, a rather interesting and unusual sounding Black Metal band from Brno. My questions were answered in a super quick manner by guitarist & songwriter Igor Hubík. So read the outcome and perceive the igneous dominion of SOLFERNUS!!!



Your recent album, the ominously titled "Neoantichrist", was out 13th of October, 2017. It was released by a cooperation of two labels, namely the Russian Satanath Records and the Italian Murdher Records. How did you hook up with these labels and what kind of deal you managed to achieve with them? What happened to your ties with the domestic Shindy Productions?
- We offered our album to more labels and negotiated with seven companies, which showed a real interest. The offer from Russian Satanath Records was the best for us, although I must say that the other businessmen were also fair with their plans. But there are more things connected with the whole realization of the album, for example the communication between the band and the label – this is another important thing that works well with Satanath Records. We ask something by e-mail and get the answer during a few hours. Can't say the same about some other labels. Italian Murdher Records are one of the enterprises cooperating with Satanath Records, so they work as one team on releases sometimes. As for Shindy Productions, it is the label from our home town and they are not into the releasing albums so much already. But we still cooperate on merchandise products.
"Neoantichrist" became ghastly good. Was it due to the very long period of time you took to write and compose it or something else stands in its success? Why it took you so long to release it? I mean your debut album "Hysteria in Coma" was out 12 years before.
- Everybody is asking for these twelve years long period, I admit it's probably quite unusual. We've played a few shows to support the debut album "Hysteria in Coma", so the band was quite active for three years after this release. There were made two video clips as well. Then we started to write new songs and even recorded several demos back in 2008, but this work was never finished – our drummer Coroner left SOLFERNUS, because of his health problems with legs. We wanted to continue and record the second album, but were not able to finish that. About three years ago new songs appeared and we recorded these ten tracks in 2016 at Ch-Records studio along with ROOT's drummer Paul Dread. The result is the second album "Neoantichrist", which you're listening right now...
Both the music and the lyrics were written by you. You seem to be very productive. What influences you or initiates you by nowadays to write so dark and obscure riffs? Also tell the readers more about the lyrical content and concept of "Neoantichrist". What motivates you to write such antireligious and blasphemous lyrics lately?
- Not sure if very productive, but yes I like composing new songs, because it's my style of the guitar playing – not searching for riffs and melodies from other artists, but creating my own – that's a point. And if you think the music is obscure and dark then I can be glad, 'cause it seems that it's my style too. The motivation for writing such antireligious and blasphemous lyrics, as you call our verses, is simple: the religion's existence and mainly the behavior of some christian representatives who think they are world's monarchs and must define what we can, especially cannot do or even which music we can play. Songs like "Pray for Chaos!" or "Neoantichrist" are our statements then. But there are more various lyrics themes on this new album. "Mistresserpent" is such a horror story and we plan to make the video for this one. I love "Once Upon a Time in the East", which is the story about a young German soldier fighting in the World War II at the Russian freezing winter battlefield. There should be mentioned the last composition of the album called "Stone in a River" – really dark and slow song about the solitude and endless night's minutes. Not so usual track from SOLFERNUS, but maybe that's why the people like it as we read in reviews.
You and Paul also play in the cult Black Metal band called ROOT. You play there bass since 1999, while Paul drums since 2010. How did you join it? Do you play live often with them? I suppose your idea was to invite Big Boss to sing some sentences in the song called "Pray for Chaos!". Is there any story behind that guest appearance?
- First of all, we use a signification of Dark Metal for ROOT as some journalists wrote about the band's newer era. Since the third album "The Temple in the Underworld" the band broke the Black Metal borders forever. Yes, we still play shows worldwide, the band hit many countries in the past and this year it was USA, where ROOT played at the famous Maryland Deathfest. Big Boss was a special guest on the debut album of SOLFERNUS in our cover version "The Antichrist" from SLAYER as well as on the new album on which he sings those right words in "Pray for Chaos!". There's a simple story behind this appearance. We took a taxi to our friend's studio and cleaned out four bottles of white wine during the short recording session...
Tell us a little bit about your Progressive Metal band – EQUIRHODONT, where Big Boss of the above mentioned ROOT and Ashok of CRADLE OF FILTH are also members. Do you plan to record any new stuff in the very near future?
- We released two albums with this project and even played a few special live performances. It's much more complicated and really progressive music and I must say it was a great experience for me personally to play such an indefinable style in front of the crowd. EQUIRHODONT played at Brutal Assault too. There's a plan for another album, but it takes some time, 'cause as I've told you, that's a very special stuff and nobody can promise new compositions in the near future.
You've been a part of HYPNOS for quite a long time. I even saw you once performing live with them at Brutal Assault. Why did you left them? How do you remember to the times spent there?
- I was playing with HYPNOS about two years as a live session member before the band stopped all activities back in 2006. We did a few single shows altogether and one shorter European tour with Death Metal warriors PURGATORY and CENTINEX – especially this journey was simply awesome! HYPNOS returned on stage eight years ago with phenomenal show at Brutal Assault and since then the band started to play more and more gigs worldwide. That was the main reason to quit, 'cause I needed to be fully concentrated on ROOT. I recorded all guitars for HYPNOS' "Heretic Commando – Rise of the New Antikrist" album and created also some acoustic preludes for the actual album "The Whitecrow" as a special guest. We're still friends and organize drinking meetings now and then.
What kind of gear you use when you play live, in the studio and at your rehearsal room? List us your favorite guitars and the current amps you operate with. Are there any endorsements you already enjoy and you are proud of?
- No rehearsal room over here. Interesting question especially for me, because I am used to play with amplifiers and boxes, which are available at events. Concerning the bass guitar, I am the owner of Vintage and Ibanez Korn model – both five-string instruments. There's a Gallien-Krueger 700RB-II in my apartment waiting for some shows. I play and own two guitars: Gibson Flying V and one cheap Cort, connecting them to Engl amplifier or small old Crate combo. When we have a recording session at any studio we try to get some other amplifiers with boxes and instruments to check out some possible combinations.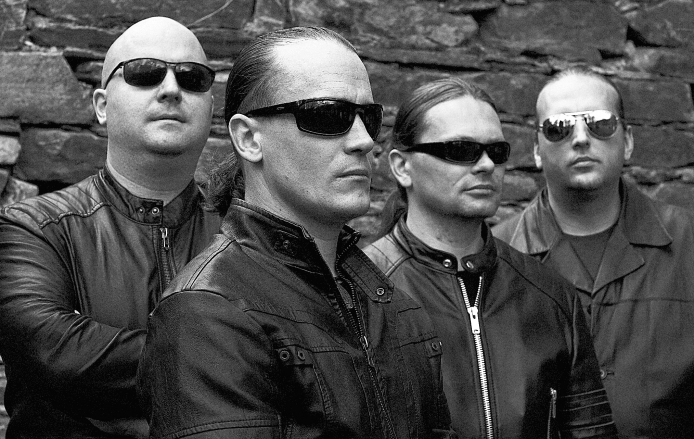 Now as "Neoantichrist" is available to the masses, are you planning some extensive tours in support? Where can we see you playing live in 2017/2018?
- Still have duties with another band, so no plans for touring with SOLFERNUS, but to be honest, we've got a couple of offers already. Let's see and wait some time yet and when the interest will be real and growing, we definitely will think about it, of course. If Wacken calls, we should go ahead!
The underground scene of the Czech Republic is pretty big and varied. Nevertheless, which bands would you recommend us to check out, be those old classic ones or newcomers?
- I should recommend ROOT and HYPNOS to have a quiet sleep without nightmares. Our country situation: still a lot of active old and nowadays legendary artists as well as talented newcomers, constantly new interesting projects founded just for one album, special comeback of Death Metal veterans KRABATHOR... And actually the biggest affair striking all countries and Black Metal hearts is MASTER'S HAMMER with ROOT's founder Blackosh in the line-up. Check out our bands on YouTube, this web site is full of deluxe videos from Czech bands. I hope you're gonna discover new good music.
Please share your final thoughts at the end and reveal the plans which are still ahead. Last igneous words are yours.
- Thanx for this fine interview and supporting SOLFERNUS' art. Greetings to all the readers of Encomium from the sick Moravian Hellgang!