It was a real pleasure to interview Erik Sprooten of the Dutch Thrash/Death brigade – INQUISITOR. He talked in details about their forthcoming releases and things you can eventually read only here. So welcome the INQUISITOR!!!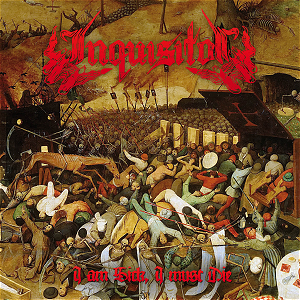 As we all get informed recently, a new INQUISITOR material has been scheduled for release through Hammerheart Records this coming October. We talk about the "I Am Sick, I Must Die" 7" EP. That EP includes a brand new INQUISITOR song as well as two special covers. Tell us where did you record it, who produced/mixed/mastered it and how did you select the covers for this EP. As I know there's some story behind the DARK ANGEL cover, am I right?
- We recorded the songs for this EP and also the songs for the forthcoming album at Toneshed studio in The Netherlands, which is owned by Erwin Hermsen. He also took care of the production as well as the mixing and mastering and did a phenomenal job! I'm not going into details, but initially our plans were a bit different, but if everything goes as planned, the EP will be released in October and our new album in January 2018.
The basis of our own song "I'm Sick, I Must Die" was already written in 1996 after the recordings of "Walpurgis – Sabbath of Lust", but we changed it a bit and added quite some great ideas to it, I think.
Of course, we prefer to play our own material, but it is nice to play a cover tune from time to time. We were thinking about doing a new cover tune and it was Wim (our drummer) who suggested "Extreme Unction" by PESTILENCE, and all of us liked the idea. So we tried "Extreme Unction" and we all felt good about it. I think that our version turned out great and can be heard on the forthcoming EP. (Yes, it was definitely a good idea to cover that track – Ed.)
We didn't plan to record a cover of DARK ANGEL, but at some point during the recordings, Erwin Hermsen suggested that we should record a cover of DARK ANGEL, because he really felt that it would be great if we could do that. We love DARK ANGEL, but we hardly have played any DARK ANGEL songs in our rehearsal room, so that was more or less out of the question for us. Then Erwin proposed us to record a DARK ANGEL cover, but free of charge, just because he really liked us to do that. In the end, we agreed to do that, and selected "Perish in Flames", a song which hasn't been covered much by other bands. We couldn't rehearse in our rehearsal room, because the drumkit was in the studio. Because of that, we had to practice at home individually to the original version. The next week, Wim and I rehearsed the song quite a couple of times in the studio before recording the first drum take. We managed to get a good drum take and a good guide guitar. Later during the recording process, the vocals and bass were added, and I re-recorded the guitar parts. When the idea for an EP arose after the recordings, we thought it would be great to include our version of "Perish in Flames" on it.
There was a pretty long pause in the career of INQUISITOR. We speak at least about 20 years of absence. Where the musicians of INQUISITOR do spent those years? Besides the other bands they played in or still actively play for, you can also enlighten us some details about their jobs and/or hobbies.
- I quit INQUISITOR at the end of 1996 and joined ANCIENT RITES (in which I'm still a member), and Wim carried on for a few months under the moniker of INQUISITOR with new members, which eventually led to the formation of CENTURIAN in which Wim stayed until 2003. In 2002, me and bass-player Alex Bakker joined Hard Rock coverband PLUSMINUS in which we both are still active. Our singer Alex Wesdijk didn't do any serious musical activities since quitting INQUISITOR in 1996 until the reunion of INQUISITOR. Wim also didn't play drums since the last time he performed with CENTURIAN until INQUISITOR reunited. Nowadays Wim also plays drums for SAMMATH. Our bands are in fact our hobbies.
At the moment my job is electrician. Wim is an engineer (I think) and Alex Bakker works for a metal separation company and therefore he is the most metal guy in INQUISITOR (hahaha). Alex Wesdijk used to be a welder.
Your awesome debut album "Walpurgis – Sabbath of Lust" (1996) was lately re-released, first by Hammerheart Records on 2CD, LP, 2LP formats, then a bit later by Zwaertgevegt in cassette version. Plus your cult demos have been also pressed onto vinyl by Hammerheart too. Does these re-presses motivated you to rebirth the Extreme Death/Thrash entity called INQUISITOR or there were totally different events that led to the reunion?
- The full reunion took place just a few weeks prior to the re-release. The re-presses were certainly a motivation to reform INQUISITOR with the original line-up, although we didn't expect this to happen. But working on this re-release brought the band back together, more or less.
The actual line-up includes all the original members from the demo eras. How it happened exactly that way? Do you have some interesting stories to tell?
- In 2014, right after the re-mastering, I met Wim again for the first time since a long time and we discussed the idea of playing some INQUISITOR songs together in a rehearsal room, just for the fun. We would later ask original bass player and founding member Alex Bakker if he felt like joining us. At some point we were asked to perform at a small local festival, which we agreed to do, and that gave us the opportunity to do a "try-out" gig, but we didn't know who was going to do the vocals as we'd lost contact with our original singer. In the end the first rehearsal we did was in September of 2014 with the original line-up, but without a singer. About two weeks later we received a message that our singer Alex Wesdijk was also interested in returning to INQUISITOR. I went to visit him and a few days later we did our first rehearsal with the complete original line-up. From then on we've been back together. We only rehearsed three times with the complete original line-up before the try-out gig in November. We are enjoying playing together again, which is, above all, the right reason for this reformation.
Since 1996 you are a proud member of the Belgian ANCIENT RITES? How did it happen back then? "Laguz" was your recent work with them. Can you share with us some news about the forthcoming ANCIENT RITES release and the direction of the fresh songs?
- Back in 1996 I did the "Blasfemia Eternal" tour as a session-guitarist, when I was still in INQUISITOR. During that tour, Gunther and Walter already had future plans to have two guitarists again in ANCIENT RITES. Later that year when INQUISITOR was having line-up problems, the idea of me joining ANCIENT RITES arose. I knew at that time that they already had a new guitarist, but no second guitarist, so I contacted Gunther to see if they are interested in having me as the other guitarist. Gunther told me that another guitarist was also interested to join ANCIENT RITES, so an audition was organized. In the end I was chosen, and became second guitarist of ANCIENT RITES. At the moment, ANCIENT RITES is not yet in full writing modus, but I'm sure there are plenty of new ideas already, but I can't really say much about a possible direction.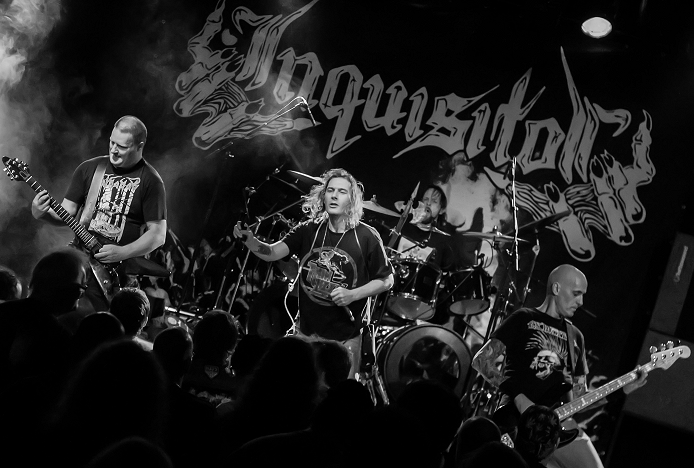 How do you see the actual Death/Thrash Metal movement in your country? Does the underground scene changed to a better since the beginning of the 90s or you have something other to say us? Please recommend us some bands, labels, festivals, magazines, 'zines that are really impressed you these days.
- I'm not easy to impress, hahaha. Fortunately there are still Death/Thrash and other metal bands in The Netherlands who are keeping the flame burning, so it's still healthy. Compared to the 90s, the scene changed, but I can't say for the better or for worse, it's just different, because of the changed times like for instance internet. It seems that metal in general isn't as popular as it used to be, but it will never ever die.
Relatively new Dutch bands I would recommend are LUCIFERICON (Occult Death Metal) and DISTILLATOR (Thrash Metal). Furthermore I like the new album "Swine Plague" of DEAD HEAD. DEAD HEAD is a great Thrash Metal band from my country, check them out! Some great friends of mine are in a band called HORDEARII. This band plays (an interesting) mix of Thrash, Death and Modern Metal. Their new material, which is not released yet, is quite aggressive. We still have some (underground) labels like Hammerheart Records, Vic Records, New Era Productions, etc. which keep metal alive. Some festivals I like in my country are Stonehenge, Occultfest, Eindhoven Metal Meeting, etc. Recommendable webzines from my country are:
http://www.lordsofmetal.nl
,
https://zwaremetalen.com
,
http://www.metalfan.nl
and
https://www.wingsofdeath.net
.
What kind of gear you use when you play in the studio, live or at the rehearsal room? I am really curios about the guitars, amps and string settings you are using lately. Does any of you endorsed by some bigger company?
- At the moment I'm using a Line6 Vetta amp in the rehearsal room as well as on stage. Although I'm still satisfied with it, I might be interested in getting myself a different amp. However, on the forthcoming EP and album my trusty old Marshall 2203 from 1980 has been used again, which was also used on "Walpurgis – Sabbath of Lust". When it comes to strings, I don't use a particular brand, but the gauge I play is 010-046, which is quite standard, and can be bought in every music store. We are not endorsed by big companies, but I do have a deal with Bare Knuckle pickups. I own quite a lot of guitars, but my main guitars at the moment are my black Gibson Flying-V from 1985, the black Gibson Explorer also from 1985 and a Les Paul from the Heritage model H-150 black built in 1992.
Our drummer Wim uses Pearl drums and has a deal called the "ABC for Drummers", which include Amedia cymbals, Balbex drumsticks and Cympad cymbal washers.
Our bass player Alex Bakker uses a Fender Jazz Bass from 1978 with Seymour Duncan pickups and uses an Ampeg B-2RE amp.
Actually, you are signed to Hammerheart Records. What kind of deal do you have with them? How do they treat you?
- We didn't sign a contract with them, but we have a mutual agreement. They will release the EP and our second album and after that we'll see what happens next. So far the cooperation between Hammerheart Records and INQUISITOR is fine.
You already finished the recordings for your second full-length album, called "Stigmata Me, I'm In Misery", which will be released via Hammerheart Records in January, 2018. I know it is too early to ask for details like song names and lyrical content, but what can the die-hard extreme Thrash/Death Metal fans expect from that release? How was it to work with Erwin Hermsen in the Toneshed Recording Studio?
- The die-hard fans will not be disappointed! We didn't change our style, but we have expanded our style of extreme Thrash Metal with interesting ideas. The bass guitar plays a more prominent role on the new album compared to "Walpurgis – Sabbath of Lust". And...... it definitely sounds like INQUISITOR!
Thanks a lot Erik for the interview! Please reveal the inquisitor's last thoughts to the readers of Encomium 'zine.
- Thanks a lot for this interview! Keep metal alive!