I am really happy to present you the following in-depth interview with Schmier about two special releases from the past: "Mad Butcher" and "Release from Agony". You will have the chance to read some interesting facts you have never read before. So dive into the facts from the past and welcome the band's upcoming release "Thrash Anthems II"!!! Thrash 'til death!!!



This year marks the 30th anniversary of two classic DESTRUCTION releases, namely "Mad Butcher" MLP and "Release from Agony" LP. How do you personally feel about this fact? High Roller Records was quick enough and already released them with other DESTRUCTION classics on different colored vinyls retaining the original sound productions as well. Do you plan to unleash some other special reissues of these masterpieces upon the die-hard Thrash Metal community in the very near future? If so, please share with us as many as possible details.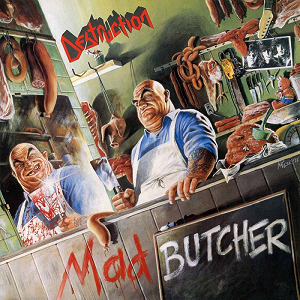 - It is, of course, fantastic to finally celebrate those classics with vinyl re-releases. It took a long time to get control back on those 80s albums. But now as we have the rights again, there will be re-issues also on CD in 2018. Re-masters with bonus material, maybe "Cracked Brain" with my vocals, etc.
Both of these records were equipped with amazing cover artworks. Sebastian Krüger was responsible for the "Mad Butcher" cover painting, while Joachim Luetke for the "Release from Agony" album cover. With Krüger's painting was initiated first the character of the mad butcher, which appeared on quite a few DESTRUCTION album covers later on. Was it totally Krüger's vision how the mad butcher should look like or you gave him an exact description/guide on this subject?
- No, it was my vision; we told him what we want. The mirror, the appearance, the grin, etc. But Krüger is a great artist and he brought in his special touch. He already did "Eternal Devastation" with us, so we knew he could give the butcher a great visual look.
I can definitely say that Joachim's "Release from Agony" painting became my favorite DESTRUCTION cover art of all times. And I am really curious how this awesome masterpiece was born. Can you please enlighten us all the details that were concerned the embodiment of this huge visual creation?
- Joachim was born and raised in the same little village in the south west of Germany before he moved away and studied in Vienna. He was keen on doing some bizarre metal artwork. So I sent him the lyrics of "Release from Agony" and he created this insane nightmare creature. The world was in shock in 1987 about the brutality of the cover. At that time art like this was still shocking!
We got many letters and calls from upset parents, especially in the USA. Also the cover got voted for the best and worst cover of the year in Metal Hammer Magazine in Germany. I guess it says it all: LOVE IT OR HATE IT!!!
I believe 1987 was a special year for DESTRUCTION as two great musicians (Oliver Kaiser on drums and Harry Wilkens on guitar) joined in the band. How did you find them and how do you remember their addition?
- We saw Harry live with his old band and we recognized his amazing lead skills for that time and age. He first wasn't interested, because he thought we were too heavy for him. But somehow he still came to an audition and the chance to be in a professional band was, of course, tempting for him... The rest became history.
He was also the one that brought in Oli, a friend of him, that was a fantastic drummer, but wasn't a metalhead at that time, when Tommy left us for his police-career... Both, of course, brought in some influences.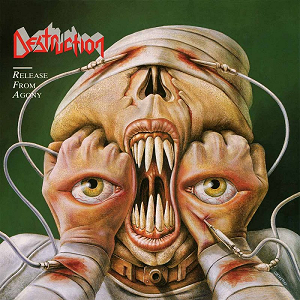 Interesting fact that both of these records were produced by Kalle Trapp at Karo Studio. How do you remember those times being in the studio with Kalle? How was it to work with him?
- The "Mad Butcher" work was great. We learned a lot. I still like the result also. "Release from Agony" is a different story. Kalle failed under a lot of pressure with the mix & master and the album sounds not even close as good as the first demo mixes we did. We were really disappointed with the result, as we put in a lot of work. Many years later he apologized for over-compressing the mix too hard, which led to a weird sound. I wish we could re-mix this album, because there is so much details hiding in the muddy overall-mix. But the original tapes seem to be broken, so the max we can do I guess will be a re-master...
Regarding the "Release from Agony" sound production I've read some strange facts/things that it didn't appear the way as it was supposed to be due to some technical issues during the mixing procedure. So at the end it was released with kind of unfulfilled mix, right? Can you please explain that situation to us? Is there a possibility to mix that album again and to have it sound the way you always wanted?
- As I already explained in the last question, there were some difficulties with the mix and SPV did not let us re-mix the record back then. Time pressure I guess.
We will see how we can pimp up the CD-reissues of this record, because compared to the first albums this is really the only one I would re-mix. Luckily nowadays you can do re-masters that will be an amazing improvement to original low sounding productions, if you do it with respect for the original.
With these two releases DESTRUCTION went into a more complex and technical way of Thrash Metal and raised the bar quite high. How do you remind those days at the rehearsal room? Creating sophisticated songs just came natural?
- No, we rehearsed a lot at that time. We busted our asses. The new guys raised the bar for our musicianship. If I look back we were a bit ahead of time, many fans did not understand the progress. It came too fast for some diehards. "Release from Agony" was the worst selling DESTRUCTION record in Europe, but the best selling one in Japan and the USA. A controversial record in the end...
I am more than sure that lately not too many people notice the fact that you had plenty of cool guest musicians doing backing vocals on the "Release from Agony" album. For example Mille and Ventor from KREATOR on the title track and V.O. and André of POLTERGEIST on "Dissatisfied Existence", "Our Oppression" and "Survive to Die". The latter ones are frequently contributing to recent DESTRUCTION records. What kind of memories can you bring back from that past alliance? And how is to work and co-operate with V.O. and André now?
- KREATOR & POLTERGEIST were our best buddies, so we asked them to come up north to the studio to drink, party & do backing vocals with us. I remember the party was legendary and maybe it was the sausage juice that we sold Mille as whisky that made him became a vegan after all many years later...haha! But seriously it meant a lot to us to bring in our friends – at that time it wasn't common to do this.
V.O. Pulver has a studio since many years in Switzerland and we work with him ever since the reunion of DESTRUCTION. He is our No. 1 man behind the mixing desk here. So we always kept in touch and André the singer is back in business since the POLTERGEIST comeback. So letting them be a part of "Thrash Anthems II" now was just a very natural thought.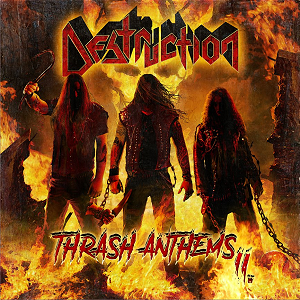 For "Thrash Anthems" you re-recorded quite a lot of tracks from both records and with "Thrash Anthems II" we will hear the re-recorded version of the "Dissatisfied Existence" song as well. Great news for sure! But to my surprise Michael Amott of ARCH ENEMY will be doing the guest solo appearance instead of Harry. Don't get me wrong, I like this idea too, but somehow expected Harry to shred on it. Was it a challenge to re-record this song after so many years?
- It is always a challenge to re-record and re-create old classics. We are aware of that fact and would not touch songs we don't feel anymore. Michael Amott is a huge old DESTRUCTION fan and he loves that song. I respect him as a person and as a fantastic player, there are not many like him in the scene nowadays. Also Ol Drake (ex-EVILE) who helped us out before, played some fantastic leads.
We lost contact with Harry since a while, because he had some issues that are maybe more private, so we should respect that. He still plays music as a hobby but isn't in the condition to play professionally again. We, of course, wish him all the best, as we have good contact with all former members.
Nowadays it's kind of fashion to play some very old albums in their entirety live. So the question arises from itself. Will you perform "Release from Agony" album live in the very near future? I know that you might need a second guitar player to play those songs live, but somehow I feel it won't be a problem for you to solve it and make a 30th anniversary live performance of "Release from Agony" or even a tour in celebration of that great record.
- Indeed, it is not possible to play that album without a second guitar player. So at the moment there are no such thoughts. I am also not a big fan of the full album performances. I love the mix of old and new – as a musician great fun to play. Also a setlist of classics from all eras is better for the crowd.  But never say never... Maybe one day we will play "Release from Agony" in its full glory!
Release your last thoughts at the end.
- I wanna thank all those people that supported underground music over all these long years. We never thought we could do this so long, but are still here and running well. METAL unites the world; that is the most fantastic experience that I have with my band traveling around the globe! Keep it that way Metalheads – Rock N Roll is KING!!!