Had a really exciting conversation with Mike Hrubovcak regarding his multidirectional activities. So read all the latest news and happenings around Azure Emote, Hypoxia, Monstrosity and VisualDarkness amongst others. Enjoy the annotations of the forthcoming darkness!!!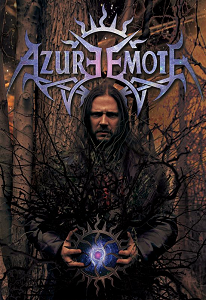 Hails Mike! The recordings for the third album of Azure Emote have been successfully started a while. I suppose you are in full swing these days and ready to finish it shortly. Please inform us the list of participating musicians as well as how many songs will it include.
- Thanks for the interview Kornel. Yes, the new album recording is still underway, I'm hoping to have it totally finished by the end of the year. I just have to finish my vocals, place in some last minute things and begin pre-mixing soon. There will be 6 songs total, but don't let that fool you because 2 of the songs are over 10 minutes long. Ryan Moll (Rumpelstiltskin Grinder/In The Fire) is once again on guitar, Mike Heller (Fear Factory/Malignancy) is back on drums, Kelly Conlon (Death/Monstrosity) is back on bass and Pete Johansen (Tristania/The Sins of Thy Beloved) is again on violin, with guest performances by Melissa Ferlaak (Therion/Visions of Atlantis/Plague of Stars), Jonah Weingarten (Pyramaze/Sentinels), Bob Davodian (Divine Rapture) & Mark English (Monstrosity/Deicide).
Last time you've been caught on working with Ron Vento of Aurora Borealis at his Nightsky Studios. You've recorded clean vocals and about 50% of the main vocals there plus was busy arranging the violins, keyboards, female vocals and other vital elements. How was it to work with Ron this time? What is your opinion about Aurora Borealis' latest album "Apokalupsis"? By the way, what else left to record? When the album is finished who will mix and master it? Will it be released again by Selfmadegod Records?
- Yes! Working with Ron is great, Nightsky is my go-to studio and has been for a long time. We've been working together since the late 90's, and are on the same page with a lot of things. His studio has grown and excelled over the years, and it's always a relaxed yet pro environment that makes me feel comfortable. The new Aurora Borealis album is killer and I've always been a fan since the first album and had corresponded with Ron through letters back in the snail mail days. I have the inside scoop on the concept and plans for the next Aurora Borealis album, which is already underway as well. I'm not sure yet who will master or release the next Azure Emote album, right now I'm just focusing on the music to make sure it's the best it can be and will tackle the rest later.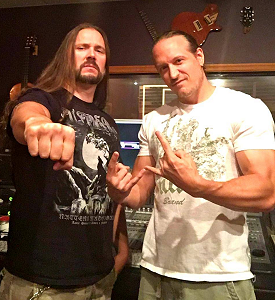 You've defined Azure Emote's style as misanthropic avant-garde death metal. Pretty unusual definition, but since your music is also of the strangest kind, I must to admit it had to be something like that in the end. Your music is some kind of crazy mix between elements of industrial, avant-garde and classical death metal. How do you see it personally? By the way, the prefix misanthropic is the one that connects to the lyrical content, am I right? Please enlighten us the themes of your current lyrics.
- Yea, it's really hard to describe to people what Azure Emote sounds like, because each song is different really. It doesn't really fit into any steady category. I guess it's a mixture of experimental, progressive, avant-garde fused with traditional death/black/doom. If you only listen to one song, you can't really say you know what Azure Emote sounds like. You'd have to listen to them all. I make sure to put misanthropic in there too, to stress what the overall lyrical vibe is about. Nihilism, anti-natalism and the general venting of negativity is what the lyrics are all about. I guess you can say it's more personal, like dark introspective poems centered around pessimistic philosophies.
Besides doing vocals in plenty of different bands you're also a pretty experienced musician. I mean, the mastery of such instruments as flute, maracas and harmonica, first of all, but you also play the keyboards, programming drums, samples, electronics, etc. Are you a self-taught one or you learned them somewhere?
- Haha, I wouldn't really say mastery, I just started fucking around with things for fun and would pick up on stuff here and there, and figure out how to make it all work to what I had envisioned in my head. I could never play guitar, which is why I had my friend Ryan Moll help translate all my crazy ideas. We get along great and without him I don't know if Azure Emote would be around today, because I can't think of anyone else who would be able to have the patience to tackle something so crazy. It's actually hilarious how it started out with me just humming the riffs to him in person like saying 'palm mute this part', 'speed pick this part', etc. lol…, but somehow he always knew exactly what I was talking about and how to spice it up to sound killer. Nowadays I actually send him keyboard riffs to translate, and then piece them all together at home, but back in the day it was a whole lot of babbling noises and notes to him together in his basement, lol. I also grew up in a family of musicians though, both of my parents were music teachers, and my brother J.J. Hrubovcak (Divine Rapture/Hate Eternal) was an amazing influence as well.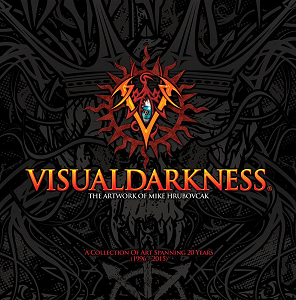 Let's talk a little bit about the other creative branch of yours, namely VisualDarkness. When did you begin to work with graphic designs & illustrations? What inspired or motivated you to start creating artwork for extreme metal bands exclusively? There was a hardbound artbook issued a few years ago under the title of "The Artwork of Mike Hrubovcak. A Collection of Art Spanning 20 years (1996 – 2015)". How many copies were printed? Is it still available for sale and will you plan to release another artbook or an updated version of it?
- I started out drawing as a kid first before anything musical. My brother was always the musician, while I would paint or draw stuff. Once I found heavy metal all my art was geared toward to my new love of metal, especially death metal and the album covers of the early 90's. Then around 16 I joined my first band growling and freaking out and started doing the band thing more often before forming Divine Rapture with my brother. He would do all the music, and I would do all the vocals, lyrics and artwork. In the end I think I'll always be doing artwork, I'm not sure how long the touring musician thing will last, but I'll always be doing art at least. My original art book was limited to only 50 hand signed copies. I had since updated it and made it hardbound and made it available again online, just not signed or personalized. If you're interested it's available to purchase on my website here:
visualdarkness.com/merch.html
.
What are the graphics/illustrations you actually work on? Which bands are the next on your bucket list?
- Right now I've been doing a lot of T-shirt designs, currently working on a few new ones for Six Feet Under. I've been very busy touring with Monstrosity lately and working on Azure Emote, so I had to put a lot of the art on hold, but I hope to be doing more artwork soon, including the next Aurora Borealis album cover as well.
In May/June you've toured in Europe with Monstrosity. Which places did you remember the most and why? Tell us your impressions from that tour. Where can we see you playing next with them?
- "The Passage of Existence" tour went well. It had been a while since I last toured Europe. I think the last time was singing with the band Vile. It always tends to blur together after a while, but there's always my favorite places to play and then my least favorite. Some crowds and stages/clubs are better then others, but overall it all went over pretty good and it was nice to actually headline in a nightliner bus the whole time with the rest of the bands being great to get along with as well. Next up will be Brazil in about 2 weeks for a big festival.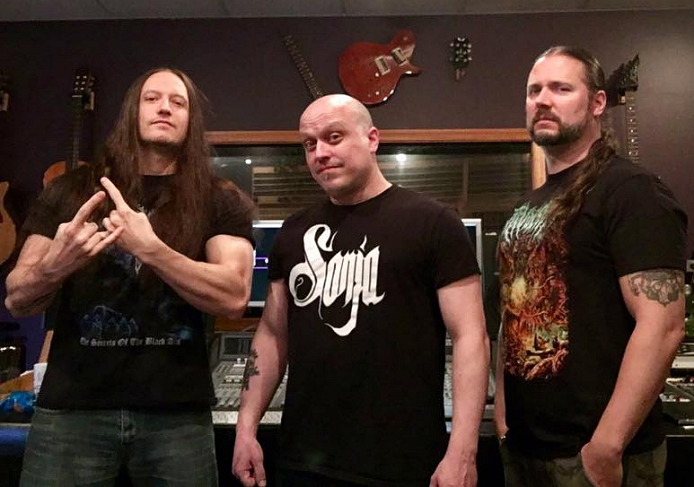 Your brother J.J. currently plays bass in Hate Eternal. Your thoughts on "Upon Desolate Sands"? By the way, Divine Rapture was a very old band of yours, do you plan to reactivate it and maybe to record a new full-length album in the near future?
- It's a great album! One of his best. Erik and him work really good together and always have. Divine Rapture was actually one of the first bands to record in Erik's studio back in the day too. My brother is very busy these days and so am I, so I'm not sure about another D.R., maybe one day though, ya never know. Many people don't know about a single we released after "The Burning Passion" album for a compilation disc… If you're interested, you can check it out here:
You've joined Hypoxia in 2015 and participated on both of their long plays. 19th of April you've celebrated the release of the second album "Abhorrent Disease". Any special experiences and remembrances from that release show? Didn't you film it for a possible DVD release? Can we see you playing with Hypoxia in Europe in the very near future?
- Yeah, Hypoxia is really fun, total NYC death metal, like old school Suffocation and such. Love the tunes actually. Carlos and Carolina are great. You can see the music video we did for one of the newest songs here:
At the end, please materialize in a written form your utmost future visions to the extreme metal fans of Transcarpathia.
- Keep it true and honest and brutal! Nothing matters, but passion and focus. Follow through and create what thy will for yourself first and foremost, not for popularity or scene, but for your own artistic vision. Hails!