OBSCENITY
"Atrophied In Anguish" CD 2012
(Apostasy Records)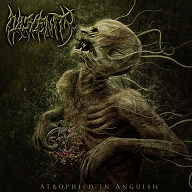 PARRICIDE
"Sometimes It's Better To Be Blind And Deaf" CD 2015
(Mad Lion Records)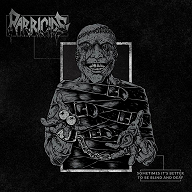 After a few split releases PARRICIDE strikes back with their newest grind manifesto. The album showcases 13 grindcore attacks in the very unique PARRICIDE style that is always about extremity, fastness and humor. The 26 minutes long material sounds tough and totally devastating. For the past four years the band's line-up doesn't change, became stable, since that time Kuba Brewczyñski handling over the microphone duties. His manner is pretty straightforward, mostly operating in the ultra low and high-pitched registers. In the maze of the so-called uncompromised grindcore madness you can bump into quite a lot of groovy bulldozer-like riffs and twisted guitar harmonies. As usual for this modest musical genre drums are bombing all the way with superhuman precision and breathtaking speed. This is high quality grindcore stuff for sure! Oh, and those funny yet intriguing intros & outros, can't stop laughing. In a word, I really enjoyed listening to PARRICIDE's new album! Grindcore freaks out there pick a copy of this great CD and support the underground!
PLUTONIUM
"Born Again Misanthrope" CD-R 2016
(Independent)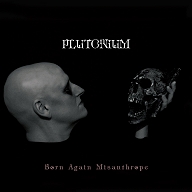 The third PLUTONIUM album follows naturally its predecessors and further continues spreading the mechanized post-apocalyptic visions envisioned by MR J. The 9 pieces of "Born Again Misanthrope" have been carefully composed and sonically served. The entire material radiates off deep depression and despair while being heavily militarized as well. The all the way marching tempos and monotonous yet cyclic passages force you to fall into some kind of trance and to wander in a maze that lasts 53 minutes. If you like to experience weird mixtures between grim Black Metal and industrial music then give a try to PLUTONIUM. "Born Again Misanthrope" is available through all kinds of digital music services, so don't waste your time, listen to it immediately!
QUEBEC EXTREME METAL
"Sampler" CD 2016
(NewCore Music)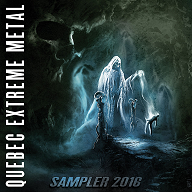 I've got this nice compilation disc from a very great friend of mine, and initiator of this sampler itself, namely Steven Henry. The CD starts with the super variegated song called "Under the Chalet" by URBAN ALIENS, where Steven plays guitar. It combines different styles of metal (the core of their music is Death Metal) and not only with an addition of some quite freaky vocals so to say plus a big portion of black humor. The second band is DECADAWN. Their track "Solitary Confinement" displays a pretty soft yet over melodic approach of Death Metal, which is pretty close to the Gothenburg-style. Though at some point I felt like it's a Power or Heavy Metal band that has some vocals into Death Metal. ÉOHUM continues it with a grim and unmerciful Black Metal cut, "The Apathetic Plague". Their tune has a lot of killer bloodthirsty shrieks and an ambient-like keyboard atmosphere included. AGES are the fourth on the disc with "Heinous Nemesis". That's some crazy song for sure. This band plays ultra technical dissonant Death Metal with vocals doubled most of the time and twisted guitar structures. It is followed by KILLITOROUS' "Fecal Fellatio". Kind of modern interpretation of a technical Death/Grind alloy. Sounds pretty massive! The sixth band is TERAMOBIL. The title of their instrumental track "Molecular Spectrometry" says all, isn't it? Well, the trio has a sick combination between progressive, technical, math and groove metal genres. It's just awesome and masterful! CANCERIC storms further with their "Religious War". The five-piece incorporates an energetic into your face kind of Thrash/Death Metal with really nice bass line parts in the middle of the song. The eighth position is reserved for UNHUMAN. Their "Chaotic Equilibrium" delivers us a super technical Death Metal tune with lots of variations and unexpected transitions from sheer brutality to divine melodiousness. It follows "Gore on My Snare", a mega dynamic song by DARK CENTURY. The band says they play Death Mosh Metal and indeed their sort of music makes your head banging until the end of the song. Great job! The tenth are HIDDEN PRIDE with a non-stop bulldozing Death Metal track titled as "Born on a Landmine". Brutal stuff in a word, but ABITABYSS adds even more brutality and continues the sonic massacre with "Swompe Apokalypse". Rural Death Metal at its best! Next band is the super sick NERVOUS IMPULSE. Three minutes of insane Death/Grind brutality awaits you in their "Overwhelming Positive Vibe" tune. The thirteenth band is CROSSTITUTION. They present "Extorsion". A short Death Metal influenced Grindcore opus with raw distorted vocals. Experimentalists of INSURRECTION are the following. "Sueurs Froides" is a nice example of how varied this band is. They blend Death Metal with melodies from the outer space and tight staccato guitar riffing. It continues an old-school Hardcore-influenced song called "The 99%" by VANTABLACK WARSHIP. The vocals are simply killer there! The sixteenth band on the CD is HANG THE PROPHETS. The mixture of their track "Serpent Enthroned" reminded me some crust/punk releases crossed with Black Metal attitude. A definitely interesting combination, as for me. For the end we have a demo song from EMPATHY DENIED named as "The Enforcer". It reminded me pretty much their colleagues KATAKLYSM's very first demos, both music- and vocals-wise, though to my surprise some punk-influenced riffs are also featured there. Anyway, looking forward to hear some more from them. Steven growls and plays guitar in this band too. And the last, closing track is served by IDIOTPATHETICS. It is the strangest track of this CD. You should imagine some soft alternative metal music where the clean vocals once in a while are mixed up with extreme roaring screams. The guitar parts are also of different moods there; sometimes they are calm and atmospheric, while the other time they just go crazy and heavy as fuck. To sum it up, I had a great time listening to the actual extreme metal scene of Quebec. Really great overview and no boring bands at all. I suppose it will have a continuation next year! Once again thanks a lot Steven for this great sampler! By the way, the cover artwork by Filip Ivanovic became huge.
RAW POWER
"Resuscitate" CD 2010
(PIG Records)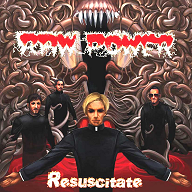 This Italian cult punk/hardcore band started its existence in the early 80s and after 3 decades still putting out great records and spreading its social manifesto to the actual generations. The CD contains 27 into your face hardcore cuts. The playing time is a bit more than 48 minutes in total, which is pretty long in my opinion for such a genre, but it can be interpreted otherwise too, ahaha… It just means the band is still over productive. On "Resuscitate" the line-up was: Mauro (voice), Tommi (guitar), Marco (bass) and Fabio (drums). The members know well how to play it fast, dirty, rolling and as punchy as possible. Besides the concrete lyrical content, their kind of "raw" straightforward music influenced generations of punk, hardcore, grindcore & metal bands as well. But this release features two of their influences likewise, namely covers on IGGY POP's "I Wanna Be Your Dog" and THE STOOGES' "Raw Power" (the latter one is too evident, right?). If you loved this band earlier you will continue to love them furthermore. Why? Because they are RAW POWER!
ROTENGEIST
"Start To Exterminate" CD 2014
(Defense/Diabolizer)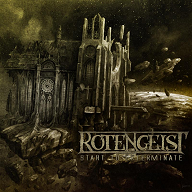 Piotr was cool enough and sent me their brand new second album. It features 9 compositions of pretty tough Thrash Metal, which musically forge a mixture between the European & US types of thrashing! Needless to say, the sound production is simply flawless and heavy as hell. The trio – Piotr Winiarski (guitars, vocals), Aleksander Partyñski (bass) & Ziemowit Gawlik (drums) – perfectly constructs, arranges & plays their dynamic yet totally headbanging songs. In my opinion, this new album puts the music of ROTENGEIST to a new level. You can find there not just energy, speed, tunefulness, complexity but even progressiveness and sheer brutality. To widen the borders of the vocal parts, a common friend was invited to share the microphones in 5 songs. His name is Marcin "Dyvan" Pitorak, previously known from the great Polish Death Metal band UNDERDARK. Dyvan adds some real variety and heaviness to the 32 minutes long album. He did it so good that actually he became a full-time member of the band. The SODOM influence is pretty evident for most of the songs, but for example in song called "Stone" I found some ATROPHY feeling, which was a great surprise to me. The album comes with nice layout graphics designed by Ziemowit Gawlik himself and a masterful cover art! All is left to say, order this great album and start to exterminate! My favorite tracks are "Success of a Pill", "This Emptiness" and "Landscape of Dust".
SARATAN
"Antireligion" CD 2010
(My Kingdom Music)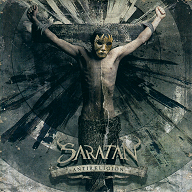 In fact this is a pretty old stuff taking into account SARATAN has released two more new albums since "Antireligion". Nevertheless, recently I discovered this CD in one of the boxes with promos and realized I didn't review it yet, so here I go. The band's second album propagates some strange mixture of Groove and Thrash Metal, which has been strongly influenced by the progressive and technical Death Metal movements likewise. The virtuosity of the band-members is just remarkable. They perfectly handle their instruments. Especially I liked the weird riff-structures and soloing techniques, but the drummer plays his ass off as well. The manner of the vocalist somehow reminded me very much UK's XENTRIX, while their music here and there was reminiscent of the early DECAPITATED albums. There's also a big dose of Arabic influences there, mostly in the acoustic guitar parts, but it was done willfully, the same way, as the choosing of the band's name (which means cancer in Arabic language). If you prefer constant experiments that sometimes even off the musical styles mentioned before then SARATAN will be a perfect choice for you! Now I should check their newer releases too!
SIDUS MORTUORUM
"Endless Funeral" CD 2010
(Nocturnus Productions)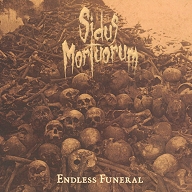 SOULREST
"Pathological Processes" CD-R 2017
(Independent)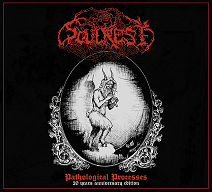 Finally this great record from the past has been exhumed and materialized on a compact disc format with a superb packaging. Had to wait exactly 20 years for this to happen, but lastly I hold this piece of masterful art in my hands. The material for this album was recorded in 1996/1997, except the bonus track. The sound-production became quite versatile likewise all their songs. It was mainly because each member entered the band with totally different musical tastes/backgrounds and thus each of them approached the SOULREST sound with a different vision. This helped them to compose variegated songs and enrich their Death/Thrash Metal core with elements of progressive, classical music and hard rock. The five individuals behind "Pathological Processes" were Carcass on vocals, Yasya and Igor on guitars, Dima on keyboards and Doni on drums. The first 3 tracks of the album are about an ordinary Death Metal approach still with lots of technical twists, melodic guitar passages and weird keyboard tunes, while the next 5 compositions display a more orchestrated and grandiose way of metal with lots of catchy solos. As you might assume by the nickname of the vocalist that directly refers to the grindcore pioneers CARCASS we have a vocalizing manner fully dedicated to Jeff Walker there. Yet other influences are also outcropping during their repertory, for example in "This Is My Life" we have an ENTOMBED "Stranger Aeons" similarity spiced up preliminarily with some PESTILENCE feeling in the guitar harmonies. "And Then Will Be Rot" starts with a cool CELTIC FROST-like hook and so on. But we all know that influences are necessary and useful to progress to some own in the end. As a very good example and to prop up the beforehand mentioned progression we have a song called "The Mask". This is their most complex and sophisticated track in my opinion. We have 2 versions of this track featured there; the original one is fully instrumental one, while the bonus version at the end of the disc features adapted lyrics and vocals of the early passed away Kasym (R.I.P.). Almost forgot to mention two more interesting songs, both of them were heavily influenced by classical music, namely "Artworks of Farewell" and "Visualization of Vitiosity". Thanks to Dima they got remarkable orchestrations. The over 42-minute long musical alloy they propagate is well-built and artfully presented. Fans of avant-garde Death Metal should definitely check this masterpiece out! This special 20th anniversary digipak edition includes restored lyrics, liner notes and a great collage of old photos. There's only one thing I couldn't figure out and it is regarding the burned CD-R disc. I really expected a factory pressed CD inside, but nope! Anyway order your copy right now as only 50 copies were made!
SPHERE
"Homo Hereticus" CD 2012
(Masterful Records)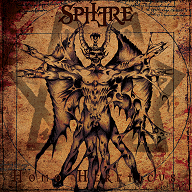 Bands from Poland were always famous about their massive sound productions and precise handling of their instruments. SPHERE is a good example of these qualities too. The quintet proudly showcases their superb skills during the 35 minutes of "Home Hereticus". It embraces 12 songs of high quality Death Metal in the very Polish way. The music they create neither too original nor too interesting, but quite professional. If you like the Polish scene and such bands as DECAPITATED, SCEPTIC, DIES IRAE, HATE, DEVILYN or TRAUMA for example, then give a shot for SPHERE as well. You won't be disappointed, that's for sure. My preferred tracks are "Third Scent Carcass", "Psalm to the Dark One", "Devil's Reunion" and "War". On "Home Hereticus" the band looked like: Analripper on vocals, Lucas & Cthulhu on guitars, Burning on bass and Th0rn on drums. There was a newer album, namely "Mindless Mass", released in the middle of 2015, where 80% of the line-up was changed, only Th0rn left. Let's hope those interchanges will emerge in a new musical approach for SPHERE!
STILLBORN
"Los Asesinos Del Sur" CD 2011
(Ataman Productions)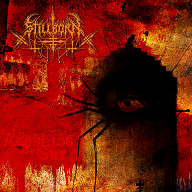 The fourth full-length album by these Polish Death/Black blasphemers represents an extremely obscure and evil essence of the true underground spirit. Recording line-up was the following: Ataman Tolovy (vocals/bass), Killer (guitars/vocals), Rzulty (guitars) and August (drums). "Los Asesinos Del Sur" features 10 unholy sonic assaults, which mostly storm like a hurricane and leave no mercy for the listener. Their sound is pretty harsh, but totally dynamic and precisely well-thought-out. I also really enjoyed their wicked guitar melodies and spit-out-the-soul manner of the vocalist that definitely add a special sinister atmosphere for the 32 minutes long album. Musically I would mention an influence of their domestic colleagues BEHEMOTH here and there, though bands like ANGELCORPSE and KRISIUN have been also influential on STILLBORN's repertory. If you are into fast blasting Death/Black rituals, then don't hesitate to check out this hellish masterpiece! By the way, there's really just a few days left until the release of the band's newest creation called "Testimonio de Bautismo". It will be out on Godz ov War Productions 27th of February, 2016!
SUICIDAL ANGELS
"Bloodbath" CD 2012
(NoiseArt Records)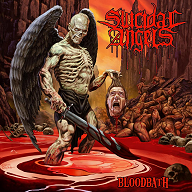 SUMMER BEATDOWN
"Polish Independent Label's Special" CD 2012
(Takt24)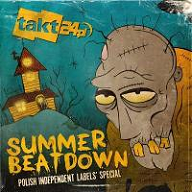 This 17-song compilation sampler features 17 up and coming bands from different territories of Poland. In the near 69 minutes of it you can dive into quite a few genres, mainly metal-oriented ones. Thrash Metal nowadays enjoys its second coming, so bands such as TERRORDOME, WHOREHOUSE, CROSSROADS and FORTRESS are making clear for us this movement is healthy and lives on in Poland too. Then we have the Death Metal package with names like DEAD GOATS, CALM HATCHERY, DIRA MORTIS and FORMOSUS. Furthermore you can find there Grindcore sickos EPITOME, groovy modern-metal-dealers SERPENTIA, extreme progressive innovators like KETHA, blackish IBLIS, rock'n'roll influenced RONNIE RIPPER'S PRIVATE WAR, heavy metalized TENEBRIS and symphonic LACRIMA, stoner rockers of BELZEBONG and the pretty soft almost ambient-like ALTERNATIVE 4. This compilation CD can be a useful tool to get a better insight on what's happening actually in the Polish underground market. To search for the above mentioned bands, and not only, feel free to visit Takt24's web store!
THE PETE FLESH DEATHTRIP
"Svartnad" CD 2016
(Critical Mass Recordings)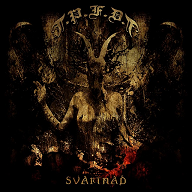 Three years passed since "Mortui Vivos Docent" was out, so it was time for Pete Flesh to strike back again. I can definitely say "Svartnad" will start a new chapter in the band's career. While "Mortui Vivos Docent" was more of a straightforward Death Metal release this new album showcases a completely different songwriting approach. The whole material radiates some kind of deep depression and despair. The dark moods and sinister atmospheres got a leading role almost in all the songs. Even if there are moments filled with traditional fast guitar parts and blast beats, the majority of the tunes are mid-paced and totally marching. This renewed combination of moods makes perfect the Pete Flesh formula. "Svartnad" features eight well-composed and professionally performed songs by Peter "Pete Flesh" Karlsson (vocals, guitars, bass) & Henrik Borg (session drums). I want to highlight "The winter of the wolves", a very special tune, fully soaked in cyclic harmonies of emotional hopelessness. It became my absolute favorite one. Then I like the extremely epic and marching "The sun will fail" plus the desperately sad "She dwells into the dark". Awesome songs and really awesome moods there! Recommended for all the fans into the obscure arts of metal! There's no doubt, "Svartnad" is a masterpiece and I am devilishly looking forward to its follow-up! Let the blackened death doom obsess you!!!
THE SYMBIOZ
"Unpromising Pictures Of Present" CD 2011
(Young Voices/Trismus/Drink And Be Merry/Miravoice)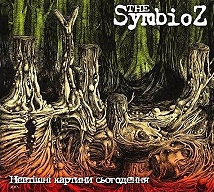 After 2 successful split releases I have finally hold in my hands the band's debut album. This long play, which in fact became not too long (24 minutes in total), consists of 8 really catchy, metal-influenced punk/hardcore tracks. The metal influence is pretty essential for this material, be it according to the sound production that turned out a massive one or concerning the song's structuring, both are just worked out precisely. The four-piece (Kolya "D-Kay" – vocals, Vasya – guitars/backing vocals, Dima "Spade" – bass & Zhenia "Maliy" – drums) progressed quite a lot in terms of making memorable tunes, while incorporating new innovative ideas and arrangements to a few of them, just check their nice folklore additions to "No justification for war" or the splendid violin parts in "Greed alloyed mind" (to my surprise this track features a lot of Black Metal influences too) and the lyrically sad-based "October 13th". The latter one, by the way, has a cool riff reminiscent to D.R.I.'s "Definition" era. I really enjoyed the whole material and thus want to advise it to everybody into good hardcore & metal music. As usual to the band, their lyrics are written in Ukrainian language (but the booklet contains translations in English as well) and deal with social issues. The CD comes in a nice digipack packaging with a masterful artwork and 12-paged booklet. Get your copy now!!!
VIOLENT OMEN
"Infernal Express" CD 2010
(Atomic Carnage Records)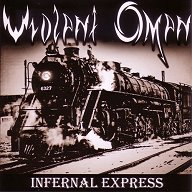 This young but damn promising band from Zhytomyr guides us back to the golden ages of Thrash Metal. Yes, we talk about the magic 80s! So be prepared for some totally old-fashioned riffing. "Infernal Express" is their first release, which was executed by Floods (screaming vocals & guitars), Metal Priest (lunatic bass & backing vocals), Faunus (evil lyrics) and Mordor (session drums). The album gathers 9 die-hard metal hymns and as usual they pay a tribute to such dinosaurs of Thrash Metal as KREATOR ("Tormentor" was selected from "Endless Pain") and DARK ANGEL (what else as "We Have Arrived" from the band's awesome same-titled debut)! The whole album is pretty captivating, has a very good & raw sound production and what's more it has been done with a true metal spirit! It lasts 35 minutes and will surely please all the fans of old-school Thrash Metal! Preferred tracks are "Waste of Flesh" (killer thrashing madness) and "Violent Omen" (just an awesome instrumental track).
VIOLENT OMEN
"Lunatic's Revenge" CD 2011
(Lunatic Productions)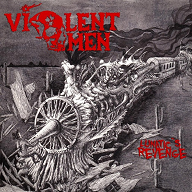 The second attack from VIOLENT OMEN comes in 11 carefully selected thrash praising cuts. The trio – Floods (guitar/vocals), Metal Priest (bass/backing vocals) & Yury Sin It Sky (drums) – extremely well combines the neck-breaking guitar riffs along with precisely roaring bass lines and massive drum assaults. The almost 46-minute long album features everything from fast, technical, melodic to groovy, progressive yet doom-oriented elements. Sometimes they even rub the spheres of Death Metal genre and even beyond (I mean the blast beats here, which aren't as usual for the Thrash Metal style). You can find there insane tracks such as "Marathon of Madness" & "Gravestone Face" or great instrumental improvisations in the title track; there is also kind of tribute to DEATH riffing in the aptly titled "The Underworld Message". Moreover, fans of BLACK SABBATH can enjoy a new interpretation of the classic "Symptom of the Universe" song and as a bonus we have an updated version of "Waste of Flesh" track from the debut album with guest vocals of Faunus. Good job! The vocalizing manner on this album I would characterize as a well-crossed mix of CORONER, ARTILLERY and TANKARD voices, while musically this time I feel a very strong DESTRUCTION feeling on most of the compositions. So fans of Teutonic Thrash Metal should definitely invest into this VIOLENT OMEN album! The CD has a multimedia part as well, which features a live video of "Doomed Masquerade" and "Out of Mind" (as an "Infernal Express" presentation).
ZOMBIE ATTACK
"Through The Circles Of Hell" CD 2014
(NitroAtmosfericum Records)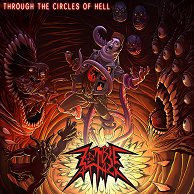 With a bandname coming from German Beer Thrashers TANKARD's first album title (and also song) the experienced metal fans can definitely know what to expect music-wise from these Kyiv-located moshers. And yes, we are talking about the same musical attitude (be it live or on this debut record) and partly lyrical content the Frankfurters got well-known for 3 decades now. These days it's kind of a fashion to start a band and play the old-school way, but let's focus on the record itself. The CD contains 12 fair Thrash Metal compositions in circa 34 minutes. Surely nothing new was created there, but the band plays very wholeheartedly and it makes enjoyable their set. This whole album is about having fun, so no need to list the similarities with bands from the golden 80s. If you like Thrash Metal you will definitely like this album! The sound production is pretty good and it also tries to capture those old days as close as possible. Guys of VIOLENT OMEN have been also massively involved to make this record the way it is, be it about guest appearances or the album's recording. Seen the band playing live a couple of times and have to say they are good enough and funny as well. So keep your eyes on them, order their album and thrash on!