Straight Hate is a very promising grindcore squad from Poland and is pretty close to the breakthrough, especially after the release of their highly acclaimed "Black Sheep Parade" album. I've addressed my questions to Kuba (vocals), who enlightened us with all the necessary details on this major record.



Your recent release "Black Sheep Parade", which is the second full-length album of Straight Hate, is blasting the spheres of the underground with no mercy. Tell us how the reactions from the fans & media sounded and looked like so far.
- After the release of "Black Sheep Parade", we received mostly positive reviews. The album is different from the previous one. It is more mature, thoughtful and consistent. Our music is not quite popular in Poland, so it doesn't have a big impact, like black metal, which is still on the rising wave.
The album features 16 ultra-quick grindcore pieces in 29 minutes. It sounds rather intense and totally crushing. Where did you record it and who was in charge for producing, mixing and mastering this beast?
- We finished the work on the new release quite quickly. The process of recording individual parts and mixing took us most of the time. Only the drums were recorded in studio. Guitars and bass were recorded at home and at the rehearsal room, while the vocals at my friend's basement. Our bass player – Przemek – was responsible for mixing the material. He did a great job! As you can see, we managed to do everything by ourselves.
Since the release of your debut album "Every Scum Is a Straight Arrow" in 2016 you're cooperating with Deformeathing Production. I see it's a very fruitful alliance, as your new stuff besides being released on regular CDs got even a limited edition of vinyl presses on 2 colors too. How the sales going on? By the way, what kind of deal you've inked with Deformeathing Production?
- We are selling very well. At the moment we have just a few vinyls left. The albums we got from Wojtek of Deformeathing Productions are almost sold out. I just wrote him about the delivery of new products.
Kuba you've been part of the Parricide history along with Wizun. How do you remember your time there? Please mention to the readers which release was your favorite and why?
- Yes it's true. In Parricide I took my first grind steps. It was the best music school for me. I learned humility there. I saw how underground works in practice. I met many wonderful people, I visited a large part of Europe, I gained invaluable experience that allows me to do what I like the most. In my opinion the best album of Parricide is "Kingdom of Downfall". The band on this album went a long way towards brutal death metal.
How's the situation with the live shows, festival appearances and tours? Do you often receive offers? Apropos, do you plan an extensive European tour in support of "Black Sheep Parade"? Can we expect you playing live in Ukraine?
- When it comes to concerts, we play wherever they want us. Every year we play several concerts in Poland and abroad. Our music is liked in the Czech Republic and Lithuania. Therefore, we are sometimes invited to perform there. This year we were able to play at the Symbolic Festival alongside Benediction and Interment among others and at the Rock & Rose Festival with Venom Inc. If we get invitations for concerts to Ukraine, we'd love to play. There are a lot of grind music geeks in your country. I remember concerts in Donetsk, Kyiv, Vinnytsia and Uzhhorod very well during tours from Parricide. I can confidently say that they were one of the craziest concerts in my life! What was happening there was crazy.
Musically you've built up a maximally powerful mix of grindcore hell with a little bit of Swedish death metal vibe that were successfully spiced up and twisted by a fair dose of groove- and rock'n'roll-oriented riffs. Is this combination coming in a natural way to you or you've been planning to create something like that from the start?
- The mixture you mentioned was created naturally. Only the Swedish sound was planned. I will not hide that I am a big fan of Rotten Sound, so I wanted to incorporate an element of similar sound into our music. The rest of things are spontaneous.
What inspires you to write such insane music these days? As a vocalist who influenced you to start screaming & growling back in the days? Tell us also in short about the lyrical content of "Black Sheep Parade".
- The texts are a reflection of everyday life, viewed by the average bread eater. I am writing about the problems we have to face. About how we are fooled by the mass media, about people who flow thoughtlessly and uncritically along with the current created by contemporary trends. Overall, nothing new and revealing.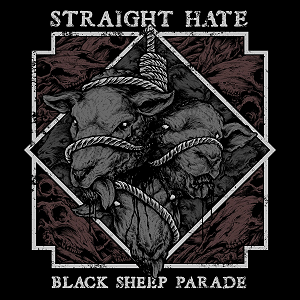 The cover artwork totally fits the title of the album and is very impressive. How did you find Maciej Kamuda and was it totally up to him to create this fantastic piece of art or you've been told him all your ideas as well?
- I knew the works of Maciek Kamuda before. When the concept of the new album appeared, I knew from the beginning that this man must make a cover for us. I just needed to describe the album title and explain the meaning of the lyrics. He fulfilled his work 100 percent.
A few years ago you had a killer split with Neuropathia. Do they still play? The grindcore movement in Poland was always strong, especially in the past, but how it looks nowadays? Are there a lot of newcomer bands and do the old ones still play?
- I have heard rumors and attempts to resume activities of the boys from Neuropathia, but I do not know if they reactivated. In my opinion, the Polish grind scene has been in crisis for a long time. There are few active bands. Many have also ceased operations. There is currently no demand for grind. Far fewer people come to the concerts than ever before. I regret this very much, because our stage has always been at the forefront of Europe. Larger festivals in Poland, with a few exceptions, are not necessarily interested in this music. Here I have to praise our neighbors, namely Czechs. Both we and other familiar bands from the Polish backyard are successfully playing smaller and larger concerts there. In this country, grindcore is a religion. Fortunately, trends change over time, so I hope maybe someday grindcore will come back to the Vistula to favor.
OK, Kuba that's all I had in my mind for you this time. Please send your greetings to the Ukrainian fans of Straight Hate and grindcore in general. Oh, and please reveal us your plans for the 2020 year?
- Thank you very much for the opportunity to be interviewed. I hope that thanks to it we will reach more listeners in Ukraine. You can also follow Straight Hate's profile on VK. Greetings from the eastern grind geeks!!!