Recently I was very fortunate to conduct an interview with Francis M. Howard (guitars/vocals) of the mighty Opprobrium. Their new work is ready to explode and there's just a couple of countable days left until its official release. As a teaser, the band already premiered a new track off the upcoming beast, so listen to it below and enjoy our conversation!!!



Opprobrium's new album has been titled as "The Fallen Entities". It will include 8 songs. What should we know about the musical direction of the new material and its lyrical content? Where did you record it? Please reveal us as more details as possible.
- We've started recording in the beginning in Baton Rouge, Louisiana, then we've got hit by a flood and because of that, it kind of slowed us down during the recording and because of the flood, we decided to move to Lady Lake, Florida. So we finished the album in Florida. Concerning the new album, we wanted to make an album that would surpass anything we've written before, and in my humble opinion, we've accomplished that with "The Fallen Entities". For me this is one of my greatest achievements in my song writing, our new album. The album talks about paranormal events. It talks about strange climatic events happening worldwide, and it talks about certain human conflicts and other subjects also.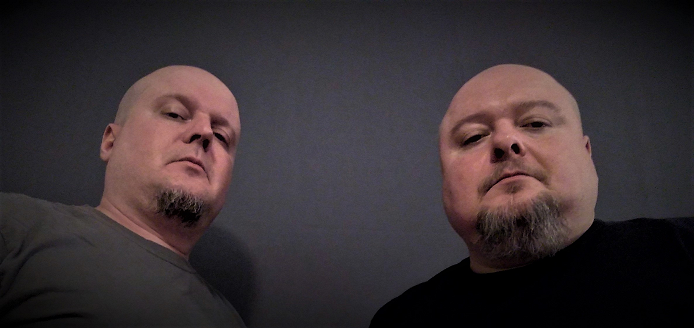 The cover art was painted by Polish artist Daniel Tyka. It became pretty futuristic one with a mysterious meaning. I like it a lot! Was the cover idea/conception totally yours or Daniel created it on his own?
- I had an idea on how I wanted the cover to look like in order to match the lyrics from the song "The Fallen Entities". So I gave the great artist Daniel Tyka a rough sketch on how I wanted to look like and he took it from there. The cover came out just the way I've envisioned for the song title "The Fallen Entities". Daniel Tyka is the best and has great talent. I gave him some ideas in a sketched paper on how I wanted the cover to represent the lyrics and after a few sketches from Daniel Tyka, he finished the album cover. I am very happy that we choose him to do our album cover. His is the best. I am a 100% happy how the album cover came out.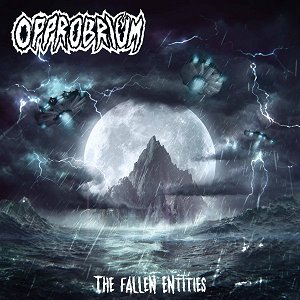 It will be officially released worldwide through the marvelous German label High Roller Records on the 22nd of February, 2019. Please tell us how did you hook up with them? You inked a deal only for the release of "The Fallen Entities" or for multiple album releases? Will it be followed, for example, by a few re-releases from the band's back catalogue too?
- Moyses was the one that got in contact first with High Roller Records. All I can say is this. We are very happy with High Roller Records, they are growing more and more in the industry. Moyses and I are very, very happy with how professional they are. I wish great success to Steffen and his High Roller staff. They are a great label and have a great team of professionals.
Do you plan some extensive US & European tours in support of "The Fallen Entities"? Where can we see and catch you playing live in 2019? Will your setlist include tracks from the "Serpent Temptation" and "Beyond the Unknown" records? If so, which ones?
- One thing for sure, when it happens, we will definitively play our greatest hit from all our albums.
"Mandatory Evac" (2008) was the predecessor to "The Fallen Entities". It was released a whole decade ago by the Polish label called Metal Mind Productions. The material featured there was really cool, if you ask me, but somehow it didn't get the deserved reaction and recognition from the side of the fans and media. What do you think why was it so?
- The production had a lot to do with it, not the songs in "Mandatory Evac", but the production. But keep in mind that back in the 80s metal fans never really cared about production, because the more underground the sound was, the more we've enjoyed. But I do understand that we are in different times now.
You've formed in 1986 as Incubus. Can you please recall those times? How was it to play in a thrash/death metal band in the end of the 80s and the beginning of the 90s, how the scene looked like back then, which were the local or foreign metal bands you kept the contact with? Actually how do you think what have changed compared to those times?
- In order to explain to our newer fans, we used to be called Incubus back in the 80s and early 90s, but we've changed our band name to Opprobrium back in 1999 and we are using the name Opprobrium for 20 years now. Back in the 80s this type of music was rejected by many. The majority of clubs would not accept our type of music, because heavy metal was the thing back then and not death/thrash metal music. So in order to play live shows, we used to play shows with some local heavy metal bands or with local hardcore bands at that time when we had the chance, because there were only a few bands that played our type of music back then. Keep in mind that we had no internet back then, we had to hand out fliers at local heavy metal clubs so that people would come to our shows, and when we had the chance we would announce our shows in local university radio stations that we used to do some live interviews there sometimes. The local New Orleans University radio station back then was the only place we could listen to our type of music. The local N.O. University radio station back then used to play a mix of hardcore and early upcoming bands of that time in the style of speed metal.
I did not keep contact with other local bands at that time, because we've moved around a lot. But only at shows we would see them and talk to other local bands.
Concerning the question on what has changed compared to back then. I think that the new generation will never know what it was like to buy an LP and hearing the album for the first time. Keep in mind that with the internet news travels fast now, but back then we had to go to the store, look at an album cover and buy the album without knowing the songs. I miss those days, and yet at the same time I like the way how the metal scene has grown in our present time. The metal scene is much more organized now, then it was in the beginning of it all.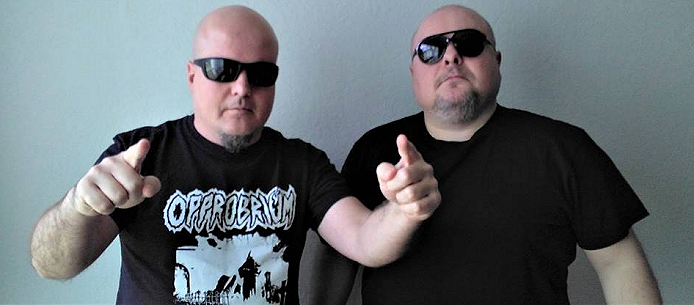 In the past, especially, when "Beyond the Unknown" & "Discerning Forces" were released, you've been frequently compared to Sepultura. Of course, you always had a kind of heavier sound production and more death metal oriented song-structures, but still it would be great to know your opinion and thoughts about this comparison.
- I remember when we met Max (ex-Sepultura and now Cavalera Conspiracy) for the first time in Tampa, Florida, before he became famous. It was during the mix for his album "Beneath the Remains" in which he invited Scott Latour and I to sing backing vocals on his album at Morrisound Studios. Max is a cool guy.
I really do not know why people compare us with Sepultura, I guess because Moyses and I were born in Brazil.
How do you recollect your guest vocal participations on Sepultura's "Beneath the Remains" and Cannibal Corpse's "Eaten Back to Life" albums? What kind of mood ruled back then during those recordings in the studio? Did you listen to any of the latest records from these bands? How do you like them?
- When we used to live in Tampa, Florida back in the 90s, I remember Scott Burns (producer) from Morrisound Studio gave us a call, it was during the day and he said that Cannibal Corpse wanted me to sing backing vocals on their album. I remember that after the recording their singer Chris needed to rest his voice since he was recording all day and then after the recording the other members of the band came to our apartment (when we used to live in Tampa, FL) and Moyses and I and the other members of Cannibal Corpse talked all night on how was their Buffalo scene compare to our hometown of New Orleans and Tampa underground metal scene. We were all young back then and the band members were real cool and very professional when we've talked about music. We used to get a lot of visits from David Vincent (ex-Morbid Angel, now in I Am Morbid) and Pete Sandoval (ex-Morbid Angel, now in Terrorizer), they are both real cool guys and very professional also when it comes to the music.
Concerning my backing vocals participation and Scott Latour backing vocals participation on Sepultura "Beneath the Remains" album, well, it all started, because we've mailed our album "Serpent Temptation" + 4 "ST" T-shirts (the T-shirts were for all of Sepultura's 4 band members) to Max via mail to Brazil. And then when Max flew from Brazil and came to Tampa, Florida to mix "Beneath the Remains" and record his vocals, he brought with him vinyl copies of "Morbid Visions" and "Schizophrenia" that was printed in Brazil, and 3 T-shirts for us and he gave it to us, the 2 vinyls and his band T-shirts. Please keep in mind that this is how we used to do it back then, because there was no internet like today, now everything is much easier. But back then each band would contact another band via mail or phone. It was great times indeed. I am happy to be part of the beginning of it all.
You were born in Rio de Janeiro (Brazil), but later immigrated to New Orleans (Louisiana), where you resided most of the time. Recently you have moved to Lady Lake (Florida). What motivated you to do so? Talk us a little about all these places. Do you visit Rio de Janeiro often?
- When we moved to the USA from Rio de Janeiro, Brazil, I was only 10 years old, time flies. Concerning why we are no longer in Louisiana, but in Florida now. The reason is because we've got hit by a major flood in Baton Rouge, Louisiana in 2016 and from there we've decided to go back to Florida. Since I live in Florida now, I sometimes do drive to Tampa. Many people already know that Tampa, Florida used to be the death/thrash metal capital of the world back in the 90s. It brings great memories when I visit Tampa. I remember when we used to rent a warehouse that we used to rehearse back in the 90s for our "Beyond the Unknown" album. If I am not mistaken, in this warehouse in Tampa, Florida back in the 90s it had only 2 bands, it was us and Iced Earth rehearsing there. If I am not mistaken and then later came Morbid Angel who used to rehearse across from our unit on the other side, and then many other metal bands where all there. It was great times indeed. We bands used to do this back then in order to exchange information and talk about music. Like I've said, back then we had no internet so we had to do it this way in order to stay connected to the metal scene.
Last mandatory words & thoughts are yours. Please send your greetings to all the Opprobrium/Incubus fans over here.
- First, I like to thank you for the great interview and for the honor to participate in Encomium 'zine. Very interesting questions that brought me back memories from the 80s and the 90s.
I would also like to thank all our fans worldwide for enjoying our music. Thank you all and stay metal, stay strong and God bless you all.