AYNSOPHAR
"Abysmal Secrets Of Unknown" MC 2017
(Neverheard Distro)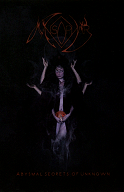 Barbara Teleki from Debrecen (Hungary) gave birth to this project in 2016. She decided to come up with something of her own, but similar to the works of Chuck Schuldiner. The 4 songs of her debut release are indeed analogous content-wise to the riffs Chuck used to play back in the times of DEATH and CONTROL DENIED. However, the lack of real riffs and real songs make rather hard to count this stuff as something worth to the legacy of Evil Chuck. Don't get me wrong, I really appreciate the efforts made by Barbara on this EP, as she handles quite good the guitar, but after I've listened to her 4 compositions I've concluded at once that I won't going to give them another listen. One would ask why? Well, first of all, because mostly what I feel is the chaotic mass of riffs that were put one after the other without a conscious way of thinking. Secondly, the drum programming is simply terrible to me. I really can't help if somebody don't wish to count the beats properly, especially it goes when clever breaks/runs or 16th notes bass drum patterns occur. Sometimes the simpler is the better. Barbara played all the guitars and bass parts (except for the first song) and did the drum programming, while the guest musicians took over the duties of the vocalist and the bassist. The limited edition cassette comes with a hand-numbered slipcase and pro-printed cover.
DISSORTED
"I" MC 2017
(P-18 Records)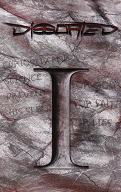 Lately it has become a big fashion and tendency to jump into the retro Thrash Metal movement to get an immediate fame and to pose like a kid with this newly created toy without even having a proper release. These so-called "sellout & poser" bands will exist for just a few years until they totally fade out due to the lack of originality and own ideas. Fortunately, in case of DISSORTED the situation is completely different and maximally bright, because this German quintet pays major attention to compose as catchy and memorable songs as possible. Their tracks radiate or let's better say indicate a fairly wide range of excellent ideas that weren't just simply generated, but were arranged and executed with the utmost care and proficiency. This thrash-brigade perfectly knows how to achieve a massive, well-balanced and outstanding material at the same time. As for their musical influences, I should definitely mention such pioneers of Thrash Metal as EXODUS, MEGADETH or TANKARD here. Still they are totally capable to incorporate these impacts into something of their own and to come up with healthy and noteworthy riffs and song-structures. I am just surprised how dynamic their compositions are. Everything's worked out so precisely there, especially I loved to listen to the greatness of the solos, which aren't only melodic or classical oriented, but at some parts have the vibe of an ethereal beauty. Global awesomeness in a word! The 5 songs of their debut EP were recorded back in 2014 plus released and spread by the band independently, while this actual cassette release was hand-numbered and limited to 50 copies. So you better hurry on to catch your copy in time!
HAMVAK
"I" MC 2017
(Neverheard Distro/Fekete Terror Productions)
The first demo of HAMVAK contains 3 ultra-harsh Black/Death Metal songs. D its sole member makes sure to provide you a hellish portion of somber yet dissonant riffs, which mostly come in a quite primitive way. Still this option finely guarantees the quest to the dominions of uncompromising musical brutality and sheer fierceness. HAMVAK was formed in 2015 and as D interprets it is the ideological continuation of his former Black Metal entity named as SOLUS. But we can call it as further transformation to the new level of ascending darkness as well. The lyrical themes and graphical motives are all loaded with heathen ingredients, such as ancestral legends, superstitions, rituals and sorcery. The music itself has a commitment to the canons of Heathen Black Metal too, just listen to the intro of the opening track called "Altars of Thousand Plagues". The down-tuned guitar sound brings an additional stout to the songs of "I", while the drum parts mostly come in a monotonous and almost hypnotic way. The only fancy riff or let's say GORGUTS-influenced one is located at the beginning of the second composition that was titled as "Chants of the Primordial Pantheons". The songs are rather long as each of them lasts more than 6 minutes and 30 seconds. The relevant cover artwork and layout design was processed by Anvil Kvlt. If you are into Heathen Black/Death Metal bands then check this obscure stuff at the links below!
NEMERE
"Vérmezõ" MC 2017
(Neverheard Distro)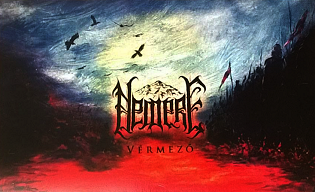 Let's start with the band name as it has a pretty interesting meaning and story as well. "Nemere" is a dry and very grim mountain-valley wind prevailing in the eastern part of Transylvania. It blows from the direction of the "Nemere" mountain. It's also a Hungarian first name launched in the 19th century, used rarely these days. The band itself was founded in 2007. This is their debut album, but there were 2 demos released prior to it. Their line-up was constant since the beginning and features V.ZS. on vocals, V.T. on guitar, V.Á. on bass and G.J. on drums. The music they propagate is straight Black Metal with lyrics about paganism, battles, ancestors and landscapes. The 9 pieces of "Vérmezõ" (it means bloodfield) have been carefully prepared, recorded and last but not least, immortalized on tapes by Neverheard Distro. Their tunes sound pretty raw, but all the way heartfelt. The quartet does not diversify a lot song-structure-wise, there's mainly a minimum number of riffs installed per song, which are usually plain, but the tempos they dictate are fast and at times they storm- and sound-like the so-called grim wind in the cold winter days. All the lyrics were written in Hungarian language and the topics touched are really interesting, especially if you want to know more about the ancient Hungarian culture and life of the ancestors. You can listen to their great debut as well as to their past demos at the bandcamp link below. Maximally recommended!!!
TÜRBÖWITCH
"Napalm To Posers" MC 2018
(Neverheard Distro)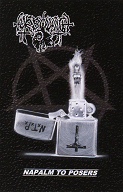 Do you like partying music? Well, this band definitely knows how to have fun during their 11-song repertory and what's more they send curse to posers too, which is a great fact, don't you think? While their attitude is totally Punk-like the music they perform is rather Metal. I would say it mostly contains elements of Thrash Metal as for the riffing style they proudly use, but the vibe of the Punk and Rock'n'Roll styles are also there. The five speedscum bastards from Hungary don't give a shit about the quality. Their material sounds raw and messy, kinda rehearsal-like if you ask me, but it's pretty enjoyable and sends you back to the golden 80s, which fact I do really like about them. They also don't stress on originality at all. Their music is straight, blackened and full of booze. Song titles like "Budapest 666", "Steamcunts", "Fuck All Tribute Bands", "Rottenkiller 62" or "Narkonaut" will ensure you these guys have a good taste and feeling of black humor as well. I bet you wanna read some exact comparisons regarding their music, to cut this short I would tell you if you're going to cross MOTÖRHEAD with SLAYER you'll might get the perfect formula for TÜRBÖWITCH! At the end of this killer cassette release they've included a türbo-desecrated cover version of ALICE COOPER's "Poison" track, titled as "Poser (Malice Puker)", ahaha… I really can't laugh enough, but this stuff rules supreme! Good job for sure and can't wait to listen to more from these Hungarian alcohol-fueled freaks!!!
WRATHRONE
"Born Beneath" MC 2017
(P-18 Records)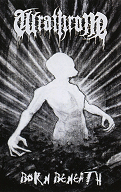 Welcome the special tape release of WRATHRONE's debut album unleashed a few months ago by Hungarian P-18 Records upon the wanton humankind. Note that "Born Beneath" was originally issued on CDs by Inverse Records in the beginning of 2016. The professionally designed cassette comes with a high-quality color j-card including all the lyrics and recording info. The 8 tracks of their long play are all about a cold Nordic mixture filled with the catchiest melodies and the heaviest riffs possible. So the sonic devastation is more than given and can be easily described as some kind of well-thought alloy between the early AMORPHIS materials and the brutality of TORTURE KILLER. However, maybe due to the pretty distorted and placed in the foreground bass guitar sound as a whole it reminded me quite a few times KRABATHOR's "Orthodox" album. Well, definitely interesting music to listen to and as you might already have guessed this finely tuned Death Metal machinery hails from the land of the thousand lakes. By the way, this Finnish quintet plays rather actively live and spreads both their name and music to the masses, so the worldwide breakthrough is already near I would say. Let's see what the future will bring for them and hopefully their second full-length is coming shortly around as well. Suomi Death Metal at its best!
ZVIJER
"Vjecnost Trulezi" MC 2017
(Iron County Records)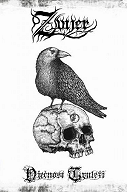 Now I know that there is a place in the Balkans where hell triumphantly dwells. That place is called Banja Luka and it is the largest city and capital of the Republika Srpska, also the second largest city in Bosnia and Herzegovina. ZVIJER emerged from the evil soils and cursed ashes of Banja Luka in the year of 2013 with one aim to spread the blackest feasible sonic plague to the inhabitants of this rotten earth. Now as the dark circle has finally been complete this truly barbarian Black Metal unit is ready to represent their first full-length album, which features eight possible ways of dissolving of the human souls. Frenzied and totally rough music in the true spirit of the 90's BM bands is what you are going to experience there. Performed precisely and recorded professionally, but still with a production that is maximally loyal towards this charismatic style's initiators. Regarding their lyrics, I can say and conclude easily from the song titles and graphical imageries that those are filled in with misanthropy, scorn and endless hatred to the humankind. If you ask me, such kind of anti-human and anti-religious lyrical approaches plus the constant longing for death are totally evident and simplistically the inevitable parts of ZVIJER's harsh repertory. So the wild beast has been loosed upon this world, let's wait for its second coming!