Did you ever hear about Slovakian trio called GRINDING JESUS BROTHERS? I bet you don't! Thus the time has come to fix that for you! Believe me, these crazy grind freaks know pretty well how to crush your head with their bulldozer-like grindcore formula. So don't waste your time anymore and tune to the songs of their debut EP – "Reign of Evil"!!! Jozef and Vlado were really nice and introduced in short their grind combo!!!



Whose idea was to name the band such a funny way? Tell us the story behind the creation of the GRINDING JESUS BROTHERS from the very beginning.
Jozef: The name of the band was made up by Vlado (guitar, vocals). It means something like grinding brothers, because Vlado made it up with his younger brother Marek (drums). The word "Jesus" has been there, because of the great picture of Jesus in the house we are practicing. It is over our heads and it is Marek's grandmother who used to live there. So the band was found by the brothers Vlado and Marek, who asked Ociho to play the bass, he was later replaced by Jozef, who plays with them today.
Your debut material "Reign of Evil", an EP with 8 songs, was issued last year by Czech label called Bizarre Leprous Production. How did you get in contact with them? Talk us about your co-operation with this label.
Jozef: We got to Bizarre according to one of our friends, who knows people from Bizarre. He recommended us, we sent them a sample and they were impressed, so they wanted to issue us without any problems.
The guitar sound is pretty Swedish there. Explain us why is it so and what bands influenced you to do so?
Jozef: We wanted to have that sound from the beginning. We did not think about the others. It's the sound we love. We were influenced by the basic stones of the Swedish grain, the crust. NASUM, ROTTEN SOUND (Well, in fact these guys are from Finland – Ed.), AFGRUND, FEAST, WOLFBRIGADE...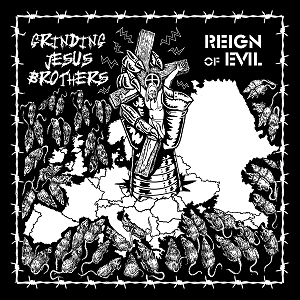 The cover art for "Reign of Evil" became pretty realistic and pessimistic at the same time. What the rats symbolize there? Speak us about the meaning of the cover artwork in general. What topics your lyrics deal with?
Jozef: Those rats on the cover symbolize the attack on the mainstream European listener. Jesus symbolizes the name of the band. And the lyrics are socially critical as they are already in the genre of grindcore.
You've just returned from Flesh Party 2017 festival. How was it to play there? Write down your impressions about that festival and please list us the names of other active grindcore festivals in Slovakia.
Jozef: Flesh Party is one amazing festival; also OEF has that kind. We played very well there, even if we played first, the response was super and we think we have turned out to a wider audience. There is a pleasant family environment, where one does not have to make miles between the bar and the stage. When we talk about pure grindcore festivals in Slovakia, it is just Flesh Party, but we have a famous metal fest Gothoom, in Sered' there is still the Fluff Fest, which is HC-punk, and we also do Ynfest. It's very small, but also deals with HC-Punk/metal/grind scenes.
What's your recent point of view about the Slovakian grindcore scene? Is it growing or on the contrary? Would you recommend us some worth bands and releases to check out?
Jozef: Slovakia is a small country and there are fewer grindcore bands, but they are good bands that can compete on the world stage. Since I grew up, I have not noticed any new bands, but our older bands like ATTACK OF RAGE, ABORTION, KILLCHAIN and THORWALD are still recording good albums.
How is the situation with your new songs? What should we expect from your new material? Will it be a full-length or a split? When do you plan to record and release it?
Jozef: We have a few new songs, but we still have some old ones that are good and it would be a shame not to record them. But when we will record them, we don't know yet, maybe in 2018. It will be with Swedish sound and we also thought about the split.
Let's talk about your daily duties. What do you do for living and what are you doing in your free time, besides playing in a grindcore band, of course?
Jozef: Like the other people, we go to work. Vlado is a teacher, Marek is a builder and I am an electrician. In the free time we do sport, go for beer and visit concerts. We like to go to the gym or ride on bike, or just to cut the grass at home.
You are also involved as a drummer/vocalist in the sludge band called FAT. What should we know about this project of yours? Do you already have some recorded stuff by this formation released?
Vlado: Yes, about a year and a half ago we created FAT with Jozef and another guy Radix. Later on, the guitarist from the crust-punk band ROXOR joined us on the second guitar. It's a mix of sludge, doom and stoner. We played some concerts in Eastern Slovakia and we had a success for our surprise. Now it is a little complicated, as Matúš has gone to Cyprus and Radix moved out about 300 km, because of his work. We have not recorded anything yet, but maybe once...
In August you are gonna visit Ukraine. As I assume, it will be your very first visit there, am I right? How do you feel about that? At the end, please send your grinding salutations to the Ukrainian grindcore freaks and listeners of extreme forms of music.
Jozef: Yes, we will visit Ukraine in August and we are looking forward to it. We would like to thank you for the opportunity to play there. (You are welcome – Ed.) Gaby from KILLCHAIN told us that there are the best concerts in Ukraine! (Ah, Gaby is definitely exaggerate a bit, but I am really happy if he sees it that way – Ed.) We want to greet all the Ukrainian grindcore fans, listen to the best music, join us and watch our concert at UzhGoreRot festival. Thanks for the support and see you in Uzhgorod.