The name of Etsykh will probably sound weird and totally new to all the maniacs of brutal death/grind music, but I can maximally assure you it features experienced and tested with time musicianship that performs the tightest possible alloy of technical brutality. I've spoken with guitarist/vocalist Anton Subbotin about all the forthcoming perspectives of Etsykh. So now the turn is yours to get to know more regarding this very promising Ukrainian death/grind trio!!!



Etsykh is a new brutal death/grind formation that was called to life in the end of 2018 by ex-members of Bredor, Datura and Stalino. Please introduce to the readers each member of the trio plus reveal the story and meaning of the band's name.
- Hi everyone! Our current line-up is: Anton (ex-Datura) – guitar/vox, Ed (Fleshgore, ex-Datura) – drums, Yulick (ex-Bredor, ex-Stalino) – bass. Etsykh is a term that means a box for prisoners or a facility, where such boxes are stored, from dystopian sci-fi movie "Kin-dza-dza". No special concept for choosing the name, except for its briefness, phonetical spelling and rather neutral meaning.
In April you've premiered online a 3-track demo. It sounds super raw and unbelievably brutal. Where did you record it and who produced/mixed/mastered the stuff? Do you have plans to release it as a part of a possible split or you're going to spread it exclusively through online platforms?
- Thanks for the review, we are happy with the sound too! It was recorded at Sick Carnage Studio by Ihor Lystopad (Fleshgore), while the mixing and production have been done by Ed and Etsykh.
The titles of the tracks are: "50 Divisions", "Eruption" and "To Perspire". I am very curious to know more about your lyrical content. Who wrote the lyrics and what stories they were meant to tell about?
- All members of the band contribute to writing the lyrics. As a rule, first we are up with the titles for each track being created, seeking for some interesting, brief and inclusive concept; writing the lyrics afterwards is uncovering what's behind the title, something like that. A body cell has a limit of 50 divisions, eruption relates to huge and growing swarm of information pieces as a result of humanity's progress and perspiration is important side-effect of hard work, in all senses.
I am sure you've already managed to gather enough tracks for a full-length album release. So please share to us more details about your upcoming debut album. How many songs will be included there, a possible working title of it, when and where are you going to record it, etc.? Did you receive any offers from labels yet?
- Yes, you are right. No working title yet though. The full-length will include 9 tracks and we are planning to begin recording it this autumn, currently undecided about the studio. Hope it will be released in 2020, we have a couple of offers from labels, but yet have no certainty on that matter too.
You've played your debut show in Kyiv on the 21st of April at Volume club. How did it turn out? Tell us your impressions.
- That show wasn't that debut for us, as we were performing the same set with the same line-up in 2018 as Datura back then. Me and Ed are happy with having got Yulick as a bass player, we feel tuned together and it's great to play as a trio after several years of duet. But anyway the first show under a new name was exciting.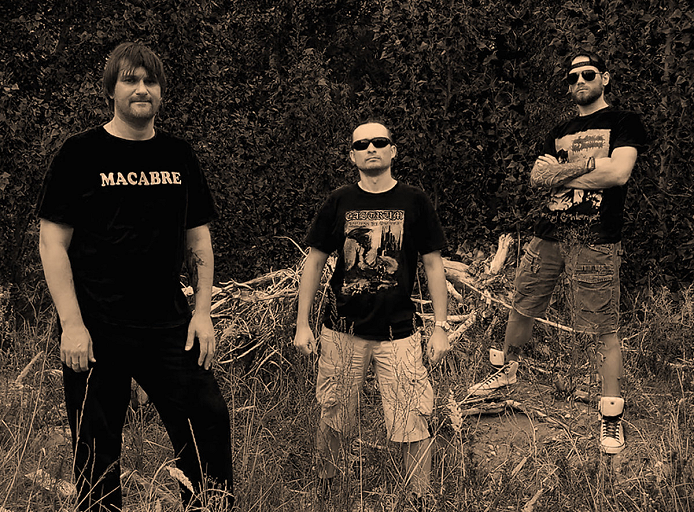 In October you are going to support Czech Republic's Hypnos during their tour in Ukraine. How many shows will you play in total? What the fans of brutal death/grind music can expect from you live?
- I believe that these can be 2 or 3 shows, but currently this is not clear yet, because of some possible mandatory personal/career activities of the band members for the same period. Supposed expectations are for a high-quality and powerful brutal death/grind music performance.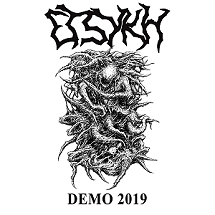 Are you planning to prepare some kind of merch for that occasion? I mean the cover artwork of the demo would be really cool for a T-shirt print, don't you think so? By the way, who did that art for you?
- This artwork is by Ropig Art and yes it possibly could be used for some merch print run, also maybe some physical pieces with the demo can also be released, but not sure for the latter. We are thinking about it.
Actually, what is the tune you play in? What kind of guitars, pickups, amps, cabinets, effect pedals, strings, etc. you use live, in the studio and at your rehearsal room?
- We play in standard C tuning. Brands of our equipment include ESP, Seymour Duncan, D'Addario, Ibanez, Bartolini, Randall, Marshall, Ampeg, Ashdown, DDrum, Tama, Paiste, Sabian, Cympad, Axis, Alesis.
Well, that's all I had in my mind. Please finish the interview by greeting all the current fans of Etsykh as well as the ones who will join your camp in the very near future.
- Thank you for the interview, good luck to you and Encomium and, of course, we wish you and all the fans and everyone involved to be healthy and wealthy and support the underground! Nothing like "stay sick", as sickness is no good; but surely stay brutal!