Recently I was honored to exchange views with Ryan Moll, the mastermind of In The Fire. He told many interesting facts and stories from his pages of life. Now it's up to you to discover them all below!



Hi Ryan! In The Fire is a brand new band of yours, which, by the way, plays a rather variegated mixture of the known metal styles. Personally, how would you determine your style to the readers? When did you exactly form In The Fire and how its current line-up looks like?
- First wanted to just say thanks for taking the time to listen and interview me. Really appreciated! As for what style we are... If I had to pick the style that dominates it, I believe it would be thrash, but does go a bit beyond that. Truthfully when I was writing this stuff I really had nothing in mind as far as what genre it should be geared towards. I simply just wanted to write the best fucking metal that I could come up with and then record it and go from there. I don't really listen to too much of any one thing other than mostly metal of all kinds. But my tastes in music often go beyond that.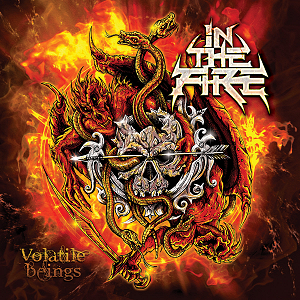 The actual band wasn't formed until after I was out of the studio with it. At the time I had just asked a few people that I know and are good friends with like Pat Battaglia and Mike Hrubovcak if they would want to help me out with it. The current line-up now consists of myself on guitar and backing vox, Pat on drums, Josh Mahesh Kost on 2nd guitar, Steven Dever on bass and Glenn Mutz doing the main vocals rather than myself, because I just think it is better that way for live. Mutz is a good friend with some killer vocals that he has been able to adopt pretty close to my style. Plus, he is also very good at engaging the crowd and generally just seems more natural as a frontman I believe than myself so I was happy to have him.
Your debut album "Volatile Beings" was released 15th of February, 2019 by Horror Pain Gore Death Productions. How did you hook up with HPGD Productions and what kind of reactions did you already receive from both the fans and the media so far?
- I've known Mike Juliano from HPGD for a while now and he was nice enough to put it out for me. I am very grateful for that. From what I've seen so far the feedback on it has been really positive so it's definitely a great feeling to know that people are really enjoying something that you put a lot of work into. Writing an album/albums on my own was always a challenge that I wanted to take on at some point in my life and now I have. From here however I'd like to see In The Fire become more of a collective writing process between all of us. All of the dudes I'm playing with now are exceptional players and writers so I'm more interested to see what we can come up with together for the future rather than just solely myself.
The recording sessions for "Volatile Beings" were executed at Nightsky Recording Studios and Ron Vento of Aurora Borealis was in charge for recording, engineering and mixing it. Briefly tell us your impressions from the common work with Ron. You've managed to record there 14 songs in total, but only 8 tracks gained to your debut release. What will happen to the other songs?
- I've known Ron for about 20 years now. He is one of the best engineers I've ever worked with. He knows his shit inside and out and while he specializes/favors to record metal, he really just understands how to record all types of music and understands music in general. He is very easy to work with and very understanding. I believe I will always continue to go to him for one project or another as long as I keep making music. In fact, we are in there with him now for Azure Emote!
...And yes! For the songs I decided to split it up. A couple of reasons for that. First... and it's 15 songs actually... but anyway, the first reason is because 15 songs are just too much material for one album. Especially when it is something that you've worked on and hoarded riffs for so long in your spare time between playing with other bands to just dump all on one album. Second... I actually had 2 different drummers play on it. Pat is on Volatile Beings. But the next album titled "The Living Horror Show", which should be coming out early next year will feature Mike Heller (Fear Factory, Malignancy, Azure Emote). Mike is an absolute monster and he adds a lot of element and speed to these next batch of songs. This next album is particularly fast... I had the privilege of playing with him on the last Azure and I decided that some of the stuff I had would sound absolutely killer with him on the kit while others I preferred Pat. So yeah, I couldn't decide on 1 and since at the time I wasn't even sure what I was going to end up doing with it anyway I just decided to have them both play on it.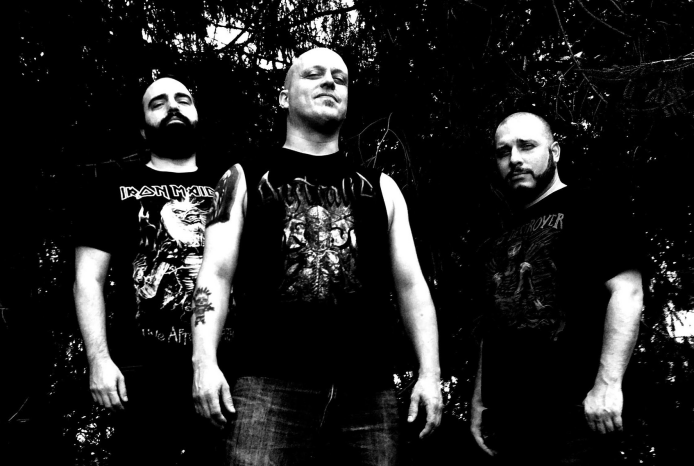 You've also invited a big number of guest musicians to enrich your compositions. Would you please mention them all hereby?
- Well other than Mike Heller whom I've already mentioned; I have Mike Hrubovcak doing some killer backing black/death growls throughout, Chris Gordon (Trial By Fire, The Mad Trio, Valhalla Rising) does 2 solos on the track "Feral" and Steve Jansson (Crypt Sermon, Daeva, Trenchrot) does a guest solo for the track "Take Away The Crown" on the upcoming "The Living Horror Show" album. Both of these guys are phenomenal players and it was absolute honor to have them play on it.
I've noticed a strong influence of Cradle Of Filth in your repertory, especially it concerns to your high-pitched vocal parts. Your opinion about this? The other influence, which musically appears in some parts and solos, goes to the musical arsenal of the mighty King Diamond. When did you become a fan of them? Please tell more details us about your King Diamond "Conspiracy" tattoo on your right hand. When did you get that ink and who tattooed it for you?
- It's funny you mention this, because I've been hearing that a lot actually. I am a huge fan of both Cradle and King Diamond. But the vocals weren't ever intentionally trying to sound like Dani. Subconsciously maybe? Haha. But no I just think it has more to do with my natural range. My lows are not nearly as powerful and sound more forced. That's why I was happy to have my good friend Mike Hrubovcak contribute to helping round it out. I wanted that variety. I think it also has to do with the shape of my throat really. I have some sleeping/breathing problems because of it. So I think that is why have such high-pitched whistle-like screams that sound similar to Dani's... I'm also really big into sounding like banshees and/or witches, which I often try to envision while doing vocal parts. So there's that...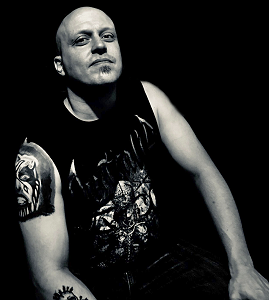 As far as King Diamond goes I have been a fan of the King since I was a little kid. My cousins were a little older than me and listened to all the good metal bands of the day. Every time I would go visit them I would always ask what new shit they were listening to. I remember seeing the covers of "Conspiracy" and "Abigail" on cassettes in my cousin Mike's room. I asked who he was and he told me that he was an ex mental patient who killed his grandmom by biting a hole in her neck and subsequently spent 10 years in an asylum before coming out and starting a metal band! Haha! "That's why he looks older than the rest of them" he said. I remember staring at the cover of "Conspiracy", his face all done up in corpse paint and thinking why the fuck would you agree to play with this guy? He could just snap at any moment and just kill you for no reason. So then, of course, I asked if I could hear it. He put on "Abigail" and played the opening track "Funeral", which has all those pitch shifted demonic voices. I remember going back to my grandparents who lived next door that night, lying in bed wide awake all night with these creepy, thin white curtains blowing from the open windows unable to stop thinking about King Diamond crawling inside and biting a hole in my neck! Haha. But my morbid interest peaked and I just found that I couldn't get enough of it. To this day he is my favorite singer and favorite performer as well as Andy LaRocque being my all-time favorite guitarist. So yeah. Glad you picked up on that. And yes I have a tattoo of King Diamond. It is the cover of "Conspiracy", which also happens to be my favorite album of his as well as just being his face on the album cover. So I got that. It is on my right upper bicep though, not my hand.
Ryan, you're a very active musician. Let me mention just a few bands you're involved in: Azure Emote, Divine Rapture, Dust Is Everywhere, Old Head, Rumpelstiltskin Grinder and Total Fucking Destruction. How do you manage to get free time for rehearsals and inspiration to write new stuff for all these bands? By the way, which ones from the list above are going to release something new in the near future?
- Well most of those bands are old news actually. But I do like to keep busy. I find that the more you learn, the quicker and easier learning becomes. That goes the same for writing too. But it's also not like I am the sole writer for these other bands. The only two bands that are really still active on this list at the moment are Total Fucking Destruction and Azure Emote. In TFD I play bass and share vocal duties with 2 or sometimes 3 other people. We collectively all write the music and Rich writes all the vocals. It's a pretty smooth, quick and painless process from start to finish usually. As for Azure Emote, Mike Hrubovcak I'd say writes about 80-90% of it and I just learn it and add a few ideas here and there. I also most recently started playing in a death metal band called Hypoxia, which most of the writing is done by the guitar player Carlos Arboleda. And then last I have a heavy metal/hard rock cover band that I play in for fun called Electric Church. So right now Azure Emote is in the studio working on the 3rd album, TFD just released a new album earlier this year on Give Praise Records called "#USA4TFD" and Hypoxia just released their latest album "Abhorrent Disease" through Selfmadegod. I however am not on that one.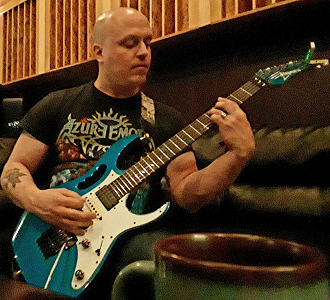 You're known as a big shredder. At what age did you start playing the guitar? List us your influences, please. Currently how many guitars you own? Which one is your favorite one to play live or to record at the studio with?
- Thanks! I started playing at 15. As for influences Andy LaRocque, which I mentioned earlier definitely in the top spot, Pete Blakk as well, Michael Denner, Hank Shermann, Mike Wead... Basically every guitar player to ever play for King Diamond/Mercyful Fate haha!..., Yngwie Malmsteen was another huge one, Satriani, Vai, Richie Kotzen, Mathias Röderer of Atrocity, Alex Skolnick, Gary Jennings of Cathedral, Slash, Gary Holt, Rick Hunolt, Jeff Loomis, Marty Friedman, Bill Steer and Michael Amott, Alexi Laiho, John Petrucci, Dave Sabo, Scotti Hill, Zakk Wylde, Vinnie Moore, Terrance Hobbs, Eric Johnson, Rob Caggiano, Carlos Cavazo, Van Halen, Paul Gilbert, Adrian Smith and Dave Murray, Tony MacAlpine, Rivers Cuomo, Chris DeGarmo, George Lynch... I could go on and on... Haha...
As far as guitars I own, hmmm... let's see... I have a bunch of Ibanez RG's, but my main one would be my JEM. I think I've used that guitar on just about everything I've ever recorded. It is absolutely the best sounding guitar I've ever played owned or ever even played. And it's held up with plenty of abuse that I've put it though as well so I'd say it's also got to be the most durable and it's a floating trem! Other than that I have a few Michael Kelly's that I received through an endorsement deal back in the Rumpel days. Also very decent guitars. I particularly like my Hex Deluxe, which has the EMG active 81 and 85 humbuckers in it... I also have a Mahar (yeah what the fuck is that you say?), which I won on my first game from playing one of those kind of rigged carnie games at Dorney Park. Kind of looks like a Strat. Not the best guitar in the world, but it plays. I usually use it for practice when I go on trips just to have something to keep my fingers busy. All in total I'd say between guitars and bass, acoustics, 7-strings, floating trems, fixed bridges... 15 I think?
How the situation with In The Fire live shows look like lately? Do you plan to play as more shows as possible in the future or you better concentrate on writing new material and rehearsing it to a perfect level? By the way, how's to play live with Total Fucking Destruction? I am sure you've already seen some ultra-crazy stuff during your shows, right?
- Shows for In The Fire are still fairly recent. But we have a few in the works. Only played one so far, but I'd say it went pretty good other than the fact that the building actually caught on fire (not us), because of an exposed live wire leading into the building that almost caused the venue to shut down... But yeah it did turn out decent for a first show!
Playing with TFD is a wild experience. Rich Hoak is all things combined a genius, a nutcase, but also a sage and legend of the scene. He absolutely puts 100% of himself into every performance whether he is even capable of it or not and does not stop 'til he literally fucking drops sometimes. I have an immense amount of admiration and respect for him and I am grateful for the shows and tours I've gotten to experience with TFD... I remember playing a warehouse show in Germany and just raging through the set. All of the sudden the drums drop out and I turn around to see Rich on all fours puking. After about 30 seconds or so he gets up and just says "um... would you mind we did that one again please?".
One other story. We played 4 days in Japan. Our last night in Tokyo Rich introduced me to this guy that I can only describe physically as a Japanese Walter White/Heisenberg. He says "Ryan this is "...." (don't remember his actual name) the craziest drummer in Japan. At the end of our show I'm gonna hand him my sticks and he's literally gonna play until the security has to physically rip the sticks out of his hands at the end of the night". Sounded pretty awesome... And I assumed that he was also gonna be a killer drummer and I was looking forward to watching him tear up the kit after we played... Well at the end of the set Japanese Heisenberg gets on the stage and Rich hands him the sticks... It immediately becomes apparent that not only had dude been drinking heavily all night, but he also hadn't the slightest clue how to play the drums whatsoever. So me and Dan just stay on the stage with him start making noise with our amps to accompany, because at that point we weren't really sure what was going on. Next thing I remember I turn my head in just enough time to get out of the way of an entire high hat stand and all come flying past me and out into the crowd followed by the ride with stand crashing on top of the stage monitor and then every other piece of the fucking drumset just utterly smashed, broken, kicked and thrown all over until finally he was just standing there stumbling and drooling over a pile of broken drum scraps... So when Rich said craziest drummer in Japan it became apparent at that moment that he meant craziest drummer in Japan...
You are living in West Bradford, Pennsylvania. How's the metal life over there? Do you have a lot of specialized record stores, metal events and respectively bands there? Any recommendations regarding the latter ones? Tell us a bit about the local underground movement.
- That's actually where I grew up, but I have moved since. Pretty much live right outside the city of Philadelphia with my wife. Metal is very big out here. It's a pretty decent scene and there are definitely some killer bands from this area. Die Choking, Crypt Sermon, Necrosexual, Final Judgement, Polemicist, Atomic Cretins, Daeva, Sonja, Zorn, Night Raids, to name a few... I'd say the biggest thing to locally happen here that I can think of is the Decibel Metal & Beer Fest, which I think has been going on in Philly for about 4 or 5 years now. Things are definitely different than when I was playing metal in my teens and early twenties and the only bullshit that was around was poppy punk rock, grunge, and nu metal. So it's fucking great that there are new bands out there playing their asses off and taking influences from the older bands of the 70's, 80's and early 90's back when it was still cool to be good at your instrument and/or write intricate, involved and or profound music that you could listen to with a timeless aspect to it.
Thanks a lot for the interview. Please share your last thoughts for the end.
- Thank you for the interview as well. I really enjoyed answering these questions! Keep supporting good fucking music/musicians that do it for life and do it for the love of it!