FANTHRASH
"Duality Of Things" CD 2011
(Rising Records)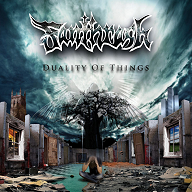 The roots of FANTHRASH guides us back to the year 1986, when they formed under the name of FANTOM. Unfortunately, after a couple of demos the band split up in 1992, but luckily reformed in 2007. "Duality Of Things" is their very first full-length album to date, but I have to admit it's pretty mature and has a top sounding quality. The quintet – Less (vocals), Greg (guitars & artistic vision), Pilate (lead guitars), Mary (bass) and Radd (drums) – processed a flawless work on the 12 tracks of the near 50 minutes long CD. Stylistically the five-piece propagates and possesses Thrash Metal in its heaviest form. But they are so tough and heavy sometimes that I would even consider them a Thrash/Death Metal band though. Plenty of great, twisted, complex riffs, groovy parts, ultra melodic yet fast solos combine their songs. For checking out their skills I advise you to listen to their experimental "Lizard Skeleton" tune. As the practice proved us, Polish bands whatever do, they do it seriously and professionally. So if you are into quality Thrash Metal, get this album right now. The CD comes with a nice quality booklet designed by Greg & Less. There's a new 3-track EP called "Apocalypse Cyanide" is out as well, so get both by contacting the band.
FATAL BAND
"Cornered" MCD 2010
(MSR Productions)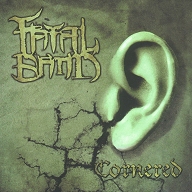 Hailing from Moscow FATAL BAND presents us a quite strong & tough sounding debut material. "Cornered" consists of 7 short but rather furious tracks. The basic Death Metal riffs were precisely injected by a technical & fusion-like alloy, which I found very impressive, 'cause each song has something to say with its abstract riff-structures & drum patterns. Even the cover version of SIX FEET UNDER's "Torture Killer" comes in a special, slow & mind-torturing way. The nearly 20 minutes long EP features some really heavy & blasting cuts filled up by complex, progressive yet jazz-like moments, especially in songs like "The Antisymbol" and "Million Names, Thousand Eyes" one can hear those elements to be maximally materialized. On the other hand, we have songs such as "It's All Over", "Reframe" & the title track, which reminded me quite a lot Belgium's ABORTED, not just music-wise, but by the manner of the vocalist as well. In total, we have an honest & pretty massive sounding EP here, so the chance now is yours to discover the fatality of this Russian Death Metal band.
FINAL SIX
"Religious Psychosis" CD 2015
(Thanatology Productions)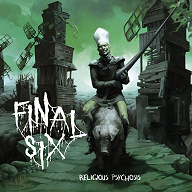 Experimental grind'n'roll massacre with only bass, drums & vocals is what awaits us on "Religious Psychosis" – an album that features 19 songs in total. I would grade their music into two categories; the first contains straight, super fast and super short grindcore tunes, which are paying tribute to the pioneers of the genre, while there are songs full of funny, catchy, groovy parts with crazy hysteric-like screams and ultra deep pig snorts – something that is pretty common for the new-generation of gore- and porngrind acts. The absence of guitars in is this kind of style is a bit strange to me, but I can assure you FINAL SIX sounds super killer with their over-distorted bass likewise. The band features Jarek on bass, Krzysztof on drums and both Kacper & Kasia on vocals. Their debut album lasts a little bit more than half an hour and hides 2 special covers at the end of it (VADER's "Carnal" and AGNOSTIC FRONT's "Power"). Both are worth to check out! Besides the insane musical mixture I also really enjoyed to observe their fantastic cover artwork! Hope to listen to their second album in the near future!
FINSTERFORST
"Weltenkraft" CD 2007
(World Chaos Production / Heavy Horses Records)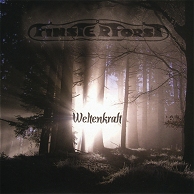 Though FINSTERFORST is seemingly a young band formed back in 2004 I have to fix at once this band has a professional musicianship, which after the self-released EP in 2006 reaches its completeness in the following form: Marco Schomas (vocals), Simon Schillinger (guitar), David Schuldis (guitar), Tobias Weinreich (bass), Cornelius "Wombo" Heck (drums), Johannes Joseph (accordion) & Sebastian "Alley Jazz" Scherrer (keyboards). In this line-up the band records "Weltenkraft" in February/March 2007. The album gathers 10 highly-performed hymns of folk-influenced Black Metal. I would admit that the parallel with their colleagues from Finland is quite evident, even if FINNTROLL plays more partying music, but anyway. The production on "Weltenkraft" is just massive, love their sound, every instrument can be clearly heard and picked off the rest. There's a huge atmosphere in their songs too, which mainly due to different folk instruments & sounds involved there. To my surprise the accordion player has got a lot to do during their 77 minutes long album, I would also not fear to say, he's got a leading role there! Fans into folk & epic metal are warmly encouraged to check this band and their releases! Preferred tracks are: "Des Waldes Macht" and "Rauschende Nächte".
FORMOSUS
"Signvm" MCD 2012
(Self-released)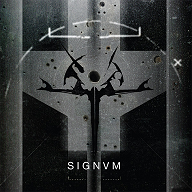 Unfortunately this Polish Melodic Death Metal quintet is already split-up. Besides this 5-track EP they also released a demo called "Alter" in 2008. Listening to their 20 minutes long stuff one can clearly understand why this band broke up so fast. First of all, because the music they made was totally unoriginal/uninteresting and lack of any highlights in it. Secondly, nowadays there's a pile of other bands copying the outworn Swedish Melodic Death Metal cliché, which does this far better. I can only write about the influences and parallels regarding their compositions. Here's a list of a few Swedish bands, which names just automatically jumped in during the listening of their EP: AT THE GATES, early IN FLAMES and DARK TRANQUILLITY, HYPOCRISY (especially during the instrumental title track), A CANOROUS QUINTET and SACRILEGE. In case you collect every single release put out by a melodic Death Metal band, then go ahead and grab this one too!
FORREST JUMP
"Killusion" CD 2005
(Élysion)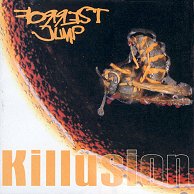 I would suppose it is stoner rock what we are about to experience in FORREST JUMP's eleven-song repertory, even though there's a massive so-called nu-metal influence spiced up with a pretty strange rattle-it-off shouting vocal parts here and there (it is used to be for (c)rap "music" in general). If we look through these annoying vocal themes and the irritating amount of electronics used in a few songs, we got a decent band, which manipulates mostly with the elements of such bands as BLACK SABBATH, TROUBLE or SPIRITUAL BEGGARS for example, but adds the sound of the 21st century plus the atmosphere of nowadays nu-metal movement. The music in general composed very accurately with a definite feeling so I can't complain to the musicians' technique and overall sound production at all. If you like the beforehand mentioned bands you will enjoy this circa 40 minutes long stuff. The songs have been interpreted both in English and Czech languages, the latter adds some unusual or I would say special mood to what FORREST JUMP heading for. In total "Killusion" is a very soft, full of happy melodies rock album. There's no speed, aggression, extremity, brutality or whatever in their music. It's recommended for people who are about to see only the bright side of life. The band consists of Pepa Michálek (vocals), Ivko Vrána (guitar), Mirek Kosa (guitar), Vlasta Kos (bass) and Sára Müllerová (drums).
GODYVA
"In Good And Evil" CD 2006
(SorceryStudios Media Group / Razar Ice Records)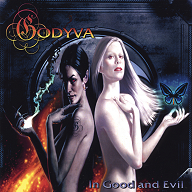 This Italian quintet calls their music as Intimate Gothic Metal. In fact, there's a lot of different musical styles forge in their 12-song debut album. We can easily talk about the influences of classical music, heavy metal, soft alternative rock, industrial or dark ambient here. Whatever the influences are just never mind, 'cause the resulting music counts more and it is masterful. Their musicianship combines the following talents: Lady Godyva (vocals), Frahn (guitars), Nick (bass), Botys (keys) and Enyo (drums). Apart from the standard hard rock & heavy metal patterns they care a lot about the memorable moments too. As for me, I found them in those awesome keyboard-filled monumental passages accompanied by enchanting opera-like vocals. There's music for plenty of an hour there, so you can dive into the spheres of intimate and relax along with GODYVA. They will definitely keep your attention focused. If you fond of such bands as THEATRE OF TRAGEDY, LACUNA COIL or LEAVES' EYES, then you have to check GODYVA as well. They also have two newer records behind their backs, so listen to those releases likewise.
GUTTED
"Martyr Creation" CD 2016
(Xtreem Music)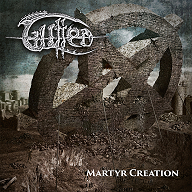 I've been paying attention to Hungarian GUTTED since their debut album "Defiled" (2001). I remember how complex and atrocious was it at first listen, albeit musically it captured an over brutalized mixture of such Death Metal pioneers as DEICIDE, CANNIBAL CORPSE and CRYPTOPSY in my opinion. With the addition of Gábor Drótos (guitarist) the band began to evolve step by step omitting the influences. There were two more releases "Human Race Deserves to Die" (2005) and "Mankind Carries the Seeds of Hell" (2010) in the row until their most original and best work to date was born. "Martyr Creation" is simply mind-blowing in every sense of it. After the mysterious intro "Chaos of the Beginning" the 5-piece pounder-unit strikes into the riffs of "Cosmos of Humans", which is my favorite song off the 10-track CD. That one has the essence of Death Metal in its 3 minutes. I mean here the ultimate combination of speed, melodies, dynamism and brutality. The energy is just awesome there. It follows "False Happiness". Another super fast tune with lots of staccato like guitar madness and soloing from the world beyond. Have to admit with Tamás Sándor behind the drumkit the band did a fair replacement to Zsolt Kovács, who was an insane beast drummer so to say. The bulldozer-like drumming in "Consuming Life" corroborates their right choice. The 5th track is "Deeper than Hell" which was selected for the video clip idea as well. This one became very variegated to be honest. You can hear there lots of interesting rhythm changes, blasting, otherworldly acoustic parts plus an awesome child monologue executed by the daughter of the vocalist. In a few moments I felt a strong BEHEMOTH/NILE twist, but who cares, still amazing track in total. "Fades Away" continues the massacre. It's a hyper fast track featuring a catchy but pretty short guest solo by Attila Vörös. It reminded me a bit the "Defiled" era. Pure brutality in a word! Then we have "Kings of Emptiness", a massive riff-orgy with kind of DECAPITATED-like riffing and crazy as hell bass parts of Péter Lipák. Interesting fact, that this is the only song contributed by the other guitar player András Horváth. Composition number eight named "Hell Dwells Inside". It grinds perfectly and is followed by the most abstract and surreal track of the album called "Into Oblivion". This song also features guest vocals by Attila Csihar. Coincidence? I think not! Anyway it is a superb tune which at the end continuously passes into the last cut, a symphonic-oriented outro, namely "Atrophied Existence". I can easily conclude that the ultra fast tempos are more than determinative for GUTTED's music. They dictate so high tempos that you have to hear them to believe! The chemistry of the musicianship is just remarkable. At the end, let me introduce Sándor Hajnali the man behind the microphone and only member left from the beginnings. His vocals or rather say growls/screams are kind of trademark in GUTTED's music. Earlier he used to sing mostly in the manner of Glen Benton, but on "Martyr Creation" he stepped forward quite a lot and finally built-up an own character that's just great. Still there's a small detail he should definitely improve in the near future, which concerns his pronunciation, though it sounds special in some cases. To sum it up, this album is a blast from the beginning to the end! I really enjoyed listening to it and thus waiting for the continuation. Fans into technical and brutal Death Metal should check it immediately!
HEAVING EARTH
"Redemption Ablaze" EP 2012
(Self-released)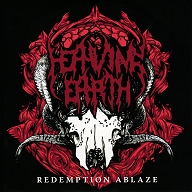 After the successful debut album "Diabolic Prophecies" (2010) the Czech Death Metal quintet returns with its freshest stuff, a 2-track teaser entitled as "Redemption Ablaze". The obscure IMMOLATION-like riffs of "I am nothing" start the EP and afterwards they turn into some complex guitar madness with storming drum parts & growls from the deepest depths of hell. The IMMOLATION feeling is quite strong throughout the whole track, but who cares if the song itself is killing the right way. The second piece, called "Into the depths of abomination", builds upon the cruel guitar formulas of HATE ETERNAL and fragmentally has some SUFFOCATION touch too. It continues the sonic massacre with its unmerciful blast-beats and double-bass attacks. This tune has rather technical riff-structures, some sick solos and harmonies from beyond. The EP lasts circa 12 minutes. It comes with a superior sound production and cover artwork done by Filip Halama. Fans of obscure Death Metal should put their hands on this stuff right now!!!
HEGEMONE
"Luminosity" CD 2014
(Self-released)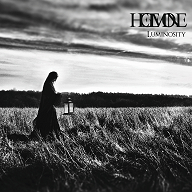 If you like atmospheric, slow motion-picture-like marching music then you will definitely enjoy HEGEMONE's debut album. The quartet plays king of really catchy blackened post metal during their six-song repertory. The overall atmosphere is pretty Nordic thus the fact the band comes from Poland adds even an exotic touch to HEGEMONE as a musical entity. The cyclic, sometimes even ritualistic and trans-like riffing approach creates a calm and very relaxing mood. The 47 minutes long album is full of better and better soundscapes, which are perfect for just relaxing or also for reading books meanwhile. The electronics got a big part in making this album even more variegated plus have to admit the mesmerizing saxophone parts are just fantastic and extraordinary. The angry blackish vocals come pretty good along with the well-thought sound production of "Luminosity". Meanwhile the band released a digital split with Belarusian CHALLENGER DEEP, where their new track demonstrates a bit less black metal influenced approach; it is more experimental and I would say ambient-like. Anyone interested in this outstanding Polish band, feel free to get in touch with the band to order this masterpiece or simply visit their pages to dive into their sounds. Me personally, looking forward to their second full-length album!
HELL UNITED
"Aura Damage" CD 2012
(Hellthrasher Productions)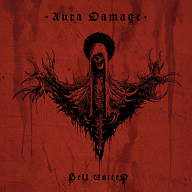 Massive second album has been unleashed upon the humankind by the Tarnów-based Death/Black squad HELL UNITED. The band counts four sinner souls in its ranks, i.e. Void (vocals/guitar), Rzulty (guitar), Bartollo (bass) & Dügy (drums). The CD consists of 9 blasphemous pieces, which are about to crush your brain not only sonically, but lyrically as well. The band plays very tight plus knows the ultimate combinations between harmonies and brutality, which led them to create a perfect essence of dark arts. However, the albums of such huge hordes as BEHEMOTH, KRISIUN and IMMOLATION had a very big impact on HELL UNITED's musical substance. Still it doesn't mean they have nothing own to offer, just keep in mind the mentioned analogies. In the 35 minutes of "Aura Damage" you can witness the sheer power and immense brutality of the strong yet devastating unit called HELL UNITED. Throughout their tunes you will definitely bump into some really high-speed double bass attacks, morbid invocations, obscure blackish atmospheres and solos from the other side. A must for all the fans of Death & Black Metal genres! Can't wait to check out their forthcoming release, hopefully it will arrive sooner than I assume!
HELLBRINGER
"Hellbringer" CD 2011
(Iron Pegasus Records)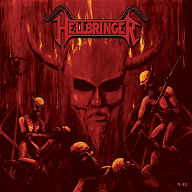 The debut album from this young Australian trio (formerly known as FORGERY) travels us to the good old past, when Thrash Metal dominated triumphantly the underground scene. I talk about the golden 80s. If you miss (or even missed) those times pretty much then HELLBRINGER is the right choice to remind you those musical spheres again! The album features an intro + 7 crushing die-hard Speed/Thrash tunes, which have been provided by the sound of the past (and mastered by Harris Johns) respectively. The band combines the magic forces of Luke Bennett (bass & vocals), Tim Sheppard (guitar & backing vocals) and Josh Bennett (drums). Musically we have a strong influence of the German Thrash triumvirate there: SODOM (definitely due to the riffing structures), DESTRUCTION (not just music-wise, but even vocal-wise too, just check songs such as "The Rapture" or "Spawns of the Void") and KREATOR (listen to their "Screams from the Catacombs" song and you will know what I mean), but I would also draw a strong parallel with Swiss bands CORONER & CELTIC FROST, mainly because of Luke's vocalizing manner. There's also a superb cover of ARMOURED ANGEL's "My Fist Your Face" song that supports the fact about the band's roots and dedication to the local scene! All in all, I really enjoyed listening their over 32 minutes long debut and would wholeheartedly recommend it to every die-hard Thrash & Speed Metal maniacs worldwide!!!
HELLEBORUS
"The Carnal Sabbath" CD 2016
(Satanath Records)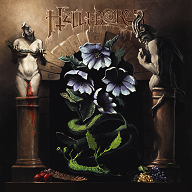 HELLEBORUS is a creation of the Houseman brothers known also from the Black/Death Metal entity called AKHENATEN. In HELLEBORUS the music is a bit different, I would say more mystic, grandiose, atmospheric and abstract at the same time. Still they use to compose songs mainly in the frames of Black Metal, more punctually in its symphonic vein. The nine tracks of "The Carnal Sabbath" debut album have been masterfully arranged, executed and armed with a top sound quality. The influences of CRADLE OF FILTH and DIMMU BORGIR can be heard in a few compositions, but still the USBM way is totally different in my opinion. For example in their "Temple of Seventh Death" the contemplative approach is just awesome, while songs like "Edge of Black Waters" and "A Gift of Renewal" start off with some really old-school Heavy Metal riffs, that are pretty odd for such music, but still work fine in total. They also like to incorporate relaxant parts in their music, thus I found their album good for meditation too. And as beseem for such a material it lasts almost an hour, well 55 minutes to be precise. You can order this CD directly from Satanath Records or have a listen to the entire album at the band's bandcamp site.
HELLSPAWN
"The Great Red Dragon" CD 2012
(Wydawnictwo Muzyczne Psycho)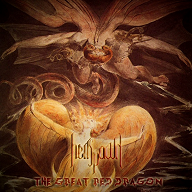 This is the second full-length album of this less-known, but really worthy Polish Death Metal quartet. To my surprise their 10-song repertory stormed pretty well in my ear-phones. Their tunes are very well-constructed and professionally recorded. Musically I would compare them to their most successful neighbours – BEHEMOTH – and their "Pandemonic Incantations" album. The riffing techniques, the musicians' overall skills and even the sound production are pretty similar to that era of BEHEMOTH. We have a deal with obscure fairly blackened Death Metal inferno. The greatest thing about this release is that it has no modern influences at all, everything kept in the old-school way of the 90s! Their tracks are full of evil energies, killer dynamics, fast blast beats and unmerciful vocals! The album lasts nearly 28 minutes, which one would say isn't a long album at all, am I right? But believe me it is simply ideal for this kind of sonic destruction as "The Great Red Dragon" crushes like a tsunami and songs like "Diabolic" or "The Greatest King Among Demons" display how proficient the musicians of HELLSPAWN are!
IBLIS
"Menthell" CD 2012
(Death To Music Productions)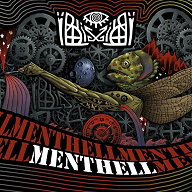 Rather innovative musical creation has been served on IBLIS' debut album. Kind of hard to categorize their musical approach, but epithets such as abstract, avant-garde and sophisticated are fit really well to their type of music. Indeed we have a deal with a very unusual mixture, which mostly focuses on Black Metal style, but has lots of weird elements and solutions at the same time. This quartet is definitely about to explore new dimensions for extreme music in general. They create something really different from those musically "expected" bands. In some ways I would compare IBLIS to ENSLAVED (only recent albums to be compared to), EMPEROR (due to technicality) and MAYHEM (reminded me pretty much Blasphemer's guitar sound and playing technique too), but "Menthell" is an album you should better to listen to, because it is full of unexpectedness and musical virtuosity. Eight songs are about to catch your attention, to leave your mind free and to dive into the world of unexpected. The album comes with a flawless sound production, especially I liked the guitar sound (which is so massive yet still one can hear every single note played) and those funky bass lines, but I would also pick out those impressive vocal parts and storming blast-beats. All is left to say, order this 33 minutes long masterpiece and welcome Post-Modern Black Metal!!!
IN TORMENTATA QUIETE
"In Tormentata Quiete" CD 2005
(Dawn Of Sadness)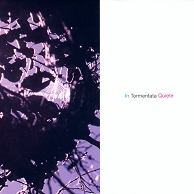 ITQ was formed in 1998 and after a promo in 2000 they have finally out their debut album. The info sheet says they are playing neo-folk gothic Black Metal. Indeed, all these elements can be clearly found during their nearly 47 minutes long CD. Moreover, the eight members (!!!) of ITQ have managed to catch the right proportions between the aforementioned genres almost in all their songs. There are 9 compositions in total, which musically reminded me the style of CRADLE OF FILTH. I suppose it's also due to their high-pitched vocalist's close manners to Dani. Fortunately, the band operates quite a lot with acoustic & folk-oriented inclusions, thus keeping the overall CD pretty varied. It was great to notice the Italian lyrics there, which definitely add a special atmosphere to the whole material. I also found the presence of 3 vocalists too much, but if it couldn't be reduced, be it so. The album sounds very good and I am sure this line-up made it with big ease! Hopefully the team of ITQ will reach more originality with their next release! Until then fans into epic & folk Black Metal can try out ITQ's debut!
INFERNAL DEATH
"Gniew" CD 2012
(Wydawnictwo Muzyczne Psycho)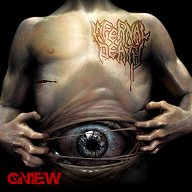 Despite this band was formed in 1991 (but then split up in 1993 and became active again from 2009) their heritage is pretty small. Having a couple of demos on their bill the first full-length album came out only in 2012. The main influence as one can already notice by the band's name is the mighty DEATH, especially their "Scream Bloody Gore" masterpiece. The 10 songs of "Gniew" musically reflect those plain riffs, but unfortunately the lack of originality is totally audible in their repertory. The sound production is raw and close to those times when DEATH, AUTOPSY, MASSACRE, INCANTATION and other classic Death Metal bands ruled the scene. Moreover, the 5-piece eagerly spices up their songs with some Thrash Metal vibe, which is cool indeed plus a big dose of blast beats are also presented there. Their lyrics were written and sang in Polish language, this fact in my opinion can be taken as an exotic approach. As a bonus the CD contains the band's 1991 demo called "Twilight Tales". The sound is quite bad there, but being restored from some old archive cassette it is still interesting to listen to it. The only thing I wish for INFERNAL DEATH for the future is to find their own path and try to sound less like old DEATH demos!
INHUMATE
"Life" CD 2004
(Grind Your Soul)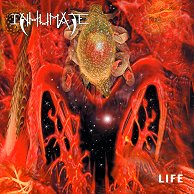 If you search for some fresh yet chaotic Grindcore stuff supported by some really weird and awesomely executed vocal parts, then this is it! Stop searching, because these French freaks, namely Christophe Knecht (vocals), David Loessl (guitar & backing vocals), Frédéric Anton (bass) and Yannick Giess (drums), have placed their musical abnormality to a new level. Continuing as well as expanding further the terrific formula unleashed on "Growth" (2000) the band incorporates the craziness and high-speed riffing manner on a top level here. Their 4th album has been aptly titled "Life" and it is the middle album of the concept, which on the one hand illustrates the maturity of a life and on the other hand the accelerating progression of INHUMATE. It gathers 16 pieces of totally sick and abnormal Grindcore insanity. The well-guessed mixture of speed and dynamism is the key for their creativity. There's really no time to think about any thing during their almost 42 minutes long repertory. "Life" makes your head banging all the way until it becomes definitely paralyzed. To all this you can add a massive sound production, which is pretty clear and brutal at the same time. Oh, and if you need some more INHUMATE madness then you have to check the multimedia part of the CD that features tons of great shots, discography, artworks as well as 3 live videos taken at the Obscene Extreme Festival in 2003. I think such a large amount of audio/video brutality should please every grindcore freak. By the way, front cover artwork by Jon Zig!!! Preferred tracks: "A Trip", "Sickness is the Law", "Life?" (it contains a bunch of live tracks).
INTERITUS
"Frozen Darkness" CD 2005
(Élysion)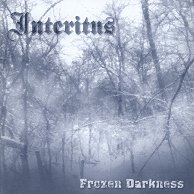 INTERITUS combines from the following musicians: Ioannes (guitar/vocals), Bára (vocals/flute), Honza (bass), Ota (guitar), Nicko (drums), Andrea (keyboards) and Vítek (viola). As you might noticed there's a few classic-oriented instruments in the band. Right, the 7-piece plays slow-paced, rolling Doom Metal with enchanting female vocals and beautiful yet classic accompaniments of flute and viola parts. The music they play over their 47 minutes long material was pretty well-composed, arranged and executed. It's just OK, but nothing new was done along their 11-song repertory. We have a deal with a decent album that was mainly influenced by Baroque music. I can more or less remember the harmonies of some songs for a short time (e.g. "Deep in the Pain" and "Frozen Darkness"), though it's hard to figure out them later on as most of the parts/structures were done earlier by hundreds of doom acts as well. It's a pity, but nowadays original doom bands are really scarce. Can't complain to the sound production neither as every instrument can be audible perfectly. So all is left to say, fans who want to fill in the emptiness in their collection with a decent Doom Metal band from Czech Republic should take their hands on this release.
IRATUS DOMINUS
"Dispatch The Incarnation Of God" CD 2005
(The Flaming Arts)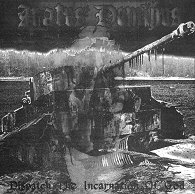 Included are 7 songs of antichristian Black/Death Metal in the most intense form of it. The Belarus trio – Wrathodd (6-string desolation, chaotic mouth), Werwolfe (4-string disaster) and Forneus (drumfire) – mixes rather well the technicality of Death Metal along with the rawness of Black Metal. Rough uncompromised music is what we are going to experience throughout the nearly 36 minutes long material. The band displays a quite sinister attitude both music and lyrics-wise. Here you get some song names to decide for your own their lyrical approach: "In the Name of the Reversed Cross", "The Chris.t.slave", "Coronation of the Self-God" and "Desecrated River of Life" to name a few. Well, the production on "Dispatch the Incarnation of God" is very good even if I suppose it was a totally home-made recording. All the instruments sound very clear and the overall sound is simply killer. Congratulation guys! The album storms like a tornado and has a definite "kill the christian filth" motto. This CD will surely please fans of BEHEMOTH, HATE and MARDUK, but it's warmly recommended for fans of extreme Death Metal too. For example, the song "Plague Spreads Decease" has some MORBID ANGEL- and NILE-type riffing, which I really enjoyed. Keep it fierce and blasphemous guys! All is left to say, beware IRATUS DOMINUS the destroyer!
KILL WITH HATE
"Voices Of Obliteration" CD 2012
(PRC Music)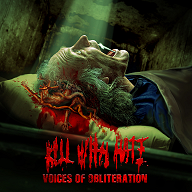 Hungarian Death Metal machine KILL WITH HATE storms pretty well on their debut full-length album. The 5-piece squad perfectly combines the fastness, brutality and technicality of the US Brutal Death Metal bands along with the classical yet obscure attitude of the European hordes. I would say a right formula with right proportions was applied for the songs of "Voices of Obliteration". Some modern & experimental elements were also used there (in songs like "Doubt", "Imprisoned" & "Speech of the Defendant", just to name a few), which were meant to variegate the overall material as there's no doubt that brutality dominates most of the time in their repertory. At the end we have a salutation to the heritage of an old Hungarian Death Metal band EXTREME DEFORMITY in form of a cover song called "Internal". Very well executed one! In total there's 39 minutes of professionally recorded and served Death Metal madness! Sure to hear more about this band in the future. Support them and order this great piece of massive killing and destruction! Thanks to Szandra for giving me this killer CD!
KLIMT 1918
"Undressed Momento" CD 2003
(My Kingdom Music)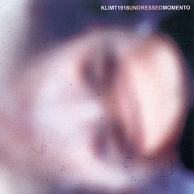 Hell, it will be a big challenge to criticize this album for me. Why? Simply, because it is the very first time I write review on such a material. Do you know what Post Modern Art is about? No! Me too, he-he... But for a better understanding I will provide you some additional information hereby. To get the right description of such a style you have first to imagine a mix between avant-garde sounds, alternative gothic metal and extraordinary new wave moments. Secondly, we can come closer to their post modern way of thinking by naming a few common acts, e.g. ANATHEMA, MY DYING BRIDE, KATATONIA and OPETH should be mentioned from the metal spheres, while THE BEATLES, THE CURE, FIELDS OF NEPHILIM from the pop & rock genres. The sound production of "Undressed Momento" is pretty focused on softness and crystal clear interpretation of each instrument. It was provided by their mates (Giuseppe Orlando & Massimiliano Pagliuso) from NOVEMBRE. They helped them out not just with their professional assistance, but with additional orchestrations too. The album lasts 47 minutes and consists of 9 post modern tunes filled with deep emotions, melancholia, desolate atmospheres, vibrant guitar passages and way too intimate vocal parts. The latter one pushes the album mostly to the fields of rock and even softer music, because for example their last song "Stalingrad Theme" is quite heavy with all those fast double bass attacks used there and with deep growls it would definitely sound heavier and just killer to me. The same goes to the beginning of "That Girl", which reminded me quite a lot MY DYING BRIDE music-wise. But these are just my personal remarks; don't take them seriously, because I am more than sure fans of Post Modern Rock music will definitely price this album! At the end, find enclosed some facts about KLIMT 1918 itself. This Italian band was formed in 1999 by Marco Soellner (guitars/vocals) and Paolo Soellner (drums). Later on Davide Pesola (bass) and Alessandro Pace (guitars) joined forces. Their debut album "Undressed Momento" was recorded at Outer Sounds Studios in July/September 2002. And now if you think it's the music you are searching for, go and get it by ordering it from My Kingdom Music!
LACERATER
"Nessun Urlo Nell'Ombra" MCD 2007
(Self-released)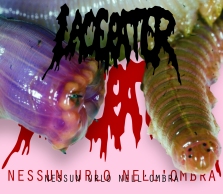 I have the pleasure to introduce you this young but quite promising Italian Death Metal quintet! LACERATER was born in 2002 and before this MCD they've managed to record 2 demos. On this MCD their line-up is: Antonio Susca (vocals), Marco Lambertini (guitar), Stefano Sabattini (guitar), Marco Zirondelli (bass) and Riccardo Grechi (drums). LACERATER plays in a kind of very groovy Death Metal style and as nowadays bands aren't fear to incorporate as much as possible brutality and melodic passages to their repertory. I don't know why, but when I listened first to their music it reminded me very much KATAKLYSM's "Sorcery" album. Maybe due to the special arrangements and vocal parts, which are all in Italian, by the way! The atmosphere is pretty same too and the riffing solutions are also above average. These 4 songs have been quite precisely built up and yet executed plus have to add that an awesomely good sounding production unites them. Eagerly waiting their full-length album as I really enjoyed listening to this 14 minutes long material. Keep it this way dudes!
LIKE FOOL
"Pustte Nás Dál" CD 2005
(Élysion)
Now imagine a mix between SEPULTURA's groundbreaking "Roots" album along with a massive SOULFLY influence (of course) and for example the latest AGNOSTIC FRONT release. Well, maybe it's not too precise, but LIKE FOOL plays "modern" hardcore with the aforementioned mix plus lyrics in Czech language. The 5-man performs us groovy guitar riffs along with roaring bass lines, dynamic drum patterns and the usual sharp shouting vocals. There's really nothing special about them. Typical stuff with native lyrics, that's all. If you didn't experience a Czech hardcore band so far then it will be a good choice for you and for them as well. You'll get 12 songs in nearly 43 minutes.
M.A.D & GOYA
"Put Olindrali Avlijanera" CD 2008
(Witches Brew)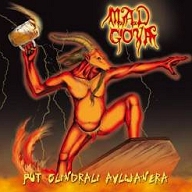 Not a fresh material so to say, but I've got it from Blaza a few weeks ago on my recent visit to Novi Sad. The CD features 2 albums by these Serbian Punk/Thrash/Crossover maniacs. Musically, the trio follows the path of the good old days of the 80s. It's maximally old-school, be it regarding their songs, lyrics, sound or visuals. As a comparison I would mention the kings of beerthrash TANKARD, as they made a definite impact on the band's song structures and lyrical content. The first part of the CD contains 10 songs out of the "Put Olindrali Avlijanera (Road of shabby mongrels)" that was recorded back in 2007. If you like 100% die-hard & old-school metal music then this lyrically beer, alcohol & black humor filled stuff will be definitely for your taste. To spice up the mood in the right way they also included some excellent covers of BOMBARDER, S.O.D. and VENOM there. The second part features the band's "The Number of the Beers" material recorded in 2001. It has a bit rawer sounding, but still kicks ass. So you have 13 more reasons, oh pardon tracks, to have fun and bang your head until your neck breaks, he-he… And as usual, some more covers like "Death Comes Ripping" from MISFITS, "I Hate You" from VERBAL ABUSE have been added successfully there. In total there's 67 minutes of music + a multimedia part (video clip for their song called "Duha Je Ostavila Devojka?!"). All is left to say, enjoy the musical madness provided by these Serbian crossover-mongers!!!
MANIPULATION
"Ecstasy" CD 2015
(Satanath Records)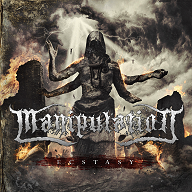 Let's imagine a musical alloy that combines the dark monumentality of BEHEMOTH plus the nowadays so beloved movement among the youth, which is deathcore respectively. The five members of MANIPULATION are skilled enough to bring you some super technical, ultra complex and heavy as hell repertory. Thus you can easily bump into a bunch of blasting machinegun fires with unmissable breakdowns, twisted guitar riffs spiced up with otherworldly melodies and fairly wicked vocalizing techniques. Musically it is a very variegated album so to say, but quite enjoyable and there's a big potential in this musicianship, just listen to their "Sunset over Vatican" song, which besides the marvelous soloing includes a decent dose of originality as well. Needless to say, the sound-production of the whole material is just crushing and as massive as possible. If you crave for extreme, here and there experimental but totally high-quality Death Metal made in Poland, don't hesitate to order the third opus of MANIPULATION! Worth to check out!!!
MASACHIST
"Scorned" CD 2012
(Selfmadegod Records)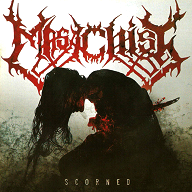 This is the second album by this all-star Polish Death Metal squad. The band features Pig on vocals (better-known as Sauron from his past works in DECAPITATED), Thrufel on lead & rhythm guitars (ex-AZARATH, ex-YATTERING), Aro on rhythm guitar (SHADOWS LAND, TORQUEMADA), Heinrich on bass (VESANIA, ex-DECAPITATED, ex-ROOTWATER) and Daray on drums (DIMMU BORGIR, VESANIA, ex-VADER, ex-PYORRHOEA and many more). The material on "Scorned" can be characterized as a precisely mechanized sonic invasion with lots of ominous background motives that mainly give an industrial touch to the songs. There are 9 crushing songs in total supported by a crystal clear yet super massive sound production. On the one hand, you can find there militarily marching themes as "Drilling the nerves", "Straight and narrow path" & "Inner void", while on the other hand, you can bump into a bunch of fiercely storming Death Metal cuts like "The process of elimination", "Manifesto (100% D.M.K.M.)" or "Liberation" just to name a few. The album has an awesome instrumental track called "Liberation Part II" as well. Sometimes I felt some kind of surrealism in their songs. If "Scorned" would be materialized on a painting then it would definitely display a post-apocalyptic vision! The cover art of Anna Rosól is also something to look and think for. I think the music of MASACHIST would be positively priced by any extreme metal music fan on the globe, but as an advice my recommendations are going at first to the fans of FEAR FACTORY, DECAPITATED and YATTERING!!! At the end I would like to express my gratitude to Marcin of Mythrone Promotion for this submission!
MERLIN
"Brutal Constructor" CD 2004
(GWN Records)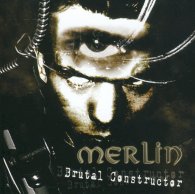 Fast, faster, even more faster. That is the recipe of MERLIN's new masterpiece. Unbelievable, but this band storms like a hurricane over their 32 minutes long Death Metal opus. There are 11 songs in total, but I can't even take a normal breath during their repertory as it combines from such a killer bunch of riffs and grind tempos that it just simply blows me away. Exciting and at the same time incredible the masterfulness of the band members. Unfortunately, it was the last album with the best Russian Death Metal drummer ever - Nickolay Byckoff. He died in a sudden car accident last year. We will definitely miss his talent in the future, rest in peace Nickolay. Maria Abaza (vocals/bass) still incorporates well her death shrieks along with some ultra guttural voices. Her bass work is also remarkable. And last but not least, we have the Ioffe-Nazarov pair, whose guitar technique is some sort of supernatural phenomenon. Especially wild is the soloing work! It's a pity, but it seems that I wouldn't pick any song above the other as "Brutal Constructor" features just flawless songs in my opinion! It's a blasting over-structured and over-brutalized sonic Death Metal annihilation! That's it! And to all this you can add two cover versions. One on DEATH's "Zombie Ritual" song that was, of course, merlinized and executed in a way that Chuck (R.I.P.) would also estimate outstanding. The second one is "Slaughter on Ice", which is nothing else than a classic Prokofiev cover! Again flawlessly executed and merlinized to the core! In a word, if you wish to be torn apart in circa 32 minutes then you should buy this incredibly ferocious record right now! MERLIN is for sure a band that widening the borders of Death Metal even further!
MOONFOG
"Cadaveric Changes" CD 2007
(Ukragh Productions)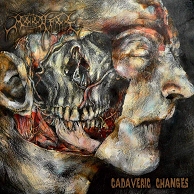 Hell yeah! Finally out the long-awaited new CD by these Slovakian deathgrinders! The core of the band is still: Peter Hija (vocals), Peter Hutyra (guitars, bass) and Marek Mikudik (drums). "Cadaveric Changes" combines 9 tracks of rather sick Death/Grind devastation in approximately 32 minutes. The trio does everything on a pretty high level due to the insane live activity they manage to produce lately! The new stuff is quite different from the 2 years ago released "Slaughter of the Fatstock" album, be it musically or sound-wise, it simply displays a band with another view and another attitude. So to say, the band progressed amazingly a lot during this 2-year period! Their new songs are totally crazy, full of energetic yet complex rhythmic solutions, furious guitar parts and extra guttural vocals. The guitars have been tuned as low as possible thus making the entire material sounding ultra sick. I would also like to point out Marek's unstoppable variations, especially hand-wise, because there's a hell of a lot of breaks, blasts and fills there. To all this you should imagine a very tough, brutal yet clear sound production! Their half an hour long repertory storms like a tsunami and there's really no escape from its massive sonic attack! The CD comes with a quality 12-paged booklet full of killer live & band photos + lyrics (there's even a bonus insert with lyrics in Slovakian language too) and if somebody needs more there's a video clip for "Coldness (Algor Mortis)" song + lots of interesting stuff in the multimedia part as well. Mental & physical satisfactions are 100% guaranteed!!! Go and get your copy now! Preferred songs are: "Blood Coagulation" (like the opening riff a lot!), "Gas Diffusion" (nice, melodic solo there) and "Autolysis vs. Putrefaction" (awesome that alternated riff along with those variegated drum patterns at the end).
MOONFOG
"Ordinary Misanthropic & Repulsive Anthems" CD 2009
(Rebirth The Metal Productions / Darzamadicus Records)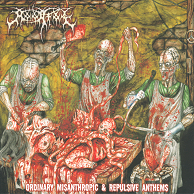 The latest MOONFOG album continues the well-guessed path established on "Cadaveric Changes", which in my opinion was more brutal, sick and insane. Still the new album kicks ass, but in a different way. With "Ordinary Misanthropic & Repulsive Anthems" the band reaches a maximally clear sound-production thus, of course, achieving less brutality, but, for example, all those fast riffs, which earlier sounded to me a bit chaotic now come in a rather crystallized way. I would say the band expanded pretty much its sounding and developed it to the next level. After the sinister intro called "Traumatic Prelude" we have a deal with 10 bone crushing, ultra technical, fast as hell and extremely repulsive anthems, which are all about to destroy and damage your nerve system. This sonic therapy lasts circa 34 minutes and guarantees all pleasures of the flesh & blood. Fans into gore lyrics will also enjoy the stories there, which are pretty meaty this time. They were laid down with the precision of a serial killer and executed in a sick as possible manner. The cover artwork supports the sick tendency of the lyrics and appropriately displays 3 zombified butchers very busy with their dirty job. Conception-wise it's pretty similar to CANNIBAL CORPSE's "Butchered at Birth" cover. This massive album was recorded by the same trio as its predecessor was, i.e. Peter Hija (vocals), Peter Hutyra (guitars, bass) and Marek Mikudik (drums). At the end, let me mention some of my favorite throat-cuts out of the 11 songs, they are "Human Colony Collapse" (with its super fast tempo during the entire track), "Leprosarium" (love those catchy riffs & double-bass attacks) and "Use Me for Torment" (simply awesome blasts and energetic riffs there). All is left to say, the doctor wholeheartedly recommends this brutal Death/Grind recipe for all the crazy underground freaks out there.
MYSTERIA
"Temple Of The Scorn" CD 2008
(Pagan Records)
Starting with a BEHEMOTH-like song "Mulla Xul" the band is about to offer a high quality Death/Black Metal release during its 50 minutes entirety. But I wouldn't call their music standard at all, because the five members of MYSTERIA make sure to have lots of stylish experiments and strange instrumental approaches used there. They kindly operate with 80's Thrash Metal vocal-manners and even clear voices in most of their tracks. To all this I can add that the musicianship is pretty experienced and builds up from legionnaires of such known Polish hordes as EPITOME, PATOLOGICUM, HALUCYNOGEN, ESKATON and THY WORSHIPER just to name a few. Whilst listening to the twelve compositions of the "Temple of the Scorn" I've arrived to a conclusion that the band is still on the path of finding the right proportions between their influences to create their own kind of musical approach. It's a pity they are on hold actually, 'cause the NILE-like or let's correctly say Arabic motives were rather prosperous in my opinion. It was also weird to find a song like "Cold Generation" there, which was totally influenced by SEPULTURA's "Roots" masterpiece. The CD contains a few acoustic passages as well, which I felt reminiscent of medieval folk and classical music. In a word, this is a variegated album. So if you are in search for some unusual metal release give a chance MYSTERIA!
NAPALM DEATH
"Smear Campaign" CD 2006
(Century Media)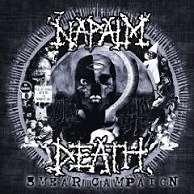 One of my friends gave me the NAPALM DEATH's "Smear Campaign" promo to check it out and to write a review. The CD was already covered with dust when I finally found a spare minute to listen to it. Actually I'm not a fan of the band and this is because I have never listened to them nor read about them up till now. Of course I've heard about NAPALM DEATH's accomplishments but somehow couldn't get myself to listen to them. And now I join the army of the band's fans.
The story of NAPALM DEATH's life is even longer than mine. They've released 13 albums, were the first band to play the style that later came to be known as grindcore, were included in the Guinness Book of World Records as writers of the shortest song ("You Suffer" from their first album "Scum"), and also lost one of their band mates Jesse Pintado.
And now to the point. What is smear campaign? It is a deliberate plan to tell untrue stories about an important person in order to make people lose respect for them. "Smear Campaign" is also considered to be one of the best NAPALM DEATH's albums. The main lyrical focus is criticism of the United States Government and other governments, who are strongly religious, take, for instance, the title of the song "Puritanical Punishment Beating".
What is characteristic of most grindcore bands is that the vocals tend to be monotonous but this is not true of "Smear Campaign". They are switching from low growls to high shrieks during the 45 minutes' play time. As for drumming, I would call it typical death which includes lots of fast blasting. The whole album is an insistent blend of noise, riffs and catchy melodies.
The opus starts with "the pain of the world", i.e. "Weltschmerz". A fantastic instrumental track with some piano added and a voice with intonation like that of Hitler's in the background. One of the most vigorous tracks on the album is "Sink Fast, Let Go". It is skillfully performed with a wide range of vocals. The next track, namely "Fatalist" reminded me of SLAYER. The drumming is notable for being filled with energy. Another one worth being mentioned is "In Deference". It is extremely rhythmic and features a guest appearance by Anneke van Giersbergen – vocalist for the Dutch band THE GATHERING. As for "Short-Lived" I can't help repeating "In and out of boxes and herded into packs...". It has some punk features that make it highly dynamic. "Shattered Existence" is, to my mind, a logical and musical continuation of the previous one called "Identity Crisis". "Eyes Right Out" is melodic and the lyrics is like a list of instructions to carry out. Another one, "Rabid Wolves (For Christ)" will definitely become the favourite of every extreme music fan. Seeing is believing but the guys from NAPALM DEATH say, "Believing is deceiving". You're expecting something special from "Persona Non Grata" at the beginning. And it definitely surprises you by the way it is performed, by some clear vocals towards the end of the song and of course by some really cool riffs in the end which later on turn to be the beginning of the next track. The album ends with "Smear Campaign" which differs greatly from the rest of the album, first of all due to the vocals. The lines are moshing inside of your head all day long.
NEGATIVE FACE
"Stín" CD 2005
(Élysion)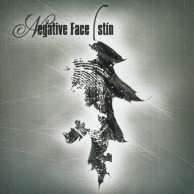 This band used to call their style earlier as experimental positive music (why then the bandname is negative?). Well, it was and still really strange categorization, isn't it? OK, to make clearer the musical direction of NEGATIVE FACE I will tell you they play progressive Doom Metal with elements from almost all the musical genres, beginning with classic, jazz, fusion, rock, whatever up to Death Metal. Vocals are as varied and limitless as the music itself. There are so many instruments and influences involved that I fear even to count them, ha-ha... The band or I should say the team (11 people in total???!!!) has a big potential undoubtedly. But to be honest this kind of abstract yet meditative music isn't for me at all. It's looking more like a cocktail of every style known. There are 10 songs in about 38 minutes supported by an excellent sound production. The CD-packaging is also remarkable. I can advise this band for people who simply like good music without borders and without exact style-categorizations.
NERVOCHAOS
"Quarrel In Hell" CD 2007
(Ibex Moon Records)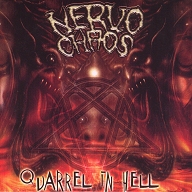 It's the third album by this antichristian Brazilian Death Metal horde. I would say the quintet plays typical Death Metal, 'cause there's really nothing captivating in their 48 minutes long disc. Even the appearance of such special guests as Alex Camargo (KRISIUN), John McEntee (INCANTATION), Emperor Magus Caligula (DARK FUNERAL), Sanguine & Wrath (AVERSE SEFIRA), Mark "Barney" Greenway (NAPALM DEATH) doesn't helped them to get an extra interest to their material. The plain guitar riffs, monotonous vocal parts and the drummer's total lack of fantasy during the entire album makes me sleepy. I really wish this band to have better albums out in the future, 'cause the actual 10 compositions are bored me to death. At the very end of the CD, you can taste a cover on MOTÖRHEAD's mighty "Iron Fist" song. Unfortunately their version became as it was expected really boring. SODOM has done a flawless cover of that particular song back in 1987!
NOMENMORTIS
"Forget Arcadia" CD 2011
(Darzamadicus Records / Sevared Records)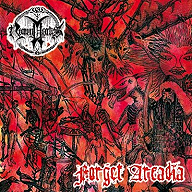 NOMENMORTIS is around us since 1992 and this is their fourth full-length album to date. The band was always mixing the most extreme forms of underground music. "Forget Arcadia" can be divided into 3 parts. First part including their new effort in 14 tracks (circa 46 minutes), which mainly reminded me the first 2 records of CARCASS, so you can expect a fast, unmerciful, non-stop blasting mixture of grindcore with a sound that perfectly fits this kind of extreme music! Recording line-up was Martin (lead vocals – the only member who left since 1992), Adam (guitars, bass, backing vocals) and Neptun (drums). Fans of old-school grindcore musick will definitely enjoy this sonic massacre! The second part features an old, maximally fastened up, song from the band's 3rd album re-recorded in 2011, so the sound is as massive as for the beforehand mentioned 14 cuts. Then we have the third part that gathers 6 more tunes taken from the unreleased "Loathspells" album (2009). These tracks have a little bit chaotic mixing, but they still do a pretty awesome sound effect. Somehow it reminded me in some ways GORGUTS' latter over-brutalized era. So in total we have 21 lethal pieces to select from. Get this devastating CD right now!!!
NORDAFROST
"Back To The Shores Of Grey" CD 2008
(Heavy Horses Records)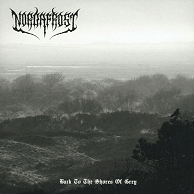 The story of this German Black/Death Metal horde starts in 1996. Since that time the band's arsenal has been enriched by a demo from 2003, a full-length called "North Arise" from 2004, a split 7" from 2006 and now with their second album to date. "Back to the Shores of Grey" stands for raw & uncompromising Black/Death Metal exclusively. It captures 9 songs of an apocalyptic vision to come. The grimness, the aggression and all those dark atmospheres the band operates with are not simply common, but a must for these underground styles. This album won't open the gates to something new or undone before as it features all the traditional marks & melodies these styles produced over the years. Anyway, it's a great album, which has just awesome tunes and destroying sound qualities to perceive. The vocal abilities & the overall execution of them reminded me Abbath of IMMORTAL very much, while musically I have to draw NORDAFROST a shortcut to the Scandinavian scene, especially to bands such as NECROPHOBIC, DISSECTION and the aforesaid IMMORTAL. If you are upset about the freezing sounds of the north then this album is what you are searching for. Get obsessed or curse instead!!! Preferred tracks: "Cursed Despot", "Carnal Worship" and "Aversion".