I've had a pretty quick and rather gripping transmission with Nicklas Rudolfsson (guitar/vocals) of Runemagick. The Swedish death/doom metal quartet has really a lot to offer to their fans these next months. So read attentively our outcome below and join them in the desolate realm of doom!!!



Your 14th long play "Into Desolate Realms" will be out 25th of October, 2019 via High Roller Records. Preceding that "The Opening of Dead Gates" EP will arrive on the 27th of September, 2019. Please tell us more about these new Runemagick releases and their content. By the way, how did you hook up with this awesome German label?
- When we recorded the album the material was a little longer than planned so in cooperation with High Roller Records we chose to split it into two editions, an EP and an LP. The CD version of the album will contain the songs from the EP as well.
Our impression of High Roller was that it would suit us even though they do not have so many bands in our slightly narrower genre of death/doom kind of metal. But we had heard a lot good about the label from friends in other bands who are signed with them. We made contact with each other and agreed to release our upcoming album there.
On the recordings for these upcoming materials you've worked along with Andy La Rocque at Sonic Train Studio and with Johan Bäckman at Raven Noise Studio. How many hours did you work altogether and how many songs were recorded in total?
- We were in the Sonic Train Studios for about a day and a half. We rehearsed, wrote the final arrangements and recorded drums. Andy engineered the drum recording. Guitars, bass and vocals were recorded for a few days in several places like at home or in our rehearsal room.
Johan Bäckman has mixed and mastered the album in his Raven Noise Studio. He also provided some input during the recording.
Two tracks, namely "The Opening of Dead Gates" (single version) and "Necromancer of the Red Sun" (extended single version), have been already premiered at your online platforms. Both sound massive and spread your kind of post-apocalyptic death/doom metal vision the proper way. Where do you find and get the inspiration to write such excruciating and convulsing riffs?
- It's hard to say, it comes by itself. There are certainly many sources of inspiration. Everything from what you have listened to yourself over the years and other various things that can provide input.
Can you please reveal the lyrical substance of "Into Desolate Realms"? What motivates you lately to still write lyrics about death, doom, darkness and magic?
- That's probably a bit of the core of that style of music. Have been doing it for so many years now so it just rolls on. The downfall is somehow interesting to write about, in different ways.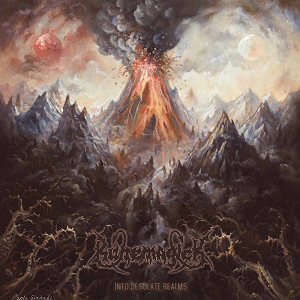 The cover artwork for "Into Desolate Realms" was painted by Paolo Girardi. Pretty much fits the title. How this cooperation came about?
- He is obviously a good painter and his style fits us. We contacted him and sent over a simple sketch of what we thought fit the title. He painted along it and it became very good. We are very pleased with the cover art.
You have a really extensive discography, that's for sure, and besides the approaching new materials there were already two DLP reissues done by Hammerheart Records and a limited cassette version of the remastered "Enter the Realm of Death" album released through your label Nirucon Productions, all this year, and still a lot more have to come, like the Runemagick/Chthonic Deity "Chthonicmagick" split LP on Parasitic Records, the "Darkness Death Doom + Moon of the Chaos Eclipse" 2CD long box reissue on Ablaze Productions, a 3CD reissue on Archaic Sound, etc. Simply amazing this bustle around Runemagick and that's a great thing indeed. How do you feel about it and the growing interest to the music of your band?
- We have been kind of inactive for some years 2007-2017. So you can say that we have a backlog of requests from fans and labels that we are now trying to catch up with. Maybe there will be a bit too many releases now during this year, but we hope our fans will enjoy it.
Of course, it is honorable that there are people who like what we create and release.
You are performing live really seldom. Why is it so? However, I've noticed that you've been already booked for 2020 for the following festivals: Dark Easter Metal Meeting, Netherlands Deathfest and In Flammen Open Air. That's awesome! Do you plan some special setlist for those festival appearances? You've recently played at Party.San Open Air festival. How was it? Share with us your impressions.
- We all have a lot to do with other bands/projects, families and work, etc. That's why it's hard to play live a lot. As it seems now, we only have the opportunity to do a few gigs a year.
We have not decided which songs we will play at the festivals next year, but it will be a mixture of old and new.
The Party.San festival is really, really good! Unfortunately, we had problems with the sound on stage so we had a little hard to do our best without good hearing. But as I said the festival is over all really good. One of the best in Europe I guess.
Nicklas you are involved in so many bands currently, like Sacramentum, The Funeral Orchestra, Saltas, Domedag, Heavydeath just to name a few. How the hell you get the time and inspiration for all these bands? By the way, really interesting fact as for me that you are going to perform with Sacramentum the "Far Away from the Sun" album in its entirety on some shows in 2020. Will there be just a few exclusive shows or you're planning to record a new full-length album with Sacramentum too?
- I have a lot of inspiration, am creative and constantly doing something. Never watch "TV" or anything else that takes time beyond the rest that is important in life so to speak.
Never thought I would play with Sacramentum again, but when I got the question during the summer I chose to say yes. Right now it's only planned to do a few gigs during 2020. We'll see it and what happens next. Am not very fond of playing drums and I have to start practicing it again this fall.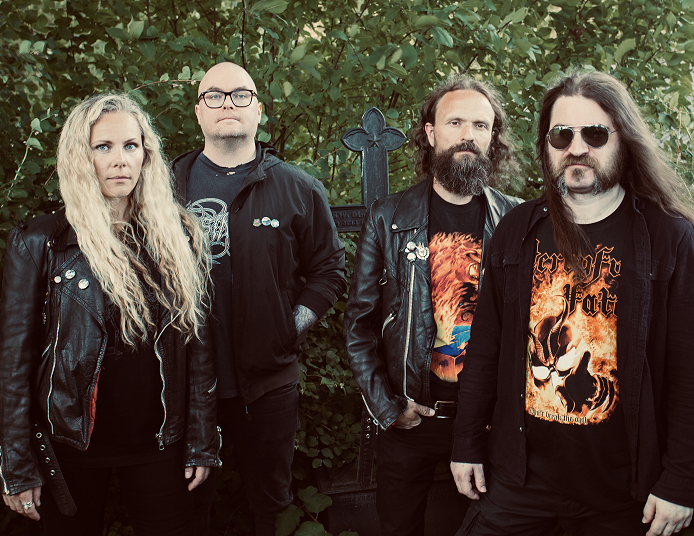 I am also very impressed on the amount of bands you've produced, engineered, mixed and recorded so far. Plus, you're also painting artworks, doing logos, designing layouts, etc. Crazy how multi-talented you are. Where did you learn all these magicks?
- I am creative and like to create. Self-taught on everything. So it becomes as it gets at times, everything is really far from good. But as long as I feel good about creating and the creativity is there, I will keep going.
Thank you very much Nicklas for taking the time to answer my questions. Please finish the interview by sending your dark spells in a written form to the Runemagick fans of Transcarpathia.
- Many thanks for the interview!
I hope you all will enjoy the noise of death and doom with "The Opening of Dead Gates" and "Into Desolate Realms"! And don't miss the split vinyl with Runemagick and Chthonic Deity!!!