The German band named as Bonded should sound fresh to all the fans of Thrash Metal, but it unites well-known and experienced musicians and that's for sure! I've sent my questions to their drummer, i.e. Markus "Makka" Freiwald, who answered them in details. So read on and get maximally bonded!!!



Hi Makka! First of all, let me congratulate you on behalf of all the diehard Thrash Metal maniacs worldwide with the formation of a new beast called Bonded! How long did it take you to find the right musicians as well as to compose new material?
- Hi, thank you very much. We really appreciate your support after such a long time without hearing from us. Actually it took us the whole 2018 year to find all band members and to write songs, etc.
Last December you've teamed up with producer Corny Rambadt, who also known as drummer for Onkel Tom. You've managed to record a 4 track demo. How was it to work with Corny again? Tell us more about the new songs and the studio session itself.
- Yes, we did. Corny was and still is our first choice when it comes to recordings, etc. We always have been in contact with him after the split with Sodom, so the decision to ask him to help us to record a demo was pretty clear. Except for the vocals we recorded everything by ourselves in the rehearsal room. Corny got all files, recorded the vocals with Ingo and did the mixing right after. It is so easy and relaxed to work with him and so we decided to record the upcoming album definitely with him.
Will that demo be released shortly our you are planning to conquer the masses with a full-length record in a while more? Asking it, because I've just noticed at your profile that 9 songs have been already recorded and you also wrote "a few more will follow soon". Are there any label interests towards Bonded yet? If so, please share with us the winner label.
- We didn't think about releasing the demo yet. We only wanted to get an idea of how the songs work for us and the fans. It might be that we are going to release song after song like singles on Facebook. We already started to record the album, that's the reason why I posted on my profile that 9 songs have been recorded already.
During the 2018 year we were able to write 43 songs in total and we are in the comfortable situation to choose the best songs out of these. We are going to record 15 songs for the album, so we can still choose the best out of the 15.
Indeed, we have some labels, which are interested in Bonded. The decision what label will be the "winner" (I would say we will be the winner, because labels are interested in the band and this is more than we could have expected) is not made yet.
You've recently premiered the video clip for the song named "God Given". It's a punchy track for sure! Can you please reveal its lyrical content? Who wrote it and what kind of meaning it has?
- I have to ask Ingo about that. He wrote the lyrics and knows exactly what it means.
We had a chat and he gave me the following answer: "God Given" is a track with a very personal note within the lyrics, and intentionally offers the listener some space for own interpretation! Beside that you may say the main content deals with the loss of personal freedom as contribution to a greater good!
Besides guitarist Bernemann we can also welcome Marc Hauschild on bass, Chris Tsitsis (Destroy Them, ex-Suicidal Angels) on guitar and Ingo Bajonczak (Assassin, ex-Lord of Giant, ex-New Damage) on vocals. How did you hook up with them? Is there any kind of cool story or maybe coincidence on how they joined the band?
- We are really glad to have Chris, Ingo and Marc in the band. The hardest part is to find a vocalist, but with Ingo we've found the perfect solution. It took us ages to find him. His voice is simply amazing and his personality is great too. Chris and Marc are good old friends, they have been on tour with us for a long time and we know each other like brothers. They both are great musicians and they fit perfectly to the band......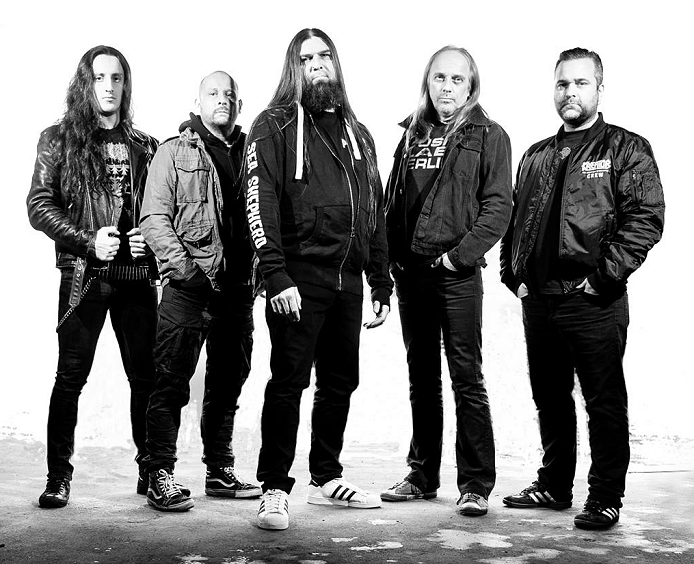 When did you start to play drums? Can you remind what motivated or who influenced you back in the time? How old was you at your very first live show? What memories left from that particular first show?
- I started to play drums when I was 15 years old, actually too old to start playing an instrument, but who cares... hahahaha. I was motivated by my father's death. He was a musician too and when he died I felt like taking over his passion. I also had two friends who were playing guitar at this time, so we decided to form a band. The very first show was actually the strangest and coolest musical experience I've ever had. I even have a video of this show. The band was called Fangorn and we played together with Despair on one stage... That was awesome for us and I will never forget this great moment in my entire life. At this time Despair were heroes for us. We rehearsed in the same building as them, same as Angel Dust and Crows (Band of Bernemann and Bobby Schottkowski back in the days)...
Please list us what kind of gear you are using and endorsed by actually: drums, cymbals, pedals, accessories, etc. Also talk us a little bit about your daily routine as a drummer. Which are those exercises or warm-ups you always have to perform before a rehearsal or a live show?
- I am using the following gear and I am really proud to be endorsed by the companies, which will be mentioned in the listing.
Studio Drumset:
Tama Star Walnut Satin Charcoal Japanese Sen
2 x 22"x18" Kick Drums
10"x8", 12"x9" Tom Toms
14"x14", 16"x16" Floor Toms
14"x6" Starphonic Stainless Steel Snare Drum
Live Drumset:
Tama Starclassic Performer B/B Piano White
2 x 22"x18" Kick Drums
10"x8", 12"x9" Tom Toms
14"x14", 16"x16" Floor Toms
14"x6" Starphonic Stainless Steel Snare Drum or 14"x5,5" Starphonic Maple Snare Drum
Hardware:
Tama Rack system with Road Pro Cymbal Boom Arms
Tama Iron Cobra Pedals
Tama Iron Cobra Hi-Hat Stand
Cymbals:
2 x 16" Meinl Byzance Medium Thin Crash
2 x 18" Meinl Byzance Medium Thin Crash
1 x 20" Meinl Byzance Heavy China
1 x 15" Byzance Extra Dry Hi-Hat
1 x 14" Byzance Dark Spectrum Hi-Hat
1 x 10" Byzance Splash
Drumsticks:
Meinl Standard Long 5A
Microphones:
Audix and Audio Technica
Mixing console:
Allen & Heath QU 16
In Ear System:
Ultimate Ears UE5 pro
Fischer Amp Headphone Amplifier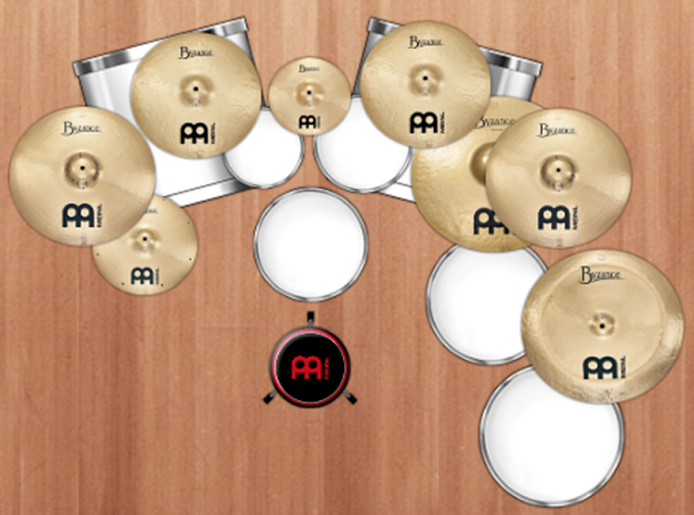 Of course, I have a daily routine and I try to practice at least 2 hours a day. Mostly I start to warm up with some rudiments on a practice pad and right after I switch to the drumset and play along with songs or try to intensify my bass drum and groove skills. There are so many things I could practice, but time is running fast, so I am not able to do what I should have to do.... I also have lessons once a week by my friend and teacher Hendrik Lensing, who is one of my favourite drummers. He knows how to kick my ass....
Since 2017 your former band Despair has been reactivated. What news can you tell us from that camp? I see two fresh members there, namely Marius Ickert (Destroy Them, ex-In Weak Lights) on bass and Marc Grewe (Insidious Disease, ex-Morgoth) on vocals. Do you plan to record some new stuff with Despair or the reunion was meant just in terms of playing live shows?
- Waldemar and I reactivated the band Despair just for fun in the beginning. Later we came up with the idea to re-record the first album "History of Hate" in a kind of modern way. Waldemar rearranged the songs. We are still in the recording process and we are trying to finish it soon. We are going to play some shows in 2019. Everybody in the band is involved in other projects and in their own bands, so we might not be able to play so many shows. I wouldn't say it is a reunion, like I said before, we did just for the fun of it. But you never know what happens in future.
You've been part of the Sodom history together with Bernemann for quite a long time I would say and it was totally shocking to read about your departure last year. What the heck happened? Is there any meaningful explanation for this? By the way, what do you think about the 2 new Sodom songs on the "Partisan" EP?
- Bernie was part of Sodom for around 23 years. I joined the band in 2010, so I was part for around 8 years. It was shocking for us too when we got the message via WhatsApp. We felt like somebody split up with his girlfriend without talking to her face to face. That was pretty lame and coward. Until now he never told us the reason why and we've never got an explanation. We tried once to talk to him about that, but he refused it. To be honest, I don't want to judge about the new Sodom songs. They will go their way and now they write completely different music then Bernie and I did for the last records. So, I think that I am not the right person to say anything neutral about their new songs.
Maybe it is too early to ask, but where can we catch and see Bonded playing live? I am sure, you are already have plans for that, right?
- Yes, we definitely will play live shows. We already have some offers and we are planning to be on the road as soon as possible. We miss to play live and we also miss the metal heads all over the world. We always had a lot of fun and we also found many friends on tour. It would be a pleasure for us to meet them again as soon as possible......
Thank you Makka for taking the time to answer my questions. Last bonded words are yours…
- After Bonded posted the statement and the song/video "God Given" via Facebook, we never expected such a good reaction from all over the world. We are very proud and would like to thank all metal fans who are still with us... BIG THANKS to all of you.....
Get "BONDED" with us and we will see you on the road soon.......