I would say TANKARD is really hyperactive lately. Their newest full-length album "One Foot in the Grave" was released in June, but they are already preparing a new version of the "Schwarz-Weiß wie Schnee" EP (which has been completely sold out for over ten years) to be released in September. I can't keep pace with them, hahahaha... Well, in the interview below we mainly focus on "One Foot in the Grave", but some interesting topics has been touched as well. Gerre was super nice and answered all my questions in details. Enjoy!!!



Hi Gerre! My congratulations to your recent album, the aptly titled "One Foot in the Grave", which is your 17th full-length album in the row. It has a massive sound production and all the beloved TANKARD trademark elements included there. I can calmly admit that those ten new songs are kind of balsam to the hearts of all the die-hard Thrash Metal maniacs worldwide. How do you personally feel about the new release and 35 years of TANKARD? Which songs from the new album will you definitely perform live?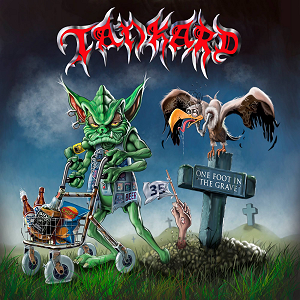 - Thanks a lot for your kind words, we are still really satisfied with the result and hope that the fans going to like that album too. The album title is not really seriously, a typical TANKARD joke, although we are very old guys, hahahaha....... After 35 years we had to do a break, so we are really looking forward for the next 35 years and still feel young! Of course, we're going to play the title track live, concerning the other songs we still have to discuss; it's not so easy to decide!
I am also happy to see the green alien figure on the cover again, which for the very first time appeared on the cover of the "Alien" MLP in 1989. Was it totally initiated by Sebastian Krüger back then or you've told him your strict ideas how the alien should look like? How did you get in contact with Patrick Strogulski? He did a fantastic job in recreating and rearranging the alien figure for the album cover of "One Foot in the Grave". Will you continue to work with him in the future?
- Mr. Strogulski was a student of mighty Sebastian Krüger, who did a lot of old legendary TANKARD covers. He worked the first time for us in 2012, creating the "A Girl Called Cerveza" cover. I really love the new cover, one of my TANKARD top five! As far as I can remember Sebastian Krüger created the Alien by his own....... And of course, we would love to continue the work with Patrick.
I've bought the digibook version, which comes with a cool bonus live CD, including your full set from last year's Rock Hard Festival. Nevertheless, preliminarily at the Nuclear Blast website it was said it will be released with a bonus DVD. What's up with that plan? Will that DVD come out a bit later separately?
The lyrical content became as interesting and variegating as usual. This time it captures a great mixture of thoughtfulness, violence, fun, truth and black humor soaked up with maximum number of beers. Whilst reading, one can get a pretty realistic interpretation about the things that irritate you the most these days. Does the actual situation look so pessimistic? Be it about today's metal fans, metal bands, social media, backstage experiences and the music industry in general.
- We always try to do a good mixture of serious and funny stuff. Nowadays we live in very strange times, so the focus is more on the serious topics. When we started with TANKARD we did a lot for that kind of image, later we wanted to get rid of it, we really failed. Today we going to make a lot of jokes about our own image, we don't take ourselves too seriously, we don't go blind through life, that's the reason for a song like "Syrian Nightmare"! On the one hand, it makes us very sad what happened over there, on the other hand, it makes us really angry, because so many countries are involved of that conflict, but nobody really takes care about the normal people, they have to suffer and die!
It was also nice to notice the assistance of Andy Bulgaropoulos in most of the lyrics. Do you keep in touch with most of the past members of TANKARD? Don't you plan some kind of special 35 years of TANKARD show with some of the ex-members?
- We still have a great contact with Andy and we are really thankful he is helping us with the lyrics. The other guys I didn't see for many years, maybe we going to invite some of them when we play here in our hometown city end of the year! Especially I really would love to meet our old guitar player Axel again.
Tell us a little bit about your lifetime friendship with Uwe "Buffo" Schnädelbach. How it all began? To me he's like a universal and full-time member of the band as well, an all in one person (manager, photographer, etc.). Do you have some funny stories to tell?
- Buffo is really something like the fifth member of TANKARD; he started managing TANKARD in 1986 after we released our first album. I did know him from the beginning or middle of the eighties, we both joined the fan club of VENOM called "Venom's Legions Germany", also Buffo did the POSSESSED fan club. We did a funny song about him on our new album called "Sole Grinder", so just go through the lyrics and you're going to find out something about him, hahahahaha.......
Andi besides tearing the strings in TANKARD is also very active as a sportsman. If I remember well he was nominated as an iron man lately, am I right? Would you please tell us more about his hobby and recent achievements? You are a big football fan. When it started? Which is your favorite football team and FC?
- Andi is really crazy about sports. I really guess it's something like a drug for him. He did the iron man and I think he will do this again. He drives a lot on bicycle, every day more than 40 km one way to his job, he is crazy! I visit the games of my team Eintracht Frankfurt since 1975; my father took me there when I was 8 years old. Since those days I am infected and try to visit as much games as possible, although we are often on tour at the weekends.
"One Foot in the Grave" was produced, mixed & mastered by Martin Buchwalter at Gernhart Studio. It was your very first experience with Martin. How was it to work with him? I know that it is too early to ask, but will you continue to work with him in the future?
- Although we were really satisfied with our old producer Michael Mainx we wanted to try something new with "One Foot in the Grave". We know Martin for a very long time, he did good productions and we are really satisfied with the result of the new album. It was a great experience to work together with him, he had a lot of great ideas, but we really don't know what will happen in the future!
"A Girl Called Cerveza" in 2012 marked your debut for Nuclear Blast Records. How was it to work with them for the past 5 years? What advantages or disadvantages they have compared to your previous labels, Noise Records and AFM Records?
- It really pushed TANKARD a lot. Our promoter Florian Milz is a great guy and he is really doing everything for us; that is really fantastic! Concerning the other labels, Nuclear Blast has more power and possibilities; we are 100% satisfied and hope to keep on going with them!
Thank you so much Gerre for taking your time to answer my questions. Hope you enjoyed our conversation. Please end the interview by transferring your greetings to all the true TANKARD fans and Thrash Metal maniacs in Ukraine.
- Thanks a lot for all your support in the last 35 years; we really would love to come over one day to have a great Thrash Metal Party together!