OBLITERATE
"Universe, Milk, Structures" CD-R 2018
(Independent)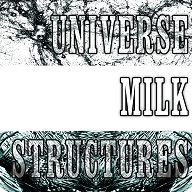 The latest 5-song EP from Slovakian grind innovators quite well displays the ever-expanding musical arsenal of our days. The quartet's new stuff became even more odd and diverse as its predecessors. The members, namely Gabriel Kunay (vocals), Ivan Babilonský (guitars), Stu Ragancík (bass) and Marcel Malega (drums), let in the influences from all possible ways, thus expect the unexpected there. The title track opens the EP and it grinds on well. Marcel hammers down some really sophisticated drum parts there, while Gabi brings his usual powerful screaming and growling manners, but what surprised me the most there is the ultra-melodious almost black metal fitting guitar harmonies of Ivan in the middle of the song. "Bio-Idiot" follows it with kind of totally different mix, but with the same power, grooves and oddity as in the title track. Then comes "Hnedá" (that means brown). It is a lengthy mid-tempo song with dragging guitar riffs and, of course, with lyrics sung in Slovakian language. The fourth cut is called "No!". It's a storming piece with lots of blast-beats, roaring bass lines, desperate screams and catchy riff structures. The last track of the circa 20 minutes long EP is named as "Cervená" (i.e. red) and it is a fully instrumental one with a calm, ambient-like atmosphere. As you see we've got here a rather variegated material. As for me it is really intriguing to imagine, where will they go musically on their next stuff!!!
OPPROBRIUM
"The Fallen Entities" CD 2019
(High Roller Records)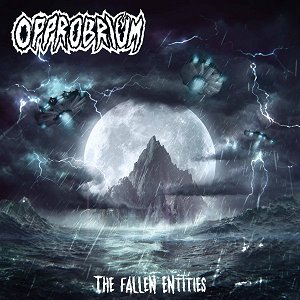 We had to wait a bit more than ten years for the new album to be released, but believe me it was totally worth the wait, as "The Fallen Entities" became fantastic in every possible aspect. The Howard brothers strike back with eight massive compositions that were written and arranged in the strict traditions of the beloved old-school death metal style. Their songs are full of dynamism, energy, characteristic guitar hooks, catchy melodies/solos and ultra-juicy drum patterns. The death grunts of Francis are of those notable ones, which one can recognize right at the first listen, they crush the same way as earlier or even better. While their previous album "Mandatory Evac" had a slightly poor sounding quality, here in the case of "The Fallen Entities" the duo managed to achieve a perfect sound production with the heaviness of ten thousand tons. The circa 42-minute album spins so smoothly that you will definitely crave to listen to it multiple times and that's for sure. I really can't pick you up any favorite songs of mine, because I like them all the same way. Killer material and a must to have for all the fans of Opprobrium!!! Hopefully we don't have to wait as long for their next album to come!!!
ORPHANED LAND
"Unsung Prophets & Dead Messiahs" CD 2018
(Satanath Records/Kattran Records/Wings Of Destruction)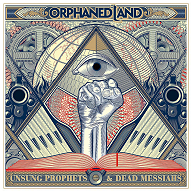 The Israeli pioneers of oriental metal have triumphantly returned with their best and biggest production up to now. Their 6th album was produced by the band itself along with Jens Bogren, who also mixed it in a fantastic way. The 13 featured compositions will guide you to the eclectic world of the Middle East. Their songs are so rich in arrangements that you will definitely need to give multiple spins for the disc to get into all the details and strange sounding instruments over there. Their music most of the time comes in a soft, peaceful yet super polished way, letting just a small space for their inner demons to materialize. Good example for the latter case is the tune called "Only the Dead Have Seen the End of War", which besides the furious growls of Kobi Farhi has the unique screams of Tomas Lindberg of At The Gates too. By the way, there's really plenty of great musicians guested there, too many to mention, but the names of Steve Hackett (ex-Genesis) or Hansi Kürsch (Blind Guardian) should be highlighted for sure. The album lasts nearly 64 minutes and comes with a vast 16-page booklet. Fans of folkish progressive music are warmly emboldened to get their hands on this special edition, which was issued under exclusive license from Century Media Records for sale only in Russia and CIS countries.
PANNYCHIDA
"Missense Mutation" CD 2018
(Satanath Records/More Hate Productions)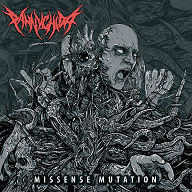 Never heard of this Russian death metal band before, but the biography says it was formed in 1992. Since its formation only Dmitry Trishin (drums) left. Besides him you can welcome the next musicians: Denis Semenov (vocals), Constantin Chetverikov (guitar), Elena Trishina (guitar), Stanislav Korchagin (bass & all guitar solos). "Missense Mutation" is the fourth full-length album in the band's discography, which consists of 9 typical death metal songs with all the lately used clichés. I really found nothing special in their music, except the ripping sound production. Unfortunately, it is the kind of release that won't have a second listening session. Don't get me wrong, the musicians are handling their instruments perfectly with a certain technical level and their songs really sound massive and professional, but the entire lack of interesting hooks, informative melodies, charismatic vocal parts makes a grey picture about the band itself. Super boring and monotonous these words appeared in my mind during the almost 42 and a half minutes long stuff. Let's hope there will be some positive changes both music- and idea-wise on their forthcoming fifth album!!!
POSSESSED
"Revelations Of Oblivion" CD 2019
(Nuclear Blast Records)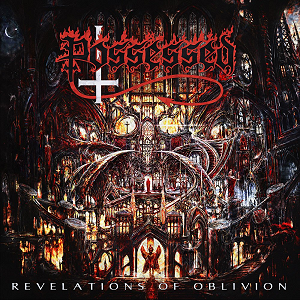 This year has already pleased us with a couple of extraordinary releases, but this one easily wins the first place in the category of death metal. Needless to say, every single Possessed maniac waited for this special moment to come for more than thirty years. Jeff Becerra (vocals, songwriting & lyrics) the only member from the very beginnings recruited some of the most talented, skilled and experienced musicians to complete the best possible line-up of Possessed. Indeed, it's the best studio and live line-up ever and besides Jeff you can greet the following relentless forces of hell: Daniel Gonzalez (guitars & songwriting), Claudeous Creamer (guitars), Robert Cardenas (bass & backing vocals) and Emilio Marquez (drums). This musicianship feels and understands Possessed's spirit and musical heritage so deeply and so well that every single note on "Revelations of Oblivion" sound the way it has to. It's like an ultra-crazy mixture and also the righteous continuation of the first two albums, "Seven Churches" and "Beyond the Gates", but you have to imagine a faster pace, a better sound production (thanks to the mastermind, we all know as Peter Tägtgren) and the whole material to be more evil and brutal. There are 12 songs in total with over 54 minutes of playing time. What you will get is an exceptional death metal record with bone crushing, gut ripping, ear splattering and mind twisting formula. Something we all waited for so long!!! To all this, I have to add the sick artwork created by Zbigniew Bielak, which maximally reflects the hellishness of the featured music itself. In a word, another milestone release was born!!! All hail Possessed!!!
PROTECTOR
"Summon The Hordes" CD 2019
(High Roller Records)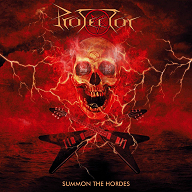 Since 2013, when the first reunion LP "Reanimated Homunculus" was released, the cult thrash/death machinery is making sure to return with a new album every three years. So here it is "Summon the Hordes". The third LP with an unchanged line-up of musicians, i.e. Martin Missy (vocals), Micke Carlsson (guitars), Matte Johansson (bass) and Calle Karlsson (drums). The 10 songs of the LP are sounding so much the 80s like that I really felt myself captured in a time machine (for 38 and half minutes) that was set to go back to 1986. So without any doubts, Harris Johns was the right choice to record this album with. He did a fantastic job that breathes with the true spirit of the past. Music-wise we have the same devastating alloy as it was used on its two predecessors, which I would explain as a mix of the early Protector materials with a slight touch of "A Shedding of Skin". During the songs of "Summon the Hordes" you will unwittingly bump into the unadulterated chain of super attractive guitar riffs, memorable refrains and everything that was meant old-school. The lyrics are dealing with rather different topics and will tell you stories about politicians, injustice, one historical battle, a dangerous animal, life on the road, partying, metal fans & bands, etc. The cover artwork itself, which of course looks great, is a kind of rearranged and repainted version of "The Return of Thrash and Madness" demo cover from 2011. To summarize it at the end, this is a damn good record that won't disappoint any Protector fan or any thrash/death metal freak of the globe!!!
SINISTER DOWNFALL
"Eremozoic" CD 2018
(Funere/Weird Truth Productions)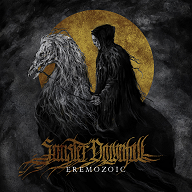 If you feel melancholic, if you crave for loneliness and wish to fit it with an appropriate musical alloy then the debut record by the German one-man unit Sinister Downfall will be the right choice. The kind of funeral doom metal enclosed in the four songs of "Eremozoic" is full of really deep emotional passages, ultra-slow cyclic motives that will lead your mind to the nethermost level of cogitation. Eugen Kohl (all instruments) did an awesome job in creating the most post-apocalyptic-like aural motion picture ever. The age of loneliness has begun! His growls are of those rather fearful sort and they spread only death and despair. The 41 minutes long disc flows so smoothly that one can easily forget to perceive the time and space. In general, it makes the effect of the everlasting journey into the domains of the timelessness and lifelessness. Pure art and magic is what happening there! Eugen Kohl, the sole member and mastermind of Sinister Downfall is also known from such excellent formations as Crypt Witch, Death Carrier, Donarhall, Hexengrab, Nihilisticon, Delens Humanitas, Leichenfrost, Nihil Eternal & Urschmerz. If you adore to listen to the funeral doom metal genre and to the ones like Bell Witch, Doom:VS, Funeral Tears, Remembrance, Shape of Despair, Slow, Clouds, et cetera, then definitely make sure to dig into the melancholic sounds & post-apocalyptic visions of "Eremozoic"!!!
STABBED
"In The Shadows" CD 2018
(Support Underground)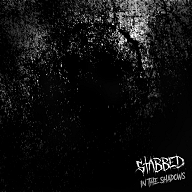 Slovakian quartet named as Stabbed was formed in the year of 2016 by the members of Alma Persona, Obliterate, Ortomen and V13ault. Their debut CD spins over 25 minutes and collects twelve short pieces, most of which lyrically filled with very horrific and murderous stories. The music itself is rather plain, but professionally played and recorded. Their repertory definitely rooted in the praise of death metal, but I wouldn't define it as old-school, although it isn't modern as well. It has lots of groovy hooks, singalongs, nerve-racking movie samples and stuff like that. I've really enjoyed listening to this short-running disc even though I felt the strong influence of the latest Obliterate materials pretty much there. The involved musicians were the following: Marek Kašcák (vocals), Ivan "Ivin" Babilonský (electric & acoustic guitars, back vocals), Ján "Stu" Ragancík (bass), Matúš Špak (drums, vocals) and Peter "Doomas" Bet'ko (guest vocals in the song "In the Woods"). In fact, "In the Shadows" is a really good start, and to be honest, I am already optimistic towards their next release, but let's see what the future will bring for the Stabbed ones!!!
ÑÒÀÕÀÍÎÂÖÛ
"Íèæå Àäà Óãîëü Åñòü..!" CD 2018
(Independent)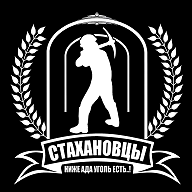 This amusing thrash metal band from Russia was formed in 2007. The current stuff is the re-recorded version of their same titled first demo material from 2007 plus an additional bonus track. So in total it features 12 songs with almost 36 minutes of playing time. The band claims they've invented miner metal. Well, indeed, all the lyrics deal with stories about coal miners, their hard job and their everyday life. To all this, I have to add the 100% mining conception, it goes to all their graphical designs and imagery too. The music itself is pretty plain, you should imagine punk and rock'n'roll music mixed up with elements of thrash metal. A few songs got synthetic and keyboard arrangements to even more emphasize the importance and spookiness of their lyrics. This recording was committed by the two main members, namely Nikolay Seredov (drums, vocals) & Artem Goncharov (guitars, bass and backing vocals), albeit guest vocalists were also presented there. The sound production is fair, but don't expect anything fancy there, ahaha... If you are a mineworker and also a metal fan, then this is the stuff you dreamt about all your life!!!
STAINED BLOOD
"Nyctosphere" CD 2019
(Independent)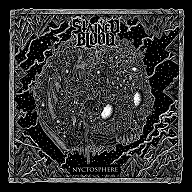 The CD starts with an eerie, ritualistic sort of kind, intro that after a short while turns into the hellish yet blackened riff orgies of "Avfall". "Nyctosphere" is the third full-length album by this Catalan quintet. Their music is still featuring elements of deathcore and melodic death metal, though pretty scatteredly. On this record the accent was put to black metal and somehow Mgla was the first name that came to my mind. Most of the time the character of their stuff is very meditative with melodies hiding at the background. It's fast, especially if we look at the play of the drummer, but still having that relaxing mood, which makes them sound less extreme in general. The line-up on this record is: Narcís Boter (vocals), David Rodríguez (guitar), Miquel Pedragosa (guitar), Raul Urios (bass) and Salvador d'Horta (drums). There are six songs in total with a 48-minute playing time. Yes, the average length of their songs is about 8 minutes. The sound production is simply perfect I would say, it fits quite well to the dark and melancholic side of the material. Their vocalist is also known as an illustrator/designer, so the cover artwork he created for "Nyctosphere" is maximally impressive! Modern fans of black metal are deeply encouraged to order this release!!!
TIME SHADOW
"A World Beyond" CD 2018
(Nocturnus Records)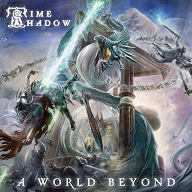 The debut full-length album by this fairly young Ukrainian power metal band has been finally pressed on CDs in 2018. Why I wrote finally? Well, because the premiere of the album itself was in 2017 through Time Shadow's bandcamp profile. The booklet says the 10-song repertoire was created by four musicians: Artem Soleyko (vocals), Andrew Melnik (guitars, bass), Vladimir Gumenyuk (bass) & Vladislav Titarenko (keyboards, backing vocals). They've done a colossal job on "A World Beyond" and that's for sure! The musical part is filled up by awesome chains of guitar melodies, grandiose keyboard harmonies and hymn-like vocal parts as it should be for such kind of music, right? Essentially, one would say it is heavy metal there, which is true, but due to the conceptual fantasy-soaked lyrical attachment power metal fits better for them! The 9 album songs lyrically forge into each other and, of course, the magic dragons are also appearing there and on the cover artwork respectively. The bonus track called "Biker" is the only exclusion there, but not musically, just lyrics-wise! There are some guest vocal appearances there too, which most of the time worked fine and turned out properly, but for the track titled as "A New Day" they definitely went to the wrong direction in my strict opinion. In total, it's an artful album with lots of great moments, which I would warmly recommend to all the fans of power and heavy metal worldwide!!!
V13AULT
"Imitation" CD 2019
(Support Underground)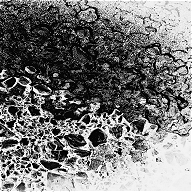 V13ault is a weird experimental band of the guitarist Ivan from Obliterate/Stabbed. For the recordings of "Imitation" he teamed up with vocalist Jaroslav Kyselica (who was earlier active in such great Slovakian hordes as Dementor, God Defamer & Face of Agony) and drummer Minor Machác from Minor. The result is pretty futuristic and almost worth for sci-fi soundtracks. I say "almost" as the music sometime goes really extreme. Actually we have an awesome combination of progressive-, technical-, fusion- and ambient-like elements there. One could even find moments reminiscent to progressive death metal bands. From my perspective those hints come in a super light mix between Cynic's "Focus" and Pestilence's "Spheres" materials. The nine chapters of "Imitation" will paint the listener nine extraordinary visions full of different sound- and mindscapes. The lyrical content was built upon texts from John W. Campbell, Isaac Asimov and Ivan himself. The trio defines their style as experimental post-apocalyptic sci-fi metal. Well, it fits them pretty much, indeed. What's more, the disc comes with 4 bonus songs off the "A Carrion" EP (2005), which were fully remixed & remastered in 2013, plus a demo song from 2005. Behold the music of the future!!!