I had the pleasure to interview the one and only Demolition Man, i.e. Tony Dolan of the mighty VENOM INC. His answers turned out super rad with lots of interesting facts and news, so dive in and enjoy our conversation!!!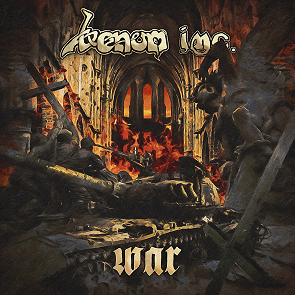 Hails Tony! What are you up to lately? Are there any special apropos behind the release of your upcoming 10" vinyl titled "War"? It will contain 2 variants of "War" on side A (Armageddon edit and live) plus the live version of "Warhead" on side B. The cover artwork is rather impressive. Who is responsible for it?
- AVÉ mate. Well right now, resting for June & July from live shows, while Mantas recovers from a major heart attack, where he actually died and had to be resuscitated. He's on the mend now and will be strong again very soon. "WAR" will be a 10-inch vinyl and we are very happy and excited with it. The A side has an alternative studio mix of the album track and the 2 songs on the B side are from the tour before the last European one we just did with SUFFOCATION, etc. "WAR" which has fast become a classic live track and "Warhead", of course, because it ties in to the history of us. I wanted to do something cool pre the next album and have a new video for "Black and Roll" being edited, which we shot onstage in Poland on the final European date, but releasing the "WAR" EP seemed right and fitting in the current world climate and also I wanted to celebrate the live shows and loyal fans that have supported us so far. The art work was based on my initial art work for the release, but of course improved and explored beyond that by the amazing Marcelo Vasco, a total artistic genius.
I am more than sure that all the metal fans worldwide acknowledged the success of your debut full-length "Avé" right at once. It was a fantastic start for VENOM INC. and a totally die-hard Heavy Metal release. How would you estimate its success from a year's perspective?
- Truly amazing... We have toured the planet from Canada and Japan to New Zealand and many places in between... countless shows and too many places to name... and everywhere has been an incredible reaction... fans singing the album tracks and demanding we play more from it. Reviews outstanding and for myself and Mantas as the composers it is very humbling and wonderful, but more so for Mantas who also took on the job of production and excelled himself in my opinion. A very proud record for us both and dedicated to the fans as a way of thanx for the year of loyalty and support. We now have reconvened and will present more from the album finally live as well as looking forward to the next.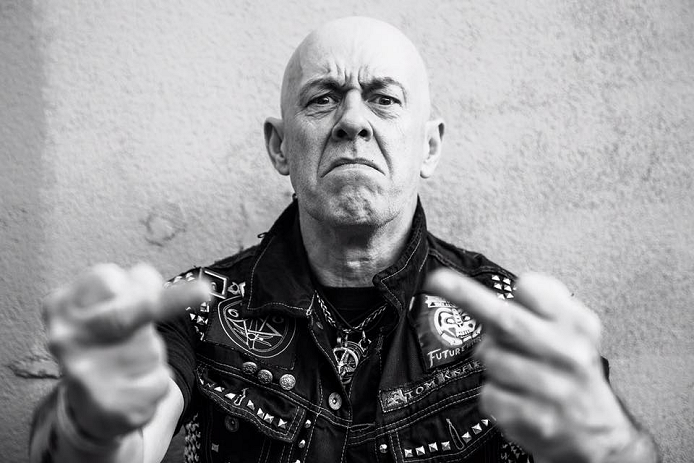 Your current record label is Nuclear Blast, a pretty huge one for sure, which is getting bigger and bigger with every year. How do they treat VENOM INC. and what kind of deal you managed to sign with them?
- They are amazing of course and yes they grow bigger each year. They are close to my heart and some great friends there who I have know now for very long. They were one of the choices as I had approached with the last M:PIRE OF EVIL album and we missed out as they had other signings they were focused on so we were to come back with the next album, then this happened and so to find the home for VENOM INC. was, to me, the natural conclusion and it is the best place to be for us without a doubt.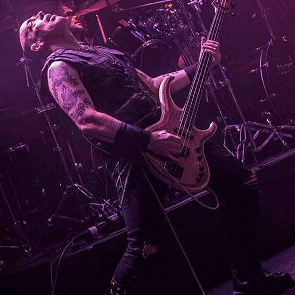 VENOM INC. is a damn active live band. How do you manage to play so many gigs per year? What kind of tour-routine you have? I know you like to swim and go to the gym before the show, but what else you do and the others to keep fit every night?
- Yes lol, it takes its toll, but can I just say that Mantas heart attack was not down to the touring, but a genetic problem that was there before yet remained unaddressed. We stay fit, try not to drink much, Mantas not at all, myself very little, it is vitally important if you are to stay sharp and on point for the live work. We try to eat healthy and find gym's where we can or carry weights and get as much good rest as possible... we are not fanatics, but when you do so many shows... you can't eat shot all the time and stay up drinking until 6am every night, then expect to be able to play for 1.5 or 2 hrs. a night at full force... The fans deserve 100% of you live and that is our focus... quite right before the show to gain focus and then delivery onstage at maximum. I live for playing, studio is ok and creatively enjoyable, but live is where you truly come to life.
Let's talk about your tattoos. It seems you have some kind of ritual, right? Please share with us which was your first tattoo and at what age you've got it as well as which was the latest one you inked on your skin? You do tattoos too. When did you begin tattooing and do you have some kind of official saloon?
- Ah hahahaha kind of yes... I think my first wasn't until I was late 20's early 30's actually, as I never considered it before... then I met Lal Hardy (a famous UK Tattooist) and decided I had to do one... but what? So I had the ATOMKRAFT skull from the "Future Warriors" album done on my arm and DEMOLITION above it... kind of identified me and who I was I felt... I did the cover artwork... so long before the album was actually realized that it's significance to me was and is to this day great. Then we toured with M:PIRE once and I said onstage in Portland, you guys were fucking great so tomorrow I am gonna get Portland tattooed on my body in thanx... and that as that... kind of got carried away... hahaha... by then I did have other meaningful tattoos on me, but then I just carried on when we played putting the event, venue, town or festival on my skin... lol... I have almost all of the USA on me, Europe, Australasia, Japan, etc. more missing, but more to come... My last one was in Cyprus, but was for the Turkish festival we did after the last tour... IZMIR ATTACK to salute and celebrate a sold out show in Turkey and the great organisers, crew and fantastic audience we enjoyed there, my salute to them all! I have done 2 tattoos... it was Jon Clue's fault... a superb artist in Manhattan, NYC who did my St. Vitus club arm tattoo... he told me to tattoo him and then I did a friend too... was strange, but fun... so... when you want one let me know... I'm your man... hahahaha...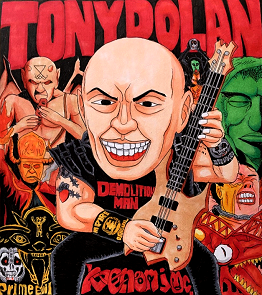 You are endorsed by the Dutch guitar company called Bo-El. How many Bo-El basses you own and which is your favorite one? What kind of bass equipment you use live?
- Ah yes. They are incredible as a company and support. The people, just the best... but the bass??? WOW!!! I have 3, 2 natural wood and one purple finish... they are the BIG-Generator series all 3 of them... what can I say... not enough, they are loud, versatile, road worthy, dynamic, responsive... I mean for me? The perfect tool... but for anyone from rock, metal to Jazz I could not recommend them enough. I use a series of Boss pedals, chorus, phaser, digital delay and I over drive with a SansAmp... I have a pedal one and a rack mount... strangely enough the rack mount is better for live and the pedal better for studio for me I have found which seems odd, but there you go... I also have a Boss bass overdrive, but I kind of lack how the Big G works with the Sans so don't fix what isn't broke. The amps provided are Ampeg and a various collection of the SVT series... old to new... and cab is usually an 8x10 Ampeg... good to go... anything else is for show only... and not integral. The bass does all the work which is what is so amazing.
I suppose you've been million times asked about which are your favorite bands of all time and influences respectively, so I will better ask you to name those bands, which you've unexpectedly discovered for yourself during different tours through the years. List us your most beloved ones, please.
- Yes lol it's no secret between MOTÖRHEAD, THE DICKIES and BLACK SABBATH, I found my calling lol. OMG... so many... NERVOSA, NERVOCHAOS, DESECRATOR, TANTRA, REZET, SURVIVE, THE CONVALESCENCE, BULLET BELT, SUNLORD, METALFIER... and on and on... amazing bands and so many not mentioned, apologies...
What news can you reveal us from the camps of ATOMKRAFT and M-PIRE OF EVIL? Is there time left for you to prepare any new stuff with these hordes?
- ATOMKRAFT songs ongoing, but almost completed for a release. M:PIRE OF EVIL the "Unleashed" album will be as soon as we can, but not before 2019, but is coming and the new VENOM INC. album is on its way... writing now...
I know it might be too soon to question, but do you already have some new materials written for the second LP of VENOM INC.? If so, please share with us all the details and in what direction should we expect it music-wise?
- OH lol as above mentioned... we are both writing toward the new album now, I have a ton of material as does Mantas... it will be the natural progression to "AVÉ"... same subject matter... humans... but it already feels like it will be better than "AVÉ" and exciting... we have learned so much from all the live shows too and our direction is the same... honest, real, no bullshit metal...
Thank you very much Tony for taking the time to answer all my questions. Please finish the interview the way you would wish. Last blood stained thoughts are yours.
- Ah thankyou was great, great fun. Thank you all so very much for the last years and the support of our album. VENOM INC. is stronger than ever and we have so much mire coming you're gonna love, we cannot wait and will see you out there, somewhere, soon... come say hi... and be safe... AVÉ!