It was a real pleasure to ask Nocturnal Overlord, the leader of Necrochamber, about the creation and details of "Ceremonies for the Dead" as well as regarding their plans for the near future. If you crave for haunting, ferocious and unrelenting black metal from the USA, then Necrochamber is definitely what you are searching for!!!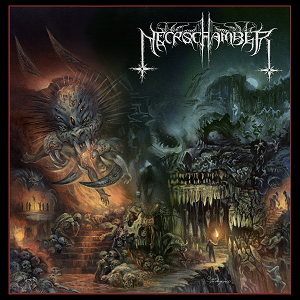 Necrochamber's debut album "Ceremonies for the Dead" was unleashed upon the wormlike humankind on the 22nd of February, 2019. The release was divided into 10 parts and armored by the best traditions of the black metal style. It reflects some kind of mesmerizing yet necrotic atmosphere during its circa 38-minute playing time. What kind of reactions and reviews did you receive from the fans and the underground media so far?
- Greetings Kornel and Encomium 'zine! So far the album has received some fairly good reviews and a couple bad ones as we can't please everyone. Over all, it has seemed to make a good first impression and we are gaining new fans around the world every day. Not just black metal fans, but death and thrash metal fans as well. There has been no paid advertising as the album was self-released on my own record label. So everything has been spreading mainly by word of mouth. This is not one of those bands being forced down people's throats. We made, produced, and financed this album ourselves. The true underground way. The old way.
This release was supported by almost everything possible to make it a very successful one. I mean it was mixed and mastered by Dan Swanö at Unisound Studios AB, the cover art was painted by Joe Petagno, your logo was designed by Christophe Szpajdel, etc. How did you manage to hook up with these amazing talents? Tell us more about your ties with them, please. Does all these huge efforts accomplished by you made the record selling better?
- Since the album took so long to finish, we wanted to put time and effort into the album art, and mixing and mastering process. Christophe had made some logos for me before, so he was an obvious choice for the Necrochamber logo, which we think turned out quite well. Dan Swanö was also our first choice when we thought who should mix the album. We were always such big fans of his bands and recordings. So we contacted him and he responded right back. Very professional and humble person. We couldn't have made a better choice. As for the album art, we have been fans of Joe Petagno from all the Motörhead covers and other artwork he's done. When we contacted him and gave him some lyrics, song titles, and ideas, he was very excited and had a lot of images and details in his mind. So we hired him and just let him go for it. The album art turned out killer and even better than we could of imagined. So everything just worked out great together. I think the album is not exactly just another black metal album. There's also some other elements and influences in both the music and the artwork, plus a great production.
The album was issued by your label Mythos Occultus and is available on limited edition digipak CDs (1000 copies in total) and 2 different limited edition cassette tape versions (total of 200 pieces). How do you distribute them worldwide? Are there any big labels or distros involved in that process somehow? How many copies were sold so far? Can you give us any statistics regarding the sales? By the way, will you going to license "Ceremonies for the Dead" to some European label to spread it more globally around?
- Yes, the debut album was self-released on my own label, Mythos Occultus. At the moment, the only place you can buy physical copies of the CD, Cassettes and T-Shirts, is from our Necrochamber Bandcamp page, or directly from my label's webpage. We will ship worldwide, but shipping costs have become very expensive over the last years. We are currently looking for a good and respectable label to license the album to and to help release the upcoming 2nd album. And we are also looking for distributors around the globe to help spread our music. As for how many copies of each has been sold... Maybe around 200+ CDs and about 50 or so cassettes. You can also find, stream and buy digital copies of our music from websites such as Spotify, Amazon Music, Apple Music, Google Music, YouTube, Bandcamp, etc. So it's out there! Hopefully we will see a vinyl release next year as well!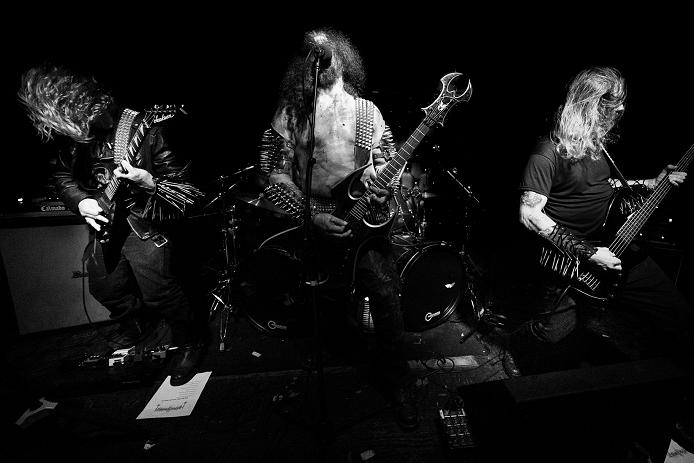 Necrochamber was formed by you in 1998, but only twenty years later you found the right musicians to complete your line-up and finally perform live shows as well. Why was it so? Please introduce to the readers the current members of Necrochamber and also list all of their active bands & projects.
- I started the project in 1998 after my other band was getting stagnant and slowing down. I always had intentions of getting a full band together and playing live shows. Not just a project, but an actual band. In the early days I recorded a 4-song demo on a 4-track recorder, and tried to get some people together. But it just never worked out. California is more known for brutal death metal, not black metal. So it's always been difficult to find black metal musicians around here. In 2009, I started recording a second demo along with a drum machine. And around 2010-2011, I decided I wanted to try and find some musicians and put a band together. Many have come and gone. Mostly people don't have the time, energy, dedication, equipment, etc., and then life gets in the way. But for over a year now, we have a good group of friends and local musicians in the band, and have been playing live shows. And are hoping to do some touring next year.
Necrochamber 2019:
Nocturnal Overlord – guitar, vokills, synths (Crimson Moon, Nibiru, Heartworm, Temple of the Dreaming Serpent, etc.)
Wotan – drums and battery (Condemned, Vile)
Demonic Possessor – guitar (Antebellum666, Seraphic Disgust)
Hellbound Scourge – bass (Condemned, Seraphic Disgust)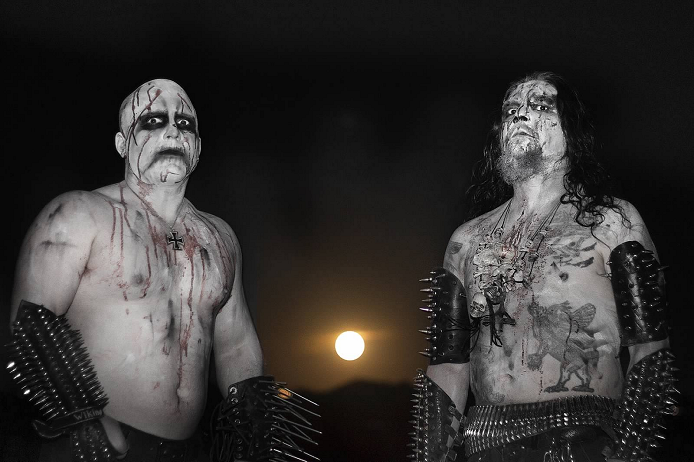 The recording sessions for "Ceremonies for the Dead" were started back in 2012. Why it took so long to finish it and release it?
- Originally we were looking for a vocalist/frontman. I wasn't planning on having to be the main vocalist, as I wanted to concentrate more on the music and playing. But after several people tried out, the search for a vocalist was slowing us down. That's when we decided to go ahead and start recording the instruments for the first album. We were a 3 piece at the time, guitars, bass and drums. The drums were all recorded in one single take for each song. There are no punch ins or editing on the timing. So it took a few months to get some solid tracks. This also helped us get that old and natural sound. It sounds and flows realistically, because it is real. Not pieced together like a lot of other new releases these days. After the drums were recorded, I had to switch over to bass unexpectedly as our good friend and bassist at the time wasn't able to keep up and record the bass. So I ended up recording all of the bass tracks myself. By the summer of 2012, I also had finished recording all the guitars. At this time, I realized if I didn't start working on becoming the main vocalist, the album would keep getting delayed. So I started to write some lyrics and vocals patterns. Then life happened and the two of us in the band had new jobs and the drummer ended up moving to Europe for a year or so. At the same time, my hard drive for my recording studio crashed. So I lost all of the recordings and files I had over the years. Not just the Necrochamber recordings, but every other band and project I've recorded. So the album and band came to a stop again. Eventually years later, my friend was able to recover my crashed hard drive and save all of my files and recordings. And our drummer moved back to the USA. So here we were again with everything finished and together, except for the vocals. After some rehearsing and recording some demo vocals, we released a 3 song promo to try and find some label interest and get the name of the band out. At first we were planning on mixing and mastering the album ourselves. But after some thinking, we decided it had been so many years since we started the recording, we needed a fresh new pair of ears and experience to help with the final process. That's when we contacted Dan Swanö at Unisound AB. We grew up listening to his bands and recordings, so we were honored when he said he would work with us. After getting back a sample track from Swanö, we hired him and decided to re-record all of the vocals one last and final time before we sent him the final tracks. So after a few more months of editing drums and finishing vocal tracks, we sent him what we had and he started his magic. He recommended we double all of the guitar tracks and record them again. So back to the studio again. Some of the guitars were recorded without any edits or punch ins, so doubling the guitars took quite a bit longer than planned. But after some more time, we finally had everything we needed to finish the album. It took a few weeks to tweak the mix, but Dan was very patient and very professional, which really helped us out a lot and turned out amazing. Thanks Dan! We wanted to release the album on vinyl, but after so much waiting and delays, we decided to just release it on CD and Cassette for now and just have it out already. It was a long process, but we couldn't be more pleased with the end result after all the time and energy put into it.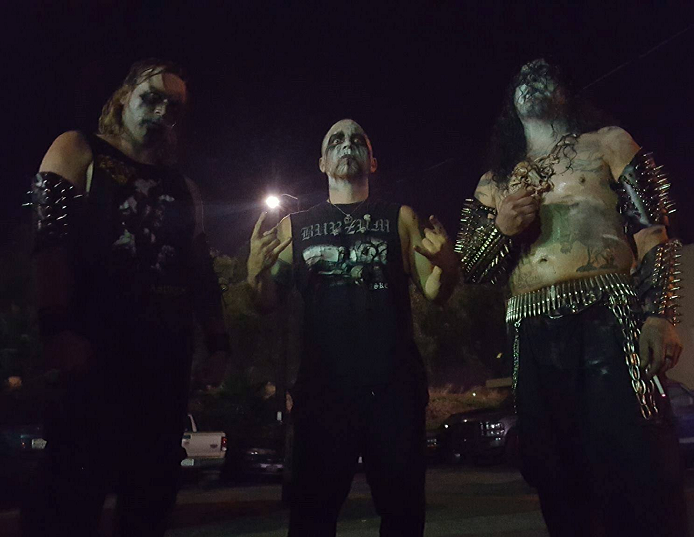 Let's talk a bit about the lyrical themes of "Ceremonies for the Dead". Can you briefly enlighten to the readers your lyrics one by one?
- The idea behind Necrochamber was always to create raw, fast and aggressive black metal music with a bit of horror and a dark atmosphere. The lyrics and themes of the debut album are about hell on earth, nightmares, insanity, depression, madness, chaos, death and all the dark and evil in human kind and in nature. I also wanted to make the vocals and lyrics a bit haunting, mysterious and intense. But still leave a lot of room for the imagination of the listener. I think a lot of people will be able to relate to the lyrics and subject matter and come up with their own interpretations, which I think is important. So I won't talk much more about it. A lot of extreme metal bands have their vocals in the background of the music. And you can't really remember any of it. Some people have said my vocals are a bit lower pitched and more in a death metal style than most black metal bands. And I tried to "sing" the phrasing and words clearly, audible and easy for the listener to make out the lyrics. Which helps the vocals be a bit catchy and memorable and in their own element.
You've already started to work on the preproduction for your 2nd album. When and where are you going to record it? When can we expect it to be released? Is there any tentative release date set for it?
- I have about 7 new songs for the 2nd Necrochamber album so far. And maybe 2 old demo songs from 1998 we might use and freshen up. So we plan on getting back into the studio here real soon. Hopefully by the end of 2019. At the moment, we are still looking for a reputable and professional record label to release the 2nd album and license the 1st album to. But to keep back on delays, we most likely will record the album at my own studio again. When will it get released? That's a good question, hahaha. If everything goes smoothly, hopefully by the end of 2020. We shall wait and see. For updates and news, add our webpage www.necrochamber.com, and add us on Bandcamp, Facebook and Instagram.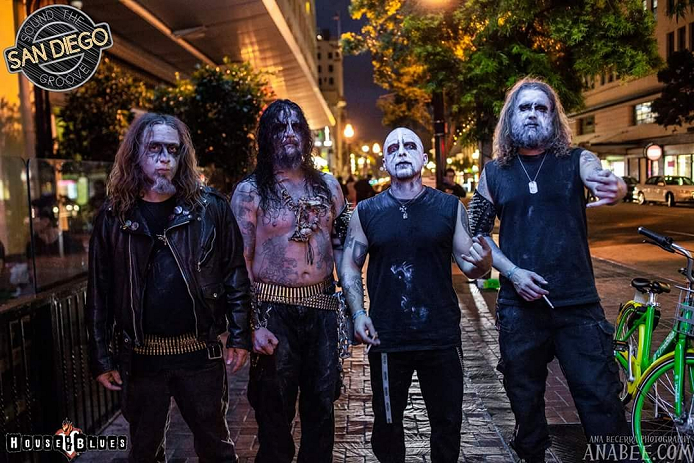 In August/September you joined Melechesh on bass again. This time you toured with them in Mexico. How many gigs did you play in total? Were there any places you were eagerly looking forward to visit and play? If so, which were those selected ones?
- We had 9 concerts scheduled all throughout Mexico for the Melechesh "Sumerian Sorcery Over Mexico" Tour 2019. The very last show in Reynosa got cancelled a few days before the event. There was some kind of protesting from the local state and city there. I guess it's a religious city and they were protesting against the concert for us being a "Satanic" band, which clearly we are not. It was all just a big misunderstanding and miscommunication, which was out of the band and promoters control. We wanted to and were planning on playing there, but it just wasn't possible at the end unfortunately. I have toured in Mexico before, so there wasn't really anywhere in particular I was looking forward to visiting this time. Mexico is a very big and beautiful country with lots of culture and history. Each city has its own character and atmosphere. But of course we were excited to play in Mexico City and other cities for people that have never seen Melechesh before. We had a great crew and met a lot of honest people and made some good friends all over the country. We also had a couple days off bbq'ing, swimming, hanging out and visiting old friends and pyramids. Over all, it was a good time and experience and the fans and crowd gave us a good response each night. Which makes it all worth it, in my opinion.
Do you have plans to play some festivals and extensive tours with Necrochamber in Europe? Maybe in 2020?
- We definitely want to play in Europe next year with Necrochamber, and I think it's a very good possibility. We have the line up to finally make it happen. Maybe we can get on some small festivals or a small tour to start. It's something we've been talking about and have been wanting to do for a while now. We also are trying to get Necrochamber to Mexico and South America next year as well. One day we will have to visit Asia and Australia too. One step and continent at a time, hahaha. So if you reading this want us to play in your country and city, tell your friends and local promoters and have them contact us!
Lately you've been featured in two episodes of Metal Swap Talk. Can you share your impressions and thoughts on that experience?
- Metal Swap Talk is a video-blog/podcast with me and my good friends from the San Diego Metal Swap Meet. We just started MST this year. We're just big fans of music and heavy metal and wanted to do something to contribute to the local and national music scene, as well as show people from other countries what you can find and do here in Southern California. Something positive to try and bring people and the world together. The show is basically a metal talk show. We review new albums and songs, talk about local metal shows and venues, visit local breweries, interviews with musicians, bands, artists, fans, etc. We are also trying to promote the annual San Diego Metal Swap Meet. Which the 10th anniversary edition is coming up on October 19th. It's a yearly event with around 50 vendors selling all kinds of metal albums, shirts and memorabilia. Similar to a Metal Market at a European festival, but without all the live bands. Sometimes we have well known people join us for interviews or show up at the Swap Meet for singing sessions or even DJ'ing. Katon from Hirax will be the DJ this year at the Swap Meet for example. And we just did a video interview with Derek Riggs, artist for Iron Maiden, who is a good friend and who also sometimes sells prints at the Swap Meet. So it's a positive experience we're trying to do and promote. And I think the fans and people need that. To find the talk show, just look up Metal Swap Talk or San Diego Metal Swap Meet on Google, Facebook or YouTube. You can also find our podcasts on Spotify, Apple Music and wherever else you get your podcasts from.
Thank you very much for taking the time to answer my questions. Please implement in words your final lunar hallucinations to the readers of Encomium 'zine.
- Thank you so much Kornel and Encomium for your questions and support, and also to all those of you reading this interview and keeping up with Necrochamber. You are the ones keeping the underground spirit alive! See you in 2020!