This band needs no introduction for the diehard ghouls of the death metal underworld. I've talked with guitarist Kelly McLauchlin about their long-anticipated fourth full-length album, the recent re-issues and touring plans amongst other interesting topics. So be prepared for a triumphant return of the Pessimist!!!



Hello Kelly! Pessimist's new album is titled "Keys to the Underworld" and it is currently underway at Black Attack Studio in Los Angeles. When do you plan to finish it, how many songs will it include and what should the death metal fans expect from this material music-wise?
- Hello Kornel! That's correct, recording is underway, and is almost complete. There are 9 songs, plus an outro. This record is filled with lots of haunting, evil-sounding riffs, catchy 90's-era death metal. You will hear influences from Slayer, to Deicide, to Morbid Angel or Cannibal Corpse and Obituary. And it still retains that dark and heavy "Pessimist" sound fans have come to expect from our earlier records. This is our first studio album since 2002's "Slaughtering the Faithful", and fans can expect it sounds kind of like a mix of all our previous albums. There's plenty of fast stuff, plus slower riffs, and everything in-between.
Ira Black was in charge of the recording processes. How was it to work with Ira? How many days have you spent in total at his studio? I mean, you've started with the drum recordings back in April, 2021. By the way, will Ira be responsible for mixing and mastering the album as well?
- Working with Ira has been fantastic. The recording process has taken more than a year so far. Probably the main reason for this has been both Ira's and my own busy schedules. Ira is now touring in Vio-lence, also Bulletboys, and also has several other projects going. All during this time I've had my own projects going, including touring Europe with I Am Morbid earlier this year. So there have been a few delays, but we have been able to prioritize, and stay focused on just creating the best album possible. Some other things contributed to the overall length of the recording process – right after we finished tracking the drums, the studio had to be moved to a new location, so that took several weeks. Also in Jan of this year it was announced longtime bassist Kelly Conlon (Death, Monstrosity) would record bass for the album. We had pushed back the recording schedule to accommodate this, but it ended up not materializing after all. Fortunately, we brought in new recruit bassist Andrew Bowen, who did an incredible job. The last thing left to record is my solos. Once my solos are done, we'll be ready to mix. We'll mix with Ira, then it will be mastered by Bill Metoyer (Slayer, Dark Angel, Lizzy Borden, etc.).
What should we know about the lyrical content of "Keys to the Underworld"?
- These are some of our darkest lyrics ever. Most of the lyrics were written by our vocalist, Ivan Alison. I contribute some of the lyrics, and song titles. Ivan and I work together on the vocal patterns, and vocal arrangements. I typically start off with a working song title, and a concept, maybe a skeleton of some lyrical ideas which goes with the music, and we just build from there. Some of our lyrical content for this album includes death/afterlife (Keys to the Underworld), war (Wartorn Existence), the end of the world (Hell's Eve), the Bermuda Triangle (Devil's Vortex), and murder (Time to Kill). We keep the lyrics interesting and sometimes the words can have more than one meaning – we leave it up to the listener to decide.
In the fall of 2018 you've already released a single with the same title and artwork by Mark Cooper. Will you use this cover art for the full-length album too or there's a plan for a new one?
- Yes, we have some brand new cover art for the full-length. We decided it is better to have new artwork, instead of the art which was already used for the 2018 single. We feel the new art really captures the dark, evil mood of the record and the title track perfectly. It is definitely the most extreme cover art in the history of the band. This will be revealed at a later date, probably when the release date is announced.
On the 17th of November, 2020 Season of Mist has officially announced your signing. The first fruits of your cooperation were the re-releases of "Cult of the Initiated" (May 14th, 2021), "Blood for the Gods" (June 11th, 2021) and "Slaughtering the Faithful" (July 16th, 2021) on CD and LP formats with t-shirts support respectively. How do you like these re-releases and what's the response from both the fans and the media so far?
- Season of Mist has been fantastic, I am very pleased with the label, and the response to our re-issues has been great! These albums were out-of-print for almost 20 years, and it's great to see our music back out there on CD and now on vinyl for the first time ever. I wanted these re-issues to be something really special for our fans, so I spent a lot of time putting them together, including all-new layouts for vinyl and CD, featuring our new updated logo, and totally new artwork for our debut "Cult of the Initiated", which was released as a 25th-anniversary release. All 3 albums include rare bonus tracks (incl. a cover of "Pestilence" by Kreator), which were not included on the original CDs. All the new layouts include rare and never-before-seen early band photos, liner notes, etc. This also gave me the opportunity to re-order the songs where I felt necessary, so even the track list has been updated, to make the album the best it can be. Some of our fans have the original releases and have bought the re-issues, as well. It has definitely done a lot to put our name back out there, and is gathering interest towards our new album, when it is released.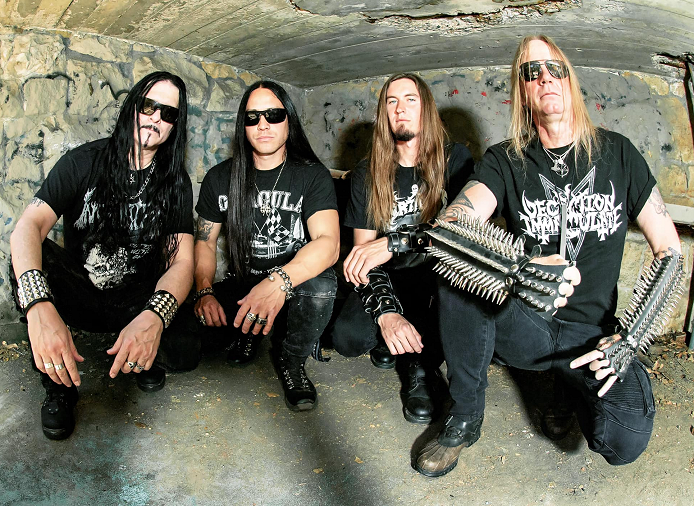 Since the foundation of Pessimist in 1989 there were many member changes, but you kept the band going and playing live shows, even if there were two short stops on the road. What were the reasons for these pauses? Please introduce to our readers the current members of the band.
- Well the main reason for these pauses was from me playing in other bands. I had the Pessimist name and the logo since 1989, and the first complete lineup was formed in 1993. We had a mostly stable lineup for our first two CDs, however after our 3rd album and after some lineup changes around 2003, I decided to put Pessimist on hold for a while. I moved from Baltimore, MD to Tampa, FL and helped form a new band, Unholy Ghost. We signed to Century Media/Olympic, so that band was my main focus for a while, until 2005. At that same time, Pessimist's old record label, Lost Disciple Records, went out of business, and our titles were officially out of print – which meant they weren't being pressed any more, and we kind of faded from the spotlight during the next years. Lost Disciple owned all our master recordings, and until I was able to buy the rights back, no one could press it. And without a record label or a full-time lineup, there wasn't much happening for Pessimist at that time. So in the meantime, I went on to play in some other FL bands, such as Equinox (2007), Angelcorpse (2008), and Resurrection (2009). Somehow I still managed to keep Pessimist going in the background, released a compilation CD called "Evolution unto Evil" in 2008, and played a few shows and our 2nd European tour in 2009. During this time, I had also joined Diabolic, and recorded on "Excisions of Exorcisms" CD. After that I joined the legends Possessed, and toured with the band from 2011-2013. So I was actually very busy playing in other bands, all this time. In 2014 I re-formed Pessimist full-time, and began playing shows and writing new music. Then finally in 2018 I was able to obtain the rights to our master recordings for our first three albums, and in 2020 we signed with Season of Mist for the re-issues, and a new, multi-album deal.
The recording lineup for this album is myself on guitars, vocalist Ivan Alison (Black Mass), new recruit bassist Andrew Bowen (Carnal Necrosis, Hideous Rebirth) and drummer Tim Yeung (Morbid Angel, Hate Eternal, Divine Heresy, etc.).
What should we know about your extremely limited cassette release of "Absence of Light/Dark Reality" in 2019? Is it still available?
- Yes, it was limited to only 50 copies, and there are still a few copies (less than 15) available. It includes our first three demo tapes on one cassette, 1993-'94 "Dark Reality" (I & II) and 1995 "Absence of Light" and is printed on red chrome tapes. It includes the original J-card from the 1995 "Absence" cassette, and is signed by original members from all 3 demos. It's really just something cool I put together for our diehard fans, who want to hear what the band was like in the early days. I don't expect we will press it again on cassette, but if we do, it won't be autographed – these are the last of them. There has been some interest and fans asking if it will be released on CD eventually, so we will see. In the US you can find it on our Bandcamp, and is also available as Digital Download.
Upon the release of "Keys to the Underworld" do you plan some extensive US and European tours? By the way, is there a release date for the album yet?
- We are in contact with some European agencies, and looking at playing some festivals here in the US. Our focus right now is getting this new album out, so everyone can hear our new music, and there will be some more interest for playing live. I would love for us to go back to Europe some day. There is no release date for the album yet, but it will be announced by Season of Mist when the time is right.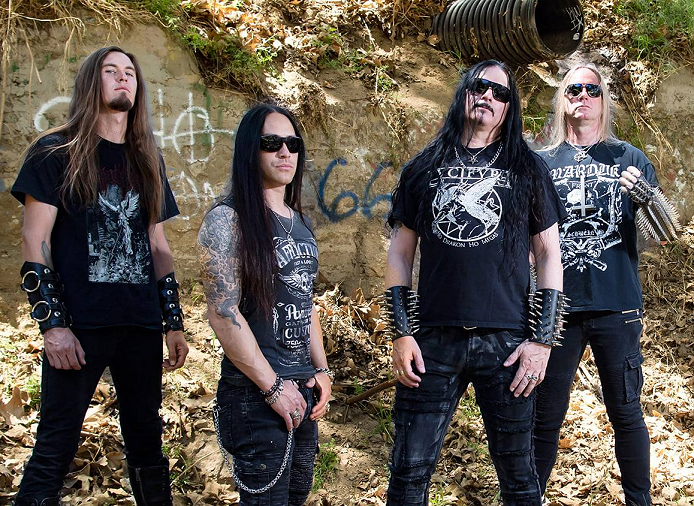 Recently, you've been part of the 30th anniversary European tour of "Blessed Are the Sick" album with I Am Morbid. How was it to share the stage during 27 shows with David Vincent, Pete Sandoval and Bill Hudson? Which are the most favorite cities and venues of yours in Europe?
- It was absolutely amazing to play these classic Morbid Angel songs and to share the stage with these legends every night. "Blessed Are the Sick" is literally the first CD I ever owned, so it's hard to put into words how much this meant to me. As a longtime fan and friend of the band, it was truly an honor. David, Pete and Bill are all at the top of their game and absolutely peak musicians. I learned so much from playing at this level, and it definitely helped me grow as a player and a touring guitarist. I got to see so many cool places, and meet lots of cool people. It was an incredible experience, and for that I am forever grateful. One of my favorite places to play was Poland, for my first time ever. The crowds and the energy of the shows was completely over the top. I like Denmark, and Sweden. Some favorite venues include Underworld in the UK, Baroeg in the Netherlands, and Hellraiser in Leipzig, Germany.
You are endorsed by Jackson guitars, right? How many guitars do you actually own? What are your most beloved ones and why? Which kind of amps, cabinets & strings do you use for the live performances with Pessimist and I Am Morbid respectively?
- I've been playing Jacksons for 20+ years now, and working closely with them, although it's not an official endorsement yet, I would love to become an official Jackson artist some day. I've always played Jackson Kellys, but in these recent years my favorite is a Kelly Star, which is half Kelly and half Rhoads V. In addition to being totally aggressive-looking, it's also well-balanced and comfortable to play, even practicing sitting down. Some of my favorite axes include my new custom shop Kelly Star master build, and my blood-splatter Kelly Star custom shop, which was featured on the cover of the Jackson Guitars year 2000 catalog. For my recent tour with I Am Morbid, I played a Jackson Pro Series King V KV (6-string) and a X-Series Rhoads V (RRX24-7) 7-string. I have artist deals with SIT Strings, FU-Tone and Seymour Duncan pickups. I use Fractal AX8 for all my preamp tones and effects. I have a Mesa/Boogie Triple Rectifier, and two Mesa/Boogie full stacks (which used to belong to Brian and Eric, the Hoffman brothers from Deicide). To me this is the best gear for true old school death metal guitar tones!
Thank you so much for the interview. Please pass your last devilish thoughts to the readers.
- Thanks for the interview, and for all of your support! Look for our new album "Keys to the Underworld" coming soon on Season of Mist. Check our website (
www.pessimist.us
) and our socials for updates. Keep music evil!