A THOUSAND SUFFERINGS
"Bleakness" CD 2018
(Symbol Of Domination)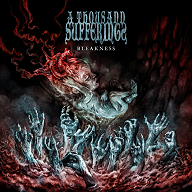 "Bleakness" is the second full-length album by this blackened doom metal quartet from Belgium. The music they display is about the lonely vibe and suffering of the human soul and mind. Therefore, during the 41 minutes long material you will be able to experience and visit six different soundscapes filled with the most agonizing misery ever. Their stuff is so dark and sorrowful that it can radiate only depression to the listener's inner self, so be prepared for a journey into the aural layers of discomfort. To my surprise, the fifth track is appeared to be the cover song of Stan Jones' well-known "Ghost Riders in the Sky". Let me tell you honestly, I've heard different versions of this classic western tune, but the way A Thousand Sufferings covered it was beyond all my possible expectations. They've managed to give this song a super depressive, kind of suicidal black metal mood and interpreted it from a totally different musical side, where sadness rules supreme. The sound production is pretty blurry for me, but perhaps the initial idea was to make it as slurred as possible. Well, despite the mainly soul tormenting atmospheres, there are some relaxed moments there as well, like for example the middle part in "Antagonist", which I found cool for meditation, it's just a pity it lasts too short, ha-ha… Well, enough said, if you're considering yourself a diehard doom metal fan, then you should have this terrific piece in your collection!!!
ACHERONTE
"Son Of No God" CD 2018
(GrimmDistribution/The Triad Rec)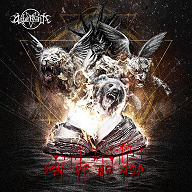 Acheronte hails from Italy and plays an extremely raw and evil form of uncompromised black metal. What more the band is against the use of triggers, so the drums sound purely analogous, let's say the old-school way. Believe or not, but their drum parts were recorded in 2 hours without editing, which is another fascinating fact. Hell yeah, the drums indeed sound pretty cool and massive, but I would definitely balance and level up the kicks in the mix as sometimes they just drown in the whole production. Despite that little thing, I've really enjoyed listening to the 6 unholy pieces created by Lord Baal (vocals), Phobos (guitar), A.T. La Morte (bass) and Bestia (drums). The quartet unleashes the blackest plague possible and spreads it worldwide like an online disease. Their stuff is fast, cold and dark, plus it comes with some utterly bloodthirst screams. Musically, they were heavily influenced by the northern black metal scene, which isn't a secret at all, as the quartet lists the following hordes as their main influences: Mayhem, Darkthrone, 1349, Gorgoroth, Marduk and Dark Funeral. Actually, this is Acheronte's second full-length album, but it is so rad that I already looking forward to their third one!!!
AGOS
"Aonian Invocation" CD 2018
(Satanath Records/Deathhammer Records/Heathen Tribes)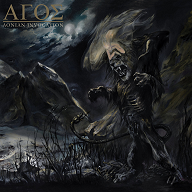 Agos is a slightly blackened death metal formation generated by Van Gimot (all instruments, vocals) in 2014. After the release of a 3-song EP titled as "Irkalla Transcendence" in 2015 we are finally able to listen to the seven songs of his first full-length record. "Aonian Invocation" lasts over 43 minutes and guides us into seven mystic places of aural destruction. The musical content was masterfully composed and arranged respectively, while the lyrical content was filled with captivating historical facts. The album has lots of breathtaking moments, especially I liked those ones, which were supported by ritualistic adaptations, like the use of eerie female voices (just listen to the beginning and end of "Trojan Desolation" and you will understand what I was meaning for) and the magic instrumentation from the ancient past ("Devourer of Men" and "Glorious Return" would be good examples for that). Van Gimot's death grunts are remarkable as well, they truly reflect the pain and agony coming from the legends of the past centuries. Likewise, the guitar riffs, which were thoroughly built up and put in the right structural design. At some point I would compare the music of Agos with Nile, but only to give you some hints regarding what awaits you on "Aonian Invocation". Otherwise it is about supreme Hellenic death/black metal attack at its best!!!
ALL THE FURY
"Over The Line Of Meridian" CD 2018
(Independent)
I've got the debut album of All The Fury directly from the drummer Šmidy in Košice (Slovakia) on the 25th of April, 2019. I knew him quite a while I would say and their bass player Marek too, as both of them played earlier in the death/thrash band called BloodRage. Well, the actual quintet plays melodic death metal, more precisely the Gothenburg style, thus bands such as Dark Tranquillity, In Flames or even At The Gates did a great impact on their music. All The Fury was formed in 2011 and the current 10-song long play is the result of their dedicated hard work. The 42 minutes long album became good indeed. From start to end it got some kind of mesmerizing atmosphere, which was completed by a crystal clear yet ponderous sound production. At some point I've found their stuff rather relaxed, so in case you are in a stressed or disturbed state of mind then their repertory will definitely calm you down. To cut it short, everything was precisely worked out there with big passion to the above mentioned genre and polished to the maximum. It is melodic death metal at its best with an honest attitude!!! Let's hope they won't wait for so long with the release of their second album!!!
AUTOMB
"Esoterica" CD 2018
(Satanath Records/Final Gate Records)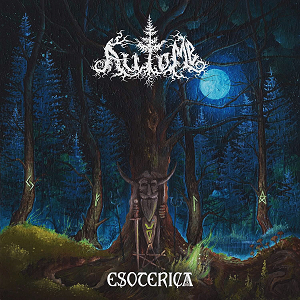 When specifically creative forces collide within a band we get a total masterpiece. Are you agree with me? Well, I am saying this, because this is what exactly happened to the debut material of Automb. Besides the charming Danielle Evans (vocals, bass, keyboards) we have two pretty well-known and experienced musicians here, namely Serge Streltsov on guitar, whom you might remember from Necrophagia, Dreadeth, Haxxan, Grisly Amputation or Incinerate Creation, and Scott Fuller on drums (Annihilated, Errorgeist, Morbid Angel, Steelsong, Incinerated Divinity, Plaguereaper, ex-Abysmal Dawn, ex-Havok, ex-Sentinel Beast, ex-Skitzo, ex-Jungle Rot, ex-Acridious). "Esoterica" contains 9 well-structured black/death metal compositions and a wicked intro, which are all about the sheer devastation and bring forth the blackest and darkest energies unleashed upon the humankind. The trio summons an ultimate combination of razor sharp guitar riffs, high speed drum parts, vocals from the outer world and ethereal atmospheres that forge into the most ominous sonic formula ever. "Horned God" is a very good example for the relentless power the trio likes to incorporate and spread over the listener. The potential is almost outstanding throughout the entire album, so I want to warmly recommend the music of Automb to every black/death metal soul worldwide!!! It's an awesome stuff, which lyrically deals with the topics of paganism, occultism, vedism, esoteric knowledge and witchcraft.
BLAZE OUT
"Instinct" CD-R 2019
(Blood Fire Death)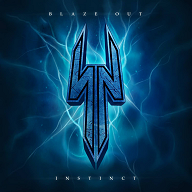 The groovy metal quartet from Barcelona thrown absolutely everything possible into their 3rd full-length album named as "Instinct", thus the result speaks perfectly for itself. The 10 compositions became super diverse, pumped with major dynamism to which a phenomenal sound quality was paired. The modern yet energetic kind of metal they perform has a huge variety of elements borrowed from classic heavy metal, hard rock, thrash metal, deathcore and even progressive rock. On this album the recording line-up was: Gerard Rigau (vocals & guitar), David Lleonart (lead guitar & backing vocals), Carles Comas (bass & backing vocals) and Sergi Rigau (drums). These Catalan musicians are capable to play literally any kind of music and throughout the almost 45 minutes long disc they will maximally assure you about that. Sometimes they go in a totally soft direction, but there are also moments when they go nuts and simply crazy. In my opinion, the youth of these days will definitely dig their stuff and we can easily call it as the music of the 21st century too. Whether it is groundbreaking or not? It's up to you to decide. But what I am sure about is that they are doing it the right way and on a professional level.
COMATOSE
"The Ungodly Lamentations" CD 2018
(Satanath Records/Grinder Cirujano Records/Rebirth The Metal Productions)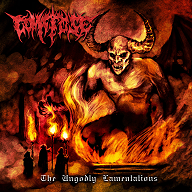 From the deepest depths of Cebu City, Philippines come forth the unholy union of four metalheads that gathered under the banner of Comatose in the year of 2003. After two demos, two EPs and a full-length album in 2015 it was time to return with another deadly strike in the form of their 2nd long play. The line-up on "The Ungodly Lamentations" was the following: L.D. "Bellz" Lee (guitar/vocals), Milojan Mondejar (guitar), Surge Enso (bass) & Kyndall Cesar (drums). These four demons spread further their kind of blasphemous death metal offensive, which mostly reminded me a mix between the early materials of Hypocrisy, Deicide and Dementor. It's evil, anti-religious and sounds like it was being recorded in the beginning of the 90s. There are pretty much of flaws in their songs, as it was used to be on the records in the past, when you had to record every instrument by one take. They were definitely thinking about and focusing on this old-school attitude during the recording processes, which I have to say they maximally succeeded in the 8 songs and 28 minutes of "The Ungodly Lamentations". This album smells like past. So if you want to return to the golden era of death metal, take a listen to the stuff of Comatose!!!
DEGRAGORE
"From Sin To Redemption" CD 2018
(Satanath Records/Metal Ör Die Records/Rebirth The Metal Productions)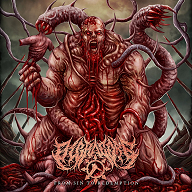 After two EPs and two singles a 12-song CD was released last year by the cooperation of three underground labels. The Hungarian goregrind duo featuring József Tóth (all instruments) and Norbert Nemes (vocals & lyrics) has been founded in Budapest in the year of 2016. Stylistically their music isn't limited to goregrind as the combo injects with ease all the beloved elements of brutal and slamming death metal there as well. Their song structures are pretty primitive I would say, the groove is there and the sheer brutality likewise, but really nothing special in general if you ask me, except maybe the programmed drum parts, which are super-fast and really inhuman at times. Kind of cliché release, which surely gets drowned in the nowadays dumping, but lately almost everything gets released, no matter and no importance to what the content is all about. So what are you going to hear there? Well, quite a lot of boring riffs in combination with non-stop pig-snorting molestation, aha-ha-ha... The 38 minutes long CD has 7 new songs, 3 re-recorded tracks from the band's "Kissing – Pissing – Vomiting" EP and 2 bonuses. If you are in love with the goregrind cliché, then feel free to invest into this piece of pointless mess. Recently the band released a fresh single called "Cadaverous", which shows some great progress, so let's believe their future releases will be more interesting and informative!!!
EDREMERION
"Ambre Gris" CD 2018
(Symbol Of Domination/Anesthetize Productions)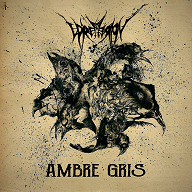 The story of this French black metal cohort started in the year of 2009. After two EPs, the self-titled "Edremerion" in 2012 and "Trou Noir Metal (Verschlimmbessern)" in 2015, the 5-member horde returns with their debut full-length album "Ambre Gris". It consists of five lengthy tunes that were written and composed in the best traditions of the avant-garde and post black metal styles. Their tracks include quite a lot of dismal, esoteric and doomy guitar riffs to which a sharp guitar sound was paired adequately. The screaming vocal parts are harsh and spread no mercy in general. Their musical content was also filled with deep emotional passages, so it perfectly fits into the atmospheric black metal category too. The sound production is rather gloomy plus it has the depressive kind in it. Furthermore, on my opinion, the use of the French lyrics definitely added some sort of weirdness or let's say charisma to the 43-minute long repertory. Don't know why, but I would easily imagine their kind of music as the soundtrack to some surrealist cinema. Well, check and listen to Edremerion's "Ambre Gris" and decide it yourself.
ETHIR ANDUIN
"Loneliness Of My Life" CD 2018
(Symbol Of Domination/More Hate Productions)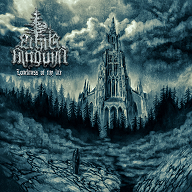 Ethir Anduin was created by Alexey Veselov in 2006. He is responsible for all the music & instrumentations in "Loneliness of My Life". It is his seventh full-length release to date. The album builds up from eight lengthy tracks and will keep you busy for 69 minutes. On the one hand, you will be able to sink into various soundscapes of the melancholic still life, while on the other hand, to enter the state of deep relaxation as well. The ambience over there is from the sort of very special and breathtaking. You can easily listen to this CD in a cyclic mode, to use it as a constant musical background, whilst you're busy with other things, like reading or studying, for example, and I can assure you that you won't get harassed, tired or bored from the songs of Ethir Anduin at all. As the repertory is severely instrumental-like, I would like to attach you the song titles herewith: "Lethargy", "Life is Punishment", "Anchor", "Unhealed Wounds", "Cold Embrace of Death", "In the Abyss of Unconsciousness", "7:06 AM" and "Meaningless Existence". I am sure, it will help you to get a better understanding of the whole material both musically and ideologically. As for me it is a flawless doom metal release!!!