If we are starting to talk about the Ukrainian Brutal Death/Grind scene, then DATURA's name surely appears in the very top of it. I've had a nice chat with guitarist/vocalist – Anton Subbotin – about their actual situation and future plans.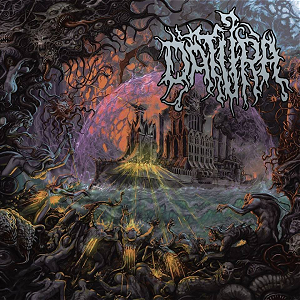 Since your last album "Spreading the Absorption" three years passed already. Are you working on some new stuff to be recorded and released shortly?
- Hi everyone, DATURA here. Yes, we are working on the new stuff, actually we've started to work on it right after the previous album was recorded, but the war has made some corrections to our plans, and thus composing of the new tracks became less intense than usual for some period. Now we are planning to record new stuff probably this year, and it's going to be kind of EP or something – 6 brand new tracks, and some cover or two maybe – for a total time to be a bit longer. And surely this stuff will be released in some form. We had to make a choice to wait some more years to write some more tracks to fill up the full-length's total time or to mark our current milestone this way and being honest with our fans.
You have a long-term friendship with Russian label Coyote Records. How this cooperation began? Will your new release be treated by them likewise?
- We've made friendship with Dmitry Coyote in 2005, when we were looking for a label to release our stuff on CD. That was due to our manager, Evgeny Butenko, and since that time we had some good years, some albums released and tours managed by the label. As for the upcoming release, yet we had no discussion on this matter with any of the labels.
At the moment you are playing as a duo live. How is it to play as a duo? What's up with Dimas? When can we expect his rejoining?
- You know, though a duo format is somehow incomplete for the genre, plus the absence of bass line is not good in general, but playing live as a duo we feel rather comfortable. It allows better listening to each other during the performance, gives us more control on the sound. Of course, we lack branded vox parts of Dimas and his solid, tough and contoured bass lines. Dimas is okay, he's playing drums in IMITATION with Bob and also in some other projects in the region. We expect his rejoining, as well as he does, but recent years showed us that history and politics do not give a shit about our expectations and plans. So we just have to hope for some good outcome of the conflict, which has led to our disjunction.
You also live on big distances from each other right now. Do you rehearse at all? Or everybody just doing his homework and you meet at gigs & festivals only?
- We do rehearse rather seldom, but recently Ed has moved to Kyiv, so our rehearsals tend to occur more often now.
Musically you are totally influenced by the US brutal Death/Grind scene. Does it mean you are not listening to European Death or Grindcore bands at all? And none of the European Death/Grind bands influenced you anyhow? Talk us a bit about your all-time favorites.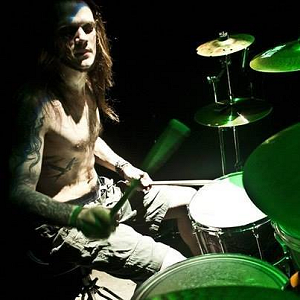 - We never thought of it from that point and have discussed it specially to prepare the answer. What matters is the music itself, not the region. It happened so that we all started to listen and became fans of Death and Thrash Metal with bands from the Florida, New York and California scenes, as well as English bands. We used to listen to a few European bands like PESTILENCE, SINISTER, KREATOR, HELLHAMMER and ATROCITY as well. Probably, because these are rather close in style to the North-American school in comparison to many other European bands, but that's all, maybe. I guess it's something like 85/15 percent ratio of US and European bands respectively, which influenced DATURA's music. Hey, and what about the great Canadian scene, acts like CRYPTOPSY and GORGUTS?! Let's count them as US or North-American percentage in general.
Earlier Donbass region was the cradle for the most brutal Death/Grind bands in Ukraine. But since the political shitstorm in our country started the things changed pretty much. Lately quite a lot of brutal bands appeared in Kyiv, which is good as well. How do you see the actual brutal Death Metal scene of Ukraine? Are there bands you would warmly recommend to us?
- I think that our Death Metal scene is constantly evolving regardless of any politics and conflicts, as it did before and will do after.
As for the Donbass region, we have such examples as Dimas, Bob and Co., whose projects IMITATION (will be recording their second full-length shortly) and VANSTORBING INSOLOBRIDISHN (full-length released recently by Coyote Records) do their job in the region independently of any territorial claims. And we have other bands, whose members were able and had to move to other regions, and these bands are continuing to function in some way, no matter the place where they are now.
Recently we've got some great releases of SERPENTERNITY, FLESHGORE and ENDOCRANIAL, we are waiting for the upcoming NECROPSY DEFECATION album and for the new material from EZOPHAGOTHOMIA (as a 5-piece now!).
In August you will visit two great underground festivals in Ukraine, first "Metal Heads' Mission" and then "UzhGoreRot". At MHM you played a few times, how do you remember those times and tell us what are you expecting from this year's one? What kind of live set will you prepare for these festivals? Will you play some special covers as well?
- Oh yes, we are looking forward to play on these fests and to meet all our old and new fellow bands, musicians, friends and fans. MHM is a special case, because of the beach and stuff, of course, and then there will be our first appearance on UzhGoreRot festival, that is great!!! But not our first time in Uzhgorod, of course – the city and Death Metal Assault fests, which we played a few times on, have always showed us special powers and excellent sound and fans!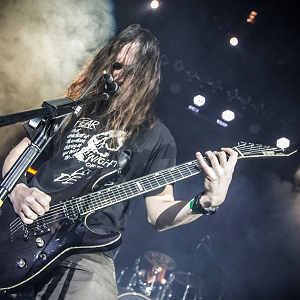 Our current live set is all-new material except for one track from the previous album, and some new covers, of course, of some great US bands that influenced us, as usual.
For the last couple of years Ed played drums for NECROPSY DEFECATION. They recently released a 3-song promo. How do you like it? Tell us your impressions from that promo.
- It is awesome, the right style and school, and the roots, and it shows us their potential for the future growth. But it lacks a little bit of aggression and power, as to my taste.
You played quite a lot of shows in Ukraine and in Russia, but what about gigs in other countries? I am pretty sure DATURA would be very well welcomed in Europe and USA as well. Don't you plan to break out and conquer the other countries too?
- Don't know, time will tell. We are open for contact with any promoters or labels from all regions, and in case of proposal I hope that now it will be much easier to do it for us, because of the visa-free regime activated recently. Also a duo format is not what the promoters look for, generally, and yet we are not ready to invite any session or full-time bassist other than Dimas, so keeping the band in such a disjoint state. All that stupid war situation lead to many big changes in our lives, families and jobs, so that still we are under circumstances, so to speak, and thus our main goals in music now are limited to making new material, raise our performance skills and playing for ourselves, putting aside nearly any promotional activity.
For the end, please spread all the latest news from the DATURA camp. Last words are yours.
- Thank you for the good questions, bro! All the latest news is already covered by the answers! Greetings to everyone, keep listening to good music and stay brutal, and thanks for reading this interview and supporting the underground! Sincerely yours, DATURA.