Dementor is one of the oldest and most prestigious death metal bands in Slovakia. They formed in 1988. In fact, this is the third time I interview them and believe or not, but every time I get the chance to do an interview with them they have a new line-up. Well, I've asked Rast'o Schmögner (guitar/vocals) to enlighten us the latest news from Dementor's blasphemous camp.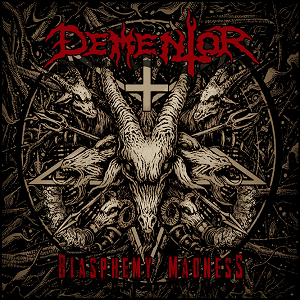 Hi Rast'o! Let me congratulate you with the release of "Blasphemy Madness". The new EP includes 3 tracks and was strictly limited to 100 copies. Why is it so? I also really hope that this EP was only meant as a teaser before the release of your 8th full-length album. When can we expect it, by the way?
- Hello! You named it exactly. The EP is a teaser to our next album. We wanted to show our fans what they can expect from us in the next months, so we decided to make this limited self-release.
You've been through lots of member changes since the beginning. So how the current line-up of Dementor looks like?
- There is again a slight change since the previous album "Damned". Bassist Ondrej and guitarist Martin have joined me and drummer Lorenzo.
The cover artwork of the new EP turned out totally blasphemous. Who painted and designed it? I suppose the lyrics were written in the same style. Who wrote them this time and tell us a little bit about each song's lyrical meaning?
- Thank you. We are pleased that you like the cover of the EP, especially because we did it by ourselves with our bass player Ondrej. He is also the writer of the lyrics, so he would be able to tell you more to this question. From his interpretation, I only know that "Magic of Death" is about dissection and the subsequent decomposition of the human body from the perspective of a mentally ill man, "Blasphemy Madness" discusses war, hatred, so atrocity and animality in us – people and the song "In Guild with Daemon" is about indestructibility of the soul of a witch, but it also metaphorically represents the Christian view of us – metal fans. I do not know the exact interpretation of the individual verses. As a singer, I made sure that the phrasing of lyrics was well connected to music.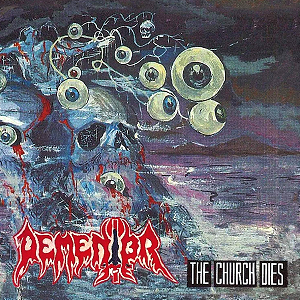 In 2016 there was a special reissue of Dementor's first album "The Church Dies" (1994) along with the demo "Morbid Infection" (1993) as a bonus. It was released by Dark Symphonies, a label from the US. I know that nobody of the actual members have played on those materials, but don't you ever thought to include some of the old tracks to your setlist? Me, personally would really dig that idea from your side and I am more than sure that the old Dementor fans too.
- Yes, we thought of that. We thought about the popular song "Mortal Melody", which appeared on the first two albums of Dementor. We will certainly play it in the near future, but now we are trying to show just our current work. When the band has been on the scene for years, people want new material, especially from less active bands. People like our old songs very much, but to listen to it for many years at concerts, it would be boring for everybody over the time. But from time to time, it is a nice surprise to the fans.
I've noticed a weak activity of your live performances. Is it due to your daily jobs or there are other obstacles in your way? Do you have plans to tour and play club shows in support of your newest EP?
- We aren't that young anymore. Each of us has a family, work duties. I personally spend a lot of time abroad, where I make tattoos. When I come to Slovakia, I also have a lot of work to do. At a certain age you don't have as much time for music as you would like to. The weak activity of the band is a result of it. By playing death metal, especially in Slovakia, you don't earn enough money to throw all your other duties aside and go on a tour. That's why we don't plan a big tour. In the near future we will play at two concerts in the Czech Republic, where they invite us to and we are happy to play there.
You are working as a tattoo artist at Empire tattoo studio in Ružomberok. Did you ink the bodies of local metalheads as well? Any well-known musicians in your client list? I know it is hard to tell, but what sort of tattoos you prefer the most to work with?
- Indeed, I have a tattoo studio in my hometown Ružomberok and I've been doing it for 12 years now. I've made tattoos to some Slovak and Czech metalheads, let me mention my friend Peter "Doomas" Bet'ko (from Doomas band) – organizer of the biggest metal fest in Slovakia – Gothoom Open Air Fest, or Frenky from the band Killchain. And what do I prefer the most in tattoos? There's a lot of stuff like that, but my favorite is realistic tattoo.
You've studied at the University of Žilina. What qualification did you get there? Is it related to art?
- First I've studied at the technical school and after graduation I've studied at the University of Žilina. I didn't enjoy studying there, so I left this university after the first semester. I started to do other things.
Let's talk about your guitar gear a little bit. How many guitars you actually own? Which is your most favorite one and why? What kind of amps, cabinets and strings are you using live or at your rehearsal room? In what tune you play lately?
- I've had loads of guitars in the past, I wanted to try everything new and everything what I could actually buy. I own 6 guitars nowadays: Schecter, Ibanez, Focus HB and LTD, but I like the most playing on my Schecter Hellraiser and Jeff Loomis guitars. I also tried many amps, but I stayed with Peavey 6505 amp and Marshall 1960 lead cabinet. That sound suits me perfectly and the guitar has clear sound. I don't have any favorite brand of strings, I used to play with D'Addario strings in the past, but nowadays I use Ernie Ball strings. Regarding the last part of the question, since we use 7-string guitars we play in B tune.
What kind of music you listen to these days? Are there any new releases that totally impressed you lately?
- I admit, I'm an old school. I always like to listen to good classic death metal. There is so much new stuff on the scene that I'm not able to keep track of it all. In the car, I like to listen to symphonic metal like Septicflesh or Fleshgod Apocalypse.
OK, we are at the end of our communication. Please release your final blasphemies to the underground masses. Or in other words, send your greetings to the diehard Dementor fans.
- We wish all death metal fans a lot of success and, of course, let the metal bring them many unforgettable experiences. Aaaand... Be still blasphemous!!!