I assume that in the death metal underground everybody knows who is Mike Browning. He's a legend and that's an indisputable fact! I've questioned him on the subject of Nocturnus AD's debut album "Paradox", the band's live activity, the underground life in Tampa and, of course, about all their plans for the near future. Below you can enjoy our transmission in a written form!



Hello Mike! First of all, let me congratulate you with Nocturnus AD's debut release. It was issued 24th of May, 2019 by Canadian label – Profound Lore Records. Tell us more about your alliance with them as well as how the reaction of the media and fans towards "Paradox" looks like so far.
- Thanks and I have to say that it is still hard for me to believe that so many people are into it and comparing it to "The Key". I was pretty sure that most people were gonna say that it's nowhere near as good as "The Key", but that they liked it, but it is really blowing my mind how many people think it is a worth successor to "The Key" and really that is all that I could have asked for was for people to be able to connect the two albums and say, yeah that works as a continuation of the original storyline. As far as Profound Lore, they have been behind us 100%! When we released a one song demo about a year and a half ago, we had several labels wanting to sign us and I really wanted one professional style video for a song off of the album and that right there made about 90% of the labels say that they couldn't afford a recording budget and a video budget. Chris from Profound Lore said he was a big fan of Nocturnus and he thought a video would be a good thing and he seemed to be very honest about what we could and couldn't do and he always makes a lot of sense when we talk about ideas. They have done everything and more that they have promised.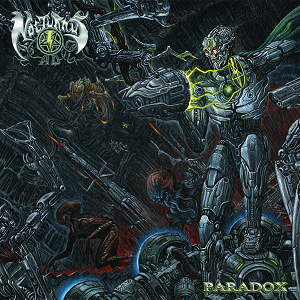 Musically, lyrically and even graphics-wise you are following the path of "The Key" (1990). Was it a conscious decision for all the members of Nocturnus AD right from the start or you set this direction by yourself? By the way, who did the cover artwork of "Paradox"?
- I am not sure exactly why one day I said to myself that I am gonna give it another try with doing new material under the Nocturnus name, so I added the AD to Nocturnus and told everyone in my After Death band that we are going to be called Nocturnus AD and begin where "The Key" left off and everyone was into the ideas that I had and so I announced that there is a new band called Nocturnus AD that would continue the Nocturnus legacy where "The Key" left off and it has been moving forward at full speed ever since. Timbul Cahyono is the artist who did the gatefold cover, he did a shirt for us about a year ago and it was for a "Destroying the Manger" theme and what he did for the t-shirt looked awesome, so when it came time to pick someone for the cover, it was a really easy choice, because all the ideas and details that I had for the cover, he was able to paint onto the canvas and that is another thing, this is an actual painting and not digital art! It is insane how much detail he put into a real painting!
Could you speak a little bit about the album's lyrical content too? What influences and motivates you to write such sci-fi-oriented occult stories these days? List us a couple of your beloved sci-fi books and their authors respectively?
- I have wanted to continue "The Key" story ever since we finished the first album, but since I didn't sing or hardly write any lyrics on "Thresholds", it ended up having nothing to do with "The Key" in any way, so when I decided to do Noctutnus AD, the first thing was to start where "The Key" story left off lyrically. I have had quite a few years to think of a million different ways that I could continue the story and also give "The Key" character an actual name, because he needed to be called something and even have a background story if I was to continue the story correctly. I have always been into monsters and sci-fi ever since I was 4 or 5 years old and I love all the old sci-fi movies, so stuff like that has influenced me all throughout my life and especially my music. One of my favorite sci-fi books was called "Inferno" by Larry Niven and Jerry Pournelle, it is a sci-fi adaptation of Dante's Inferno, that book is an awesome read. When I was growing up we had no internet or cell phone and only a couple channels on TV, so I did a lot of reading back then! But "Paradox" has 4 songs that continue with "The Key" story and one that continues the "Neolithic" story and one song that continues the "Lake of Fire/Standing in Blood" story. So yeah most of "Paradox" is a continuation of several of "The Key" songs, not just "The Key" story itself.
How long did it take to compose the nine tracks of "Paradox"? The recordings of "Paradox" were carried out by Jarrett Pritchard at New Constellation Studios in Orlando, Florida. How was it to work with Jarrett and how many days you required there in total? As I know, he also managed to record a ripping lead for one of your songs, right?
- There were a couple things that we had started writing from the beginning of the start of the band, but like the instrumental "Number 9" we wrote in the last 2 rehearsals that we had before we went into the studio. In the beginning we were definitely in no hurry to just write a bunch of songs to throw out a quick album, but we had no contract until we already had about 7 good songs written. We signed the contract in June and were literally in Jarrett's studio in August. I have known Jarrett since the 90's when he was living in Tampa, so I knew about all the records he had recorded and how many great bands that he ran live sound for and that he is an old school metal head too and I saw that in May he was buying a 24 track analog reel to reel tape machine, so I wrote him and asked if he had the time to record our album and luckily he had about a month open in August and September, so we went in over about a month of weekends and finished all the recording literally a day or two before he left on the road for a couple months of back to back tours. So when he got back in mid December he began working on the mix and had it finished in early January. Luckily Jarrett cut us a huge break and did the album for a certain amount instead of charging by the hour or it would have cost probably double. He did an absolute amazing job on every aspect of the album and yes we had him play the last set of leads on the album, because he is a ripper on guitar! It was just really good timing where everything just sort of fell into place right when it needed to.
On the 21st of August, 2019 you've premiered an official video clip for the song called "Apotheosis", which turned out really fantastic. It was directed and edited by Jason Stevens, while for the animations Michael Ricks was responsible. The animation ideas were all of yours or Michael got a free hand in creating things totally on his own?
- It took a while, as I have never tried to put a real video together and make it happen, but Michael was the 3rd animator that I had to hire, because the first two just flaked out on me and disappeared and wasted a bunch of time. But it happened that way Michael ended up being the one and he did an incredible job. Another artist named Uwe Jarling made the actual character for me in 3D form and I went over all the lyrics with Michael and went into detail about each part and what needed to be going on in the different scenes, other than that I let him do his thing and it came out even better than I ever expected it to. The same with Jason, I gave him a pretty detailed outline and just let him go and be as creative as he wanted with the editing and filters and effects.
You've been playing live quite a lot lately. So please tell us your impressions from Destroying Texas Fest 15, Santiago Metal Festival 2019 as well as your experience from last year's Brutal Assault Festival. Do you plan any extensive US or European tours in support of "Paradox"? If so, where the fans can see and catch Nocturnus AD playing live next?
- Actually Destroying Texas and Santiago we had done before and were asked back again, it was our 3rd time in Santiago, so we have a great fanbase there and the crowds are awesome too! Brutal Assault and Maryland Death Fest were two of our 3 biggest crowds and next summer in 2020 we will be doing both festivals again along with a few other European festivals next summer that we will be doing, but can't announce just yet, but soon! No long tours are planned though right now.
Mike, you are also very good at creating digital graphics and animations. When did you start this hobby of yours? Did you learn it on your own or you've received some kind of training in the past? What kind of programs and applications you are using lately for this purpose?
- What is funny about all this is that I am not an artist that can draw or paint things, I can't even draw a good stick figure! But about 3 years ago I discovered fractals and a program called Mandelbulb 3D and you don't draw fractals, you explore them with this program. So I watched a bunch of how to YouTube videos on how to get started and I was amazed by what people were creating with this free program, so I got it and started playing around with fractals and it has a very simple to use built in animation program and within a week I was making fractal animations. From there I discovered another 3D program called DAZ that is also free and it does 3D rendering of objects or scenes. Again for this I learned by watching tutorial videos and joining some Facebook groups and asking a lot of questions. Then I found that you can take DAZ characters and scenes and put them in the Unreal Game Engine and animate them at a much faster rate and in much better quality. I went to try Unreal and my graphics card wasn't even good enough to run the Unreal Engine program, so I got a better card and got it working, but could not figure it out on my own. So when I was looking for animators for our video, because I wanted a professional person to do it instead of me trying it and Michael Ricks ended up being the animator I chose for our video and it just so happens that Michael has several "How to video" courses on a website called Udemy, so I took one of his courses, which was how to use DAZ characters in Unreal, so for the past couple weeks I have been taking his video course and learning how to use the Unreal Engine, which a huge portion of video games these days use the Unreal Engine to make their games in. I have already learned how to import and make some basic animation video in Unreal, hopefully soon I can try making some multi camera animation scenes, it is very tedious work, but I do enjoy it!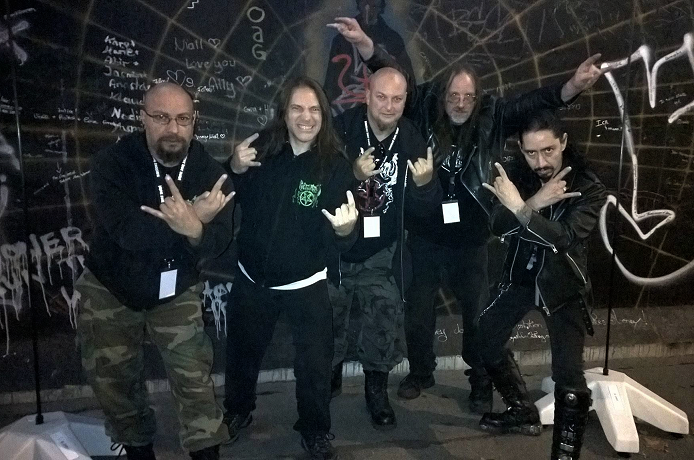 How the underground scene of Tampa, Florida looks like nowadays? Do you play there often? If you compare the metal fans of the past 3 decades to the current ones in Tampa what kind of definite differences do you experience between them?
- It really depends on the band, some shows do draw a lot more people than others, bands that come from out of town generally do better. But those younger nu metal shows are usually packed, but it is all younger kids. We only play Tampa a couple times a year, because the crowds aren't that great, people always ask why we don't play here very often, but those same people don't ever even come when we do play. Each year less of the old school metal heads come out to shows, but the younger crowds go to their own nu metal shows, but don't support the older bands in most cases.
If I remember correctly, you have an octopus, right? Does your admiration for octopuses have anything to do with the cult of Cthulhu?
- I have had several of them, but right now I don't have one. They only live about 2-3 years and the last one laid eggs and they all hatched and I had over 300 babies in my tank and it was just too much for the tank and the whole system crashed and everything in the tank died. So I had to get my tank back to working conditions again, so I can try again. I have always liked octopus, but the Cthulhu comparison definitely makes it that much better! They are very intelligent animals and once they get to know and trust you, then their whole attitude changes and they become really friendly to you and will take food right from your hand and let you pet them, they do like a lot of attention.
Please end this interview with your final thoughts...
- I just want to say a big thanks to all of you for supporting all the different things I have done and for continuing to supporting me on the new material! As long as I am able I will keep doing music in some capacity, it's part of my eternal soul!