Brutal fellas from ENDOCRANIAL have returned with a devastating new release that will definitely widen the borders of Brutal Death Metal and enter its arsenal in a glorious way. My questions were answered by the whole band, so I was more than happy about the teamwork and its result. Enjoy every piece of this brutal puzzle!!!



Your second full-length album "In Presence of Total Absence" has just been released by Japanese Amputated Vein Records. How did you hook up with them and how do you feel about the collaboration with such a cult label in the world of Brutal Death Metal?
Andrey: Hello Cornelius and to all the admirers of death metal from the UA band ENDOCRANIAL! Well, the story began in 2014 with my first message about to be published exactly on Amputated Vein Records. I think this is the royal icon in the brutal league. So all our efforts were crowned with success and Masakatsu after listening to the album in 2017, after all the sound stuff was over, was able to appreciate our work. We are very satisfied to work with them, because it is really about the cooperation in full understanding of this word.
Hennadiy: Amputated Vein is a very cool label and we are wildly happy to work with them.
Musically the material on your new album became more sophisticated and variegated compared to the songs of "Impact of Change" (2013). Was it due to the line-up changes or it just happened the way of natural progression?
Andrey: The album became more complex. I would say this is certainly a new level of the team's approach to work on songs. Separately I want to mention the work of Alexey (drums) and Zlat (bass) over the rhythm sections, which were enriched by a non-standard approach and crystal analyzing.
Hennadiy: There are many factors that influenced this growth. On first place is the desire to play something more technical. With such a participant as Alexey many ideas began to be realized, then Zlat joined us and everything became supernatural. I don't want to say that the previous material is bad. Each album has its own story, as well as this one.
The sound production on "In Presence..." is also heads above any of your earlier efforts. It is ultra massive, dynamically destroying and just remarkably precise. Where did you record it and who was in charge of producing, mixing and mastering it?
Zlatoyar: I just want to say that I'm very impressed working with Alexander. He works very quickly and gives your desired idea in a finished form. All members of our band have their own thoughts about the album sound, but Alexander made it! So we got massive old-school guitar sound, loud crystal drums, clean punchy bass and sharp distorted vocals – and all these things sound great together.
Andrey: It was done by the god of sound vibrations Alexander of TsunTsun Productions. He magically packed everything in a juicy iron-concrete block of Brutal Death Metal.
Tell us more about your song-writing process. How the songs of "In Presence..." were created? Is there any special method you are focusing on when it comes to build/structure and to arrange a particular song?
Alexey: The bone of the songs was created by one person – guitarist Andrey, and it's not only riffs, but the skeleton of the compositions in general. The other guys, at the same time, have a wide field for fantasy and experiments with the arrangements. For me this is a new and interesting experience; all my former bands had riffs that were written for my drum patterns. Working with ENDOCRANIAL is different. It's instructive, interesting, new kind of teamwork to me.
Andrey: The songs have been created after certain brain activities, after some past events and situations. The compositions are based on my riffing and further work is based on collecting and bridging that stuff with the group.
Zlatoyar: I've started working when the album was already recorded, so I had all instruments and I like such situations! When you see all pictures of arrangements you can create your line complementing the song: you can play with guitar, or accent drum lines, or have soloing moments and so on.
To me your new tracks are more digestible and they have more melodies and memorable hooks. Do you agree with me? Was it a conscious decision to add more clarity to the final product?
Andrey: I don't know. All moments are specially memorable for me.
Zlatoyar: I think the band became more mature and gained a more musical approach. (Yeah, that's exactly what I meant – Ed.)
Alexey: There are a lot of hit moments on the album... I think this is good. At the same time, there are a lot of multi-layered textures that not every listener can taste from the first two listening; those are just for the sophisticated listener.
Lately it is kind of preferred tendency to invite guest musicians to appear in some tunes. Well, you did it as well. Christian Kühn of DEFEATED SANITY and Anthony Voight of GORGASM were selected for this duty. How these alliances came about? Tell the story to the readers.
Alexey: In the year of 2013, my band STALINO was touring in the depths of the Russian Urals with a great company, the most beautiful and favorite for me – DEFEATED SANITY. We made a friendship with the German guys and had an active communication on the network in these four years. I asked Chris (guitar player) to record a solo for one of our new album's song, he listened to the raw track, he liked the song and asked us to give him a month to compose a good solo. The result is satisfying, and I hope the listener is not disappointed too...
Andrey: Everything turned out the same way as with the label. Those guys are the coolest musicians and they've made their work on a high level, big thanks to them!
Your new bass player Zlatoyar spiced up the whole album in an awesome way, especially it can be audible in the instrumental cut called "Pluto's Cave". Hats off how skilled he is. Where did you find him? Does he play in other musical projects?
Andrey: Zlat is the king of bass sadism!!!
Alexey: Zlatoyar is an incredible musician, I'm happy with our cooperation, I'm proud! I've been following his musical path not for the first year. I've always admired his technical abilities and versatility, openness to a variety of styles!!!
Zlatoyar: Thanks guys! Andrey contacted me to record bass guitar for their new album, it was kinda session work. At first I was recording like they asked me, but there were a few moments where I could not resist myself and added some extra stuff... They liked it and asked me to add more – haha, so I did. "Pluto's Cave" was written spontaneously, we just wanted to make some outro for the album and the guys asked me to play some solo stuff. It was great inspiration, so the composition was created very quickly. I'm almost a session musician. You can find me on JONCOFY – "Velet" (single), BLAME – "Dark eyes" (EP) and many other session works. I'm also creating my Black Metal project and play in many pop/funk/fusion/rock bands and have some solo stuff in a jazzy way.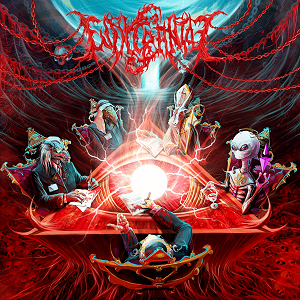 Can't neglect the perfect album cover. Who did it? What meaning lies behind it? Has the artwork any connection with the lyrics?
Hennadiy: Of course! There is a sense in the album cover as well as in the previous album. The meaning is a global affair of all the "two-legs" by informational manipulation and geopolitics. Of course, we have slightly embellished the texts (but basically everything was taken from historical situations), added alien creatures. Conspiracy theories are different. In general, this album maximally uncovers the world fuckers of all mankind. In the previous albums we had more local stuff and even more mentally-individual psychological experiences plus social beings.
Andrey: Propaganda. Manipulation. Utopia.
You've recently played and premiered the new album at "Famous Flesh Fest II". Tell us your impressions about the whole event and your show in particular. Did you record your full set for a possible DVD release?
Andrey: "Famous" was a kinda debut performance for ENDOCRANIAL and the first gig after a two-year non-concert period due to the reasons of military operations in our country. The DVD was recorded, but we will not publish it.
You've also played a new song there, namely S.A.T.O.F.A. What should we know about that song? Do you already have some new stuff prepared for your third album? In what musical direction should we expect your new material?
Andrey: "Satofa" is something other and completely different for understanding and building riffs for us. It is essentially an experiment.
Alexey: It is an experiment, interesting as it seems to me... About the vector – it's too early for talking, creative researches for the new material are in the process, time will show...
Zlatoyar: We have different thoughts about creating a song, so new material will have another wave, I think.
There's a couple of great festivals are ahead for you, like "Metal Heads' Mission", "UzhGoreRot" and "KSM". What should the fans expect from you live? Will you prepare some special sets for those events? Will they differ from each other or added by a bonus cover song?
Andrey: We are preparing a very tasty piece of brutalized metal, because this is our task: come, gut and leave.
Do you have plans to play outside of Ukraine as well? Did you fix any European tours or festivals for the near future? If so, please reveal us more details.
Andrey: Yeah, we are planning and speaking with local promoters, the work is boiling.
Zlatoyar: Outside gigs are very important, we need to show our music to other people without boiling all time in one cup.
How do you see the Brutal Death Metal movement of Ukraine nowadays? Earlier Donetsk region produced at least 70% of all the brutal bands, but lately it seems to me that Kyiv takes the power and going to dominate and conquer the brutal scene. Don't get me wrong, it is fine, but we all know that it's mostly affected by the actual situation in our country and political scum we face every day. Share your thoughts on that issue.
Andrey: Everything's in order with metal and brutal metal: EZOPHAGOTHOMIA, DATURA, FLESHGORE, SCHIZOGEN, SERPENTERNITY, INTOXICATE, AFFINITY HYPOTHESIS, AMBIVALENCE and many others, everybody is very good. What about politics: I can only bend a known finger in the direction of these individuals and ask normal metalheads to think their own heads as much as possible before doing something.
Alexey: I just wanna add to Andrey's list the great band ZOOFAGUS. I personally admire what they do, IMITATION and VANSTORBING INSOLOBRIDISHN are also amazing bands, I like them very much! About politics: we try not to be there...
Thanks a lot for taking the time to answer all my questions! It's time to finish the interview the way you prefer to. Send your greetings to all the brutal readers of Encomium.
Hennadiy: Respect to all the comrades who make something in our country, because even though it is underground on which you will not earn money, but this is the story that we write on the granite of life. Friends, musicians and listeners – keep supporting Death Metal movement, because initially everything is done for you. Thank you.
Andrey: My wishes: to be and not to burn out.
Alexey: Everything good to everyone!