SCHIZOGEN is a young, but ultra-promising Brutal Death Metal quartet, which prepares to conquer the underground community with its up and coming second album and to share their reorganized dark energies upon the yearning souls of the underworld. Pablo and Vadim were rather kind and contributed us with all the freshest news. Now you are about to perceive the birth of a great mess!!!



The band premiered its debut record "Parasitic Origin" back in 2016. Since that release you had a few member changes. So who plays right now in SCHIZOGEN? Do any of the recent members play in other bands/projects? If so, please name us those.
Pablo: Right since the release of the debut album a drummer and a guitar player were replaced. At this moment our group members are: Pablo – voice, Grinder – guitar, Pavel – bass, Vadim – drums.
Some members play in other groups or have their own projects. What about me, I had to freeze all other groups for uncertain term due to trivial lack of time and with a goal to completely dedicate myself to SCHIZOGEN.
Vadim: I used to play in pretty big amount of bands, but except SCHIZOGEN there is only one project named RESOLVENTA, debut release of which is planned on early September. Its style is something between Dark Hardcore and D-beat. We are not really concerned regarding that.
You've also changed your label from Pathologically Explicit Recordings to Willowtip Records. What kind of deal they offered to you? I suppose, the second full-length should be released quite shortly, right?
Pablo: Let's begin from the end. The album will be released not quite in a short, we plan it is going to happen in the end of 2018 or at the beginning of 2019. The answer regarding label change is obvious, this is the path of growth, always heading to something bigger and better. We liked to work with Pathologically Explicit Recordings, Fernando is very good and responsible person, he helped us a lot, huge gratitude for that. With the next album we desire to reach even higher tops and it appeared that Jason (Willowtip) and some other pretty well known labels were interested in our material. So after some negotiations and specifying of all details and conditions, we signed an agreement exactly with Willowtip. We're really happy about that, because some of our idols have been and still are releasing under that label.
On your online sources I found out that TsunTsun Productions will be in charge for the sonic massacre. How and when did you hook up with them?
Pablo: TsunTsun Productions is very famous among brutal community with his qualitative sound. This is a man who has got behind his back a huge experience with really cool bands all over the world. Great advantage when working with him is the fact that everything is done remotely. He does it very quickly and literally from the first shot he hits the target regarding the sound you tell him about. So on the rights of advertisement we recommend you to address him everyone who is struggling and seeking for good and qualitative sound for reasonable money.
Besides the debut album there were 2 digital singles released in 2017. The first had SEPULTURA's "Slave New World" over brutalized and displayed in SCHIZOGEN-style, while the second one included a new cut called "Birth of the Great Mass" to be featured on your second album. Stylistically it is still Brutal Death Metal the way it should be, but with more abstract guitar melodies, ultra-complex solutions and eerie atmospheres. How do you see it? Do the rest of the new tracks will follow in such a weird or let's say experimental direction?
Pablo: As many people could have already noticed by the single "Birth of the Great Mass", the new material will be quite different from what was on the first album. It is pretty simple, the authors of music were replaced and, of course, the band is not staying on the same place, looking for something new, evolving. That's why new album is going to be more technical, darker and more interesting in its musical part. Also it will reveal a single concept by itself, a history which together with the music will immerse the listener in hopeless deeps of darkness and disintegration of reality.
Vadim: Yes, right now we are really working hard on filling of songs and hope people who will listen to us will enjoy it a lot. Talking about me personally, I am not a big fan of playing "by rules" style and as a result limiting yourself. Of course, all what we love is brutal and all experiments will be based around this style. So after ultra-heavy part, do not expect a beautiful soprano.
This year you've played quite a lot of shows and finally not only in Ukraine, but abroad as well. Tell us your impressions from the foreign gigs, countries you visited and also give us more info on where one would catch you live. Also compare your foreign live shows with the local ones. Is there any difference between them (fans-, treatment-, sound- and equipment-wise)?
Pablo: This year for the first time we have discovered Europe for ourselves if talking about live concerts. No doubts it is amazing experience and impressions, which other way you cannot get anywhere and anyhow.
First concert was in Czech Republic on every year festival NTEY DEATHFEST 18. The consist of groups and their quality were really good. Public was rejoicing with self-giving and honesty. If they liked any band then they were supporting it during the set, after they bought disks, merch and saying words of gratitude. After that there was a concert in Košice, Slovakia, not far away from Uzhgorod. It was a tour concert of such bands like VULVODYNIA, WORMHOLE, BLADE OF HORUS and support. Everyone has played really powerful and fans gave themselves for 100%. After that was nice madness and party till late night. It is always cool to have a chat with colleagues about different questions, to listen to the opinion from more experienced musicians and in the end just to spend some time in a good company.
We made conclusion for ourselves that you have to go to Europe completely packed with stuff. I mean, the guitar player should have his own head as minimum, because all in Europe make a concert exactly like this. Each band was walking out with their own stuff. In Ukraine only bands who are well known and have earned enough can allow this for themselves, but in Europe everyone performs like this. Regarding listeners, I would not say that somewhere they are better or worse. If people like what you give them, what they see and listen to, then they will support you in any country and have outrageous fun.
Regarding organization there is something to tell about. For fests in Ukraine, which being held for many days our bands who are still "no-name" trip for their own money, eat for their own money, live for their own cash and etc. In Europe musicians of any level are being treated more respectfully in such questions. Even if you do not get paid, you still will be fed, provided with a place where you can spend a night and other such things as well. Also I didn't notice that any musician from more famous band acted like a celebrity and you are nothing. Everybody communicate without problems or pathos and this kind of atmosphere is very inspiring.
How do you see the Ukrainian Brutal Death Metal scene in general? Is it growing and progressing or on the contrary? Feel free to recommend a few bands of that genre that one should definitely check these days.
Pablo: I would not wish to say that things are really bad, but situation is not really optimistic. I mean we got enough worthy and cool bands. But most are in anabiosis, some have fallen apart decisively, some got other problems. In fact, the bands which not only make releases, but also trip with concerts, they are less than a dozen. I'd wish our Brutal Family was growing, getting more powerful and united thanks to the strong and quality bands. I'd also with young bands were evolving and old ones didn't give up. Also we need more thematic concerts and, of course, we need maximum support from listeners.
For me personally EZOPHAGOTHOMIA is the most favorite band of the UADM, but some hell perturbations are there and it is unknown if this band is still alive or not. But a part of their members have already created new band and it will be very interesting to check their new material out. Also I'd like to mention our friends ENDOCRANIAL, both incarnations of DATURA, and one-man band – DRIFT OF GENES.
Two years ago you've played in Uzhgorod. How did you like that event? Please share with us your memories.
Pablo: It would be enough just to watch the video from the concert. But for real, it was really cool. Sound and the organization itself. The only sad thing was the attendance. There was a really small amount of listeners and it was sorrowfully to realize, because the festival was held by you for pretty long time already and you wish such festivals get the momentum to become more popular and massive, because there are only a few metal fests by itself.
And Uzhgorod is a very cozy and beautiful city, I like being there.
I've noticed that you really like to walk the nature, climb the hills and mountains. What kind of hobbies you and the other band members have beside playing in a Brutal Death Metal horde?
Pablo: I am a big fan of trips and just adore mountains and the nature itself. At least once per year I have to visit Carpathians with a goal to have rest from everyone and everything, to clean the brain I'd say. Also I really like to ride the bike, it also washes away the everyday routine. Actually, I do lots of other stuff, but that is not a big deal and depends on the free time I got.
Vadim: Besides the music I got big interest in football and love to play it as well, also I'm a fan of Liverpool FC. Doing my best not to miss their games. Have a walk in the nature or make a trip to mountains, I love that too, but now it is more like a dream for me. Also like to nerd in some football simulators and couple of other games. And now I feel incredible with learning the basics of sound engineering and try to dedicate to that all the free time I got outside rehearsals and other business.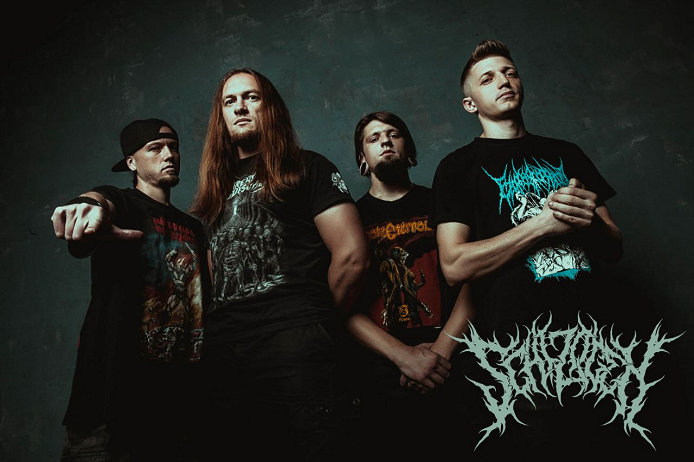 Tell us a little about the lyrics of SCHIZOGEN. What themes will you touch on your forthcoming release? What inspires you lately?
Pablo: The new album will be absolutely conceptual. Me and my friend Andrey have been working on lyrics. It can be said that all the lyrics are completely his merit. From my side there was only the idea, the direction of it, and the rest he was doing as it should be by himself. We are not going to reveal the concept for now, but from the single's name you can understand that there will be a story about some fatal force, which came to our world from worlds much ancient and strongly speaking started to appear itself in different shapes, directly affecting on our life.
Inspiration can come in absolutely spontaneous way, just watching the sky with stars or walking in the forest, something is being born after reading books, hard to say what exactly.
Please finish the interview with extracting the most visceral voices of yours and to be materialized in a written mode here.
Pablo: Do not be afraid to let absolute darkness in yourself, it has no end and everyone will find there his own nature.