FAERGHAIL
"Where Angels Dwell No More" CD 2001
(The LSP-Company)
Do you like melodic Black/Death Metal with a big dose of symphonic orchestration? If so, FAERGHAIL surely deserves your attention. Its members are Jussi Ranta (vocals & synths), Tuomas Murtojärvi (lead, rhythm & acoustic guitars), Petri Moisio (rhythm & bass guitars) and Tomi Kangassalo (drums). Well, there are 10 well-composed tunes performed in the most melodic way you can just imagine. The vocal parts reminded me early Dani (C.O.F.) style a bit, because of the raw & extreme approaches they have. Guitar-riff-wise I can say both guitarists bring rather thoughtfully structured riffs with a definite thrash touch. They also managed to create a powerful sound for them. The drum parts were precisely carried off and mainly deal with galloping double bass formulae. My favorite songs are "Strife for Blood" and the aptly titled "Faerghail (Where Angels Dwell No More)".
FESTERGUTS
"Bloodsoaked" MC 2000
(Oupiric Productions)
This re-release contains FESTERGUTS' "Bloodsoaked" MC '98 (4 songs) plus 3 new bonus tracks. The members behind this infernal Death/Black creation were Michael Nickolayev (vocals/bass), Sergey Vasiliev (guitars, drum programming) and Olga Mitronkina (vocals). Musically there's a big dose of CRADLE OF FILTH in their music (especially in the first 4 songs). But FESTERGUTS don't fear to operate with more brutal things (like ultra deep growls, insane grinding drum attacks, roaring bass and weird keyboard lines to name a few) and that attitude makes their music more original. This kind of originality appears in majority of their songs, but the 3 new ones signify it the best. I should say song-structure-wise these new songs are a bit different from the first 4 and maybe that caused such a big progression in my opinion. For example "Lascivious Necropsy", being one of the best songs, brings some really old-school riffing, while the melodies of the keyboard parts reminded me rather good ASPHYX's mighty track, called "The Rack". The last 2 tracks have this special 80s atmosphere as well, but interpreted in the modern way of Brutal Death/Black Metal. Recommended stuff! The MC comes with a pro-done color cover.
FORMAT C:\
"Deviloading" MC 2001
(Metal Force Records)
The band claims that they play "true & evil dance metal". Maybe these are the right words for the 10 tracks of "Deviloading". However, their music reminded me more the nowadays-popular modern Electro/industrial bands' attitude with a big dose of hardcore influences. It is all the rage now and I don't like such materials, so I better left this question open for the fans of the aforementioned styles. At the end, I list you the members of FORMAT C:\. Here they are: Leshiy (vocals), Pritool (guitars, drums programming, and other digital shit), Hoboth (guitars), Gosha (bass) and Karlsson (drums). To order this cyber hardcore material you should contact Metal Force Records!
GOTHIC SKY
"Believe In Death... Now Forever" MC 2000
(Oupiric Productions)
This Russian 6-man formation plays slow, emotional and keyboard-filled Doom Metal in their 11 songs. The members are Mary Sklyadneva (vocals), Grey Buddance (guitar), Demon Tampletone (guitar, vocals), Slow (bass), El Malicen (keys) and Dep Izzy (drums, lead vocals). They operate with lots of gothic and black things as well, but unfortunately these things don't make their music extraordinary at all. You can listen to usual female vocals, 1000 times heard guitar riffs and cliché keyboard tunes there. Boring material so to say. I don't see any perspectives for this band even if the musicianship shows some potential and skillful attitude during the compositions. Let the doom fans price it!
GRENOUER
"Gravehead" MC '99
(Sound Age Productions)
The second album of GRENOUER pleasantly surprised me. The four guys - Sergey Lyalin (drums), Viatcheslav Koltchin (bass), Andrew "The Indian" Merzlyakov (vocals/occasional keyboards/acoustic guitar) and Alexander Schatov (guitar/acoustic guitar) - turned their ordinary Death Metal music into a more cohesive, brutal, melodic and yet progressive way. They deliver 9 songs of polished, blasting Death Metal with uncanny keyboard passages and thoroughly executed vocal parts. I should say, on "Gravehead", they reached a very strong production there! The guitar parts come in a really neck-breaking interpretation (I can describe 'em as a flow of intense energy per melody), the bass sounds clear, while the drums storm like a hurricane all the way. GRENOUER are doubtlessly one of the best Russian Death Metal bands these days! Buy this masterpiece! Preferred tracks: "Conversing the Dolt", "Alone in the Dark" (great acoustic tune) and "Salt of Mayhem".
GRENOUER
"The Odour O'Folly" CD 2001
(Blacksmith/More Hate Productions)
People always say that the 3rd album is the most important album in a band's career, as it defines the band's own style in general. Well, for GRENOUER maybe it was their second one, i.e. "Gravehead", 'cause on the new album they combine a fairly CARCASS-motivated Death Metal stuff with lots of DISMEMBER-like guitar riffs and quite similar guitar sounding too. Regarding the overall sound production I have to say it was executed well again and sounds perfect. Music-wise these 9 songs have a groovy yet mid-paced basis, but as usual you can hear some grinding parts as well. I would say on this album the band experimented more as earlier and that's why it is not so outstanding as their "Gravehead" album. Anyway it's worth of interest. I can warmly advise this album to the ones who like the Swedish type of Death Metal and also to the ones whose are into unordinary things (as this album features an A-HA cover version).
HERESIARH
"Mythical Beasts And Mediaeval Warfare" CD 2000

(Demolition Records)
"Mythical Beasts..." is the opening chapter for the Latvian Dragon Metal band - HERESIARH. Their 62 minutes long (11 tracks) repertory truly reminded me a war-like atmosphere that builds up from the components of symphonic, epic yet black-influenced Heavy Metal. The 6-piece band managed to inject some medieval mood as well as some extraordinary parts to their material. Also interesting to notice the dominance of the female vocals over the male ones. I, specially, like when a band trying to create something of its own, though here we have more of the so-called image innovations than the musical ones in general. If they could improve this proportion in the future (by adding more perspectives to the music) then HERESIARH would surely become an original band. Nevertheless, "Mythical Beasts..." hides some worth to check parts. So fans of medieval music or as they call 'Dragon Metal' are encouraged to order this album right now.
HERRIOT

"Celestial Obelisk" MCD 2000
(Psychic Scream Entertainment)
Malaysian HERRIOT presents 4 songs in the most melodious Heavy-influenced Death Metal way you can imagine. Loads of melodies, catchy guitar riffs, fine twin guitar solos and excellent sound quality are the trademarks of HERRIOT. The band composes of Chen (vocals), Adlan (lead guitar), Joe Sarcast (2nd lead guitar), Chop Chaosblood (rhythm guitar), Afzat (bass) and Azim (drums). Yeah there are 3 guitar players as in the mighty IRON MAIDEN. Needless to say that musically they influenced them the most along with the Swedish IN FLAMES. Fans of melodic Death Metal will surely price this stuff! Go and get it right away!
HORDE OF WORMS
"Dreams And Dying Eyes" CD '99
(Bloodbucket Productions)

Hey, the worms have returned and attack again! Their 2nd full-length album features 9 hyper-fast Death/Grind tunes in about 25 minutes. The horde combines from the forces of Chris Stepniewski (vocals), Alexander Erhardt (guitars/battery), Brent Assoun (guitars/battery) and Gord McCubbin (bass). They follow the well-guessed path of their debut album and yet developed it to a more aggressive and brutal way. The guitarists as usually bring an incredible dose of ripping riffs and insane solos to which you should imagine blistering drum parts and ultra sick screams/growls. The band works on a full-speed-ahead level so you won't have the time to relax or to take a normal breath during their dreadful chain of songs. The frenzied music of these Canadian guys will simply make your brains bleed and will leave your mind incurable. Unfortunately, the drums still sound rather mechanic even if they fit very well to the music in general. I think the time has come for the worms to fill in the drummer's place in their line-up. Meanwhile I warmly recommend you to check this brutal Death/Grind stuff out. With this release they will definitely rise high the flag of their so-called Canadian Blast Metal! Preferred tracks: "Sweet Skinned Angels", "Holocryptic Passages" and "Firestorm".
HORDE OF WORMS
"Wormageddon" MCD 2000
(Bloodbucket Productions)

The worms get back with a 4-song revenge! Actually there are only 3 new songs plus a 2000 version of their old track "Dead", which was taken from their self-titled debut album. On this MCD you can also greet their new vocalist, whose contribution just increased the gruesome power of the worms. So the line-up looks like this: Peter Cythrawl (lead vokills & throat violence), Alexander Erhardt (guitars, backing vocals, programming), Brent Assoun (guitars, backing vocals) and Gord McCubbin (bass). Let's analyze their songs. "Immortal Coil" opens the massacre with fast, pulverizing drum attacks, storming guitar riffs, thundering bass lines and ultra sick twin vocals. It follows "Under Blood Red Skies". The vocals remained as sick as possible, but song-structure-wise we have more melodies and rhythm-changes there. Then comes the title track "Wormageddon". It represents some really awesome drum parts, raging guitar riffs and very deep guttural growls. And finally there's "Dead (v.2000)" that reserves plenty of surprises too. I mean they changed here and there the drum parts plus increased the overall speed and intensity there. Moreover, after a few minutes of silence you can dive into a ritualistic, horror-like and effect-based outro as well. That should be a kind of experiment I guess. Killer stuff in a word! Sound-wise the quartet progressed a lot and managed to improve it to a supreme level. Canadian Blast Metal at its best!
INCANTATION
"The Infernal Storm" CD 2000

(Relapse Records)
INCANTATION is one of the few Death Metal bands that don't change their style and song-writing process at all. They just bring us the most evil and tuneless Death Metal songs ever. The line-up is as follows: Mike Saez (vocals & guitar), John McEntee (guitar), Robert Yench (bass) and the mighty Dave Culross (session drums). On "The Infernal Storm" we have the opportunity to listen to 8 unholy tracks in their usual brutal and uncompromising Death Metal interpretation. The album lasts 40 minutes and represents the best output of INCANTATION so far. There's everything done professionally and with a high accuracy. Such demonic anthems as the opening "Anoint the Chosen" or the furious "Lustful Demise" and "Apocalyptic Destroyer of Angels" will simply blow your mind up. I can warmly advise this piece of impetuous art for all the die-hard Death Metal fans worldwide!
INFECTED / UNHOLY GRAVE
"Split" MC '97
(DAC Productions)
Well, it's an incredibly killer split release, believe me. INFECTED (the best Ukrainian Death/Grind act ever) opens the tape. They present 4 studio tracks & 3 live recordings here. These guys are really skilled musicians (just listen to the drumming of Vitaly Prygunov in the first 4 tracks for example) and know how to compose brutal, dynamic and yet hyper-fast sonic massacre. Songs like "Female Defecation", "Brown Tormentor" & "Dreams" are definitely amazing tracks. I should say that the studio tracks are more brutal and extreme (the sound is excellent here), while the live tunes bring real raw atmosphere to the listener's mind (with less sound quality, of course). If you are into bands as DEICIDE, CANNIBAL CORPSE and MORBID ANGEL then go ahead and check this masterpiece out! It's a must for all the Death/Grind fans. The other side is reserved for the Japanese Grindcore band UNHOLY GRAVE. These four grind freaks have made a fantastic psychopathic-like feeling on the entire stuff, which contains 13 tracks full of abnormal vocal parts and the sickest song-structures I ever heard. Buy it immediately!!!
INFECTED
"Infected Generation" MC '99
(Moon Records)
Finally I managed to get INFECTED's cult full-length album. To be honest, I was quite curious about this stuff since it was originally recorded back in 1995. Right now I should point out that for such an old material it sounds pretty fresh and brutal. Everything is so professional and exciting there. The sound quality is just amazed me with its powerfulness and clearness! No doubt, it speaks about high musical abilities of the members. Now some words about their repertory. "Infected Generation" represents 9 songs in the most awesome way of Death/Grind style. I would say these songs are about a total annihilation of ears through fast, unstoppable double bass attacks, ultra deep growls, roaring bass parts, killer guitar riffs and excellent yet melodious solos. Do you still searching for a brutal Death Metal material out from the Ukraine? Yeah! Then stop your searching and get this circa 33 minutes long massive brutality from: Moon Records, P.O. Box 104, 03062 Kiev, Ukraine. Preferred tracks: "Infected Generation", "Pimply Life" and "Eternal Questions of Existence".
INHUMATE
"Growth" CD 2000
(Grind Your Soul Productions)
This French quartet torments us with their insane Grindcore materials since 1993. "Growth" is their 3rd CD actually. The torturers are Christophe Knecht (vocals), David Loessl (guitar & backing vocals), Frédéric Anton (bass) and Yannick Giess (drums). There are 17 hypersonic grind songs on "Growth". The album lasts over 32 minutes and ensures an unforgettable experience for all the die-hard grind freaks worldwide. There's no way to hide from their short but all the way blasting tunes. They mostly deal with crazy drum attacks, chaotic yet dynamic guitar riffs, roaring bass lines and quite abnormal vocalizing attitude. In a few songs INHUMATE even reminded me CARCASS' classic Death/Grind approach, e.g. "Reek of Putrefaction" and "Symphonies of Sickness" albums. I am eagerly waiting their next release, as I am sure that it will be a killer masterpiece! Warmly recommended insanity!
LIVIDITY
"Age Of Clitorial Decay" CD 2000
(Erebos Productions)
Hailing from state Illinois LIVIDITY is about to tear your chest apart with their 9 ultra sick Death/Grind songs. In circa 35 minutes you'll get an amazing dose of brutality spiced up with lots of well-guessed horror/gore intros. The band consists of Dave Kibler (guitar/vocals), Matt Bishop (guitar/backing vocals), Mike Smith (bass) and Nick Null (drums). These four maniacs managed to create their most awesome yet insane piece of work to date. If you wish to destroy your brain once for all then take a listen to "Age of Clitorial Decay". It will be a perfect stuff for such a procedure. Fans disposed of rope-nerves should try to get their hands on this masterpiece.
LONG WINTER'S STARE
"The Tears Of Odin's Fallen" CD 2000
(Dark Symphonies)
This is the third release from LONG WINTER'S STARE. Its line-up embraces Clint Listing (guitars; death, screams, deep clean vocals), Greg Ball (synth; drums and sequencing; contra bass; clean tenor vocals) and Deirdre Faith (all female vocals). As you see there's plenty of instruments involved in their music. They combine them very well into the basis of the so-called Dark Metal style. Yet I found these 7 tunes more diverse and varied from the rest of Dark Metal bands. It's not about the usual formula and simple interpretation of this style. The trio made it more mature with such additional arrangements as classically based piano backdrops, lush keyboard tunes, interacting death growls, spoken verses, operatic lyrics about the forgotten heroes of Odin's World and female vocals. In a word, if you're searching for a symphonic Dark Metal stuff filled with surrealistic atmosphere then you will definitely bump into the music of LONG WINTER'S STARE! Preferred tracks: "Blood of Steel" and "The Unknown God".
MANDATORY

"Mandatory" CD '99
(Psychic Scream Entertainment)
The debut album of this 4-man band can be described as one the most unique Death Metal materials out from Malaysia. Being composed by the forces of Fahmi (vocals), Zam (guitars), Apit (drums) and Nizam (keyboards) MANDATORY have created a memorable & extraordinarily atmospheric music herein. Eight mighty tracks full of technical solutions, majestic keyboard tunes, precise drumming and merciless vocals are what awaiting you on this album. Every single instrument sounds clear and comes in a perfect way. Flawless stuff, no doubt! Moreover, I am sure that in a few years it will reach the status of a classical masterpiece in the underground scene. Preferred tracks: "Death... Awhile" and "Be Guide On Me".
MAUDLIN OF THE WELL
"Bath" CD 2001
(Dark Symphonies)
At once I should point out that MAUDLIN OF THE WELL's musical orientation is rather unusual, varied and unique at the same time. Never heard such an open-minded creation until now to be honest. The info sheet describes their style as Progressive, Astral Metal. Be it so. However to get a more clear picture about their style I would add here that their musical roots are definitely lay in the gothic-atmospheric kind of Doom/Death genre. The 9 (!) multi-talents - Jason Byron (vocals, keyboards, percussion); Jason Bitner (trumpet); Toby Driver (vocals, guitar, bass, keyboards, cello, percussion); Maria-Stella Fountoulakis (vocals); Sam Gutterman (vocals, drums, percussion, guitar); Nicholas Kyte (bass); Greg Massi (vocals, guitar); Terran Olson (vocals, keyboards, clarinet, flute, percussion) and Josh Seipp-Williams (guitar) - come forth with a rapturous musical virtuosity on "Bath". They handle their instruments so genuinely that I don't even try to search for false notes or something like that there. It's exquisite in a way it is. If you wish to relax or just to free your mind from everyday problems then this 61 minutes long album will be a perfect tool for it. As you may noticed they combine a big variety of instruments and vocals in their music. This kind of approach makes them sound very original and exotic so to say. Enough said! Discover this band's magnificent proficiency and have a journey into the astral dimensions.
MAUDLIN OF THE WELL
"Leaving Your Body Map" CD 2001
(Dark Symphonies)
This band managed to release 2 full-length albums in one year. Productive band, isn't it? Moreover these records came out at the same day. Let's see what hides this one. Well, "Leaving Your Body Map" is the logical continuation of the "Bath" album. It proudly presents the band-members fantastic skills and inexhaustible potentials in writing as many-sided compositions as possible. It has over 61 minutes of weird meditative-like progressive music that could be easily your travelling companion into the spheres of dreams and astral visions. The 10 complex tunes of "Leaving Your Body Map" have been accomplished in a quite dragging way with lots of acoustic parts, long drawn-out growling vocals and mysterious keyboard patterns. Some guest appearances are also present on this record. So you can expect a special gem from the MAUDLIN OF THE WELL team, it's for sure! The overall drawling atmosphere makes this album really cohesive and a bit melancholic in my opinion. All in all, it's a flawless release done by a flawless musicianship. Fans of progressive metal music will definitely like it! All is left is to enter the breath-resting labyrinths of MAUDLIN OF THE WELL! Order both albums to get a double satisfaction!
MENTAL HOME

"Upon The Shores Of Inner Seas" CD '99
(The End Records)
The latest release of MENTAL HOME includes 8 songs into the atmospheric kind of Doom Metal. The quintet combines by the forces of Sergey Dmitriev (vocals, guitars), Denis Samusev (bass), Maiden (keyboards), Sergey Kalachov (lead guitars) and Igor Dmitriev (drums). Sound-wise "Upon the Shores of Inner Seas" has adorned by a flawless production. It abounds with loads of guitar melodies, symphonic keyboard tunes, clear vocalizing and yet more tuneful parts. Just imagine a cross between SUNDOWN and DIMMU BORGIR and you'll get this masterpiece partly. Although there's a lot of things herein that are characteristic only for MENTAL HOME's materials (I mean some folk-oriented things here). Preferred tracks: "Downstairs" & "Against My Will" (some grinding drum parts included there).
MERLIN
"They Must Die" CD 2000
(GWN Records)

The Russian masters of blasting Death Metal have finally returned! Nowadays the band composes of four members, namely Mary Abaza (vocals/bass), Alex Ioffe (rhythm, solo & synthesized guitars), Nick 'Energizer' Byckoff (drums) and Arteom 'Bolt' Nazarov (rhythm guitar). Musically, "They Must Die" follows the brutal path started back in 1997 on the band's debut album, called "Deathkoteque" (by the way, it will be re-issued soon by GWN in CD format as well). Of course, this time they've added more complexity and even more heaviness to their songs in general. Speaking of the sound quality I should say it was incredibly well executed. So what can expect you? Pure brutality in every sense of it! The album features 9 high-technical and over brutalized Death Metal songs, which are sound quite polished and balanced, to be honest. As usual Mary delivers us violating lava of vocals and roaring bass tunes, while Alex and Arteom bring the ultra energetic and sophisticated riffs specially created for Nick's insane drumming that just kills all the way with its unstoppable grinding and dynamic parts. To draw a parallel for MERLIN's music I can definitely name you such bands as MORBID ANGEL and VADER, because technically and brutal-wise they are close to MERLIN. In a word "They Must Die" is a flawless album, which should be praised by every brutal Death Metal freaks. Don't wait until your next wages order it right now! Preferred tracks: "I Want Blood", "They'll Never See Their Pay", "Entering the Gates of Paradise" (a great melodic tune).
METAL SCRAP COMPILATION #5
"S.O.D.O.M. & G.O.M.O.R.R.A." MC 2000
(Metal Scrap Production)
Well, this is a 180 minutes long (2 MC) compilation featuring 31 bands, both famous and underground ones. Here's the list of participants: DEMENTOR, NIGHT IN GALES, TALES OF DARKNORD, EVTHANAZIA, APEIRON, BENIGHTED SKY, INHUMATE, ELYSIAN FIELDS, MISCREANT, SCORBUT, PSALM, LITTLE DEAD BERTHA, INQUISITION, FUNERAL OF SOUL, APRAXIA, SUGAR FREE, THRON, CUMDEO, APOCRYPHAL, DISABLED, FESTERGUTS, VOODOO, GRENOUER, TEMPLE OF OBLIVION, INWARD PATH, SIEGED MIND, CRYPTHOWL, VALHALLA, PARADIGMA, TEMPTATION and FORGIVE-ME-NOT. I guess the names are speaking for themselves. The tapes are come with pro-done b/w covers plus a little 32-paged booklet, where you can find all the necessary infos about the above bands.
MIND SNARE

"Hegemony" MCD '99
(Psychic Scream Entertainment)
MIND SNARE definitely belongs to one of the best and most underrated Italian Death Metal bands these days. The band consists of Gigi Casini (bass/vocals), Chris Benso (guitar) and Marco Boffa (drums). Did you know that they formed back in 1989? No, I assume! Well, "Hegemony" is their first release for Psychic Scream and I should say it perfectly kills over the entire repertory. There are 6 studio and 2 live tracks featured there. Their music deals with CANNIBAL CORPSE- and DEICIDE-like riffing, unholy lyrics and brutal grinding attitude in general. But it doesn't mean that they are lack of ideas. On the contrary, you can find there lots of killer riffs, naturalistic deep growls, pulsating bass lines and yet an awesome dose of grind-based drum parts. In a word, it's brutal music for brutal people! Obtain this superior Italian Death Metal assault of MIND SNARE immediately!
MIND SNARE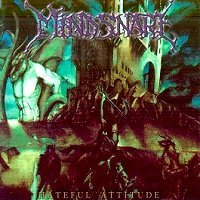 "Hateful Attitude" CD 2000
(Psychic Scream Entertainment)
The new masterpiece of MIND SNARE has indeed arrived. It has a fantastic production plus a good interpretation of what brutal Death Metal is all about! "Hateful Attitude" combines 9 songs of masterful brutalizing! The trio does a great job on this album. All the instruments come in a clear way and they sound really powerful. Musically it shows a better forged together musicianship. Just imagine a mix of blasting Death Metal filled up with unholy yet Lovecraft-based lyrical content and fast double bass drumming that unstoppably attack you all the way! You'll doubtlessly bump into the recipe of MIND SNARE! Go and get this roughly 30 minutes long killer Death Metal stuff! Preferred tracks: "Attitude", "Hatebomb" and "Invocations of the 4 Gates".
MODERN OZZ DEMONS
"Psychotic Eastern Blitz 99 - 666. Vol. 1" CD '99
(Psychic Scream Entertainment)

This compilation CD mainly deals with Black Metal bands and as you noticed from the title with bands of the East! However there's some exceptions as always. So find enclosed the following acts on this CD: DESTROYER 666 (Australian Black Metal Cult), PAGANIZER (Melodic Thrash/Death from Sweden), LONG VOYAGE BACK (Australian experimentalists in the vein of IN THE WOODS and OPETH), MISTIK (Mystical Black Metal from Malaysia), ANATOMY (Australian Black/Death legend), TANDUS (Rusty Metal), ABIGAIL (Japanese Yakuza Black Metal), VORAK (Experimental Metal from Australia), BESTIAL WARLUST (Satanic War Metal from Australia), KOFFIN KANSER (Malaysian Experimental Hardcore), NO PROMISES (Slovakian Death Metal), RITUAL ORCHESTRA (Black from Indonesia), ABYSSIC HATE (Norwegian-type Black Metal) and MANDATORY (Intense Death Metal from Malaysia). Personally I liked this CD a lot. So I want to advise it to anyone who would like to get a great overview on what's happening with the Metal scene over there.
MORGAIN

"Sad Memories Of Fairies" CD 2000
(Metal Age Productions)
The latest MORGAIN album displays a rather interesting mix of atmospheric Doom Metal and eastern-based melodies. The members behind this 13-track creation are Richard Zajac (vocals, guitar, bass & drum programming), Slavka Tomayova (vocals, keyboards), Jony Stefanik (guitar) and plus some guest musicians. The whole material radiates some special mood that combines from sorrowful, depressive and yet mesmerizing passages in general. These passages sometimes are even getting a meditative character. So to say relaxation is what waiting for you here. If you search for a quality album done by thoughtful people let's give a chance for MORGAIN and get in touch with them right now.
MOURNFUL GUST
"She's My Grief" MC 2000
(Metal Force Records)
MOURNFUL GUST is a new and promising name in the Ukrainian underground scene. It features Vladislav Shahin on vocals (he sings in Black Metal act, VAE SOLIS, as well), Alexander Glavniy on lead guitar, Evgeniy Vecher on rhythm guitar (ex-TEMPLE OF OBLIVION), Evgeniy Kozlovskiy on bass, Artem Lygun on keyboards and Vjacheslav Kapusta on drums (ex-TEMPLE OF OBLIVION). "She's My Grief" represents 7 brilliant songs of melodic and yet emotional Doom Metal. Sorrowful guitar passages and majestic keyboard tunes filled up with a wide range of vocals that were, by the way, precisely worked out are the so-called trademarks of MOURNFUL GUST. It's not a typical Doom stuff to be honest, 'cause 4 session musicians helped them out with the enchanting sounds of soprano, violin and flute. I know (on the other side) that these things are indeed the usual and basic elements of nowadays Doom Metal scene. Nevertheless, it is something else I would say superior! The remarkable sound quality speaks for itself and shows a serious musicianship, no doubt! Preferred tracks: "Path of My Tears" and "As a Wingless Bird".
MURDER CORPORATION

"Whole Lotta Murder Goin' On" CD 2000
(Psychic Scream Entertainment)
This release contains 17 songs from different periods of the band's carrier. You can find there rare 7" tracks as well as previously unreleased ones. The sound is good all the way, but as these songs were recorded with different line-ups it is understandable that the song-structures are differ from each other a bit. Though we are definitely talk about brutal Death Metal here. I really like how these 3 death freaks build up their compositions. They are able to play straightforward in your face Death Metal tunes as well as groovy mid-paced parts mixed up with a small dose of melodies. I think this trio deserves to be more recognized worldwide as they play really masterfully their brutal kind of Death Metal.
MURDER CORPORATION / GRIND BUTO

"Santa Is Satan" CD 2000
(Psychic Scream Entertainment)
Another cool split release by Psychic Scream. MURDER CORPORATION displays 6 energetic Death Metal tunes in their most brutal way. By the way, one of them is a cover version of BLACK SABBATH's famous "Children of the Grave" song and an another one is a previously unreleased track. It's a totally killer stuff that can crash your mind with its muscular sound production. The sonic massacre follows by the 6-song material of GRIND BUTO. Unfortunately, they use a drum machine and it makes their stuff a bit mechanical. Nevertheless, I found quite well composed their songs. They prefer grinding Death Metal with non-stop drum parts and deep as crater growls. And what's more there's a couple of great intros from horror movies. Really impressive stuff! In the name of brutality get this 29 minutes long split CD or die!
NASUM

"Human 2.0" CD 2000
(Relapse Records)
The second full-length release of NASUM represents a killer interpretation of what real Grindcore is all about. The almost 39 minutes long album contains 25 extreme yet aggressive Grindcore tunes mainly reminiscent of the classic NAPALM DEATH way. The three-man wrecking crew - Mieszko A. Talarczyk (guitar & lead vocals), Jesper Liveröd (bass) and Anders Jakobson (drums & low vocals) - blasts all along and involves an amazing dose of fresh elements into the "old and tired" Grindcore style thus expanding its borders and norms to a higher level. Their blistering, relentless and hyper-fast combination will surely please the fanatics of the Death/Grind style. Absolutely crushing Swedish Grindcore is what we are talking about! This is how should sound a Grindcore band nowadays! So open your eyes, 'cause "Human 2.0" is the album you waited for!
NEGLECTED FIELDS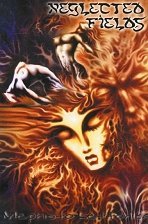 "Mephisto Lettonica" MC 2000
(Scarlet/Odium Productions)
It's a masterpiece, believe me! Crossing the CARCASS-like Death Metal line with the monumental-like OLD MAN'S CHILD line NEGLECTED FIELDS created a new formulation of Techno Death Metal in "Mephisto Lettonica", which is their second album up to date. Musically it differs a lot from their debut album "Synthinity". I would say it's more progressive and keyboard-filled at the same time. I'm sure it's happened after involving George (keyboards) into the band's line-up that besides him features Sergey (bass), Destruction (vocals/guitar), Herman (guitar) and Karlis (drums). Every song has its own atmosphere that makes this material enjoyable and interesting all the way. The sound is remarkable as usual for the materials coming from the Abyss studio. I would like to point out some great songs as "The Human Abstract" and the classical-based instrumental track "Presentiment", these are quite impressive songs with flawless ideas. But I can say it for the rest of songs as well, they're full of better and better ideas and majestic keyboard tunes so don't waste your time and check out NEGLECTED FIELDS' new dimensions in "Mephisto Lettonica"!
NILE
"Black Seeds Of Vengeance" CD 2000
(Relapse Records)

Here is the follower to the highly acclaimed "Amongst the Catacombs of Nephren-Ka" debut album. The initiators of the mysterious Egyptian-based Death Metal style are back with a monumental vengeance. The 12 songs of "Black Seeds of Vengeance" are proudly present NILE's outrageous power and creativity towards original approaches & sounds. With the addition of a second riff-master yet third vocalist, namely Dallas Toler-Wade, the core of the band - Karl Sanders (guitar/vocals), Chief Spires (bass/vocals) & Pete Hammoura (drums) - even turned their already unordinary Death Metal music into a more technical and brutal interpretation. You'll bump into an excellent mixture of Middle Eastern tones and professionally executed Death Metal on "Black Seeds of Vengeance". If you fond of precise hyper-grinding ferocity, complex guitar riffs, frenzied solos and a domineering three-vocalist onslaught then this merciless piece of art will definitely please your tastes! The contributions of Derek Roddy (additional drums) and Wes Benscoter (cover artwork) are worth mentioning as well. I'm impatiently waiting their next release! Until then you're encouraged to order this killer Death Metal release from the masters of the Pyramids! Preferred tracks: "The Black Flame", "Multitude of Foes", "Nas Akhu Khan she en Asbiu".
NO PROMISES / DUST COMPONENTS
"Pirouette Of The Antisocial" CD '99
(Psychic Scream Entertainment)

NO PROMISES (Slovakia) begins this split CD with their neck-breaking Death Metal stuff. There are 6 songs performed in quite decent way by 5 musicians: Holas - guitar, Milhaus - vocals, Beda - bass, Mina - guitar and Kapa - drums. These songs were rather well composed and arranged. Stylistically I would compare their music to bands as CARCASS, ENTOMBED or DESULTORY. Everything pro here. Songs like "Torture Dance" and "Cruel Poet" are worth of mentioning! And then comes DUST COMPONENTS (Malaysia) that features a very young musicianship in the faces of Rizal (bass/vocals), Whye Kong (guitars) and Elton (drums). They mix DISMEMBER-like riffs along with great "own" ideas (mainly vocal-wise they appear) that give a strange character to their basic Death Metal material. I've found also some crossover yet hardcore elements in their repertory, which makes this stuff varied and interesting. Make an experience by listening to these 7 extraordinary tracks of DUST COMPONENTS!
NOVEMBERS DOOM
"The Knowing" CD 2000
(Dark Symphonies)
Well, everyone knows that knowing means power and it is the key of everything. The beautiful cover displays this fact very well too. Musically NOVEMBERS DOOM is about to create a new branch in the over-populated Doom Metal style, which they call dark, depressing doom death. Indeed, these 12 well-composed songs can really bring you an incredibly depressive mood. Grievous harmonies, multiple voices, weird sound effects and lots of instrumental passages guarantee you an excellent relaxation during the over an hour in length album. It's like an eternal flow of emotions that changes its face from song to song, a great journey into the dimensions of atmospheric feelings. "The Knowing" is definitely a masterwork that should be placed on the top with such bands' works as MY DYING BRIDE, ANATHEMA and PARADISE LOST (early ones). Attention Doom freaks! Do not miss this great album!