Are you ready to read an interview with bodycheck grinders from Slovakia?!!! Well, I really hope so! THORWALD's music is a mix between ultrafast powerviolence and rough grindcore. Plus their latest stuff "Kolízie Systému" just kills the right way! Vocalist Bindi was kind enough and shared with us all the news we have to know! Go, read and explore!!!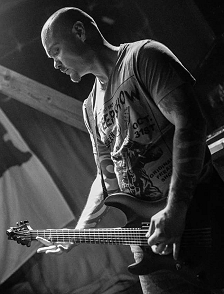 Hi Bindi. How are you? Let's start with some short background information about the actual members of THORWALD. Please introduce them to the readers.
- Hi Kornel, thanks I'm doing fine. The current THORWALD assembly is:
Kubo – drums from 2015. He is also a member of the KILLCHAIN band. After a long search, we finally found a drummer who conformed to us as a musician and as a human. Kubo is a loving father and a passionate cyclist.
Fuko – guitarist since 2009. Besides playing he also writes great lyrics. As it is obvious from his appearance, he loves tattoos. In addition to this, he is a loving father.
Wurma – bassist since 1999. He is a founding member of the band and its brain. He likes to spend time in a gym. Besides this he's an ever-hungry man.
Miki – singer since 2009. He loves alcohol and alcohol loves him.
Bindi – singer since 2010. Having known Wurma for 20 years, I had the honor to be with THORWALD from its beginnings. First I was just a member and a so-called girl for everything. I organized their concerts and was the band's driver. Only later I started to sing. Currently I take care of recording, mixing and mastering. I like technique and cycling.
Your latest release "Kolízie Systému" was out in 2016. You've presented 8 new ultra fast, grinding death cuts plus a remix there. How's the response to the album so far? Did you manage to sign a deal with some label to release it?
- The audience's response is great. We haven't expected that people will like it so much. Originally we planned to record it as a demo. However we were forced to program drums, since we haven't had any drummer for a year. The drum programming experiment was successful, so we published it as a free digital download. After a big demand we released a limited edition of 40 vinyl records. So far we don't have a plan to publish it through any label. However, if we would receive an offer, we certainly would not reject it. Currently we are preparing our new record.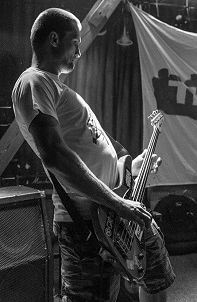 The song titles of "Kolízie Systému" impressed me quite a lot. I am sure you are talking about social themes there, but please tell us more about your lyrics and what makes you to write them in such a straight and outspoken way.
- You're right. The lyrics are about issues that suck. It's a form of reflection to this (fucking) world. We talk about all the dirt that begins with religion, continues in politics and ends up with ordinary people, unable to appreciate what the earth is giving them. The art, including music, is one of the first categories that reflects and reacts to such things and we are not an exception. We don't like the extent to which manipulation went so far, where human is just a toy in the hands of wealthy men (mushrooms) that are having fun. We want to draw attention to this fact at least through our music. (Rightful perceptions and true words indeed – Ed.)
You are from Košice. What bands would you pick out from the current Death/Grind scene of Košice? Is there a friendship and unity between all those bands there?
- Yeah, sure! We have the greatest "brotherhood" with KILLCHAIN, at least, because we share the same drummer and the same rehearsal room. CRUENT is another band from Košice that crushes with us. These guys play grind with gore themes (mass murderers, horrors, zombies, simply delicatessen). Basically, we are friends with the whole underground in Košice. I'd like to mention a band called ATARAXIA that is from Ružomberok. We are good friends with these guys and musically we are very close. We had some concerts together and are planning some more. I definitely recommend them for the next UzhGoreRot festival. (Thanks for the advice, will keep them in my mind – Ed.)
What kind of bands do you like to listen to with pleasure lately? Please name us your influences.
- Okay, let me nominate bands for entire THORWALD: MISERY INDEX, DISFEAR, AT THE GATES, TESTAMENT, DARK ANGEL, DEATH, ROTTEN SOUND, INSECT WARFARE, PHOBIA, BLOCKHEAD, NASUM, S.O.D., SLAYER, IMPLORE, FEAST, MURDER CONSTRUCT, MAGRUDERGRIND, PANTERA, GUNS N' ROSES, ALICE IN CHAINS, VENOMOUS CONCEPT, LOCK UP, GADGET, AGNOSTIC FRONT, NAPALM DEATH, BRUTAL TRUTH, GOJIRA, ENTOMBED.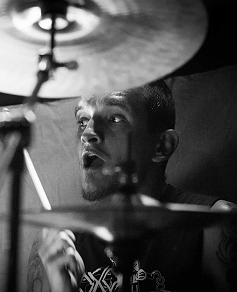 It's a selection of variety. Each of us likes something else and we transfer it into our acting on the stage. Obviously, we don't want to sound like someone's copy that's why we aim for originality in our songs. The average age of our band members is 35 years, so we are old-school fans. However, we do not kick against new trends. It is very important that every member of the band identifies with it. It isn't worth doing something that makes no sense.
Whose duty is to write the music in the band? How the creative process looks like within THORWALD? I assume you already have some new tracks ready, right? Talk a little bit about them as well.
- Wurma is the one primarily responsible for the music. He prepares the frame of a track, then Kubo adds drums, Fuko delivers lyrics and then with a song line, we finalize the track. The new material consists of five tracks and a cover of MOTÖRHEAD. In terms of music and sound it's gonna be even bigger massacre than "Kolízie Systému". We need to fine-tune the details and it should be out by end of this year.
You labeled the band's style as bodycheck grindcore. Why is it so? What do you mean under bodycheck?
- Good question. During THORWALD's goregrind period (2003-2005) the band was flirting with ice-hockey themes. Gradually we got used to it and the ice-hockey crackdown – the bodycheck – became a metaphor of our style. Simply, just play THORWALD and you'll hit the ground.
Tell us more about your live activity. Where will you conquer the stages in the near future? You will also visit Ukraine for the very first time. What should the Ukrainian extreme metal fans expect from you live?
- After the concert in Ukraine, we have a scheduled concert with DEAD INFECTION, EPITOME, HALUCYNOGEN and ATROPINE. It will take place in Strážske on September 2, where EPITOME will celebrate 25 years on stage. It's not so easy with concerts, since every band member has a regular employment and they also deal with other things. Therefore, we are grateful for every concert. We are looking forward to the Ukrainian audience. We're gonna serve stuff from the actual record and will add some fresh stuff too.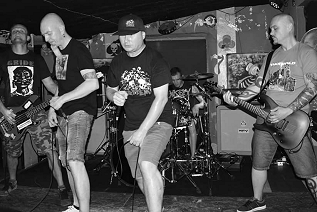 In March there was a cool tribute album released by The Hills Are Dead Records. It was titled as "Aces öf Grind (Grindcore Tribute to MOTÖRHEAD)" and you were featured with the "Grind Out (Rock Out)" song there. Tell us more about this alliance, how did you select the "Rock Out" song out of the numerous MOTÖRHEAD classics and what's your opinion about the rest of the covers there?
- It was more or less a coincidence connected with a long-term plan. We were thinking to make a cover that would be close to all of us. During this time we got a call for the grind tribute of MOTÖRHEAD. We tried it and got a green light. Why "Rock Out"? As I mentioned, we try to include something original in each song, something that identifies us and this song was not an exception.
Last system colliding words are yours. Feel free to add all your latest news or plans here.
- I think everything was said. In the near future, we'd like to find a publisher for the upcoming album, we'd like to play many concerts and make new songs. Last but not least, we want to greet the Ukrainian fans. We hope you will enjoy our show. Follow us on the internet, feel free to share and download us. Do not forget to enjoy your life! Thank you for the interview, fingers crossed and wish you a lot of success. Bye!