The following is a short interview with Claudeous Creamer, guitarist of the mighty Possessed. He talked about the feedbacks to "Revelations of Oblivion", his hobbies and the forthcoming material.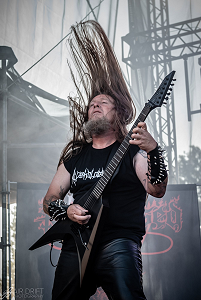 Hi Claudeous! Possessed's comeback album "Revelations of Oblivion" stormed in an undisputedly triumphant way through the underground masses and even beyond those since its release: May 10th, 2019. It was the most anticipated album of the 2019 year and that's for sure. How do you estimate the reactions from a 3 and a half months perspective?
- The response has been absolutely overwhelming! So happy it is done and finally released! We are so happy everyone is enjoying it.
You've joined Possessed in 2016. How do you remember that moment? Maybe there's some special story behind it? Since that time you've managed to play live quite a lot with Possessed. There were tours, festivals and club appearances. I know, it is hard to pick up any favorite one out of that big amount of shows. Nevertheless, try to mention at least 2-3 shows, which caught your attention and why did you find them special?
- Yes, there is a pretty cool story behind that. Jeff Becerra contacted me on Facebook. He said they were looking for a guitar player and he asked everybody he knows. And he said my name came back like a hundred times. And asked me if I would be interested in trying out? And I said of course. There have been so many amazing shows and festivals. It's hard to choose. But I would have to say the Bloodstock Festival in England and Wacken Festival. We were absolutely amazing!
During the lengthy tours it is very hard to keep the health and to be always fit. What are the vital things of yours to remain healthy and fit on tour? Please reveal us your daily routine?
- Yes, it can be very hard. What I normally do is get a lot of rest. I wake up early have my coffee. Load into the venue and do soundcheck. Then have a nice meal and get more rest before the show.
Besides Possessed do you active in any other bands or projects? If so, please name us those. When you're away from tours and concerts how your daily life looks like? Do you have a permanent job or you can live from playing in Possessed and creating music? What are your hobbies, by the way?
- I am not currently working on any other projects. Dedicate myself fully to Possessed.
When I am not touring I enjoy spending time at home working on our house. I do side jobs sometimes. Carpentry painting stuff like that.
I really enjoy riding my dirt bike motorcycle. Flying remote control aircraft. And racing remote control cars.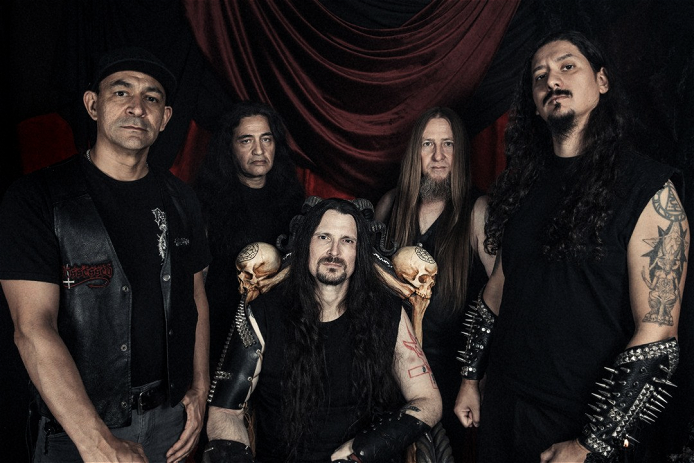 You're endorsed by ESP/LTD guitars. How it feels to join their roster and how it feels to play on those beasts? If I am not wrong, you have an LTD Arrow-1000 (snow white) model as well as an LTD Arrow Black Metal (black satin) model. Actually, which one you like better? Do you have other ESP/LTD guitars in your possession? By the way, what kind of strings you prefer to use?
- Yes, I joined the ESP family early this year. It feels great to play them, and be on the roster with some of my guitar heroes! I love both guitars. But I use the Black Metal V most.
I have used D'Addario NYXL 10-46 for many years.
You live in Montague, California. How's the metal life over there? Can you recommend us some local newcomers you think others also deserve to know more about? Do you often visit concerts/festivals as a metal fan there or you have to travel to other places to watch/listen to your beloved bands?
- So much talent and amazing musicians where I live!
A lot of great bands, way too many to mention lol, but I will mention 2: Disymbolic & Chains of Belmont.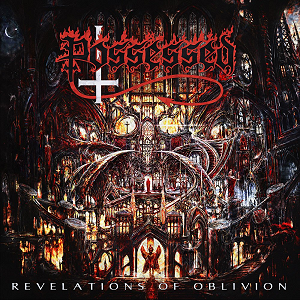 I enjoy seeing as many shows as I can. I like to see and hear new bands. And most importantly! It's very important to support your local scene no matter where you are in the world.
On the recordings of "Revelations of Oblivion" you've worked together with Peter Tägtgren at NRG Studios and Titan Studios in Los Angeles, California. Was it challenging to work with Peter? Do you like the bands he's currently involved in: Hypocrisy, Pain or Lindemann? Any favorite songs or albums of yours from his discography?
- Peter is not only an amazing producer but also a wonderful person! We became good friends. And I really enjoy his band Hypocrisy.
I assume that you've already begun to collect riffs for the next Possessed release, right? How many songs are ready yet? Will you provide any complete song(s) for that forthcoming stuff? I know, probably it is too early to ask, but when can we expect Possessed to issue the continuation to "Revelations of Oblivion"?
Yes, there are many songs in the works right now. But I am not sure when we will see the next release. But you can be sure it will crush just as hard as "Revelations of Oblivion".
What are your impressions and personal opinion about the cover artwork of "Revelations of Oblivion"? What was the first thought that came to your mind when you saw Zbigniew Bielak's work?
- My first impression was wow! Z is an amazing artist.
Thank you so much for the interview Claudeous! Wish you all the best and good luck with Possessed! Finally, please send your regards to the Transcarpathian and Ukrainian Possessed fans.
- Thank you all so very much \,,/\,,/ Much love and respect to you all! Hope to see you soon. Claudeous.