ANÜS has a definitely fresh-sounding name to all the goregrind freaks worldwide, but I am sure from now on we will hear a lot about this awesome Swedish goregrinding combo. I've had the chance to speak with vocalist Johan Bergström aka Anus Kristus. He told us literally everything about the band, so go on, read his awesome answers and dive into the rectal depths of the constipation conspiracy!!!



ANÜS has been formed in 2016 and the same year published the material of "The Constipation Conspiracy". How did the extreme underground freaks and media react to your debut full-length? Which, by the way, was released on CD this year via the Russian record label called More Hate Productions. How this cooperation came about?
- Hey man, hope all is well with you!
Actually ANÜS was formed slightly before, in summer of 2015 I think – it is all sort of a blur, because of beers, haha! It was really crazy to be honest, nobody knew what to expect – it just sort of exploded into a bigger thing than we imagined. We got booked to the small, but great Antitrend festival in Czech Republic and right away it felt like we were at home. They really welcomed us and showed us an awesome time. They even invited us back every year since our birth as a band! A while later we came in contact with this really great dude I'm happy to call my friend nowadays, Yan Chamberland from the awesome band NERVOUS IMPULSE. After just talking about grind and sending each other music he connected us with More Hate, which turned out to be the best thing that could happen for us. Alex of More Hate and Yan of NERVOUS IMPULSE are easily some of the best and easiest dudes you can work with I have to say.
Since all of you have got a nice nickname in ANÜS, please tell the readers more details about the members from the sewers of Lund (Sweden). Also reveal us, whose idea was to form this brilliant grind unit, call it this way and to spread your sonic sickness through the beloved genre of goregrind?
- Haha, well, the members of this band are from other bands, but not only in death metal and grind – it is basically a bunch of friends getting a bit too drunk and having the possibility of recording music by themselves. The idea originated from the drummer and guitarist who had this idea of making some basic goregrind and they had some very drunk song ideas recorded and then asked me if I wanted to do the vocals. Being a big goregrind fan I said yes of course, and so it sort of began for real. We figured that we wanted to take heavy parts of slam and put them together with fast parts and the party parts of goregrind and see if they fit together. The name ANÜS was actually just there from the get-go, it is easy music and needs an easy name that fits the genre. And also apparently there were no bands called ANÜS that we could find of, so we kept it, haha.
I know that you are also doing sick vocals for some other great Swedish hordes as DERANGED, VISCERAL BLEEDING, RESONANCE CASCADE and PANDEMONIUM, for example. Will there be any new stuff recorded by the aforementioned bands in the very near future? If so, can you go into details and share the latest news from those camps?
- Oh, man, cheers! Thanks, it means a lot to hear. Especially coming from a great vocalist as yourself! I definitely recommend the readers to check your band CASTRUM out, it is fucking great!
And well, to give a short update on some of the bands here I can say – DERANGED is working on new material right now as it happens. If all goes according to plan, we will record in early spring and I think release is somewhere in late summer/early autumn? Not totally sure about timing though, but it is coming! VISCERAL BLEEDING is sort of hard to update on, because there is actually not much to say to be honest, the camp is quite still since the last couple of years, but it is still brewing, so it is not over yet. RESONANCE CASCADE – wow man, you really did your homework, cool! RxCx camp is always busy in some way, most of the time we write stuff as we all have multiple bands to play in so we are in constant writing mode. We just re-recorded our first effort and got it mixed and mastered just now so it will be released in one way or the other in a while I believe. PANDEMONIUM is about to release a new CD for the first time in 10 years I think it is and everything is completed with it. The release got postponed until early 2019 if I'm not mistaken and we all wait to see what will come from this. We played one gig this summer and got booked for one gig in Czech Republic summer of 2019 so something is stirring in the dark depths. It is definitely going to be interesting to see what comes from the abyss.
ANÜS has already played a few live shows and if I am not mistaken all the appearances were at Antitrend festival in the Czech Republic. Am I right? Tell us your impressions about those Czech invasions and also where can we expect to play ANÜS live in 2019.
- Yeah I think so, no wait – all except one, which was in a small, but cool club in Jihlava, also in Czech Republic. The invasions of Czech Republic always end up being amazing. We are drunk from when we leave Sweden till we land at home again. It is really packed with drunk sightseeing, birthday parties, grindcore and goregrind of all kinds.
ANÜS has gotten offers to play multiple places during 2019, but so far the booked things are Grabbenacht Festival in Germany, cool goregrind and brutal death festival and, of course, Antitrend again. As it happens we are looking into booking some more shows so if you have an idea where we could play we would love to hear about it!
As for a gig with ANÜS, what you can expect is a complete brutal goregrinding slampit together with the audience – it is all about playing brutal music for good people. Energetic, sometimes chaotic, hopefully funny and still tight as a band. We actually do take the stuff we do seriously, we don't want to sound like we just picked up our instruments – everyone deserves a good and tight show from the band.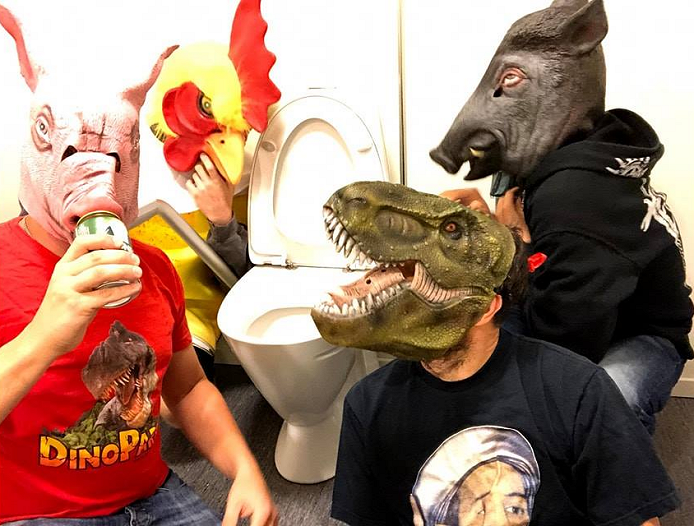 As it is seen in your live videos (or band shots), you are using different animal masks, which is a fun thing for sure and also common for the bands of the given genre, so to speak. But did you select them with a theatrical purpose or just to hide your faces and identities respectively?
- Mostly this is a theatrical gimmick, so to speak, but then we realized that it is quite nice to not always be connected to an anus, haha. Sort of hard for me though, because my mask doesn't really let me sing in it, so I have to pull it up and show my face. So I am busted in that regards. But that's why we just leave the identities of the band outside. I guess for us it is more fun to see the reaction, we are not superknown or rockstars or anything like this. We are the same people as the audience and we enjoy having a good time. We all know that sooner or later everyone is gonna know who is who in this band. I guess to us it mostly just comes down to having a fun time with everything in every aspect. Come and drink beers with us and you will understand who we are.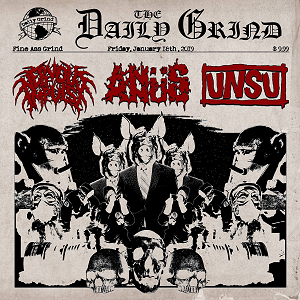 You've just premiered a digital single from your upcoming 3-way split CD together with NERVOUS IMPULSE (Canada) and UNSU (France). I have to admit that song is extremely killer! So this split, which has the great title of "The Daily Grind", will be out in January 2019 by More Hate Productions. Can you please talk a little bit about your new tracks, their lyrical contents, influences, etc.? Where do you recorded them and how many tracks of yours will be featured there?
- Cool to hear bro, we really appreciate your kind words!
First I have to say that it was really an honour to work with NERVOUS IMPULSE and UNSU on this split. Already it sounds like it will be one hell of a motherfucker and we are very happy with how it turned out and to hear you like it actually makes the brutal hangover worth it, haha. They are good people and they make great music!
We have six songs in total – five new songs and one song that is almost a complete remake of a demo song we did called "Assylum". Also we made our part with sort of a concept with a story that goes through out the songs. Good thing about that shitty idea is no one will ever understand this, because the titles are not connected and you won't hear anything similar to a concept idea. We mostly made the concept idea for ourselves as a joke about concept albums.
In regards to the lyrical theme and influences I would have to say extremely bad humour and jokes about shit is our main source of inspiration. Coming up with songtitles is a great beer drinking game, by the way! We actually are very fortunate of having the possibility of recording and mixing/mastering our own songs so it eases every part of our process. It makes everything so smooth, because we can start a recording session in like 10-20 minutes of preparations, so as a band we are very fortunate with this.
How the underground scene of Lund looks like actually? I will tell you honestly, you are the first band I know coming from that city. I know it is located in the south of Sweden and is pretty close to Malmö. I've been familiar with the underground movement of the latter place, but Lund is still really new to me. So if there are cool bands, festivals, labels, magazines, etcetera, which the readers of Encomium should definitely check out, please list them here.
- Cool you checked it out though! It's a small university city, which doesn't offer much outside the university, to be honest. Well, it depends on what you seek I guess. See this part of Sweden as a whole is mostly home to old school death metal bands, newer bands that play that kinds of style and then some deathcore, grindcore and very very few goregrind bands. I could probably name just 3 goregrind bands from the south of Sweden. Might be more, but I'm not sure if they are active or actually exist on a level higher than computer drums, weed and a distorted guitar. Important note – this is not exclusive to Lund, this is basically like this in south of Sweden. Metal is not that very big here – we have a good size group of people though who supports the shows and most of them play in multiple bands.
However in Lund – it is more or less completely dead. Not much of a scene or a movement, there are some bands here, but none of us play live here and not many of us hang out. As far as I know Lund is not host to any metal labels, 'zines or festivals. But on the upside there is a new wave of metal heads coming up from the young people now so hopefully someone stays in the underground giving it new blood. Most of the things down here happens in Malmö and it is so close, so we just go there instead. Sad, but true, unfortunately.
What kind of music you like to listen to with pleasure lately? Please name us some of your all-time favorites from the domains of death, thrash, gore and grind.
- Oh, this list can be really long, haha. I enjoy discovering new stuff I haven't heard before, so I can get stuck on some band for quite some time to understand their music, but I can just as easily just go through multiple bands in an hour. As for my general music taste I really like when I get challenged in some way – for example technical music can really get me going. My friends know me more for listening to massive amounts of grindcore and goregrind.
But if I were to list a bunch of bands that really joined the ranks over a long time I would go with: PUTRIDITY, BRODEQUIN, THE DILLINGER ESCAPE PLAN, DEATHSPELL OMEGA, SPAWN OF POSSESSION, NASUM, FEASTEM, ROTTEN SOUND, JIG-AI, SPASM, MALIGNANCY, LAST DAYS OF HUMANITY, WORMROT, ANAAL NATHRAKH and PIGSTY. But then again there is so much stuff I listen too, so I would probably also list stuff like NORDJEVEL, DARK FUNERAL, CEPHALIC CARNAGE, LITHURIA, MAVETH, NUCLEAR MONSTROSITY, GUTALAX, SPACE HAMSTER, MUCOPUS, MINCING FURY AND GUTTURAL CLAMOUR OF QUEER DECAY, CRANIOTOMY, CARNALIZED, VOMITOUS, EARDELETE, PYRAMIDO, SERRABULHO, MARA and CATTLE DECAPITATION. So it seems like I'm in a strange phase, where every kind of extreme music actually works for me and I am not used to that. Mostly goregrind and grindcore has been my cup of beer.
OK, we are at the end of our conversation. In case I've missed to cover some important things about ANÜS, but you want to share it with the readers, feel free to add them right here. Last words of constipation are yours.
- Actually we are just stoked about being asked to do this interview and we hope to see everyone somewhere sometime to grab a beer with us and slam some newly pooped goregrind. We truly appreciate this. You will definitely hear more news very soon, keep an eye out on our facebook page if you wanna. We are in constant constipation, so aggressive yet slamming music is to be made at a steady pace. A big cheers and bottoms up everyone! I finish with the great words of BRUTAL TRUTH singer "Yeah, I'm enjoying the party, I'm just trying to find it!".