AGE OF AGONY/WITCHCRAFT
"Split" CD 2016
(Neverheard Distro)
It was a brilliant idea to release this special kind of split CD for the 20th anniversary show of WITCHCRAFT. Two really well-known Hungarian underground bands covering 2 songs from each other. AGE OF AGONY's part of the split consists of 2 tracks, both taken from WITCHCRAFT's latest full-length called "Hegyek felettem" (2012), they are "Fekete és hideg" and the title track, respectively. The five-piece Death Metal brigade tried their best to re-arrange these tracks without the loss of the prior atmospheres and they definitely did it in a triumphant way! The slight modifications display either with the speeded up tempos or the change of the guitar solos. Their sound also became pretty similar and cold to the original one, thus I've really enjoyed to listen to their cover versions. WITCHCRAFT's part of the split features "On the Way of Hate" song from AGE OF AGONY's 2nd long play "Follow the Way of Hate" (2008) and the song named "Brothers" taken from their 3rd album "Machinery of Hatred" (2011). Let's dive into some details. First of all, we have a totally new intro and outro composed for "On the Way of Hate", then we have that super crazy solo right after the intro, which rips the ears off. The blasting tempos have been also raised a bit. Still the wildest and most interesting part goes to the evil vocals of Angmar, he screams out of his throat as an unleashed lunatic. Beast mode is on! "Brothers" continues in the same manner, though perhaps due to the more melodic approach of the riffs, the Black Metal fellas of WITCHCRAFT decided to turn the tempo a little down here. Not in a crucial way, just to have those harmonies come out of the humbucking pickup as clean as possible. They also changed all the double bass drumming to polka beats there plus WLR successfully enriched it with a great solo. In their interpretation both AGE OF AGONY songs became clearer sound-wise and fairly modified too. Nice split and a worthy material to invest into!
AMBIVALENCE
"Hyena's Breath" CD 2017
(PRC Music)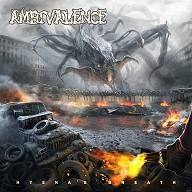 This Lviv-based Death Metal group started its career in 2001 and was kept alive through all these years by Maryna, the only member left from the very beginnings. Kind of coincidence or not, but their first album "The Splinters" (2004) was the only release back then to feature a keyboard player and to contain a technical and here and there progressive-like music. After that release the band turned pretty much into more brutal spheres of the genre and released 2 albums in that key, those were "Pornomechanoid" (2006) and "Silicone Magic" (2010). Now with their newest, fourth in the row, album they kind of returned to their roots, at least for some moments, and they also added a keyboard player to the guest list for the second time, so to say. The recording line-up on "Hyena's Breath" is as follows: Maryna Shcherbakova (guitar), Armen Oganesyan (bass), Dmytro Pliska (vocals), Max Lobzin (guitar), Andriy Franzen (keyboards) and Erland Sivolapov (drums). The seven songs of the actual CD feature a rather diverse musical approach. On one hand, we have complexity, progressiveness and ethereal melodies almost in every song, while preserving the heaviness of the sound itself. On the other hand, the side of brutality has been presented in quite big amounts too, especially due to Erland's solid, accurate and storming drumming. Dmytro's growls and screams are also notably good, but I would definitely exclude the pig squeals. One more fact that confirms their return to the roots is the re-recorded version of the title track out of their debut album, it was named here as "The Splinters MMXVI". The circa 27-minute long material was mixed & mastered by Igor Lystopad, known from FLESHGORE. The result became impressive and totally massive! I would sincerely recommend this CD to all those experimental souls out there in the Death Metal community! Check it out as soon as you can! There's one more thing left at the end that I definitely want to stress on, and it is regarding the remarkable cover artwork and overall design, which was executed by none other than Maryna herself. Brilliant work!!! My favorite tracks are: "Thursday Massacre" and "War Is Close".
AMENTIA
"Scourge" CD 2017
(Satanath Records/Amputated Vein Records)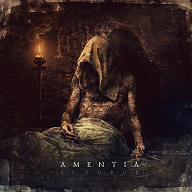 Initially this band from Belarus was meant to stay a studio project. It was created in 2003 by bass player Alex Goron, but 3 years later it starts its live activity and since 2007 with various line-ups AMENTIA releases 3 full-lengths by the help of different underground labels. "Scourge" is their third and freshest long play in the row. Besides Alex the following members were involved in creating the seven songs of the "Scourge": Artyom Serdyuk – guitars (known mostly from DEATHBRINGER, THY DISEASE and DISLOYAL, just to name a few), Dmitry Zubov – esophagus (SUFFERER, ex-POSTHUMOUS BLASPHEMER, ex-WASTED) and Valery Zubenko – screams. At first their music sounds like some fairly melodious Death Metal compound, but the more you dig deep into the details the more you get acquainted with elements coming from such genres as avant-garde, progressive, fusion and even industrial. The mechanized way of playing the riffs as staccato as possible with as many breaks and tempo changes as possible gives the whole material a surrealistic approach. Still the song-structuring is way modern, trendy and Deathcore-like. Have nothing against all of these, but some of the songs simply come in a practice-like manner. Yeah, they are technical and maximally complex, but less interesting to listen to. I would rather prefer "real" songs instead of ultra sophisticated diarrhea. Nevertheless, hats off before the level of musicians. It's incredible indeed. Let's mention for example "Anorexia" or "Sentence Executioner", those songs are pretty straightforward and killer as for me. The drums were precisely programmed too, but the actual sounds of the samples, especially the sound of the cymbals need to be more naturalistic in my opinion or let's say behaving at least like they were hit by a human being. I would mostly recommend checking this stuff out for all the Deathcore freaks out there and maybe to fans of DECAPITATED and PSYCROPTIC as well.
BLACKSNAKE
"Blood Of The Snake" CD 2017
(Defense Records)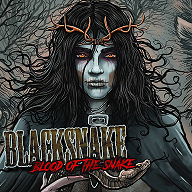 The Polish die-hard rockers of BLACKSNAKE have finally returned with their 3rd long play. Needless to say it became masterful. Their fresh effort embraces 11 songs of quality Hard Rock music. The band lists as their main influences such grand bands as DEEP PURPLE, LED ZEPPELIN, URIAH HEEP or BLACK SABBATH and one can easily find out all those musical impacts there plus a few heavier bands' effect also perceptible in their tunes. For example, the track called "Things Have Changed" shows a definite admiration to the musical heritages of MOTÖRHEAD and CELTIC FROST. With this record the band digs even deeper into the majestic spheres of the 70s. Especially it was great to notice the use and accompanying character of the keyboards in most of the compositions. They do really add that magic touch we always used to hear on the records of the classic Hard Rock bands in the past. The band co-worked with a huge number of guests, so the embellishment is guaranteed, but the core remained the following: Kamil Rusiecki (vocals), Maciej Wieckowski (guitars, bass & backing vocals) and Sebastian Wisniewski (drums). The arrangements throughout the entire repertory and the overall sound production are top notch as well. I was also really fond of a couple of riffs in songs of "Circles of Hell" and "World of War" as they reminded me quite a lot MERCYFUL FATE. The album's highlight moment absolutely goes to the hit called "RNR All Day". It surprised me a lot with its female/male pair of vocals, but maximally positively. Great job! All's left to say, write to the band or to their label and order this rocking gem before it's too late! The CD was served in a digipak with a big poster including the fairy cover art, all the lyrics and photos of the band members and partly the guests too.
BLOODRAINBOW
"Upheaval" CD 2017
(Neverheard Distro)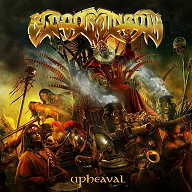 Ultra technical and all the way melodic Death Metal is what this Hungarian quintet propagates. These guys from Budapest put the level of their performance so high that my breath stops with every new listen. They are appallingly good at what they do. "Upheaval" is their 3rd full-length material and I dare to say it is their best to date. It is a real monster album with amazing sound production and fiendishly skilled musicianship. I also have to emphasize that it is by far not the usual Death Metal hybrid with pile of melodies you used to get from the Scandinavian bands for example. It has musically a more profound or let's say wider perspective and not just because the guest musicians brought some really bright moments with the addition of trumpet, flute and saxophone parts there, but due to the penchant use of the neoclassical approach, which is almost everywhere. Oh, and let me mention the wonderful supplementation of the flamenco ingredients as well, which you can witness during their fabulous instrumental intro track "Born of God". Here and there one can easily draw parallels to Power Metal bands too and without a doubt that would be maximally correct towards the music of "Upheaval" indeed. The lyrics they wrote for are about different historical events from the past, though the cover art was specifically developed for the track titled as "Conquistadors". It became as huge as the music of "Upheaval" is! Enough said, order it right away!!!
CARNAL NECROSIS
"Origins Of Malevolence" MCD 2017
(Immortal Souls Productions)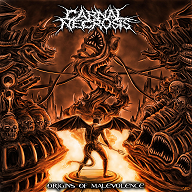 This release marks the return of the great Slovakian underground label Immortal Souls Productions. It took 15 years for Juro to rebirth his label, but I am definitely happy about such news! Let's see what the 6 songs of CARNAL NECROSIS are about to display musically. I have to say that at first glance the whole music of the California-based quartet reminded me way too strong the SUFFOCATION kind of riffing and structuring Death Metal. Hereby you can enjoy dozens of ultra precise and razor-sharp riffs, executed on a magnificent level and supported by steady drum parts, harsh growls and twisted bass lines. Most of the songs, especially the first 3 tracks, were equipped with a total old-school Death Metal vibe reminiscent of the 90s Florida movement. Then we have "Infernal Species" & "Demented Torment" where the band tries to inject and mix a few different or let's say modern elements and thus the SUFFOCATION influence just fades away there. I know that it is pretty hard to emerge nowadays with something really unique and original, but still I would maximally encourage the band members to find their own way of composing and performing Death Metal. Until then fans of SUFFOCATION and CANNIBAL CORPSE can have a test and order this circa 28 minutes long old-fashioned Death Metal brutality!
CHAOS BEFORE GEA
"Chronos" CD 2018
(The Braves Records)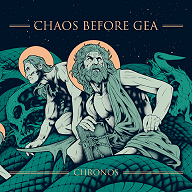 "Chronos" is the freshest and third material by the Málaga-induced progressive quintet that completes an epic trilogy formed with their previous two albums, i.e. "Erebo" (2013) & "Khâron" (2015). The eight pieces of "Chronos" are all about the modern and hyper technical ways of metal. The musical palette is extremely varied there, be it regarding the manner of the vocals, drumming, bass or guitar parts, also too many influences to mention, nevertheless let me introduce you those ones, which the info sheet suggests for, they are MACHINE HEAD, MASTODON, GOJIRA, SYMPHONY X and LAMB OF GOD. The 38 minutes long album sounds awesomely dynamic and well-balanced. I really accept and appreciate the musicians' efforts accomplished on "Chronos", huge job for sure, but to be honest, not really my cup of tea what they represent most of the time music-wise. However, the Death Metal initiated parts with deep growls are worth to listen to, at least I liked them. I would primarily recommend the music of CHAOS BEFORE GEA to the fans of Deathcore and Groove Metal. Try before buy!
CONCEIVED BY HATE
"Death & Beyond" CD 2016
(Satanath Records/Morbid Skull Records/Deathgasm Records)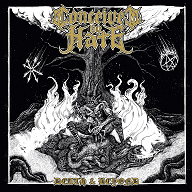 The second album by the San Salvador-located Death/Thrash formation delivers us, especially for fans of old school, some really pleasant moments. The 9 tracks of "Death & Beyond" are combining the appropriate guide back to the glorious times of Thrash & Death Metal, the genres that ruled the earth in their essential form during the 80s and 90s. This is the first band from El Salvador that I have the pleasure to listen to and review and I have to admit I really like what they do and how they do. Pure underground music is this, which has been done with total dedication & respect to the aforementioned times and bands of the past decades. The entire material on "Death & Beyond" and even their instruments sound the way it was supposed to sound exceptionally back in the 80s and the first half of the 90s, so no polished modern plastic sounding is there. Such song titles as "This is underground", "Worship the old ways" or "Summoning the graves" plus the devilish cover artwork are proving you once again that this band's dedication is focused on the musical, lyrical and visual heritages of the past not the present or future. I've really enjoyed listening to the old-fashioned but really up to date musical approach of CONCEIVED BY HATE and looking forward to experience their third full-length installment in the very near future. Diehard underground freaks should definitely invest into this piece of CD! I will repeat, it's worth every penny, so don't fool around, better order it right now!!!
DATURA
"Spreading The Absorption" CD 2014
(Coyote Records)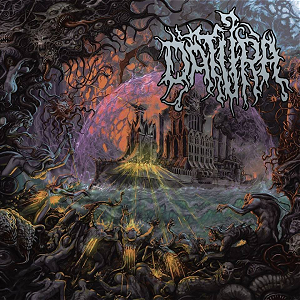 Starting with the release of "Standing Wave" in 2010 the unmerciful trio of aural brutality broadens their recording and sounding possibilities. Therefore "Spreading the Absorption" is easily their best-sounding album yet. It is full of relentless energy and dynamism. The 10 short cuts were kind of clinically precisely served and manifested in the most crushing and brutal way of the US Death Metal ever. The executors of down-tuned frequencies and ripping percussive assaults were as follows: Demid (bass/vox), Antioh (guitars) & Edias (drums). They've collected another deadly portion of extremely brutal, technical and tough as granite songs, which lasts 29 minutes in total. The razor-sharp riffs will cut through your bones with their preciosity, while the bombarding drum parts will smash up what's left. Sometimes those drum-patterns looked and sounded like as if they were kind of endurance exercises, something only the skilled can commit. The vocalizing manner remained as deep as possible, so the low frequencies are guaranteed and spread over each tune with a glory. DATURA is without a doubt one of the best Ukrainian Brutal Death Metal products. The brilliant cover art was arranged by no other than Seeming Watcher. It displays a futuristic war-like scene filled with lots of vicious creatures around a warship that is located in the middle of the drawing. The CD itself comes with a killer pit-art depiction that was supplied by a superbly designed 6-panel digipak booklet. It's a must for every brutal underground freak on the globe! Get it immediately or absorb into nothingness!!! By the way, I really recommend catching up this band live, as they perform likewise a sonic tornado with an unrestrained power!!!
DATURA
"The Amplitudes Of Pacificacion" CD 2018
(Coyote Records)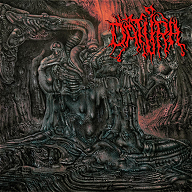 DATURA's new album is here and it is freaking awesome! A few months ago there was a short dispute between the members regarding the future of the band and in the end a decision of having two fully functional line-ups was made. So we have 2 active units under the same logo. Pretty weird, but also cool thing, right? On this record the line-up of DATURA is: Dimas (vocals/drums), Bob (guitars) & Aleksandr (bass). This musicianship is located in the Donetsk region, while the other active formation or let's say half successfully infects the masses from the capital of Ukraine, i.e. Kyiv. "The Amplitudes of Pacificacion" includes eight bulldozing Death Metal compositions with less than half an hour of playing time, which I assume maximally satisfying and to the point. Compared to their previous release that was "Spreading the Absorption" in 2014, this one sounds rather raw, kind of back to the roots if you ask me. But don't worry at all, we have all the ordinary DATURA elements presented and abused hereby. The tempo-changes are a little bit different, less insane one would say, but I really dig the way they turned out. Bob's brutally catchy riffs and killer grooves should be also emphasized here. He did a great job and Aleksandr gives a solid background to all of them. Earlier Dimas was playing the bass in DATURA, but from now on he plays the drums and I have to say he is totally capable of that instrument too. His vocals remained sick and generally come in a deep bear growling manner, but here and there he tried out some excellent experiments towards them, which are surely innovative and new to me. At the end I can easily conclude that the Donbass brutal syndicate struck down massively, so let's wait for the continuation from the other half, hopefully next year!!!
ECLIPSE
"Divine" CD 2016
(More Hate Productions)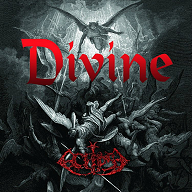 I've got this CD as a present from Igor Ignatczyk, a Belarusian friend of mine! You won't believe, but this Ukrainian band has a story started more than 20 years ago. Formed in 1995, they have released a cult demo in 1997, called "Celebration of My Death", afterwards they were silent for 10 years or so, but since 2009 they've begun to release albums frequently again. Their first full-length came in 2009 and was titled as "Grind, Suffer, Dreams". It was followed by "Triumph of the Pain" in 2011. And now their third album arrived as well. "Divine" consists of 10 professionally recorded and executed Death Metal songs, which mostly blend a brutal character due to the ultra deep growling manner of the vocalist. The recording line-up on "Divine" was the following: Vladimir Deyev (vocals), Vitaly Nevedrov (guitars, bass) & Aleksandr Tonkoshkur (drums). The trio precisely doses the breath of death into the ears of the listener. Musically they forge some kind of combination between the styles of CANNIBAL CORPSE and MORBID ANGEL. I would really wish them to include more originality and variety. Still it's a decent record done by skilled musicians! The album was recorded, mixed & mastered at Beasts Studio, so the quality of the almost 42 minutes long material is astonishing. Fans of the aforementioned bands should check out and give a try to ECLIPSE!!!
ENDOCRANIAL
"In Presence Of Total Absence" CD 2017
(Amputated Vein Records)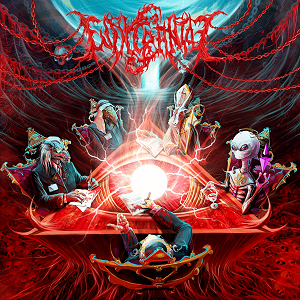 Sophisticated death-bringers of ENDOCRANIAL emerged from the ever-expanding capital of Ukraine around 2011. Their first material was an EP called "Sociopathy" (2012), which was quickly followed by their debut full-length "Impact of Change" (2013). Afterwards the band faced some line-up issues, but fortunately the remaining pair Andrey Malikov (guitar) and Hennadiy Korolov (vocals) solved them perfectly by adding first the drummer extraordinary Alexey Tsypchenko, whose skillful drumming you could hear beforehand on such well-known Ukrainian Brutal Death Metal bands' materials as BREDOR, DATURA and STALINO. A bit later the final puzzle was also found in the person of Zlatoyar, who is simply a genius bass player, if you ask me. So four years after their debut long-play the quartet returns with a devastating new album that will definitely widen the borders of Brutal Death Metal and will enter its arsenal in a glorious way. The sound production on "In Presence of Total Absence" is also heads above any of their earlier efforts. It is ultra massive, dynamically destroying and just remarkably precise. Each of their songs was structured and composed in an extremely over thought way, while the arrangements sound rather tasty and even futuristic sometime. Don't get me wrong, ENDOCRANIAL still propagates the beloved Brutal Death Metal alloy, but on the actual 8-song and circa 28 minutes long material they stepped further and decided to variegate their repertory with as many complex solutions as possible. Needless to say, they completed their mission quite successfully! It's a truly masterful job! Furthermore, to have some specialty there as well they invited guests as Christian Kühn of DEFEATED SANITY (appears in "Novus Ordo Seclorum") and Anthony Voight of GORGASM (appears in "Bishopfall"). I enjoyed listening to every inch of this enormous compact disc! And what's great about it that you can listen to it all day long, and it won't make you bored! Moreover, with every additional listening you are going to find out some new details or previously unnoticed arrangements. I am anxiously looking forward to any new material they are going to release in the future!!! I can easily say it is the best Ukrainian Death Metal album of the 2017 year so far!!!
ENOQUIAN
"Llamas De Gloria Primera" CD 2017
(Satanath Records/Morbid Skull Records)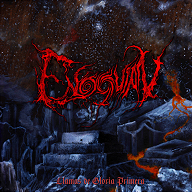 EPHEMERALITY
"Ephemerality" MCD 2017
(Infected Blood Records)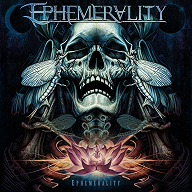 The story behind the arrival of this EP to me is pretty weird, one would say. I've got it from a good friend of mine by the nickname of Elf, who is working in Beijing and who decided to get a tattoo there. The tattooing artist he picked out was no other than Tiina, vocalist of EPHEMERALITY. After an in-depth chat about Death Metal and all possible ways of it, she gave 2 discs to him, one of them is in my possession now. Let's see what's hidden in the music of this Chinese Death Metal quintet. First of all, it is their debut and only material so far, which contains of 5 ultra-melodic pieces mostly reminiscent to the musical path of ARCH ENEMY. Their twenty-six and half minutes are maximally captivating, filled by tasty guitar riffs & harmonies, lots of speedy yet epic solos, professionally executed female grunts that can make the majority of the male growlers just jealous about. The drum & bass parts are arranged with care and were laid down in a good balance with the rest of the instruments. The listener is about to receive a fine portion of highly polished Death Metal, which is definitely not so rare these days, but still I warmly recommend to check this band for fans of the Swedish Melodic Death Metal genre. Let's hope they will return with a full-length album soon, but until then listen to their debut EP at their bandcamp profile!
EXACT DIVISION
"Be Fair If You Can" CD 2017
(Nocturnus Records)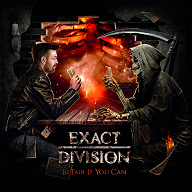 The following Ukrainian quartet hails from Kyiv and this is their debut full-length CD. Interesting fact that prior to EXACT DIVISION all its members played in EXILE, which was established in 1992, then broke up in 1994 and reunited in 2011, but around 2012 a decision to change the band's name was successfully carried out. A year later the freshly transformed band releases independently its first material, an EP consisting of four songs, titled as "Dirt Jumper". Their next step was obvious, so welcome "Be Fair If You Can", an album featuring eleven songs accomplished in the true orthodox spirit of the Heavy Metal genre. Which means that you will experience a fair portion of twin-guitar melodies, epic solos, chunky bass lines and plain, but truly precise drum parts. Production-wise it has a top sound quality, even if the guitars' sound I would wish heavier most of the time. On the other hand, if I take a look onto the vocal parts then I have to conclude they tend more to the Thrash Metal style, which is cool for sure. Maybe "Crusade" is the only song that has lots of clean singing included. To sum it up, if you were and/or still in love with Heavy Metal bands of the 80s, then this album will definitely bring you a good mood!