ANGIST
"Circle Of Suffering" MCD 2011
(Independent)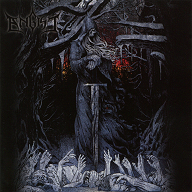 ARCANUM SANCTUM
"Fidus Achates" CD 2010
(More Hate Productions)
Let me start with some background info on this Russian Melodic Death Metal band. Formed 2004 in Komsomolsk-on-Amur, first demo came in 2005 and now we have the chance to taste their first full-length album. ARCANUM SANCTUM's line-up consists of Vadim "Sad" Nalivaiko (vocals/guitars), Anatoly Kobylin (session bass) and Viktor Reshetnikov (session drums). Their debut consists of 8 mostly Gothenburg-influenced melodic Death Metal cuts. I say Gothenburg-style, 'cause such pioneers as IN FLAMES and DARK TRANQUILLITY have their definite stamp on this record. The sound production is honest and the song-structures are also fair to me, though there's a real lack of originality throughout this 31-minute long material. I would really advise to make more memorable tunes in the future, 'cause after one listen I lost my interest to listen to it again. The band also uses keyboards on some tracks, which add some variety as well as atmosphere for sure. You can also find 2 successful instrumental tracks included there, which have been executed in a classical manner with a medieval touch in the first one. If you prefer melodic and a little bit modern Death Metal then here's the chance to try out a Russian band this time!
BESTIAL HORDES
"Nuclear Metal Lust" MCD 2011
(Evil Dead Production)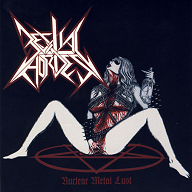 This chaotically performed 5-song MCD will guide us to the old yet golden days of 80s Thrash, Death & Black Metal genres. The spirit is definitely there and everything sounds so raw and unpolished that I really felt myself at least 20 years younger listening to this 15 minutes long metal assault. The bestial trio combines from the evil forces of Firdauzt (hellish screams), Fausstzie (all guitars) and Iblyss (drums). Song titles such as "Street Metal Fucker", "Metal, Sex, Alcohol", "Nuclear Metal Lust" & "Revenge of Hate" will leave no doubt about the band's seriousness and dedication to old-school metal in all its form. They play every note with total enthusiasm and also paying a tribute to BATHORY by performing their classic "Die in Fire". What else can I add here? The nuclear metal lust is upon us!!! Fans of the 80's metal will surely like this stuff so check out BESTIAL HORDES immediately!
BLACKSNAKE
"Lucifer's Bride" CD 2013
(Diabolizer Records/Defense Records)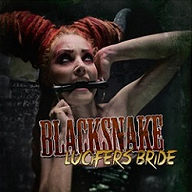 Polish BLACKSNAKE was formed in 2005 and "Lucifer's Bride" is their second full-length to date. If I say that the quartet is heavily inspired by the rock music of the 70s and 80s you will definitely know what to expect from them on this circa 38 minutes album. The 10 tracks of this professionally produced CD will bring you back in time and will remind you how cool was to listen to all those great Rock'n'Roll, Hard Rock and Heavy Metal bands 3-4 decades ago. I won't go into any comparisons now, just say that I've enjoyed listening to this album from the very beginning to the very end of it. Great songs, nice vocals, professional performance and what's important played wholeheartedly! My favorite tracks are "Legacy of Rock", "Red Death" and the MOTÖRHEAD-ish "Say Goodbye to Heaven". Lots of guests were also involved in the recording of this album, from bands such as SACRIFER and ROTENGEIST for example. Fans of old-school are really encouraged to get this piece of masterfulness! This is Rock'n'Roll straight from hell!!!
BRUTE
"Sophisticated Atrocity" CD 2012
(Nice To Eat You Records)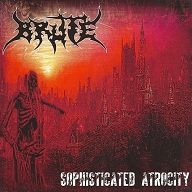 BRUTE's debut album consists of 8 songs and over 30 minutes of pure Death Metal brutality. I should say each of their song storms like a tsunami and leaves no escape for the listener. Their sonic devastation is carefully produced and at the same time perfectly served. Recording line-up was: Pavol Fil (vocals), Štefan Tokár (guitar), Robert Demeter (guitar) and Peter Heteš (drums). The band mostly operates with ultra complex yet twisted riff-structures and technical drum parts, but to complete their destructive formula you have to imagine all these on furious tempos supported by a massive sound production. So speed and brutality are definitely vital aspects in their songs, but then we have those catchy guitar melodies & harmonies that were precisely incorporated and arranged throughout their material. If I had to compare their music to someone else, I would definitely mention such well-known bands as VITAL REMAINS, MORBID ANGEL and NILE for example. My favorite tracks are "Repulsive loss of self-respect", "Trust in yourself or burn" and the killer title track. The CD comes with a post-apocalyptic cover artwork and a nice 6-paged booklet. Fans of uncompromised Death Metal should check BRUTE's music immediately!!!
CELOPHYS
"Ammonite" CD 2015
(Robustfellow/Iron Hamster Records)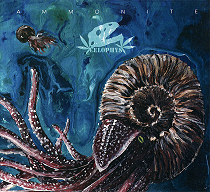 The third long play of this Ukrainian Stoner Doom band consists of seven ultra slow cuts in nearly 56 minutes. The musicians behind CELOPHYS are Alexander Beregovoy (drums & vocals) and Miroslav Kopeyka (guitars). They definitely did a great job on "Ammonite". I can name lots of band names here, which influenced their music, but let's say it is a kind of extremely heavy and slowed down version of BLACK SABBATH, CROWBAR, SPIRIT CARAVAN, BONGZILLA, et cetera type of music. Even riffs of HELLHAMMER and CELTIC FROST are also presented in a small percentage there. So we have a nice alloy. The sound production is as hard as the edge of the tub. Massive, punchy the way it should be! Only from the vocal parts lack something as for me, they are way boring and come in a totally usual manner, nothing special. Until the fourth song it was kind of entertaining to listen to them, but after a while it's just the same riffing and overall mood everywhere. Sure these kind of tracks are rather good for chilling out and to have a rest, but their content is fairly sparse. Anyway, the diehard doomsters may give a chance to these Ukrainians and their professionally realized digipak edition!
CIRCUS OF LAMIA
"Welcome Madness" EP 2011
(Self-released)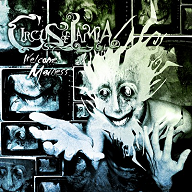 Futuristic avant-garde music spiced up with potential experimentalism & gothic metal is what we have on the debut 3-track EP from this young Stockholm-based quintet. The musicianship combines the abstract forces of Jade & Matt on vocals, Alex on guitar, Martin on bass and Samuel on drums. Throughout their sixteen and a half minutes long repertory you can travel into different musical genres and taste the freedom of the music itself. The whole material imbues with sadness, grief and total despair, thus the atmosphere is pretty apocalyptic there. The sound-production has been also finely tuned for this kind of music, though the drums (with some corrections and good balances) could be sound better. The clean vocals of Jade & the growling, screaming and even whispering ones of Matt have been materialized & arranged very good, should I say "it was a well-guessed idea", I think yes. Plus we have in some parts additional vocals by Rebecka Heijel. I would also note that riff-structure-wise melodic Death Metal bands definitely made their stamp on CIRCUS OF LAMIA, because the influence of AT THE GATES in their "Dreamland" tune is more than evident. I really do hope the band will progress further on and will become even more original with their next release as there's a definite potential in C.O.L.! I would also like to mention the awesome artwork created by Gustavo Sazes, which has a lot to do not just with the EP's title, but with the band's name too. All is left to say, join the madness provided by these Swedish newcomers and enter the CIRCUS OF LAMIA!!!
DECEASE
"Age Of The Covenant" CD 2014
(ACM/Hatework)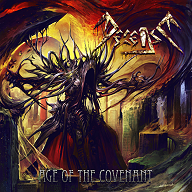 First I saw this Romanian band playing live was this year at our local festival. I have to say their live set was totally mind-blowing and their skills were just as impressive! After their show I was rewarded by their latest album to date and it was obvious to me that it won't disappoint me likewise. The trio plays some kind of over brutalized or better to say strongly Death Metal influenced Thrash Metal. The basic song- and riff-structures are pretty close to SEPULTURA's "Beneath the Remains" and "Arise" albums, while the Death Metal feeling comes from such godfathers of the genre as DEATH and MORBID ANGEL. The aforementioned triumvirate is the definitive key to DECEASE's music. Nevertheless, there's much more magic going on in their 38 minutes long repertory as the band members incorporate a lot of virtuosity there as well. The album consists of eight fine deathrash cuts plus an intro & an outro. The overall sound production is quite dynamic, enough massive and has the so-called punch in it too. Really looking forward to their forthcoming release and also advice to all the maniacs into Thrash & Death Metal to have their eyes focused on them!
DEUS MORTEM
"Emanations Of The Black Light" CD 2013
(Strych Promotions)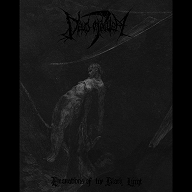 This fairly new Polish band was formed in 2008 by Necrosodom (ANIMA DAMNATA, AZARATH, BLITZKRIEG, ex-THUNDERBOLT, etc.) and joined by Inferno (AZARATH, BEHEMOTH, WITCHMASTER, ex-CHRIST AGONY, ex-DAMNATION, ex-DELIRIUM). After or at the same time as their 2-track EP titled as "Darknessence" was born the duo starts to record their debut full-length, which became "Emanations of the Black Light". The album contains 7 ferocious pieces performed in the coldest way of the Black Metal arts. The overall atmosphere of the album is quite Nordic and kind of grim all the way. I would draw a closely parallel to the following Scandinavian hordes: MARDUK, DISSECTION, SATYRICON and GORGOROTH. However DEUS MORTEM definitely has its own goals and potentials on this record. You can expect circa 44 minutes of uncompromising Black Metal ravage filled with fast double bass attacks and boreal guitar harmonies. All the string parts and vocals were masterfully executed by N., while the drums were recorded by I. in an appropriate way. The album was mixed and mastered at Hertz Studio, so the result is as massive as monumental. Lately the band went through some line-up additions & modifications, and "Emanations of the Black Light" was re-released in 2016 by Malignant Voices, which is the band's current label for Poland, while for the rest of the world they are represented by Terratur Possessions!
DISEASE ILLUSION
"Backworld" CD 2011
(Ultimhate Records)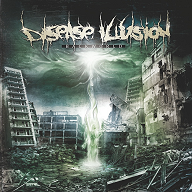 The following is an over 50 minutes long product made in Italy. The young five-piece unit precisely mixes the Gothenburg-style melodic Death Metal genre along with the modern & nowadays really popular Deathcore movement. Their sonic propaganda has been supported by an excellent sound production and flawless musicianship. The latter one composes from the inevitable talents of Fabio (vocals), Dario (guitar), Frederico (guitar), Michele (bass) and Alex (drums). Their 10-song repertory is pretty strong and thoroughly worked out, although I am not fond of all those modern elements, especially the so-called breakdowns. In my opinion, the whole material would be just better without them. But it's only my opinion. If I had to compare their music to any of the bands' from the above mentioned categories then I would definitely mention IN FLAMES, DARK TRANQUILLITY, AT THE GATES, DESULTORY, OPETH and AMON AMARTH. But to be honest, the list is pretty long. Nevertheless, as for the band's first full-length album "Backworld" is simply remarkable and I really wish them to find their own and original path/style for the second album. The cover art is also something to look for. Keep my fingers crossed for the follow-up! Until then fans of melodic Death Metal are encouraged to take a journey into the Backworld of the Italian maestros!
DISPLEASE
"Think!" CD 2010
(Old Hat/Drink And Be Merry/Imhopang/Trismus/Miravoice)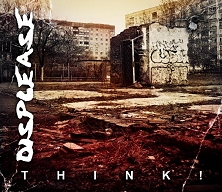 I have the pleasure to introduce you the newcomers of the Ukrainian crust movement, namely DISPLEASE from Uzhgorod. This band was born in August 2009 as a kind of side project incorporating members from local punk, hardcore & grindcore bands. But now it's more than clear that DISPLEASE functioning as a fulltime band. Their debut album "Think!" has been out a few weeks ago and I have to say it's an awesome crust release. Musically you will find all the traditional trademarks of the aforesaid style there and the "dis" prefix will kindly assure you about the band's dedication to DISCHARGE and the love to the d-beats. The album starts with a groovy intro, which shortly turns into the killer riffs of "Online Slaves". It follows "Victim of Overconsumption" that, in my opinion, is one of the best songs on this album, really memorable tune. The plain- but really well-constructed "Dead Justice" & "Urban Prison" songs continue the d-beat rapture. "Alcoholocaust" is the next cut that combines a quite catchy mid-paced riff in the middle plus some blasts at the very end of the song. When a track has a title "Nuclear War" it should be definitely fast as hell and to combine as many as possible blasts. So it was done perfectly and the grinding atmosphere further increases in the song called "Can We Call It Food?" and smoothly transforms into the slow yet depressive riffs of "Mercy of Slumber", a cover of RUDIMENTARY PENI. In fact, this is the longest song on the album, but really good choice as the dark mood of the song makes the so-called "calm before the storm" effect. The aftermath is "Pathetic" with its hateful lyrical content & raw punk riffing. "Anthem" starts as a typical crust song, but after a few seconds it turns to a really cool track, mainly due to the well-structured vocal parts and great bass & guitar solos in the middle. The album ends with the desperate, both music- & lyrics-wise, song titled as "Ecocide". I believe you've got a good insight into the lyrical content of the album by the song titles mentioned. In case, you aren't, I can tell you most of them are social oriented and focusing on the biggest mistakes of humanity ever. "Think!" lasts a little bit more than 21 minutes and can be obtained from any of the above listed labels (as you see it was a co-operation between 5 labels, underground rules supreme!) or directly from the band. There's only one thing I forgot and that goes to the overall sound of the album. But don't worry; it's totally OK as the material got a really cool & enjoyable old-school feeling, which makes it just even more worth to listen to! Oh, almost forget to mention the superior design and nice digipack packaging, so get your pen, keyboard or whatever and write to the band immediately! Crust or die!!!
DRACO HYPNALIS
"Balance Of Moments" CD 2012
(Zero Budget Productions)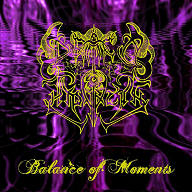 The third masterpiece has been finally arrived and I should say it was definitely worth 5 years waiting for. The CD opens by the ultra-technical "We are only dewdrops" tune, which to my surprise starts with drums fade in DEATH's "Flattening of emotions" way. It has more fragments associated with the heritage of DEATH, especially when we look at the bass parts there. Nevertheless I have to stress on the magical combination of the orchestral arrangements and atmospheric effects which take control and reign supreme during their 8 songs and 45 minutes playing time. "Shostakovich" is the title of the second track, which in my opinion says all. Here we have a variation on the Leningrad symphony theme. Simply awesome! "Beyond the bent seas" continues the trip to the landscapes of beautiful notes & enchanted harmonies. The proportions between classical and metal music seem to materialize the most proper way in their repertory. As an example to that balance we have the laconic "Étude Variable". It follows "Perceive the shadow spears", which in some moments reminded me DREAM THEATER due to the nice variations between the guitars & keyboards. The sixth track of the album is called "The woe of passing". It has an ominous atmosphere almost throughout the whole song, plus at the end of it we have the most expressive vocals for sure. Then comes "Star chasing coyote" that is a pretty fast song with lots of blasts, melodies and tempo changes. Thunderous effect guaranteed! And as a final chord to DRACO HYPNALIS' brand new creation "Balance of moments" completes the album in an apt way. In a word Mira, Petr & Ivoš made a huge album again and two guest musicians were also in charge to help them, namely Martin Krc on drums from MARTYRIUM CHRISTI and Jitka Šuranská on violins. Get this professional classic music influenced Death/Black album right away!!!
DUOBETIC HOMUNKULUS
"Ani já, ani ty, robit nebudzeme šedneme do koca, vozit še budzeme." CD 2013
(Zero Budget Productions)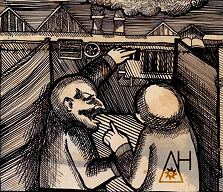 At first listen the music this weird-named Czech band creates is very hard to digest. It mostly looks like a spontaneous orgy of riffs with sudden changes between different musical styles. And believe or not, there are only 2 people behind this masterful creation, namely Wokis (vocals, guitars, programming) and Walis (bass, flugelhorn). Their debut full-length album includes 7 pieces into the oddest and craziest musical solutions ever. On the one hand, it's super technical, experimental, progressive, classical and fusion-like; while on the other hand, it has lots of fun and humor included there. You might understand what I'm talking about if you imaginarily cross DEATH's "The sound of perseverance" album with some Schrammelmusik. The folkish touch is just inseparable in their repertory. If we would take away all those strange elements we would get a strong technical Death Metal fundament with lyrics in Czech language, though their lyrical content is as crazy as their music. Just imagine lyrics about machinery, industrialization, technology and abstract mechanical concepts adapted to progressive Death Metal. Well, they do it quite dedicated and masterfully. Their debut album features a few guest musicians with different tasks that made this record even more varied and sophisticated. The CD comes with a superb digisleeve design and has an enhanced part as well, which consists of tablatures, exclusive tour and studio photos, 2 live videos and home recordings in mp3 format. Their kind of music definitely needs multiple listens, but after you merge with their 24 minutes repertory, it appears to be extremely captivating. I am eagerly looking forward to the continuation!
EDAIN
"Of Those Who Worship Fire" CD 2013
(Zero Budget Productions)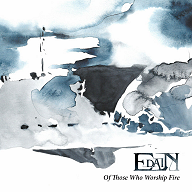 EDAIN is a brilliant experimental/progressive metal band, which was born from the ashes of such a well-known Death Metal band in the Czech underground scene as ABSURD CONFLICT. Their second full-length album includes six masterful pieces of the highest musical arts. The quintet does really know how to create majestic sounds out of their instruments. Each of their compositions displays a different mood or combination of genres. You can find there elements beginning from Heavy, Power, Thrash to Death Metal, but all these you should imagine in a super technical way spiced up by classical, jazzy and fusion-like patterns. They switch easily between all those styles, for example after an epic passage they can turn to some heavy riffs or change the whole atmosphere of the song by a chain of ultra technical progressiveness and then all of a sudden return to heaviness or massive walls of riffs. The musicianship is just awesome, they can play whatever you wish for. The vocal parts are as variegated as their music is. I really enjoyed listening to their circa 29-minute long stuff and can wholeheartedly recommend EDAIN to all those freaks into the fields of experimental and progressive music.
EXEGUTOR
"Cure For Dull" CD 2011
(HeadXplode Records)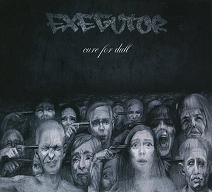 EXEGUTOR from Belarus was established in 2009 and "Cure For Dull" is their very successful debut release. It contains 21 short cuts of raw uncompromising grindcore with some dirty punk touch. The circa 30 minutes long material mostly deals with plain riff- and song-structures, but this genre was never meant to be complex or super technical. It has to be fast and extreme, but these components are given, so let's just simply dive into the sonic madness served by four crazy musicians, namely Lavrik (insane vocal duties), Android (guitar parts played by the speed of light), Antoine (roaring bass passages from the depth of hell) and Ivan (hammering drum parts). These Belarusian guys really know how to play & create fast yet rather memorable tunes without sacrificing the intensity and extremity. So don't waste your time, better buy this great gem that will definitely once become a part of the world's grindcore heritage. The album includes 2 cover songs ("Pure Fucking Armageddon" from MAYHEM and "False Unity" from GROSSMEMBER), both performed in a worthy way. To all this I have to add the masterful cover artwork and the superb digipack design. Grind or die!!!
EXEGUTOR
"Embassy Of Hell" CD 2015
(More Hate Productions/Satanath Records)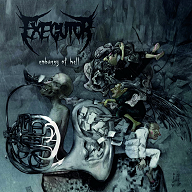 The recent full-length of this Belarusian combo delivers us 13 precisely prepared & recorded grindcore tunes! The half an hour long album spins perfectly and has no idling in my opinion. It just storms the right way, with the right mood and with the right combination of riffs! The band combines the following forces of hell: Lavrik (vocals), Android (guitars), Antoine (bass) and Barmalej (drums). You can listen there to fast tracks with non-stop blasting, groovy thrash-oriented ones with middle tempos and great singalongs. I can recommend it both for the old-school grindcore freaks who grew up listening to TERRORIZER, NAPALM DEATH or to the die-hard punk/hardcore dudes whose veins are swelling for the music of AGNOSTIC FRONT, D.R.I. and CRYPTIC SLAUGHTER. The sound is enough heavy and crystal clear which aren't too typical for the styles listed previously, but with the fast change of recording technologies the sound of these genres has to change as well. There's also a great cover of VENOM's famous "Black Metal" song featured on the CD as well, but with an interesting modification in the middle of it, where MAYHEM's infamous opener riff of the "Deathcrush" song was used to spice the energy up. The cover artwork is also notable, like it very much! All is left to say, order this ripping piece of art immediately as this is real grindcore made in Belarus!