Hail metal maniacs!!! Read on the latest interview with Canada's Death/Grind fury, called
NERVOUS IMPULSE
and dive into the true spirit of the underground!!! Let the metal flow eternally!!!

New review added 18.05.2018:

New interview added 12.05.2018:
GOD DETHRONED is a band coming from the deepest depths of the Death Metal underground movement. I guess no further explanation is needed here, just let me add that this Dutch deathmachine has been around us since 1991 and their 10th long play "The World Ablaze" was out in May of 2017. I've asked Henri Sattler & Mike Ferguson to unfold some details about "The World Ablaze" album as well as to see what they are up to these days and where can we see them playing live.

Interviews of the past 2 years:
NECROPHOBIC
(21.03.2018),
NERVOUS IMPULSE
(14.02.2018),
SOLFERNUS
(14.12.2017),
F.A.M.
(21.08.2017),
INQUISITOR
(20.08.2017),
GRINDING JESUS BROTHERS
(13.08.2017),
FAITHXTRACTOR
(09.08.2017),
THORWALD
(06.08.2017),
DATURA
(05.08.2017),
PESTILENCE
(04.08.2017),
DESTRUCTION
(02.08.2017),
TANKARD
(31.07.2017),
ENDOCRANIAL
(24.07.2017),
STABBED
(23.07.2017),
UNBORN SUFFER
(12.07.2017),
EFFRONTERY
(03.07.2017),
GUTTED
(28.06.2017),
DESULTORY
(19.06.2017),
PROTECTOR
(23.03.2016),
FLESHGORE
(15.02.2016)

In a circle of close metal friends I visited 10th of June, 2005 Budapest (Hungary), to be precise the boat called A38, to experience the unrestrained live energy of a band that had a constant influence on me beginning with their majestic "The Somberlain" debut album. Then the follow-up "Storm of the Light's Bane" became something very special not only for me, but for thousands of metal brothers, and I think most of you agree that it is a milestone for the metal genre in general. 2004 was the year when DISSECTION fans worldwide celebrated the rebirth of their beloved band with a strong heart-beating! The same year an appetizer for the forthcoming 3rd full-length album has been unleashed, the aptly titled "Maha Kali" EP. Needless to say, it is as flawless as their predecessors. Back to the gig on the boat, it simply electrified me to the maximum. My dream came true and I finally witnessed all the old classics (like "Frozen", "Unhallowed", "The Somberlain", "Night's Blood", etc.) in their entire nature. So it finally happened and I am very thankful to DISSECTION. And to top it all, I managed to commit an interview right before their amazing gig. I asked Jon Nödtveidt about their latest EP, actual line-up, lyrical content and last but not least about their future plans. Behold the masters of chaos and anti-cosmic Death Metal. Fear the return!!!!!!

Underground bands, labels, 'zines send any promo material for review.
Everything (demos/albums/vinyls/'zines/videos/etc.) will be reviewed.
Are you ready for a new printed issue of Encomium 'zine?!!! Well, here it is!!! 36 pages of A4 format featuring interviews with
DATURA
,
DESTRUCTION
,
DESULTORY
,
DISSECTION
,
EFFRONTERY
,
ENDOCRANIAL
,
FAITHXTRACTOR
,
F.A.M.
,
FLESHGORE
,
GRINDING JESUS BROTHERS
,
GUTTED
,
INQUISITOR
,
PESTILENCE
,
PROTECTOR
,
STABBED
,
TANKARD
,
THORWALD
,
UNBORN SUFFER
and the usual bunch of reviews!!! Diehard underground maniacs can order the printed version for the price of
6,66 €
(plus postage) or equivalent by sending an e-mail to:
kornel.kontros@gmail.com
or feel free to download the digital version in pdf format
here
!!!

This site is eternally dedicated to:
Chuck Schuldiner
13.05.1967 - 13.12.2001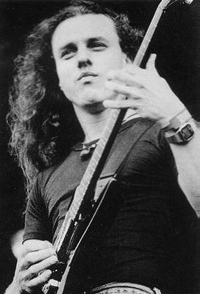 Time is a thing we must accept.
The unexpected I sometimes fear.
Just when I feel there's no
excuse for what happens,
things fall into place.
I know there is no way to
avoid the pain that we must
go through, to find the other
half that is true.
Destiny is what we all seek.
Destiny was waiting for you and me.
I believe behind confusion,
awaits the truth for us.
Past the obstacles we face.
I value our life and trust.
Years of questioning why
things happen the way they do in life.
Wishing that I could turn back
time, so we could join our souls.

100% pure underground edition!
Extreme reading for extreme people!